I'm Dying To Talk Turkey With You
I will share with you my tips for how to cook a turkey to make it the most moist and juicy!
Did you know that there's a burning question on everyone's mind this time of year? It's a question that has often caused heated discussions and disagreements. It has caused rifts between family and friends.  Really.
And it all centers around this handsome fellow.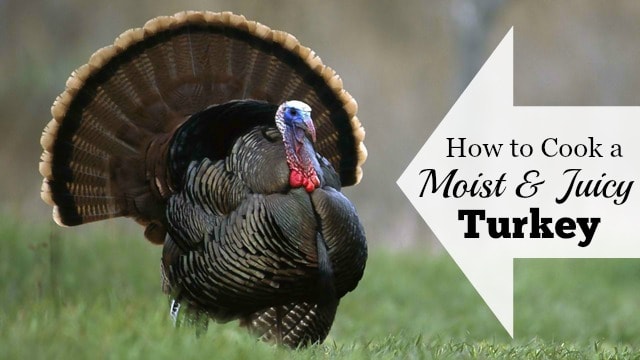 Pin
How in the world do you cook a turkey that's moist and juicy and flavorful too? Everyone has an opinion on this.
I've been turning out moist, juicy and flavorful turkeys with minimal fuss and effort for many, many years.  Here's my secret…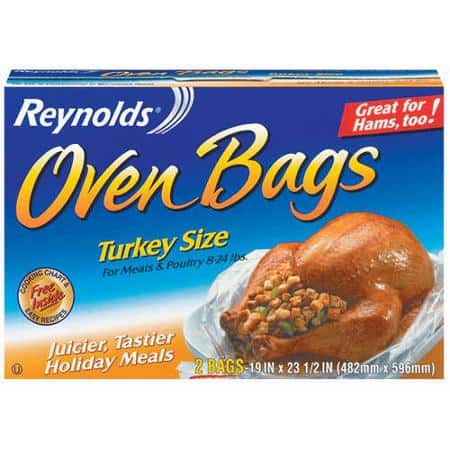 Pin
Yep.  In my book, these are the best cooking invention ever when it comes to turkey roasting. And nobody is paying me to say that.
Since I'm the host for quite a few family and friends every year and since we don't all fit at one table, I serve my Thanksgiving meal buffet style.  My delicious turkey is served already carved and arranged on a platter.  Because I'm not serving the turkey at the table and carving it in front of everyone, it doesn't matter to me if the skin doesn't look flawless when it comes out of the oven. There's a reason that I say that.  Using the oven bags does give my turkey a nice roasted golden brown color, but some of the skin almost always sticks to the bag and pulls off when I remove the cooked turkey.  So, if you're wanting to serve your turkey whole, with flawless roasted skin and carve it at the table, the oven bags may not be for you.
But, if flawless roasted turkey skin isn't your main concern, then this is a great way to go for the most moist and juicy turkey.
There are two methods that I use to cook a turkey:
1.  For an un-stuffed turkey, I thoroughly rinse the turkey, inside and out, with cold water and place it into the oven bag, according to the directions on the box.  I stuff the chest cavity with celery tops, carrots, quarted onion pieces and fresh parsley.  The outside of the turkey is rubbed with a cut-up fresh lemon and butter.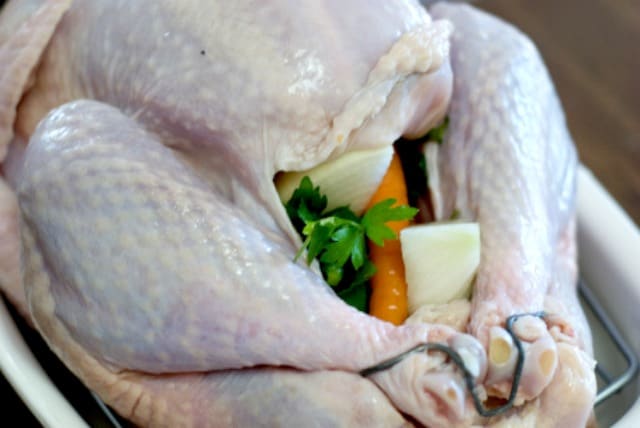 Pin
2.  For a stuffed turkey, I still rinse the turkey inside and out, rub the outside of the bird with fresh lemon and butter and place it into the oven bag, but I fill the chest cavity with my stuffing recipe instead of fresh vegetables.  Just remember not to pack the stuffing into the chest cavity tightly.  You need to leave a little space for expansion during baking or you won't be happy with mess you'll wind up with in your oven.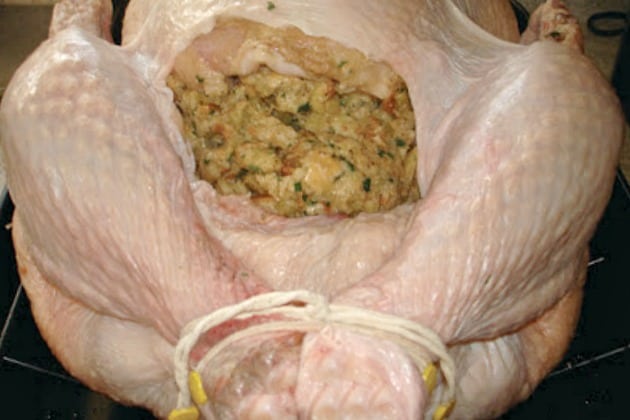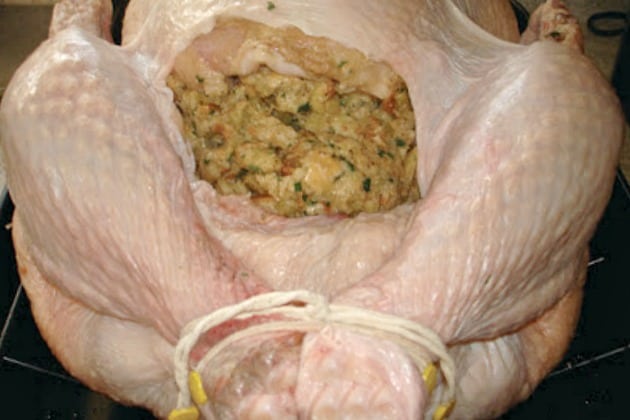 Pin
 Image via The Kartoffelklosse Project
No matter which method I use to prepare my turkey, I follow the baking directions on the box.  Cooking times are provided for both un-stuffed and stuffed turkeys of all different weights.
So do you have a favorite way to roast your turkey?  I'm asking that very question over on the Worthing Court Facebook page today and would love to get your answer!
Looking for some Thanksgiving tablescape inspiration?
A Woodland Inspired Thanksgiving Table
With A Free Placecard and Menu Printable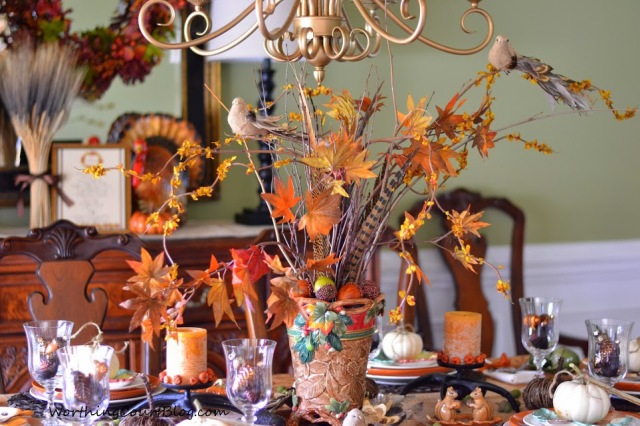 Pin
Bounty Of The Harvest Thanksgiving Table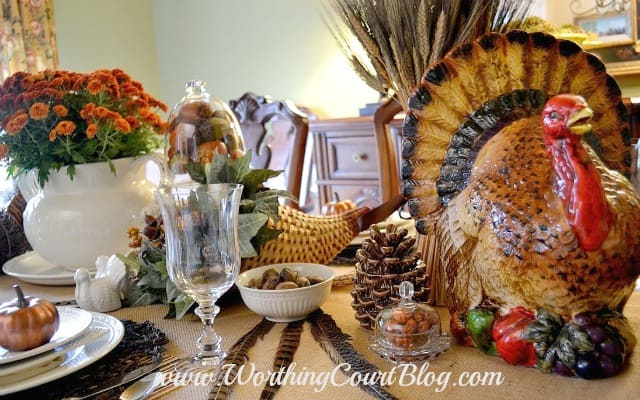 Pin
Are you a stuffing or a dressing kind of person?  I like them both, but have struggled forever to find a dressing recipe that I love.  I found some great recipes.  I'll be giving one of them a try this year.

Pin
 Sharing here:
Inspiration Monday at Refresh Restyle,  Inspire Me Monday at Sand and Sisal,  Monday Funday at That's What Che Said,  Metamorphosis Monday at Between Naps on the Porch,  The Scoop,  Inspire Me Tuesday at A Stroll Thru Life,  Tutorials and Tips on Tuesday at Home Stories A to Z, The Inspiration Exachange on Tuesday at Ella Claire Inspired,  Wow Us Wednesdays at Savvy Southern Style