How To Create A Beautiful Fall Planter The Fast And Easy Way
Create a  beautiful fall planter that will bring a splash of seasonal color to your entryway! This fall urn arrangement is the perfect solution for people who are short on time!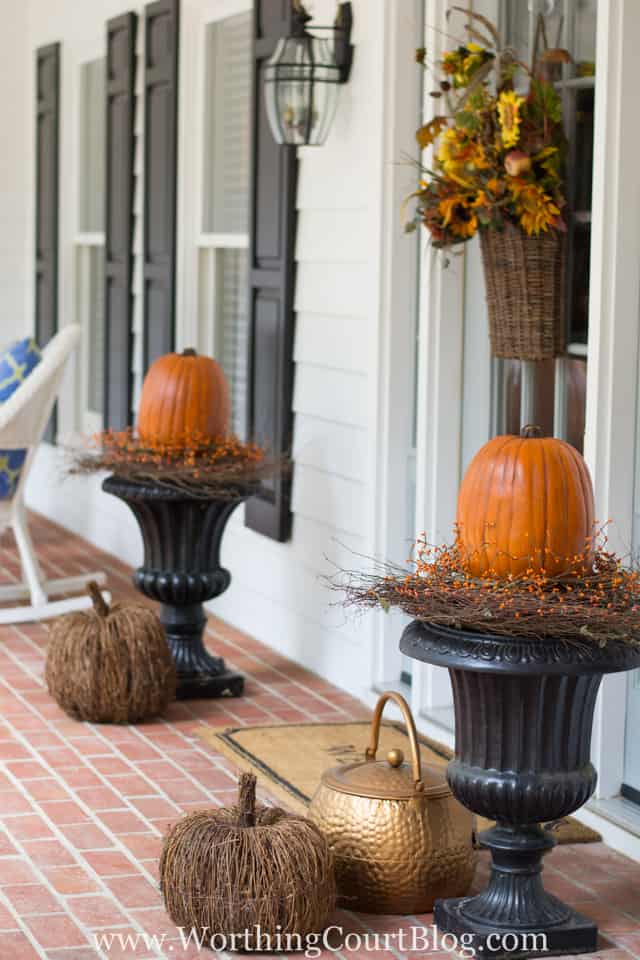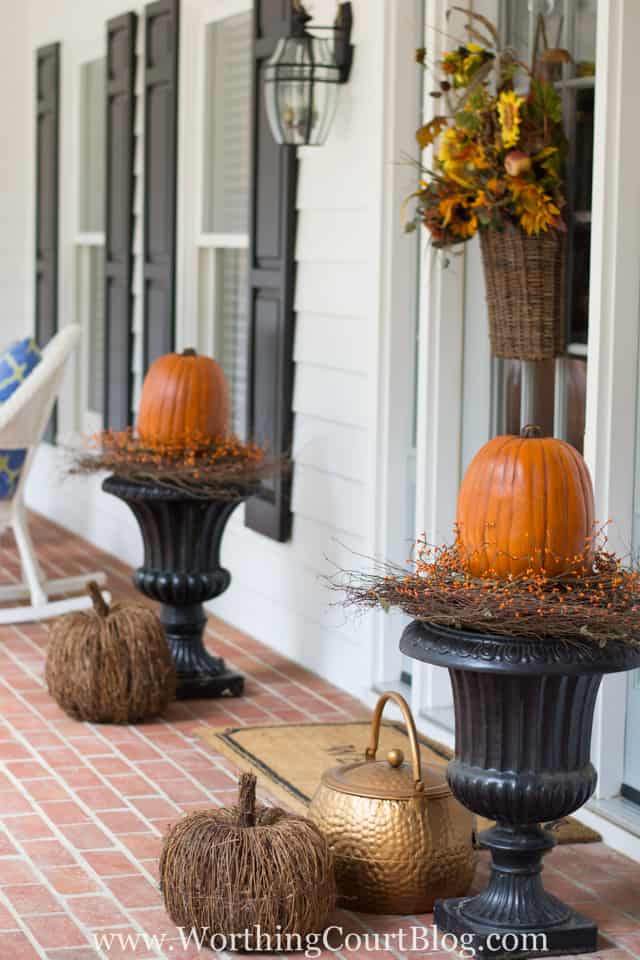 Pin
I love traditional mums for fall as much as the next person, but sometimes I just don't have the time or the inclination to play in the dirt.
An added bonus to this planter is that I won't have to replace mums that fade and die before the season is over.  These planters will last right up until the last pumpkin-pie-eating-guest has exited the door after Thanksgiving!  Let me show you how incredibly easy this DIY fall planter is!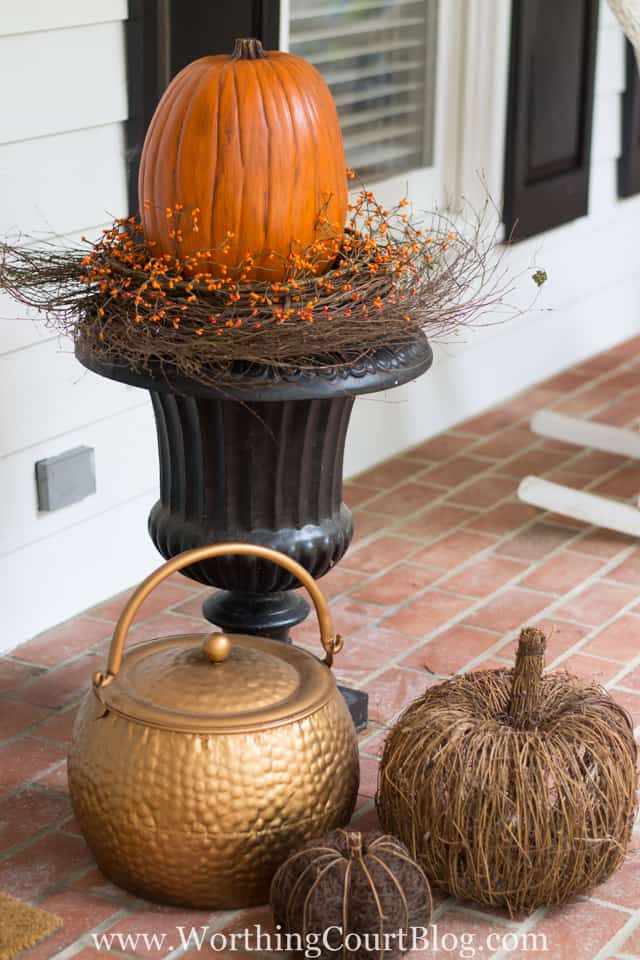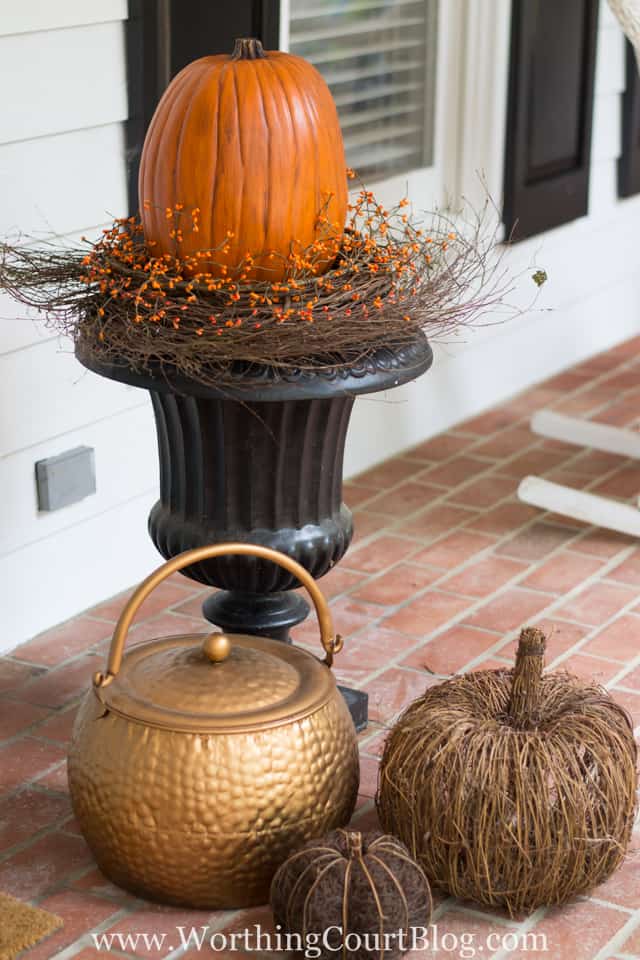 Pin
Supplies needed for each planter:
13″ Tall faux or real pumpkin – Mine are faux
Dark finishing wax
Throwaway brush and rag
28″ Sunburst grapevine wreath
15″ Regular grapevine wreath
Pip Berry Garland
Wire cutters
Step 1 – Get rid of the bright orange color of the pumpkins by brushing them with the dark wax and then wiping the excess wax off until your desired pumpkin color is achieved.  After waxing and wiping them down, allow them to dry overnight (very important) so that the wax won't rub off when they are handled.  The pumpkin on the left hasn't had any wax applied to it yet.  The pumpkin on the right has been waxed and wiped down to the final look that I was after.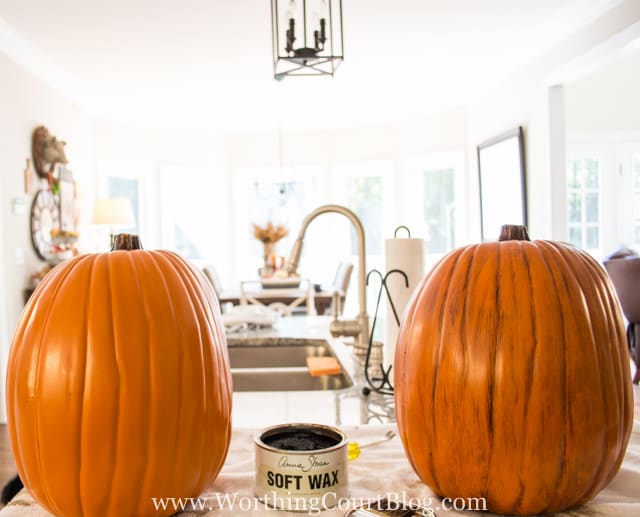 Pin
Step 2 – Place the 28″ sunburst grapevine wreath on top of the rim of the planter.  If your urn is smaller than mine, you may need a smaller wreath so that it won't fall down into the container.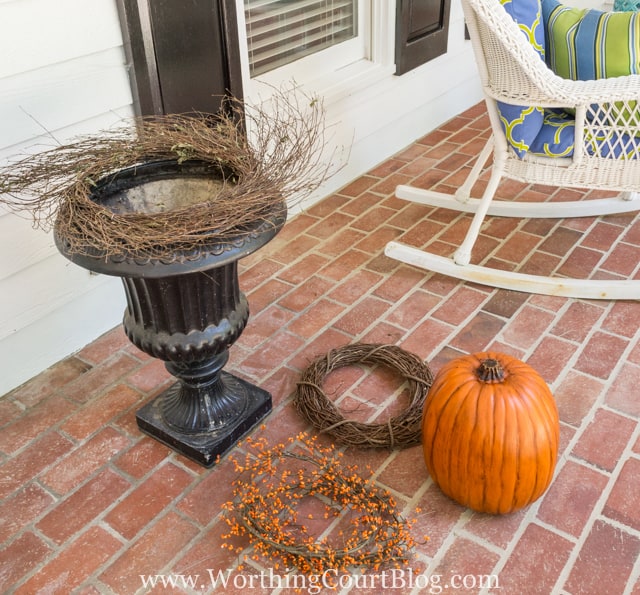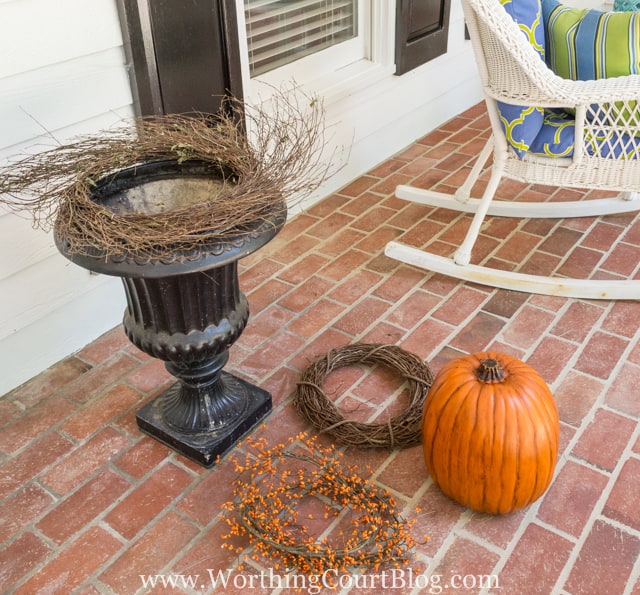 Pin
Step 3 – Place the 15″ grapevine wreath on top of the sunburst one.  Again, if your urn is smaller, you may need a smaller wreath.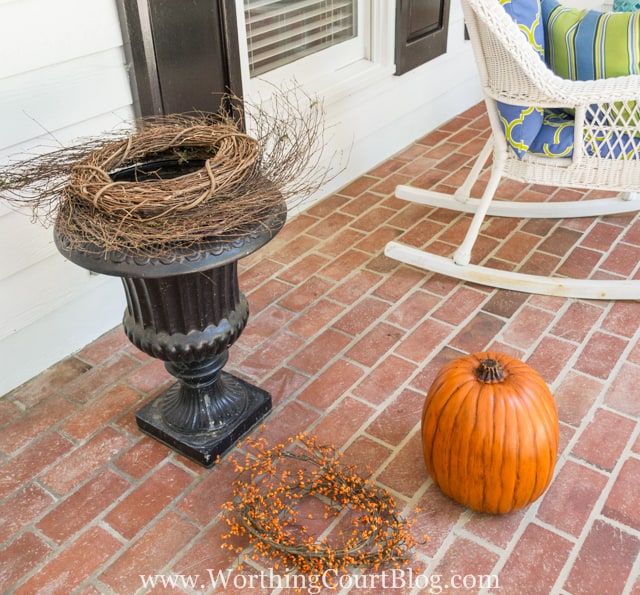 Pin
Step 4 – Place the waxed pumpkin on top of both of the grapevine wreaths, over the opening of the wreaths. Just a note – I had to clip away some of the twigs from the inside of my wreath so that the pumpkin would sit properly.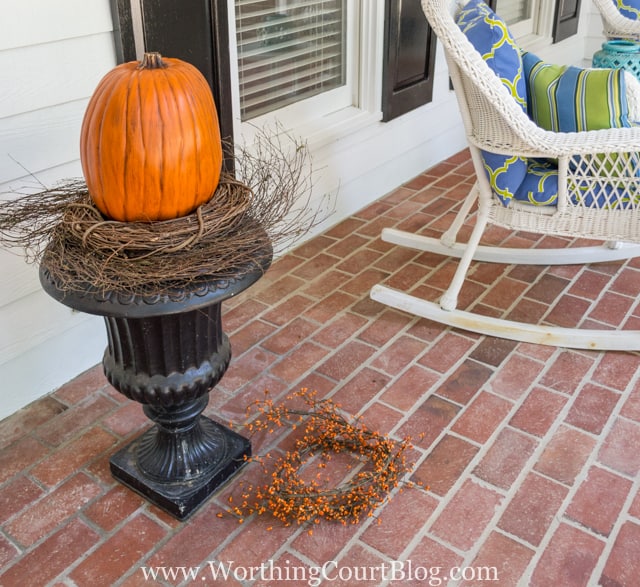 Pin
Step 5 – Wrap the pretty pip berry garland around the grapevine wreath and pumpkin, fluffing, bending and twisting it as necessary.  Clip the excess garland off with wire cutters.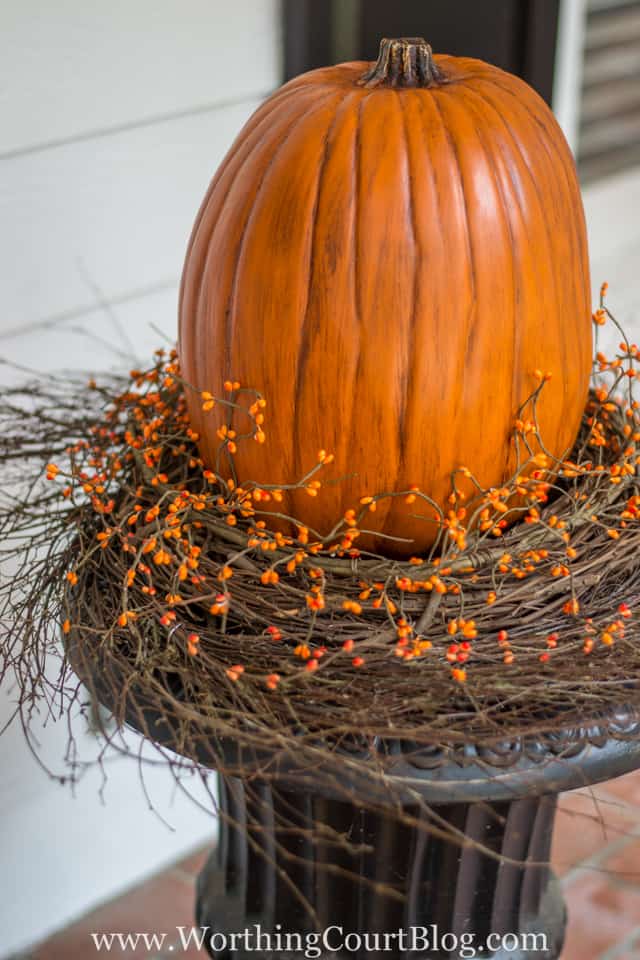 Pin
Your beautiful DIY fall planter is finished!  Enjoy!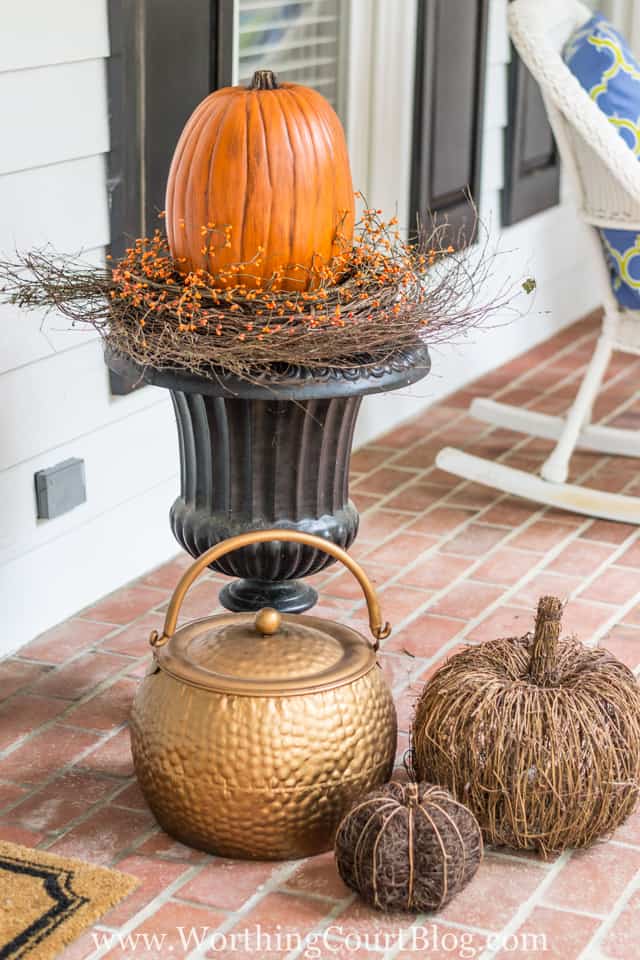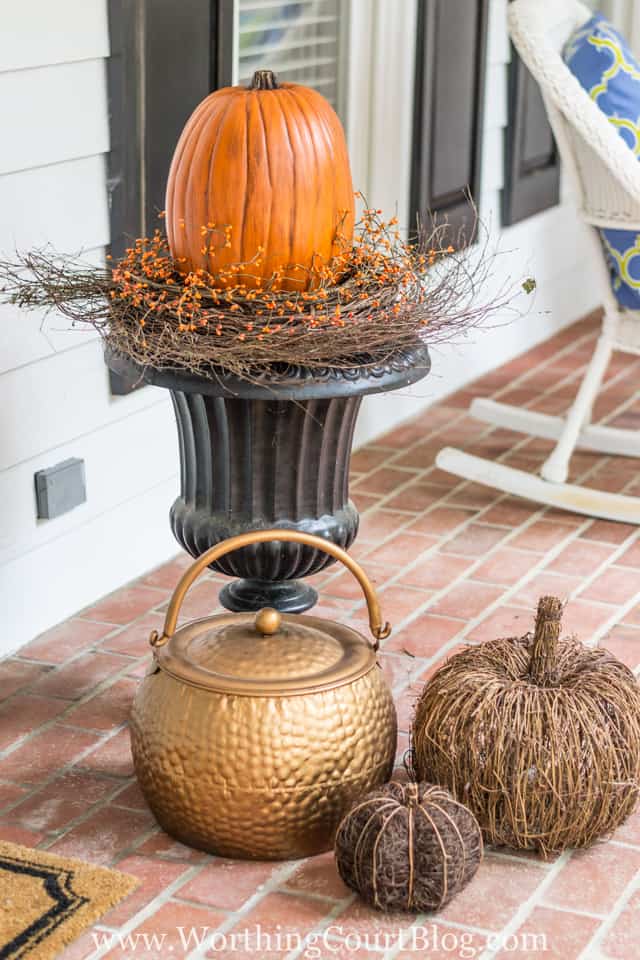 Pin
Don't forget to Pin It for reference!


Pin