How To Decorate A Screen Porch
Figuring out how to decorate a screen porch so that it enhances your life and increases your living space can be a a challenge.
My screen porch has been a bit of a thorn in my side. In the almost eight years that we've lived in this house, my screen porch has gone through several transformations.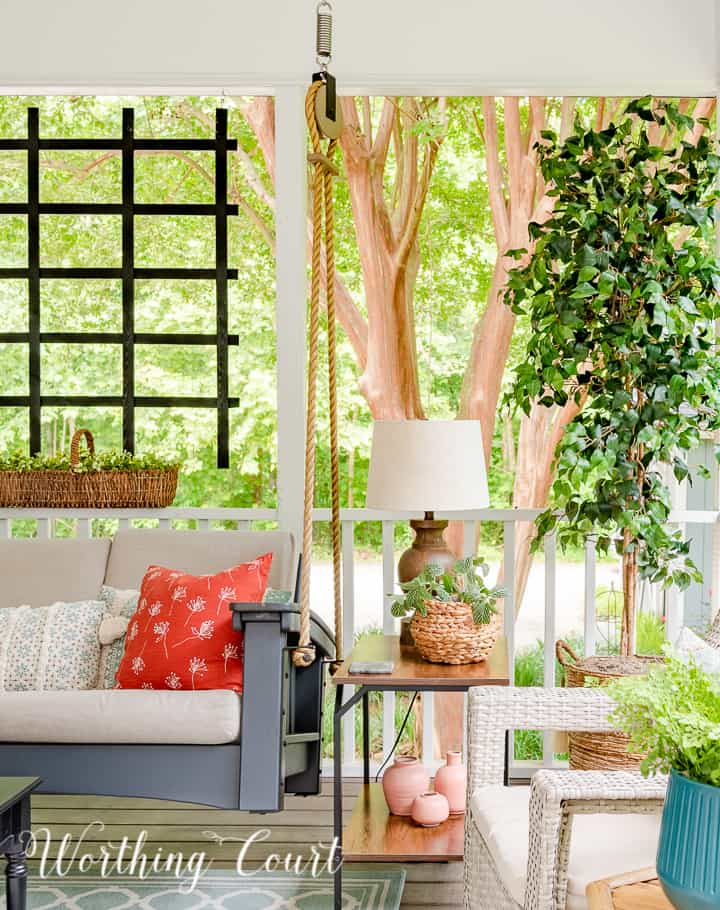 Pin
I thought I knew exactly how I wanted to decorate it, but my goal of making it truly cozy and inviting has always escaped me. Tell me if you can relate to a problem like that when decorating your own home.
Our back porch is a second living space for us during three months of the year, so it's important to me to create an enjoyable place for us to hang out in. But – it's hard to make a room cozy when three of the walls are wide open to the outdoors! haha
None of my porch ideas worked. No matter how many attempts I made, I just didn't seem to be able to get it quite right. Until this year, that is.
I had pretty much given up, but all it took was a find at HomeGoods to inspire me to try once again. Now that I think I finally got it right, let me share what I learned about porch decor along the way.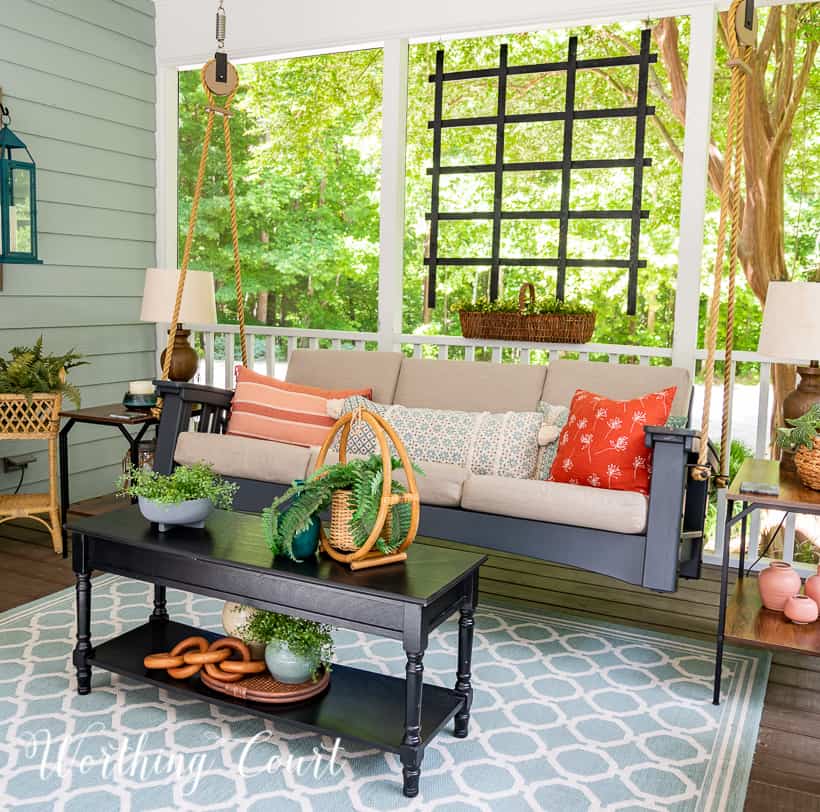 Pin
Before I get started, let me welcome you to the annual Summer Home Tour hosted by Marty from A Stroll Thru Life. Marty has gathered a group of 30 bloggers who are all sharing their summer decorating ideas this week!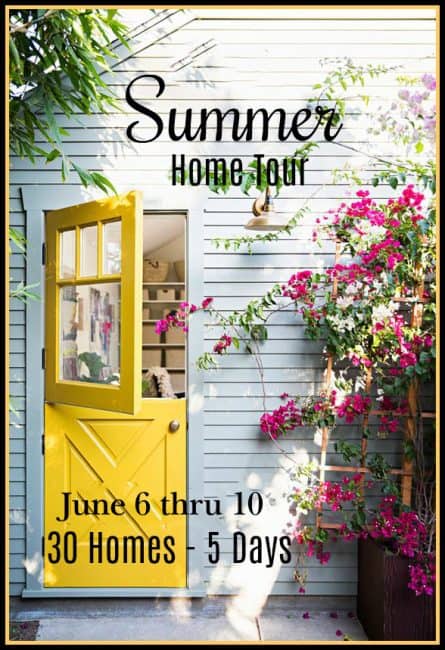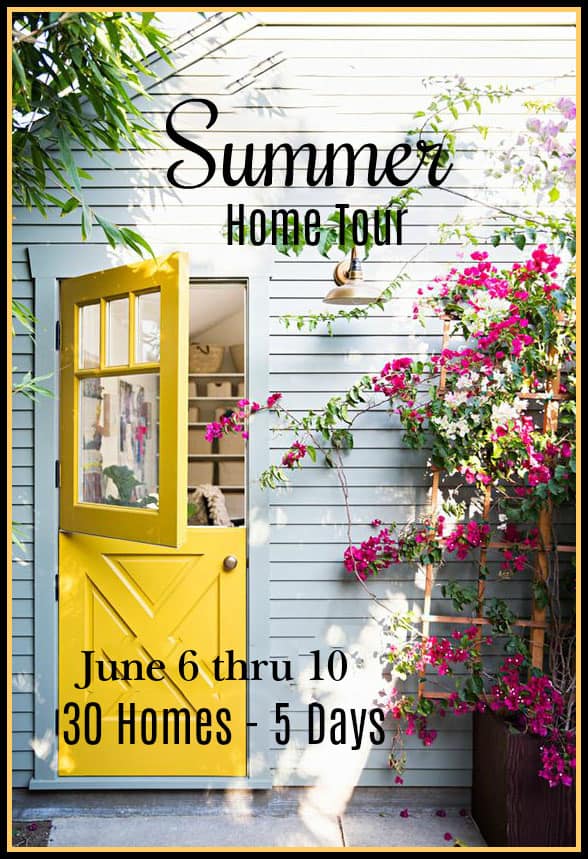 Pin
If you're coming over from Southern Home And Hospitality, welcome! Kate's home is always beautifully decorated, no matter what season it is. You'll want to sign up for her newsletters so that you never miss any of the great decorating ideas, recipes or entertaining ideas that she shares.
To officially welcome you to the summer tour, I have a surprise giveaway that you don't want to miss out on! Scroll down for the details.
START WITH INSPIRATION
No matter what area of your home you're decorating, I believe the first step to a successful design always has to be inspiration.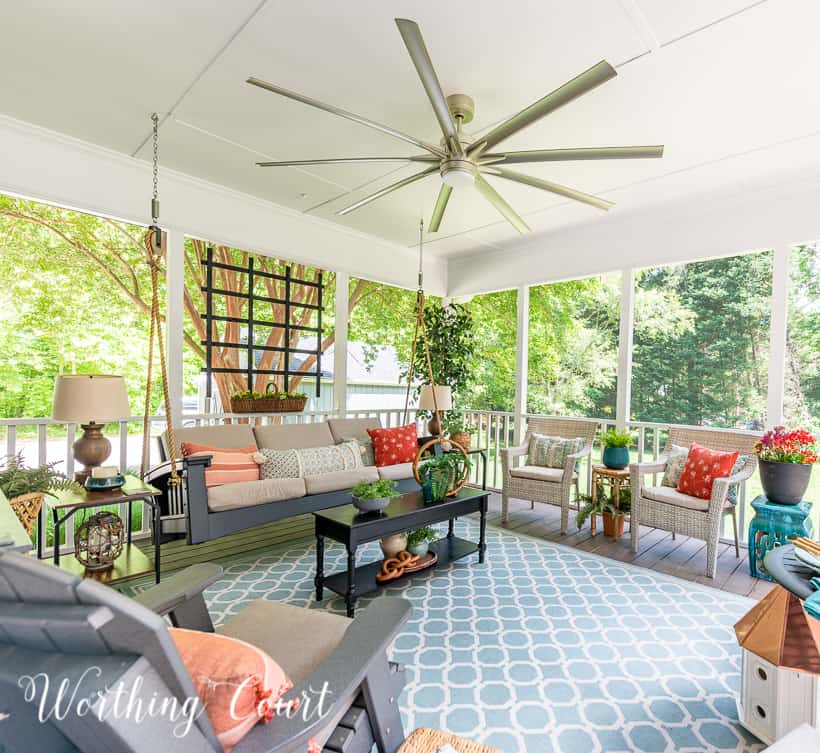 Pin
It can literally come from anywhere or anything! It doesn't even have to stem from anything related to home decorating.
For example: a few weeks ago, I shared a photograph, that I found on Instagram, of a peacock in a forest. It was unlike any image of a peacock I had ever seen. The colors were amazing and I knew that that one single image could be someone's inspiration for decorating an entire room.
In the case of my screen porch, the thing that inspired me to work on my porch once again is a throw pillow that I stumbled across in HomeGoods. Let me explain…
In the beginning, the kicking off point for the colors I used on our back porch came from the outdoor rug that I purchased, which is aqua with a little bit of blue in it. The color is actually called spa.
The rug has always been the driving force behind all of the throw pillows and accessories that I used on the porch over the years. I always stuck with a color palette of aqua mixed with creams and grays.
So exactly what was that was so inspiring about the throw pillow, you ask? It was the colors in it. I took one look at this pillow and knew that I could pull out the rust color from the pattern and use it as an accent color on my porch.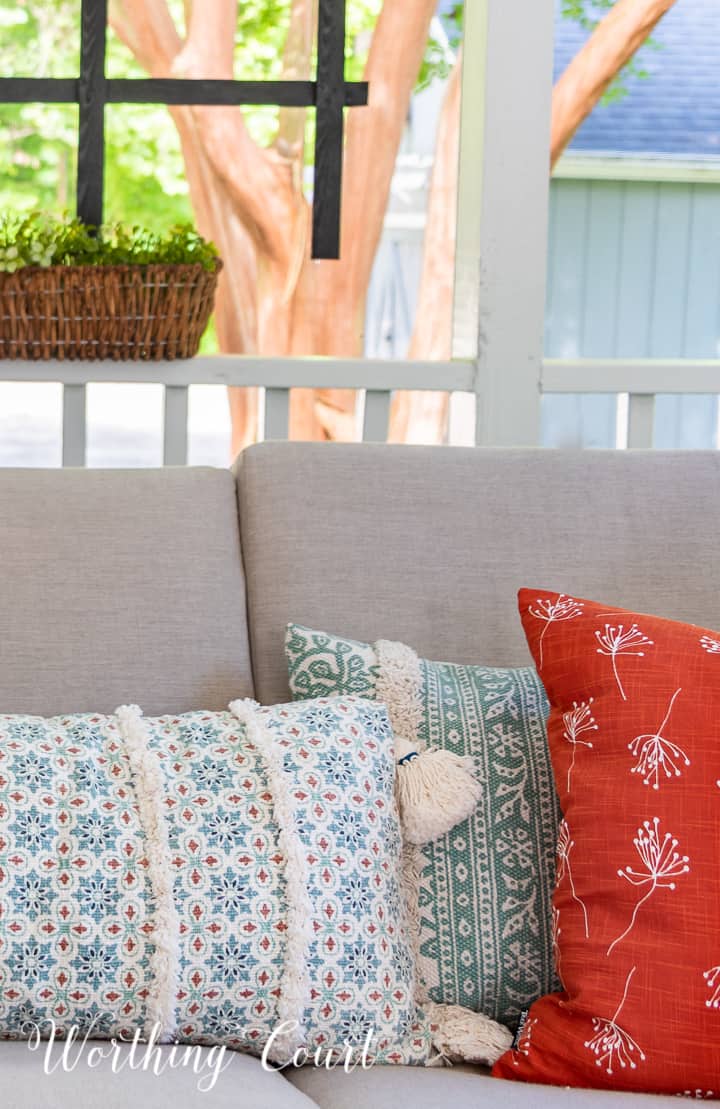 Pin
And voila! An accent color was exactly what my porch needed to bring it to life!
It never occurred to me to mix rust with aqua, but I loved the combination on the pillow.
MAKE THE OUTSIDE FEEL LIKE THE INSIDE
More than likely, the majority of your porch decorating budget will be spent on your furnishings. To make an outdoor space look and feel truly livable, add furnishings that would typically be found on the inside – such as a sofa, extra chairs, a coffee table, a dining table and side tables.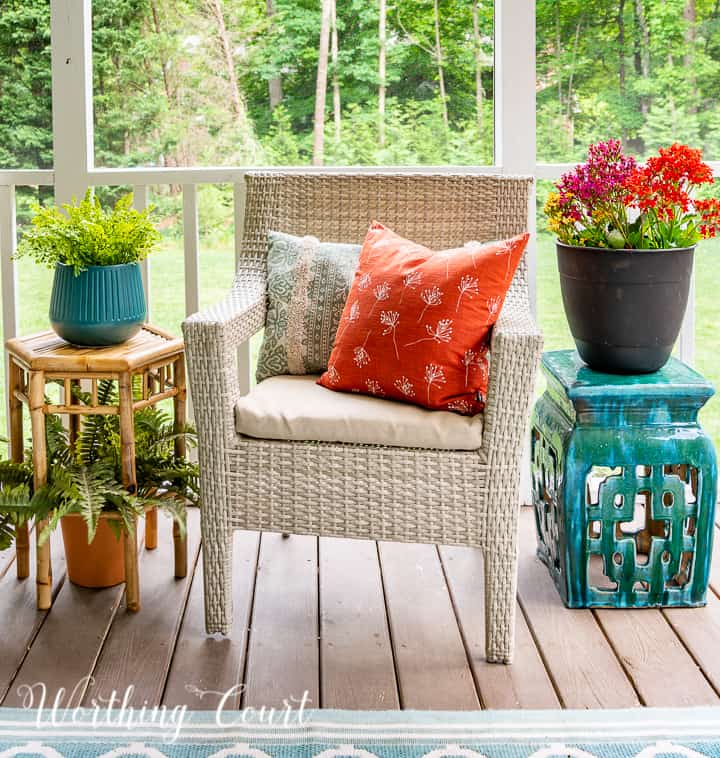 Pin
Don't worry – even though you may use items that are the type or style of furnishings you would use indoors, it doesn't mean that you can't use traditional outdoor materials such as rattan or wicker furniture.
Instead of a having a sofa on our porch, we have a porch swing that looks like a sofa. I made sure that it has comfortable cushions and I dress it with throw pillows just like just like the sofa in our living room.
The arrangement of the chairs, swing and other furniture items creates a cozy seating area that's the perfect place for comfort and relaxation on warm evenings. We even have a tv that we occasionally bring out if we want to watch a movie outside!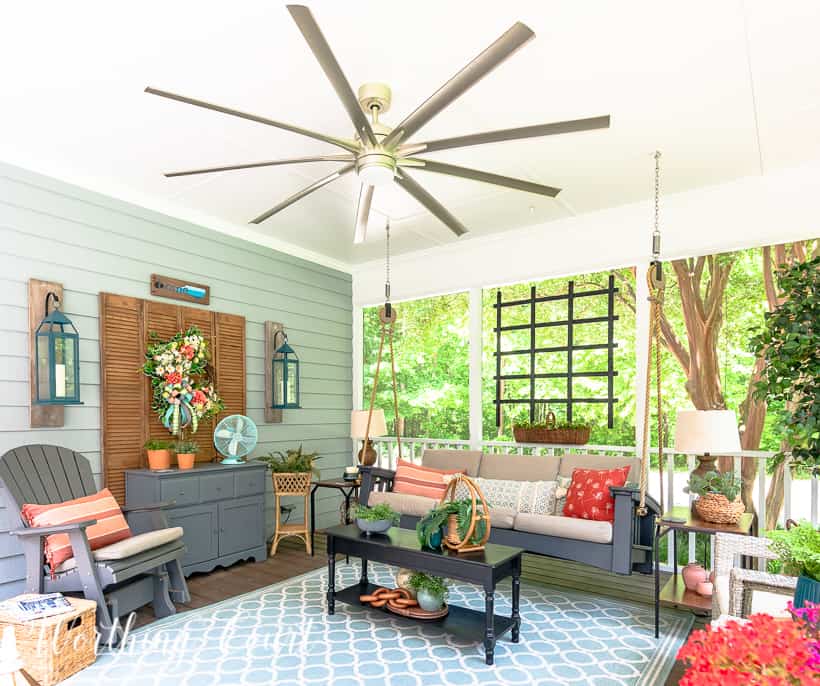 Pin
Consider furniture pieces that can do double duty. For example, our coffee table is actually a piano bench. The top is a lid that lifts to reveal storage for smaller items and the table can also act as extra seating when needed.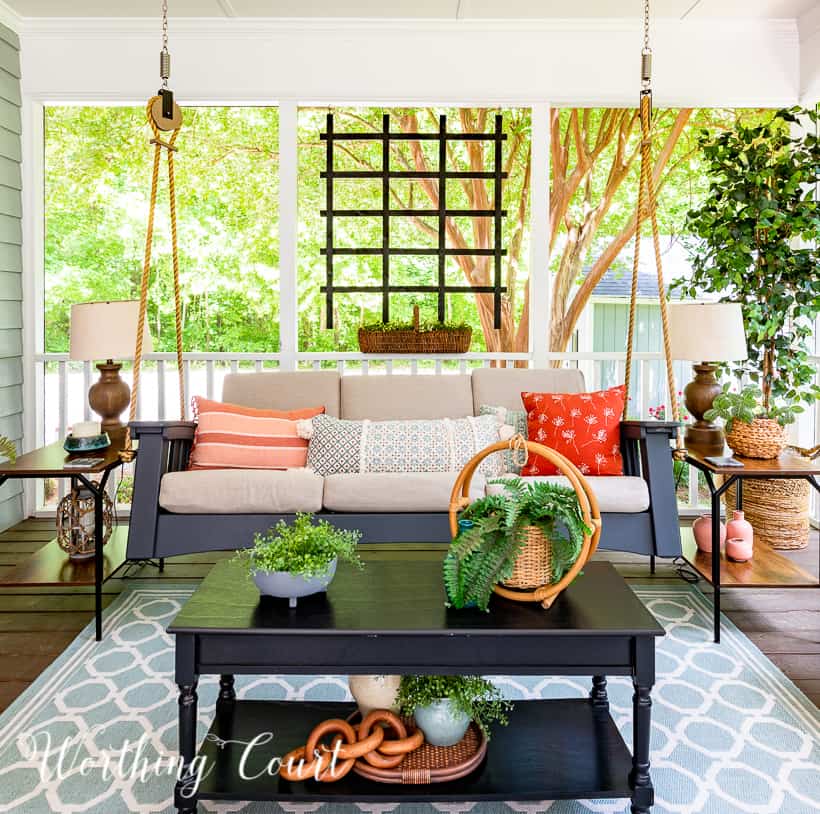 Pin
We also have a small chest that acts as an end table, but it makes a great spot for storing outdoor dining necessities.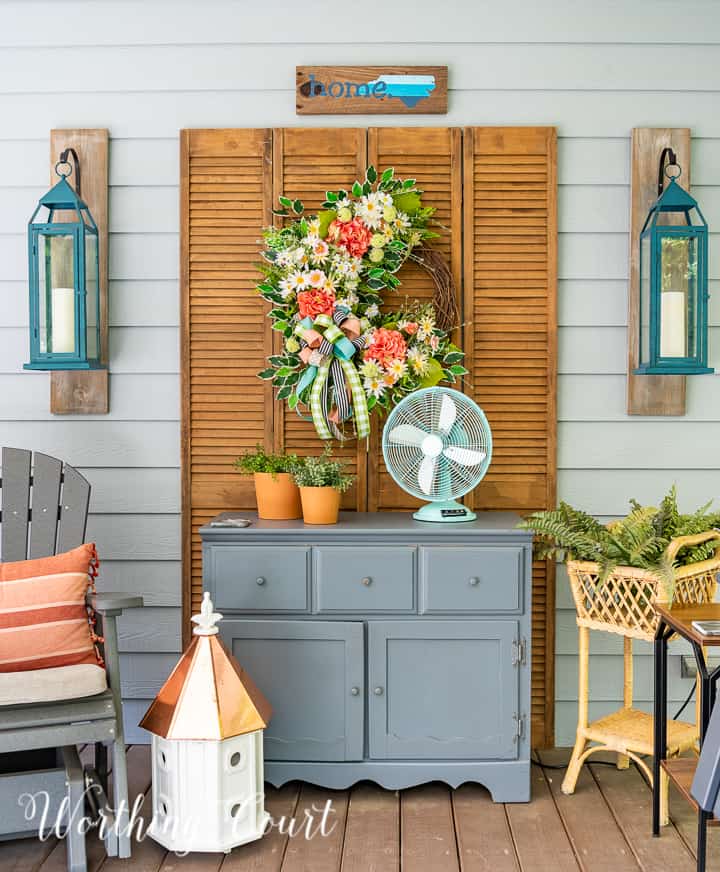 Pin
For furniture pieces that are not made for the outdoors, you can paint them with outdoor paint. Cushions and pillows can be made outdoor safe by spraying them with outdoor fabric protectant.
It isn't a piece of furniture, but a ceiling fan is a necessity if you live in a warm climate. Don't waste your money and purchase a fan just because it's pretty though.
We've learned the hard way (and wasted money) by not considering the rpm's (revolutions per minute) or cfm's (cubic feet per minute) that a fan is rated for. The higher a fan's rpm's or cfm's, the more air it will move. One or other of the ratings should be listed on the outside of the box.
TIP: To find fans with high rpm's and cfm's we purchase them a store that specializes in ceiling fans. We've never found fans with great ratings at a big box home improvement store and trust me, we've looked many times.
ADD ACCESSORIES AND DETAILS
With the large elements in place, now it's time to add the details that will bring your porch design together.
The addition of the details is what finally gave me the look that I was after on my porch! Think outside of the box when it comes to the details.
I filled a large blank wall and added lots of texture by propping a set of old bifold doors behind the chest and hanging a fabulous wreath on it.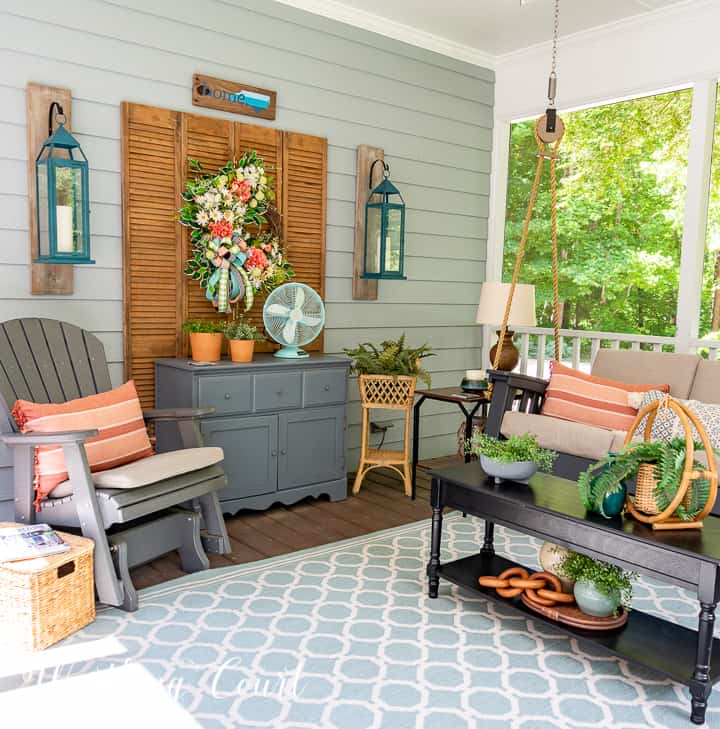 Pin
I simply must stop right here and give a special shoutout to Ashley at 3 Little Greenwoods for creating the fabulous wreath for me that you see hanging above the gray chest and that so beautifully pulls all the colors on my porch together!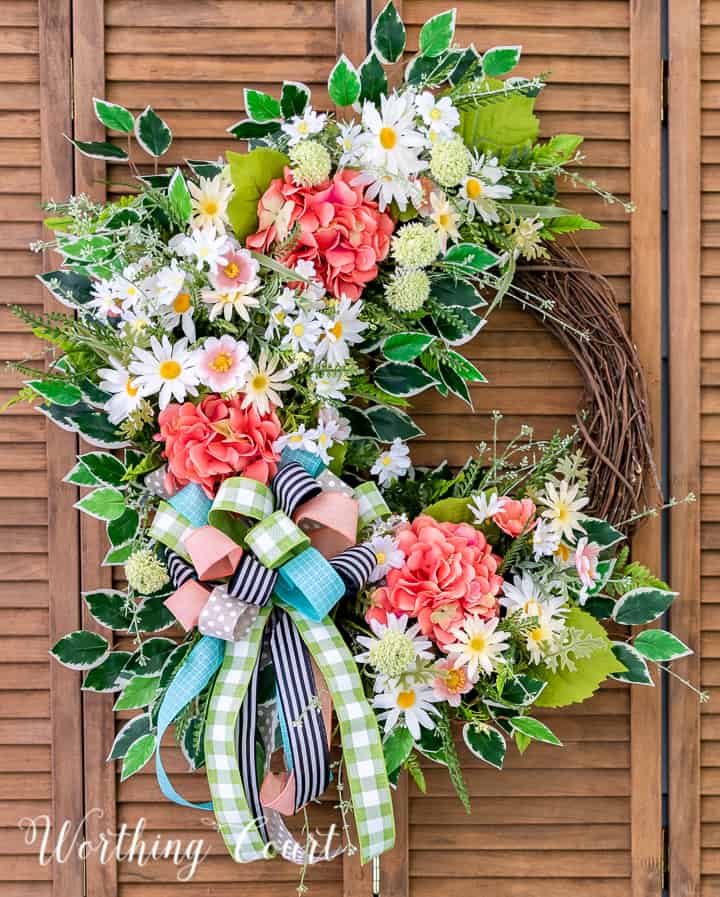 Pin
Ashley creates some of the most stunning wreaths, floral arrangements, lantern swags and other items that I've ever seen and sells them in the 3 Little Greenwoods Etsy shop. 
Pin
Ashley is extremely generous with her knowledge! Click HERE to follow her on TikTok, where she goes live twice every week, often demonstrating how you can make your own wreath, from start to finish. She has a free bow making tutorial which you can get access to HERE. Annnnnd…she has a YouTube channel filled with even more free tutorials!
To help fill the large blank wall even more, I flanked the bifold doors with a pair of lanterns, containing battery operated candles, hanging from plant hooks. The lanterns looked skimpy by themselves, so I hung each one from a piece of scrap wood that I painted using my diy driftwood-look technique.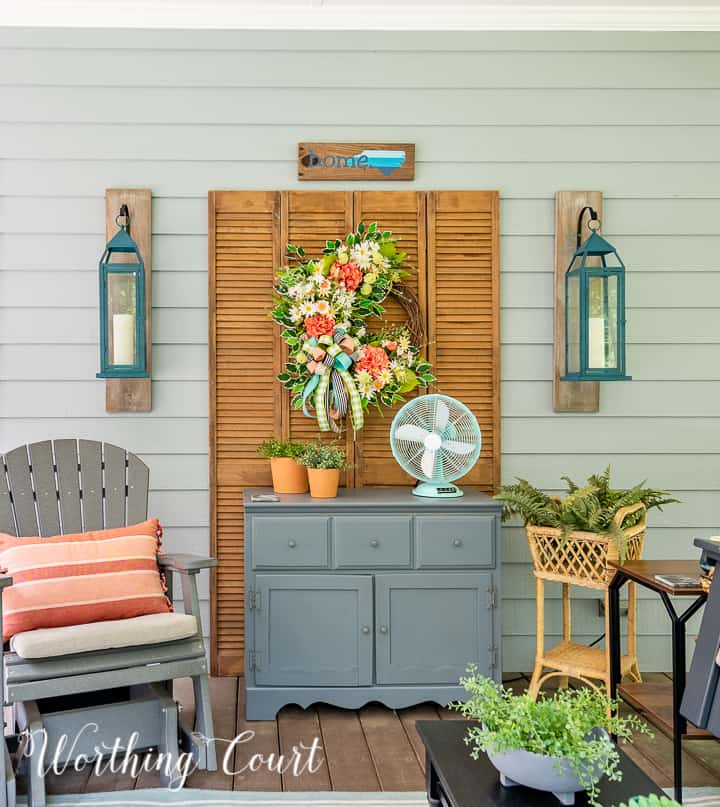 Pin
A very budget-friendly garden trellis, that has been spray painted black, hangs from cup hooks behind the swing, which helps to create a more closed in room feeling.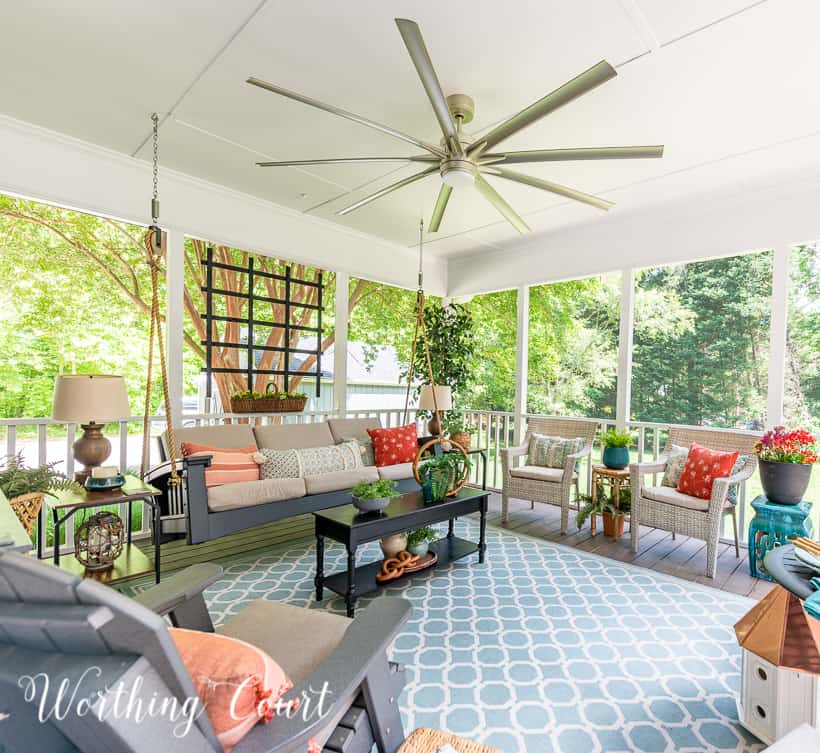 Pin
I pulled out the rust color in the aforementioned throw pillow as my inspiration for adding pops of color.
It didn't take a lot. I added a few terra cotta pots, a grouping of terra cotta colored vases and a few dark aqua or teal vases sprinkled around the porch.
And plants – mustn't forget plants. My motto is PLANTS=LIFE! Whether real or faux, the addition of plants to a room instantly brightens and brings any space to life.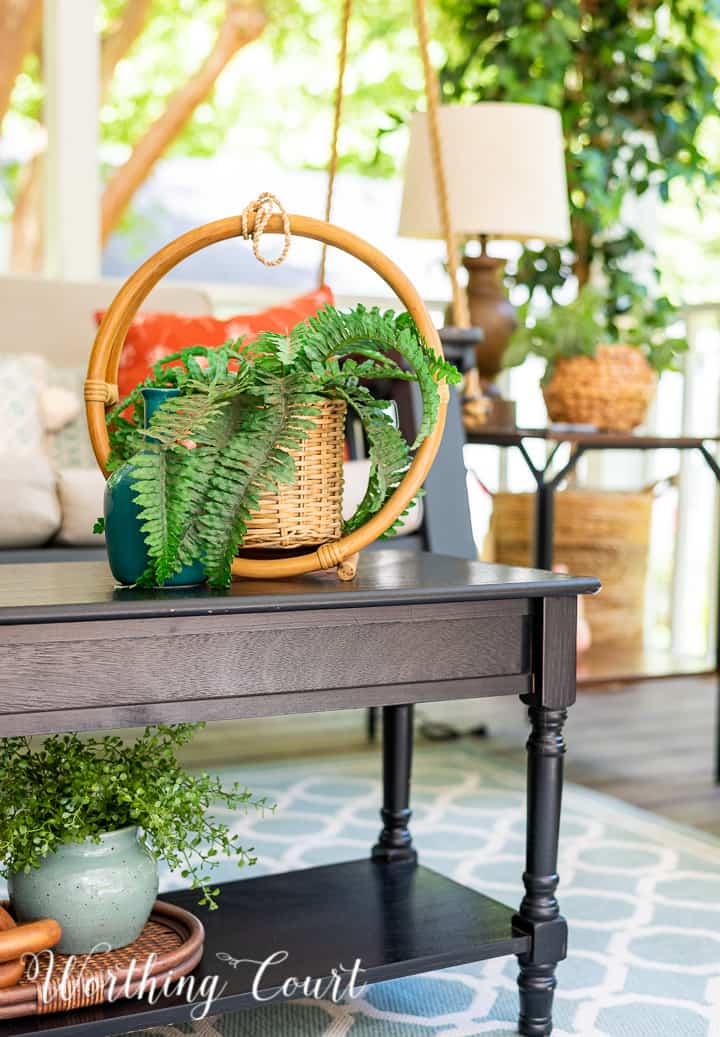 Pin
I scattered several plants, both real and artificial, around our porch and a tall artificial ficus tree helps to fill and empty spot and create definitition.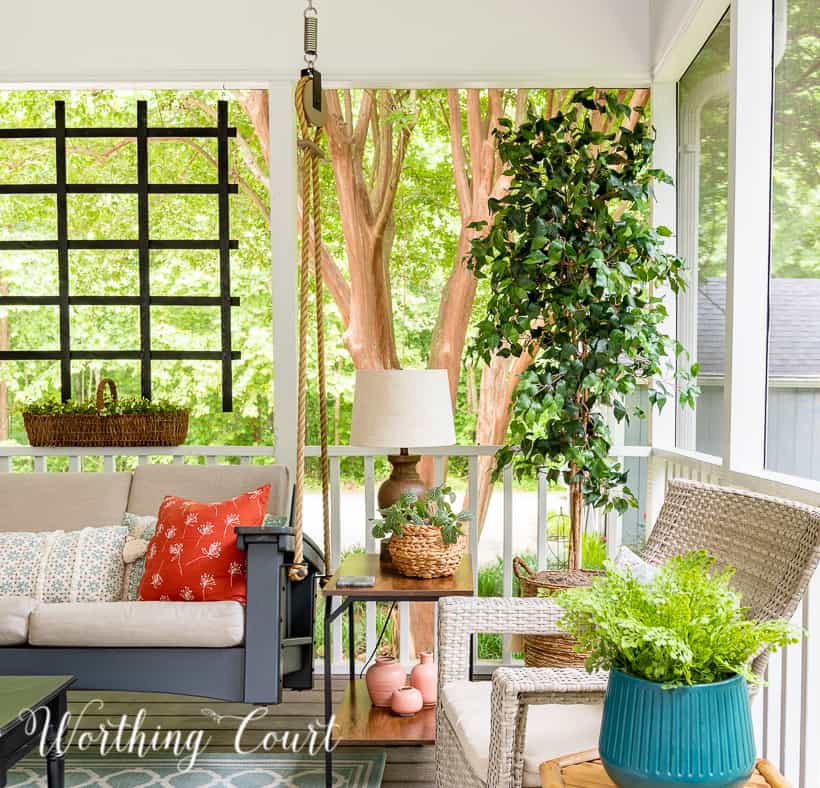 Pin
Other ways to add details are:
place plants, trees, extra pillows or throw blankets in baskets
add string lights running around the perimeter, along one wall or across the ceiling from side to side
hang outdoor curtains that are held in place with tiebacks – they can be functional or not, but will soften the hard edges in the corners and look so pretty blowing in a breeze
add trays to corral decorative items
add artwork by having a print laminated at an office supply store and then placing it in a frame
mirrors look great on porches too
make use of fabrics with fun and colorful prints for cushions and pillows
add latticework or rollup shades for privacy
rollup shades also work well for providing shade when needed, are inexpensive and can be hung from cup hooks.
AMBIANCE IS A MUST-HAVE!
Consider adding an outdoor rated electric fireplace. Nothing creates more ambiance in room! We've gone back and forth about adding one to ours. We have the perfect spot for it, but in our case I don't think we'd get enough use out of it.
Add layers of lighting, meaning to include lighting at different levels – above eye level, at eye level and below eye level.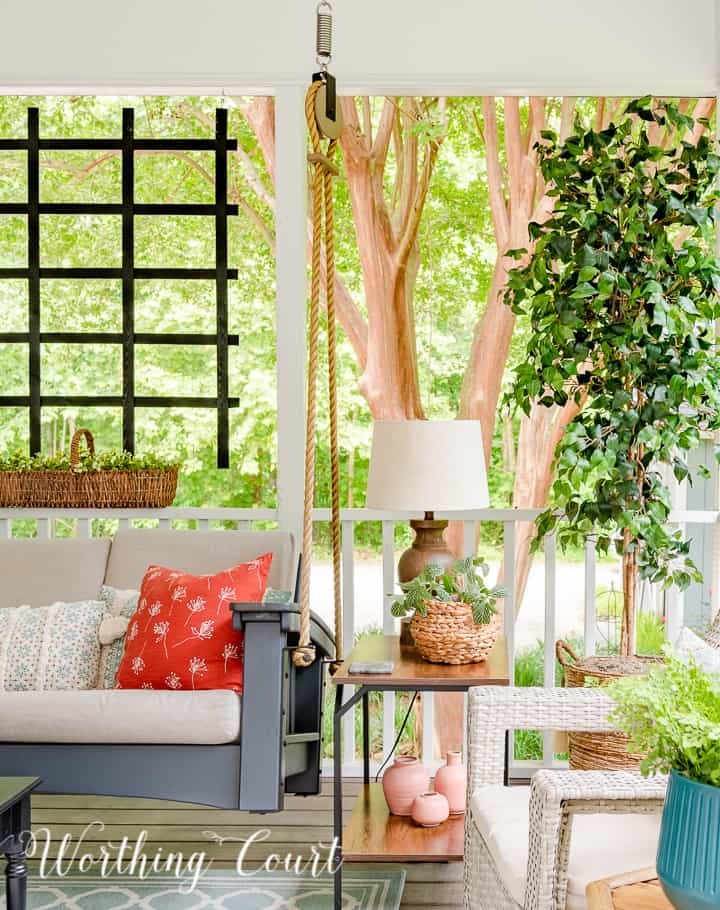 Pin
A well thought out design will include lighting in multiple locations – on the ceiling, on tabletops, even on the floor. Just be sure that any lamps you use are outdoor rated, if you'll be keeping them plugged in.
I have a pair of lamps on my porch that are not outdoor rated, but I don't keep them plugged in all the time. Even if I never actually use them, it's having the lamps as part of my decor that adds the ambiance.
I adore the ambiance of string lights in an outdoor space! We don't have them on our porch, but we do have them strung across our deck and we turn them on every night at dusk.
One of the easiest ways to add ambiance and create a cozy vibe in the evenings or at night is to use lanterns filled with battery operated candles. I love them hanging from a hook on the wall, on a tabletop or even sitting on the floor. Make sure the candles are either operated with a remote control or are on a timer to make things easy.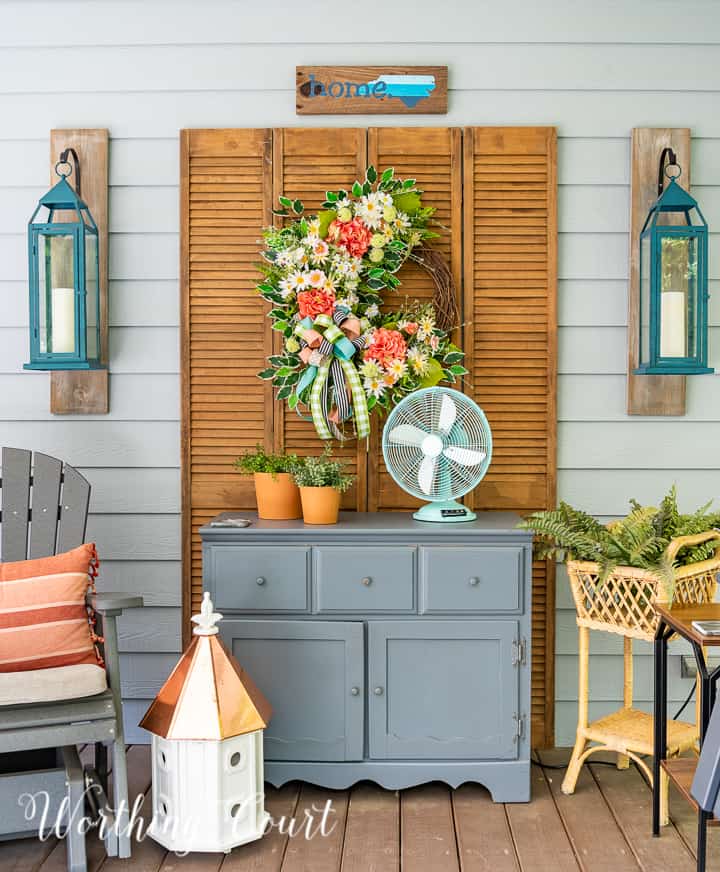 Pin
Thank you for visiting today! I hope you found this information helpful and that it answered your questions about how to decorate a screen porch.
Be sure to visit The Stonybrook House next as well as visiting the rest of the homes on the tour. There's summer decorating inspiration for every taste!
Monday – June 6th Lineup
PinA Stroll Thru Life – Our Southern Home – Grace In My Space
Hymns & Verses – Southern Hospitality – Chalking Up Success
Tuesday – June 7th Lineup
Pin
Calypso in the Country – StoneGable – 11 Magnolia Lane
White Arrows Home – RemodelaCasa – Pink Peppermint Design
Wednesday – June 8th Lineup
Pin
Designing Vibes – Cuckoo4Design – Whispering Pines Homestead
Decor to Adore – Thrifty and Chic – Clean and Scentsible
Thursday – June 9th Lineup
Pin
CitrineLiving – Southern Home and Hospitality – Worthing Court
The Stonybrook House – Southern State of Mind – This is our Bliss
Friday – June 10th Lineup
Pin
Follow The Yellow Brick Home – Country Road 407 – Quarters One
Shiplap and Shells – Simply2Moms – Pasha Is Home
THIS GIVEAWAY HAS ENDED.
The giveaway is for $100 off of any item that is priced at $100 or more in
the Etsy shop of 3 Little Greenwoods
and runs from 6/9/2022 through 6/18/2022. Only residents of the USA are eligible to win. One winner be chosen at random and will be notified by email.
By entering the giveaway, you are signing up to receive email newsletters from both 3 Little Greenwoods and Worthing Court. You can opt-out at any time and your emails are never shared with anyone.