How To Get Fixer Upper Style In Your Home For Under $5
If you've been craving the Fixer Upper look for your own home, I've rounded up an amazing selection of affordable Magnolia Hearth and Hand decorations starting at under $5!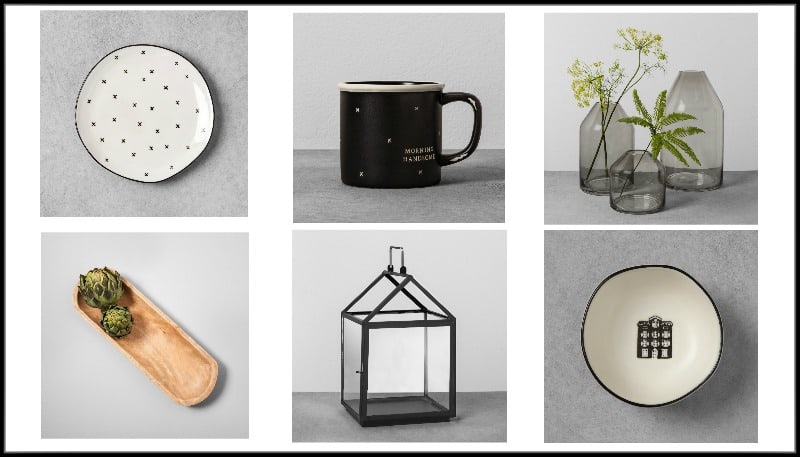 Y'all! Have you heard the news? Joanna has come to Target! Well…not Joanna herself, but it may as well be her, in my book. 🙂 No, what I'm talking about is that as of November 5th, Target started carrying a new line of Fixer Upper type decor called Hearth & Hand With Magnolia!
Here's the awesome thing about it – this will be a permanent (as permanent as anything can be in retail) line at Target. Not just a once and done, flash in the pan, get it as soon as the doors open or forget it line, like Target did with a famous designer a while back.
Secondly, the items in this line are very affordable – I'm talking Target price point affordable – as in starting at under $5! You probably already know that Magnolia has a line of furniture, pillows, rugs, etc. that are sold in furniture stores and other retailers, but I've found them a bit pricey, to be honest.
And thirdly, the Hearth & Hand collection is extensive! I'm amazed at how many products are included in the line. I was expecting only a few choice items, but no – there is a wide, wide variety of products available. Oh yeah – there's Christmas decor too!
I'm doing my shopping online because I'm pretty positive that the stores will be crowded and the shelves will be picked over pretty quickly. Let me show you what's on my rather extensive wish list. So extensive, in fact, that I've broken it up into three parts – Home Decor Accessories, Christmas Decor and Kitchen and Dining.
This post contains affiliate links. See my full disclosure HERE.
HOME DECOR ACCESSORIES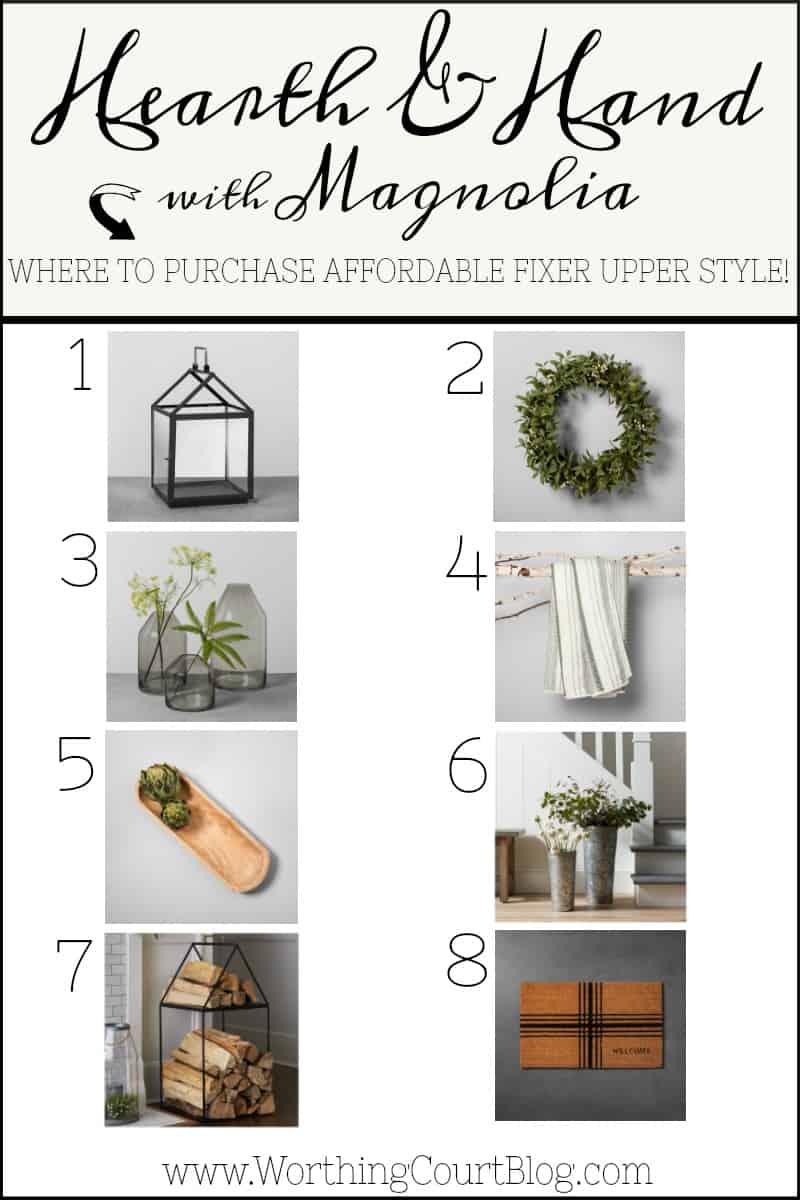 1. HOUSE LANTERN || 2. LAMB'S EAR & WHITE BERRY WREATH ||
3. SMOKED GLASS JUG VASES || 4. EMBROIDERED THROW BLANKET ||
5. CARVED WOOD DECORATIVE BOWL || 6. VASES WITH FLOWER FROGGER ||
7. LOG HOLDER || 8. PLAID COIR DOORMAT
CHRISTMAS DECOR
1. LETTERS TO SANTA MAILBOX || 2. RED PLAID STOCKING ||
3. GREEN POMPOM STOCKING || 4. 2017 VINTAGE BELL ORNAMENT ||
5. BEADED WOOD GARLAND || 6. WOOD NUTCRACKER ||
7. ARTIFICIAL PINE WREATH WITH BELLS || 8. ARTIFICIAL PINE GARLAND
KITCHEN & DINING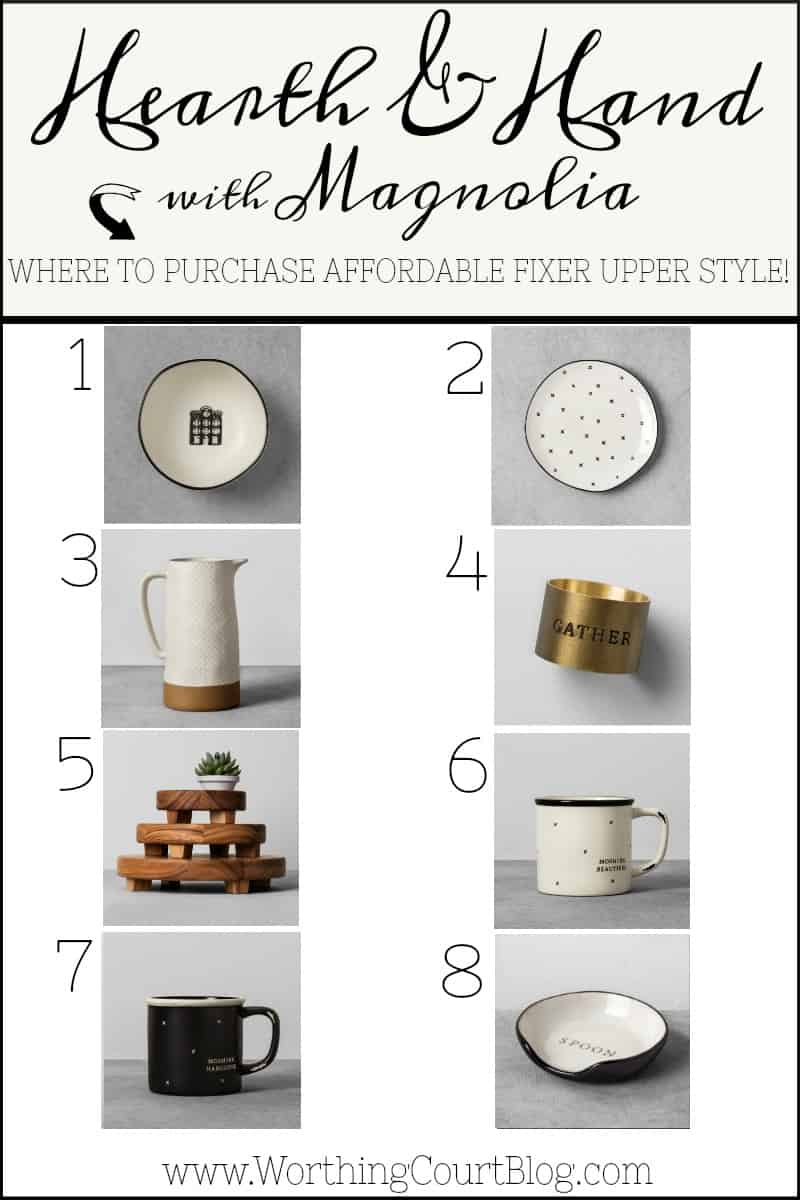 1. TEXTURED STONEWARE PITCHER || 2. GATHER NAPKIN RINGS ||
3. WOOD FOOTED TRAY || 4. MORNING BEAUTIFUL STONEWARE MUG ||
5. MORNING HANDSOME STONEWARE MUG || 6. SPOON REST ||
7. STONEWARE DESSERT BOWL || 8. STONEWARE BREAD PLATE
How fitting that the premiere of Magnolia's Hearth & Hand line coincides with this month's Reader Appreciation Giveaway for a $100 gift card! Click HERE to read the entry details.