How To: Chalkboard Art Made The Easy Way
Did you catch the reveal of my typography gallery wall art last week?  I want to show you how easy it was to make the chalkboard art that is a part of it.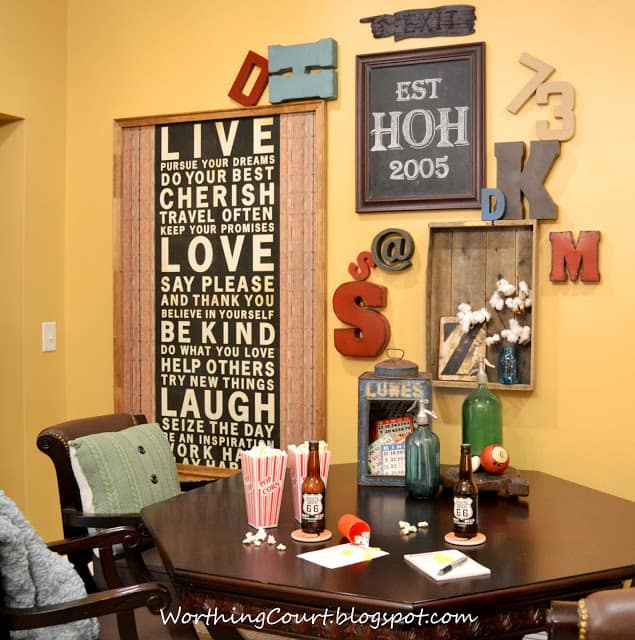 When I put that gallery together, I knew that I wanted to include a framed chalkboard that I made out of an old frame that I had lying around.  BUT – my freehand drawn chalkboard art is, shall we say, less than stellar.
Checkout the chalkboard art in my
July 4th vignette
this year if you want a prime example.  
☺
Even though this chalkboard art is a simple design (which it needed to be for this gallery), I'm pretty happy with how it turned out.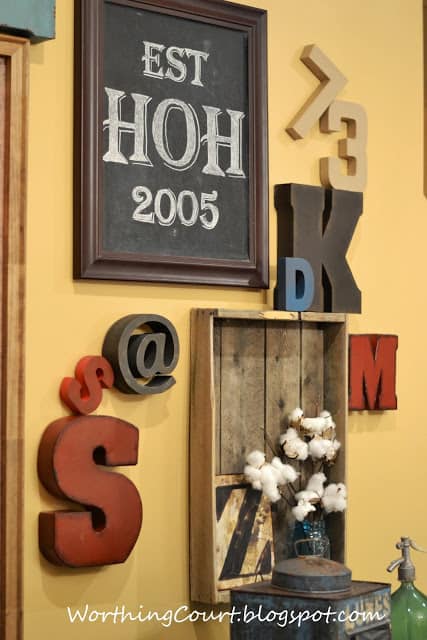 I don't have pictures of every single step, but it's so easy and here's how I did it.
First of all, I made a Word document for each letter and string of letters and numbers that I wanted.  Each one was sized to the actual size that I wanted it to be on my chalkboard.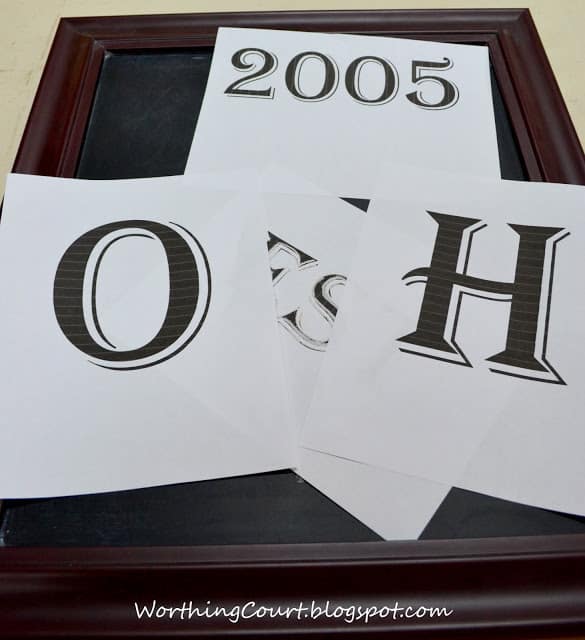 I then turned each page over to the backside and traced around every line in every letter with a piece of chalk.  This is important – make sure you do it on the backside of the paper or you'll wind up with this.  Read backwards much?  No.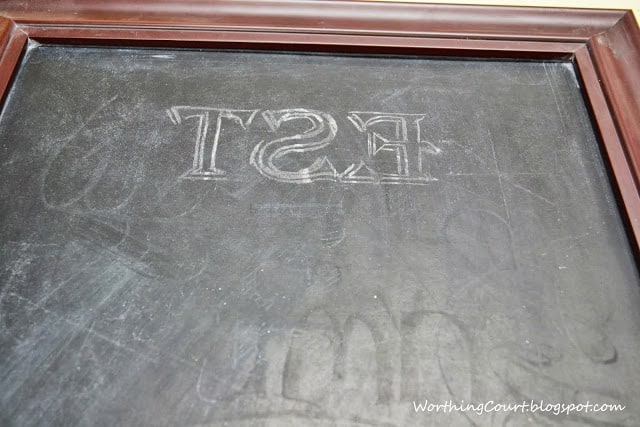 Once you've traced around the outside of the letters with chalk, you can transfer the image to your chalkboard by turning the paper back over so that the front side is facing up.  Proceed to rub all over the design with your finger, applying pressure as needed.  I found using my finger worked much better than trying to rub the paper with anything else.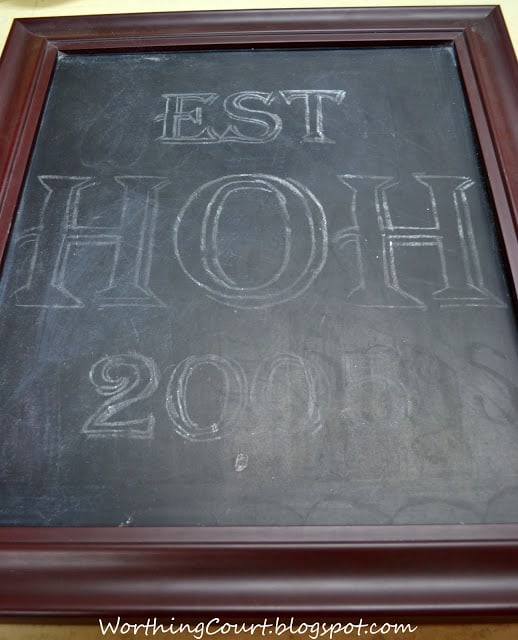 The most time consuming part of the whole project was measuring the placement of each string of letters and numbers.  Oh – and making sure it was straight!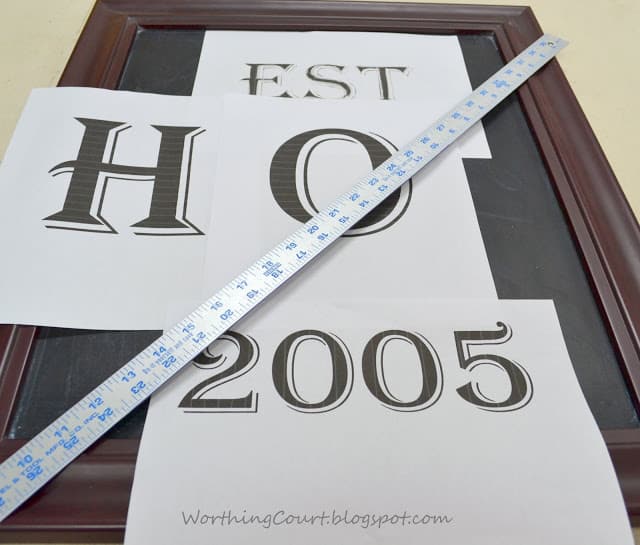 After the chalk outlines have been transferred to the chalkboard, you simply fill them in.
BTW – did you know that you can sharpen chalk with a pencil sharpener?  You'll need to make sure that the sharpener has a space for sharpening those fat pencils because the chalk won't fit into the sharpening space for a normal sized pencil.  The sharpened chalk worked great for filling in those narrow and tight spots.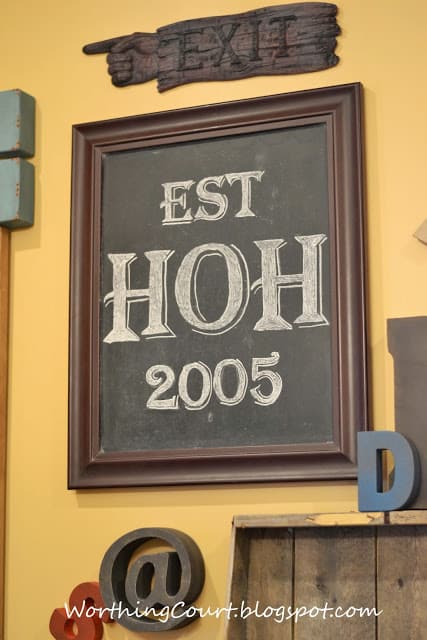 Like I said, it was so easy!  I won't be afraid of doing this ever again and can't wait to try a more complicated design.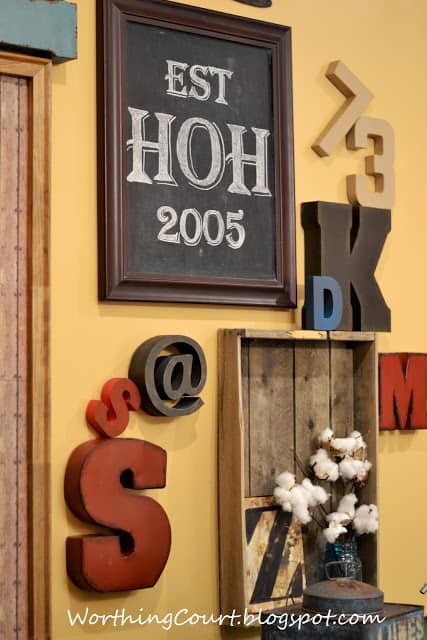 This gallery wall is in the media-family room in my basement.