How to Make New Wood Look Like Old Barn Wood
If you live in the city, like I do, and don't have any friends with an old barn in their backyard, like I don't, you may find it nearly impossible to find gen-u-ine, old wood from an old barn.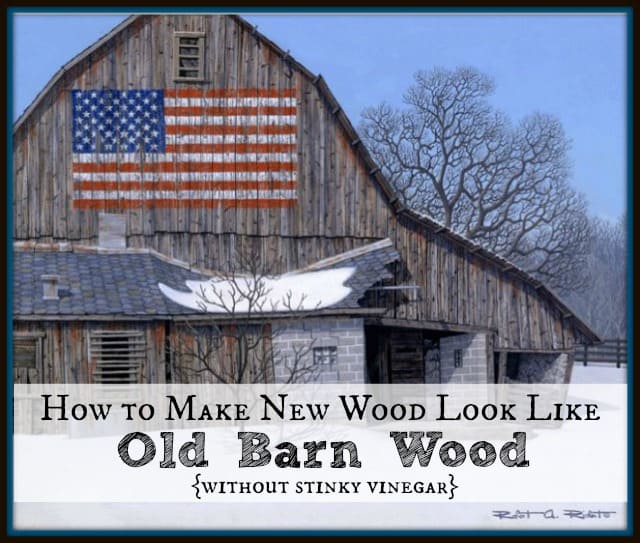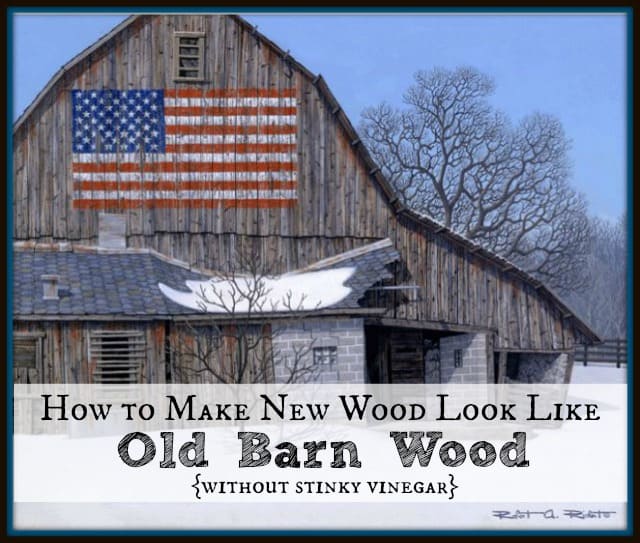 I searched Craigslist and all kinds of online sources to no avail.  There is a lot of rural area within minutes of where I live so I thought that surely someone would realize what a gold mine they have and would be selling it online.  But nope.  Nada.  Nothing.  Bummer.
Old barn wood is what I was after to create a backdrop for the rustic vignette that I put together for the top of the new entertainment center in my basement family room.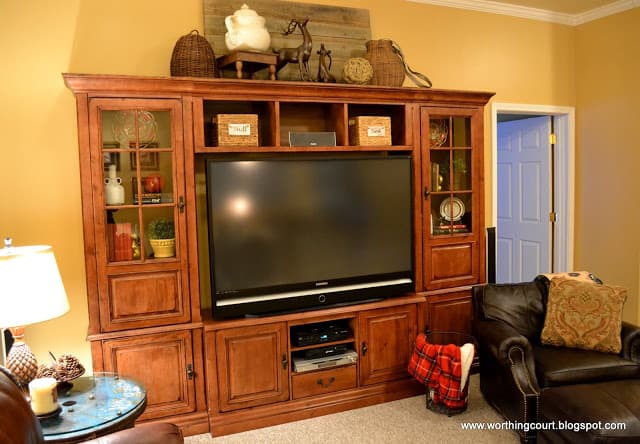 See those boards standing up behind the accessories in the below picture?  That's exactly the look that I was after.  The long board in front, with sectioned spaces, is a sample board that I made trying to mimic that look using new wood.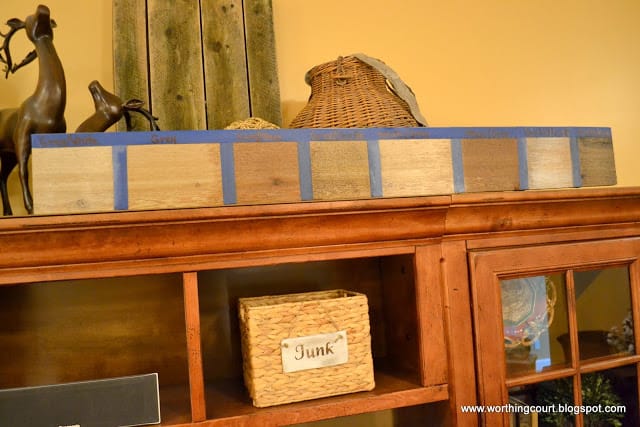 Let me tell you about it.
First of all, I went to good old Google to do research on "how to age new wood".  I was all set to use a method using vinegar and steel wool on some new pine boards.  I even went to Lowes to buy all of the supplies.
BUT – as I was walking down the aisle, I saw that Lowes carries boards made from cedar in addition to the regular everyday pine that we're all used to.  One side of the boards was rough and one side was smooth.  Sweet!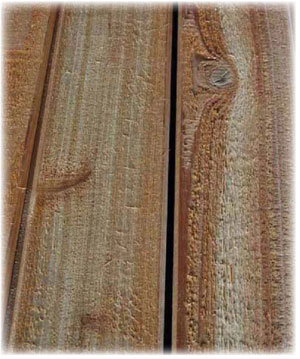 My plan quickly changed.  I decided that I could use the rough side of the boards along with stain and paints to get the look I was after.
I applied translucent gray stain, brown stain and black and white acrylic paints in several different combinations to a piece of the cedar to see which look I liked the best.  Painters tape worked great for sectioning each sample off.  If you look closely, you can see that I labeled each section with a Sharpie so that I could remember what combination each one was.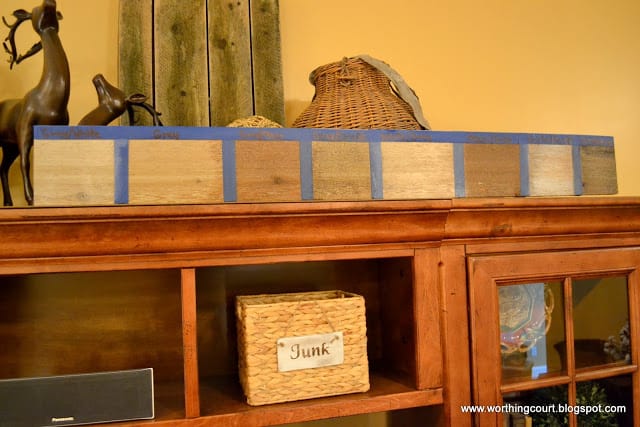 I decided that the sample that was the closest to what I was after was the fourth one from the left – gray stain with black acrylic paint lightly dry-brushed on the top layer.  The gray stain that I used is Rustoleum Ultimate Wood Stain in the color Sunbleached.
I used a combination of 1×2's, 1×4's and 1×6's to come up with a 48″ x 24″ aged wood backdrop.  I didn't care how the different size boards were combined together and I wasn't all that concerned with how well the ends lined up since I wanted it to be rough looking.
I started off by laying my boards on a table with the smooth side up and attaching them all together by screwing a piece of scrap wood close to each end of the boards.  I ran a bead of carpenter's glue along the scrap for good measure.
Make sure you put a screw into each board.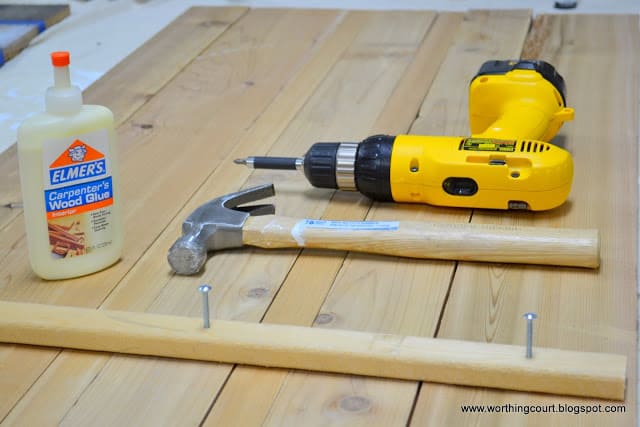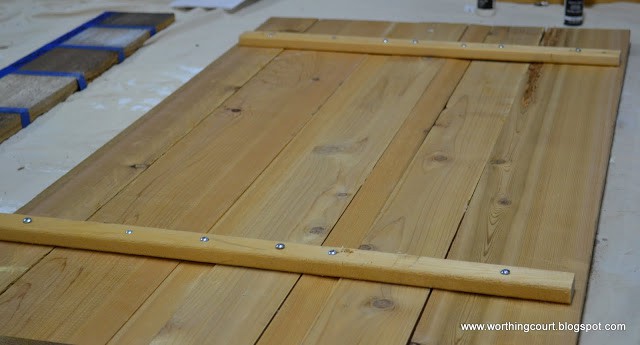 I then flipped the whole thing over so that the rough side was up.  I used a rasp to rough up the edges of the boards a little and take away that "new board" look.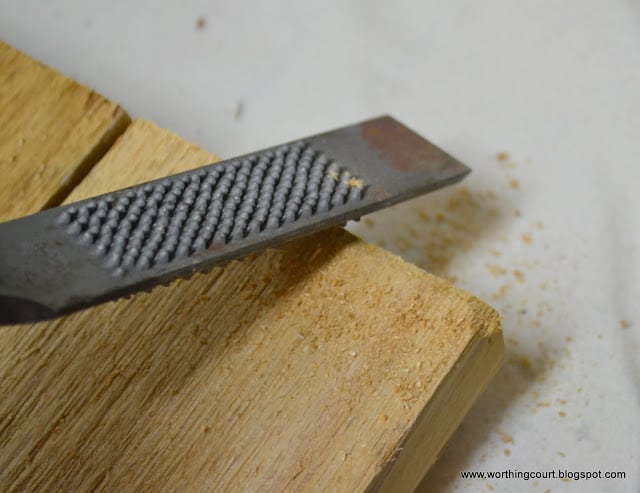 I brushed on the gray stain, quickly wiping it off with a rag as I went.  Then using a dry brush technique, I lightly applied black acrylic paint here and there, quickly wiping that with a rag too.
And voila!
Even Pookie (who didn't notice the Christmas mantle until after I blogged about it even though it had been decorated for two weeks and is right beside his chair) commented on how much it mimics the look of real gen-u-ine old barn wood.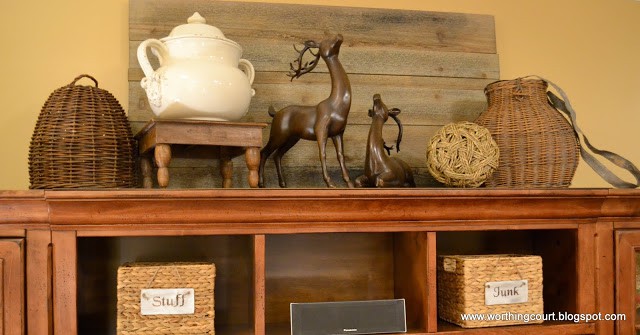 Easy peasy and I didn't have to put up with the smell of any stinky vinegar!