The Easiest Way To Paint Wood Furniture
Wow – that title is quite a mouthful, but I really couldn't think of a better one to go along with today's post!  A huge part of the makeover of our dining room was making the decision as to whether or not to paint my traditional wood furniture.  I was plain scared, y'all.
Even though the furniture is not a valuable antique, it was moderately priced at the time that we purchased it – so I knew that if I messed up and made the wrong decision I was going to have to live with it.  There would be no replacing it.  Yikes!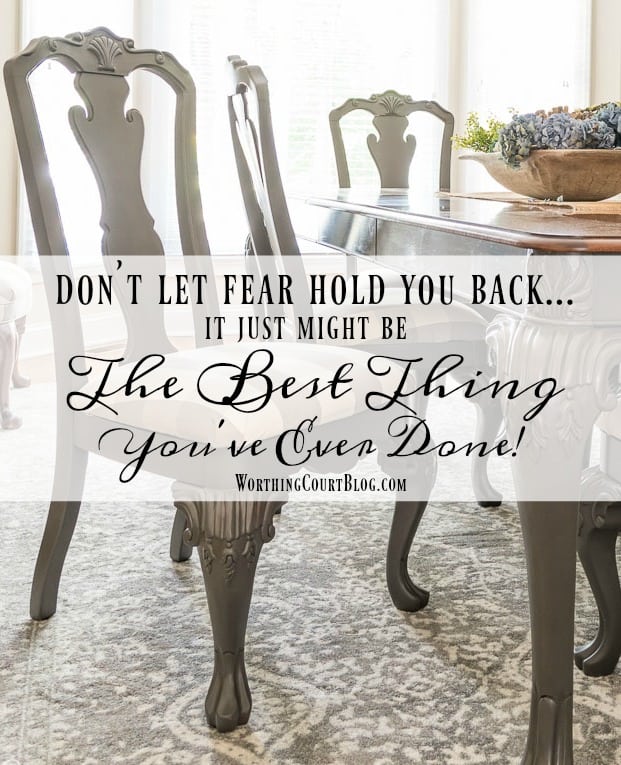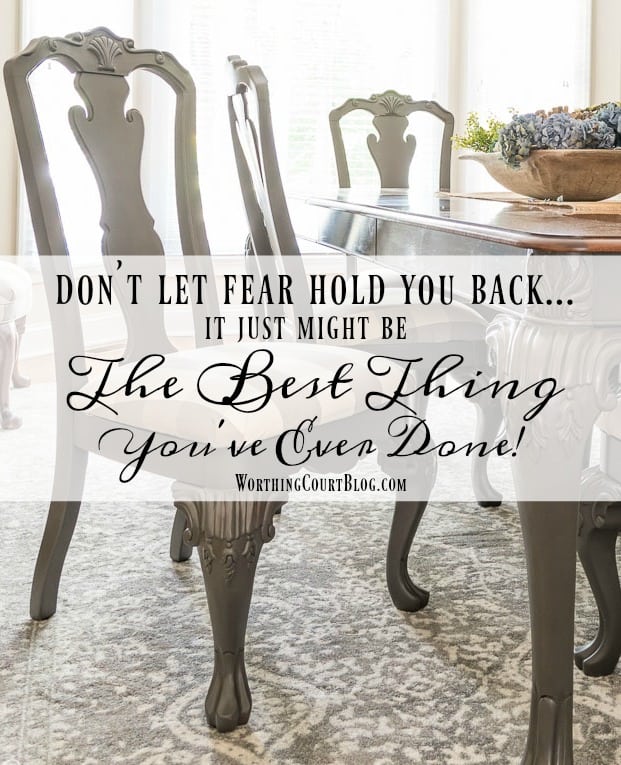 Pin
Well…I took the plunge and am so glad that I did!  It turned out to be the best thing that I could have done for our dining room!  I didn't just grab a can of paint and start painting though.  There are a couple of tricks that I used to get a cohesive look – without being matchy-matchy.  Let's take a look a the surprising techniques that I used.
At the beginning of this makeover, I had no intention of painting any of my furniture, other than possibly painting the small cherry chest that was located under the mirror.  I agonized over that little chest.  Then, I remembered that I already had a gray chest in my foyer.  After moving it into my dining room and changing the hardware, I knew that I couldn't stop there and wound up painting almost every piece of furniture in here.  Ha!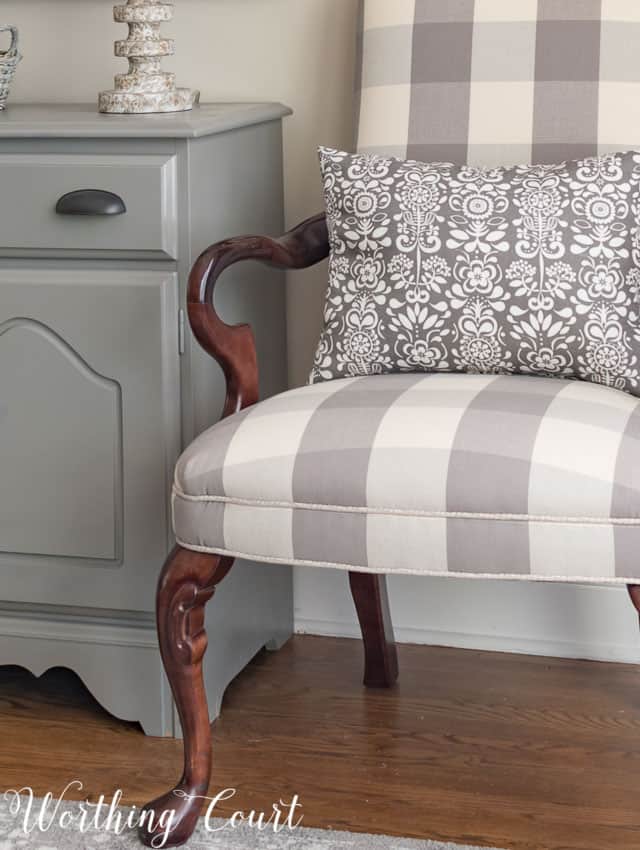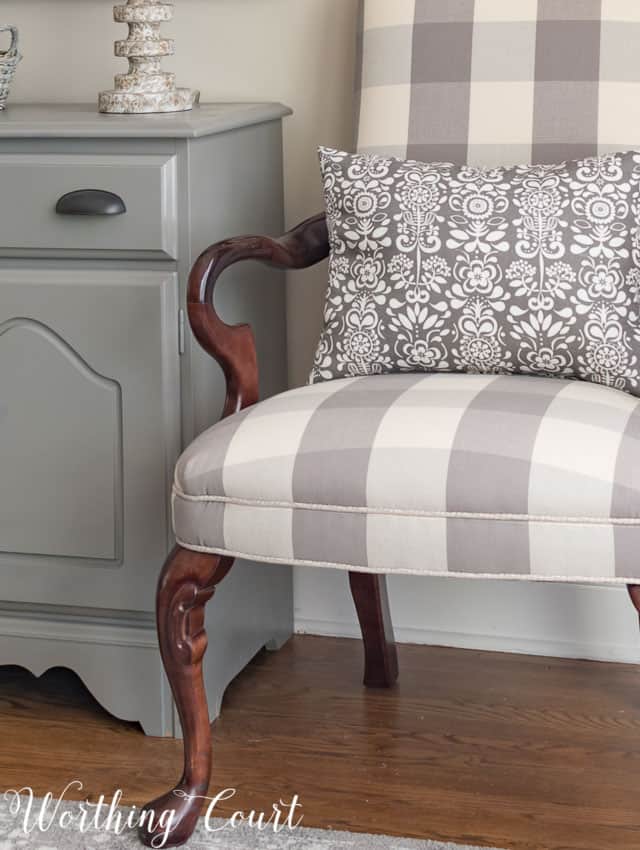 Pin
If you've been following the makeover progress, then you'll notice that the chair beside the chest is different than what originally resided here.  When Pookie asked me what I wanted for my birthday, I immediately said, "Recover the old office chairs!".  And so we did.  Happy birthday to me.  😀  Click HERE to see the original chairs.  I found the awesome buffalo check fabric at Printer's Alley, which is a local fabric shop.
Once I brought the gray chest into the dining room, the sea of brown furniture bothered me even more.  So…that little chest and the fabric that I recovered the chairs and chair cushions with was just the nudge that I needed to force myself to overcome my fear of painting the rest of the furniture.  The brown chairs just didn't look that great with the gray and white fabric.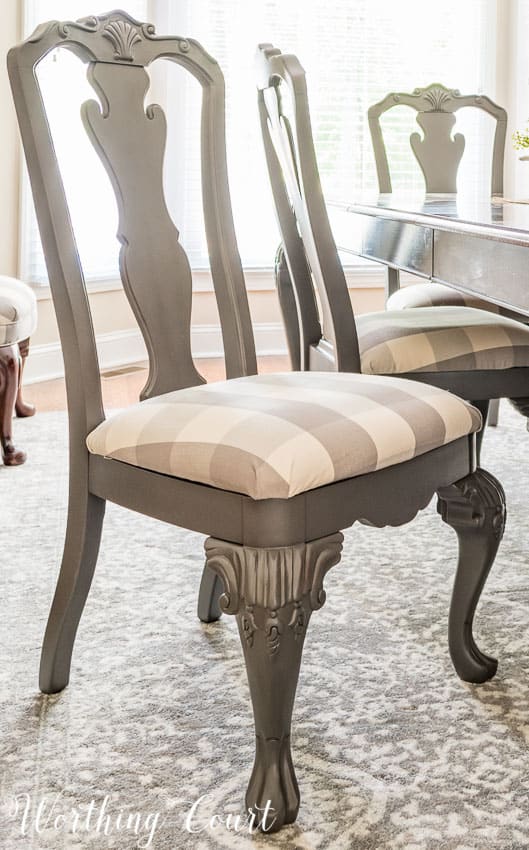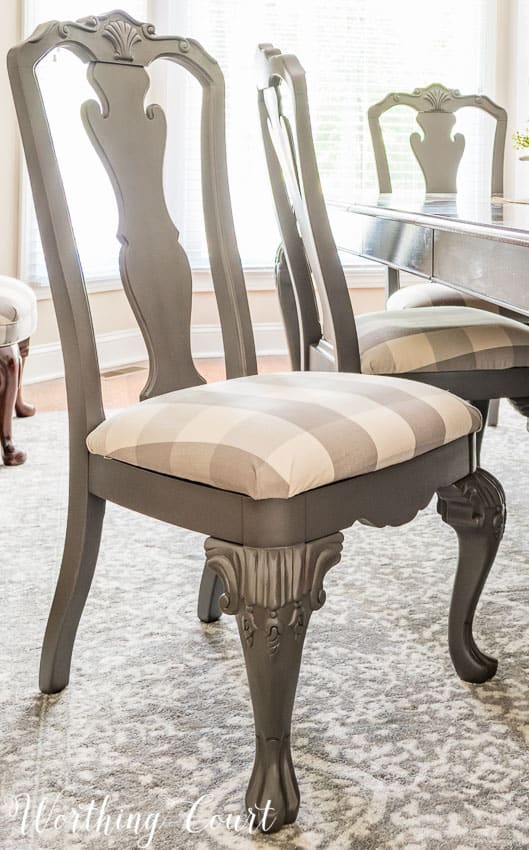 Pin
Spray paint to the rescue!  If you've been following me for long at all, you already know that I'm a totally lazy and messy painter and love it whenever I can use spray paint.  I have a go-to gray spray paint color that I almost always use – Rustoleum Anodized Bronze.  It's a rich gray color that isn't cold, like some grays can be.  Each chair used two cans of paint (three coats) to completely cover the brown.  Even though it appears that I added a dark glaze over the paint, I didn't.  This is just the spray paint and nothing else.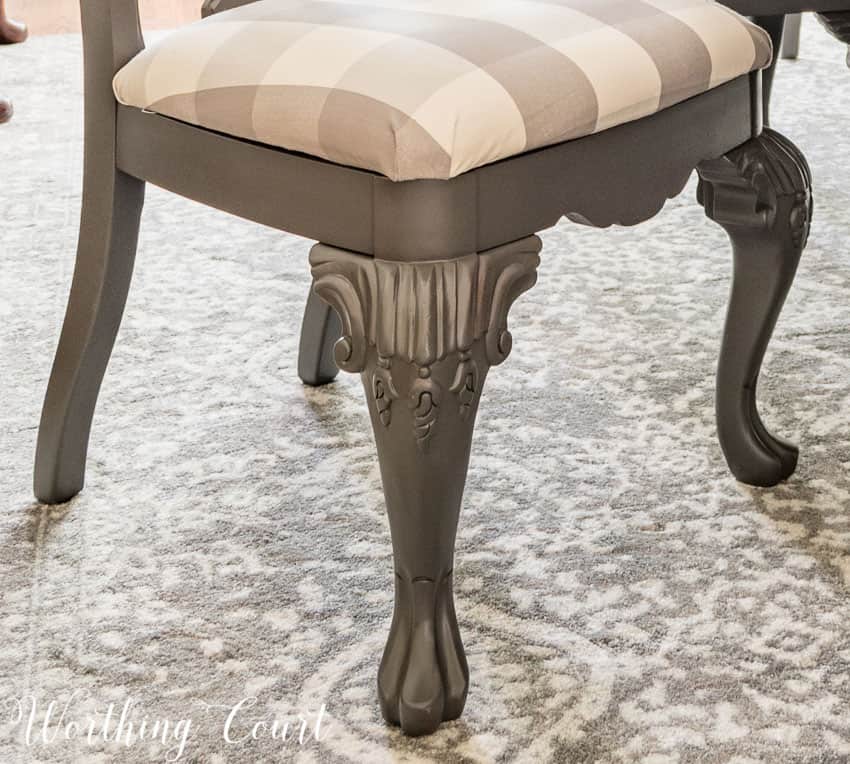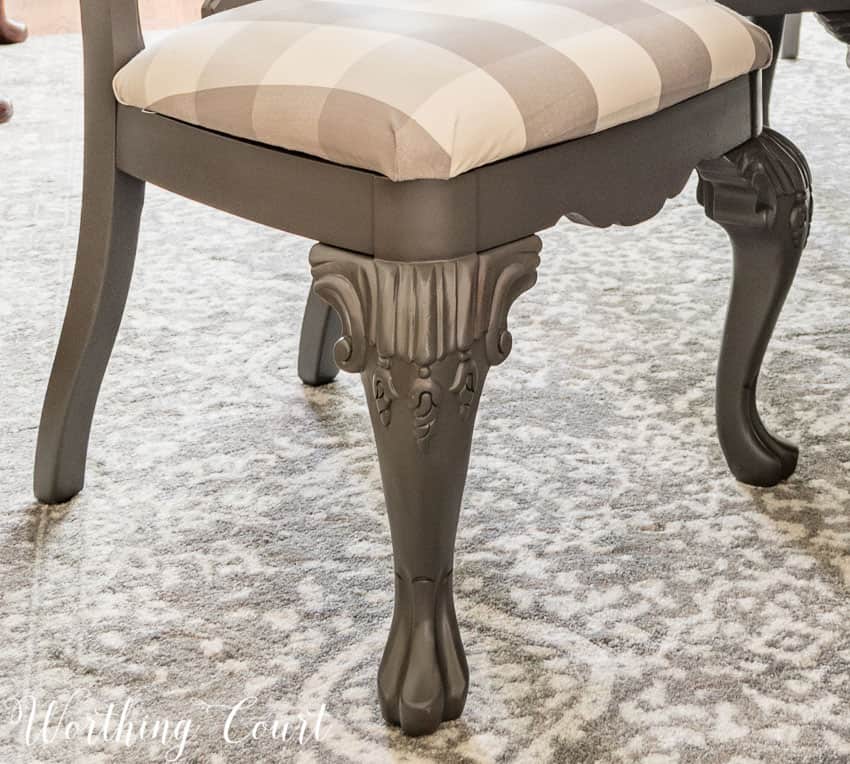 Pin
Of course, one thing leads to another.  Right?  After the chairs were painted, it became obvious that I needed to do something with the table. Sooo….I painted the legs of the table to match the chairs.  BUT – there was no way that I was going to haul that heavy table outside so that I could spray paint it though.  But that meant that I needed regular paint to match the spray paint – right?
My solution was to spray a solid coat of the spray paint onto a scrap of wood and take it to my local Sherwin Williams to get them to color match it for me and it was perfect!.  All I had to do was to put a dropcloth under the table and spend an afternoon with my trusty paint brush.
BTW – I didn't do any sanding at all, but I did wipe each chair and the base of the table down with TSP prior to painting.  The TSP removes any gunk or finger oils that would have gotten on the furniture from handling it.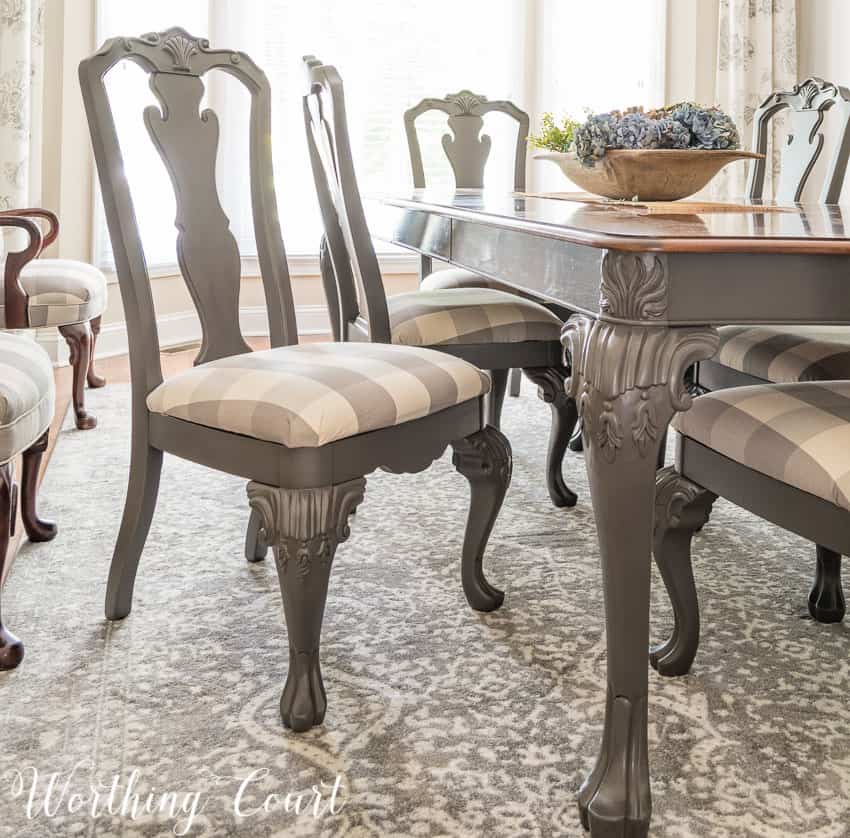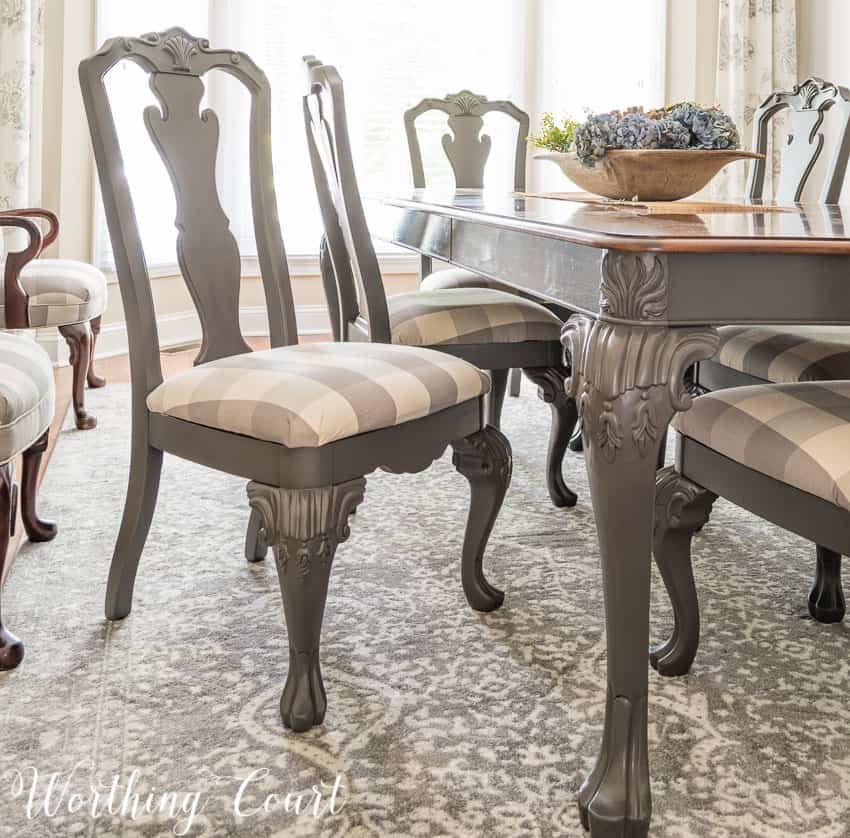 Pin
Sherwin Williams was able to perfectly match the spray paint for me.  You can't even tell that the chair frames were spray painted and the legs of the table are brush painted with a custom mix to match.  This is their paint formulation that they recommended I use and here's the custom match formula for you.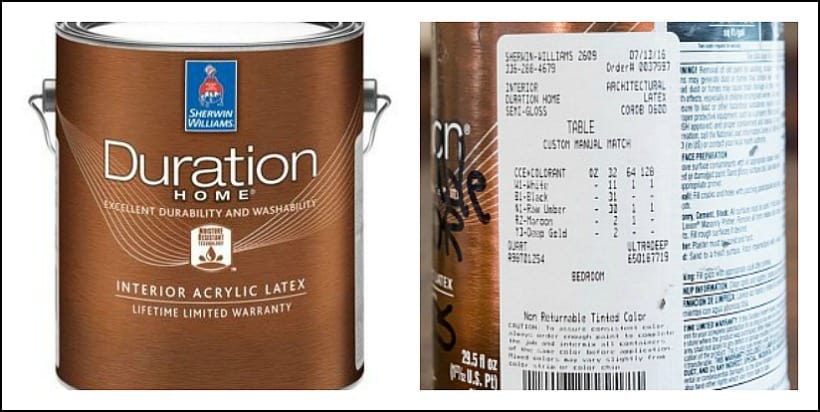 Pin
I opted not to paint the top of the table for two reasons – 1) I knew it would get scuffed up with use and 2) I actually like the look of brown wood mixed with painted wood.
That left one more large piece of furniture that I truly never ever thought I would paint – the sideboard.  But, guess what?  It stood out like a sore thumb once the gray chest was brought in and the table legs and chairs were painted.  However, I felt that having another solid gray piece of furniture in the room would be too matchy-matchy, so I gave it a gray-wash with the gray paint that the paint store had mixed for me.  I used 1 cup of the gray paint mixed with 1/2 cup of water and applied it with a paint brush.  I dabbed more paint on where needed and used a rag to wipe places off that had too much, until I got the look that I was after.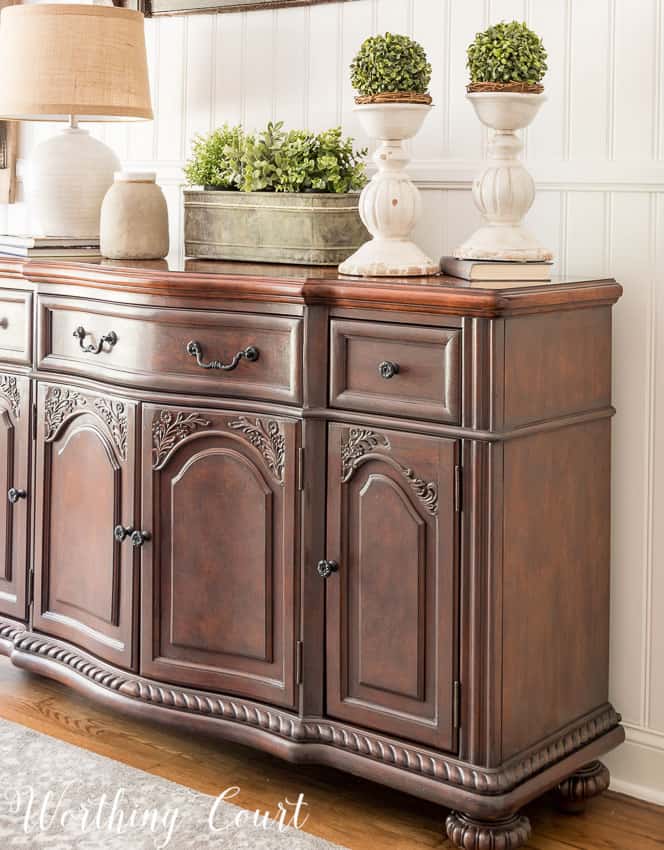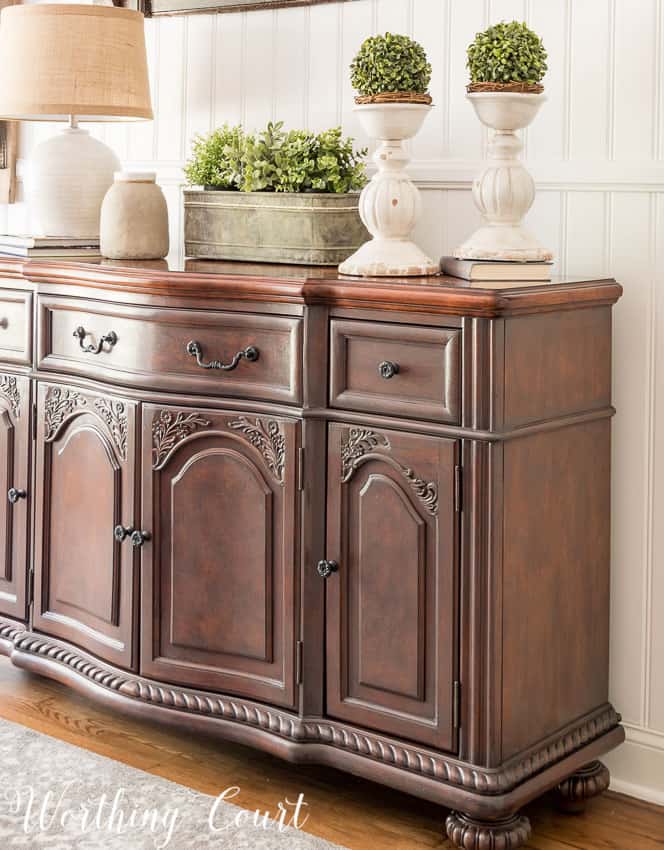 Pin
Just like on the table, I opted not to paint the top of the sideboard.  At certain times of the day, the gray-wash is very subtle (like in this photo), but at other times it's more pronounced.  I kept the same hardware, but removed the backer plates to some of the knobs and painted the remaining hardware with matte black spray paint.
That left one last decision to be made.  What to do with the mirror above the chest.  Replace it with a chalkboard?  Keep it?  Paint it?  In the end, I decided to keep the mirror as it helps to bounce light around in this often dark room.  I didn't mind the black frame, but did not like the garish gold accents.  Once again, I didn't want to paint the whole frame a solid color, so I played around a bit with a couple of different stains.  I first applied a coat of Minwax Special Walnut and before it was dry, I added a coat of Minwax Classic Gray.  I used the same dabbing on and wiping off technique that I used on the sideboard until I got it just right.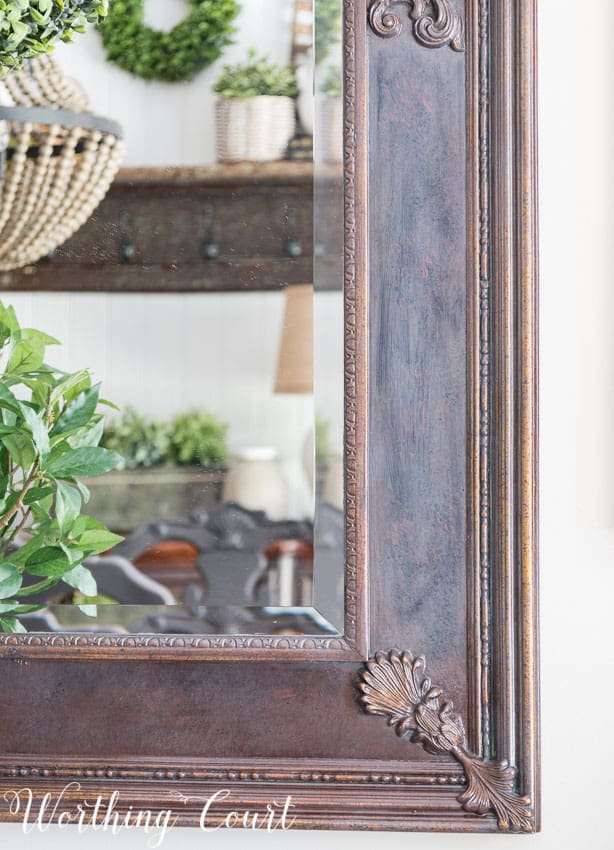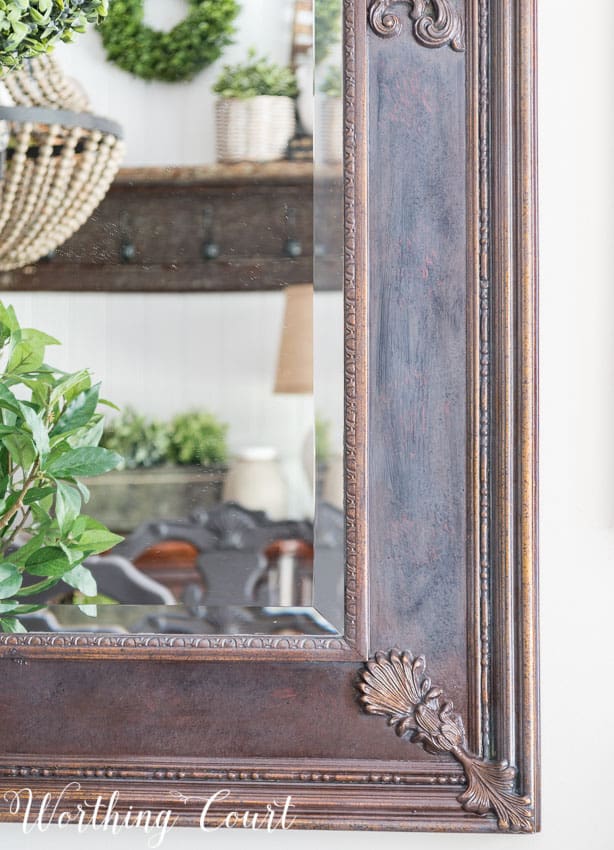 Pin
You can see that the stain still allows the black part of the frame to show through, but dramatically tones down the gold.  It's a good technique to use if you don't want solid coverage.
In spite of my fear of painting my "nice" dining room furniture, I'm beyond happy that I did.  Thank you to my daughter and to a sweet blogging friend who strongly encouraged me to go for it.  I finally came to the realization that I would never be happy with my furniture as it was, no matter what else I did in the room.  So, if you're hesitant to paint any of your furniture, start out with something small and take it one step at a time.
Need a little more help with overcoming your decorating fears?  You might find this helpful!
HOW TO OVERCOME THE DREADED "FEAR OF DECORATING" SYNDROME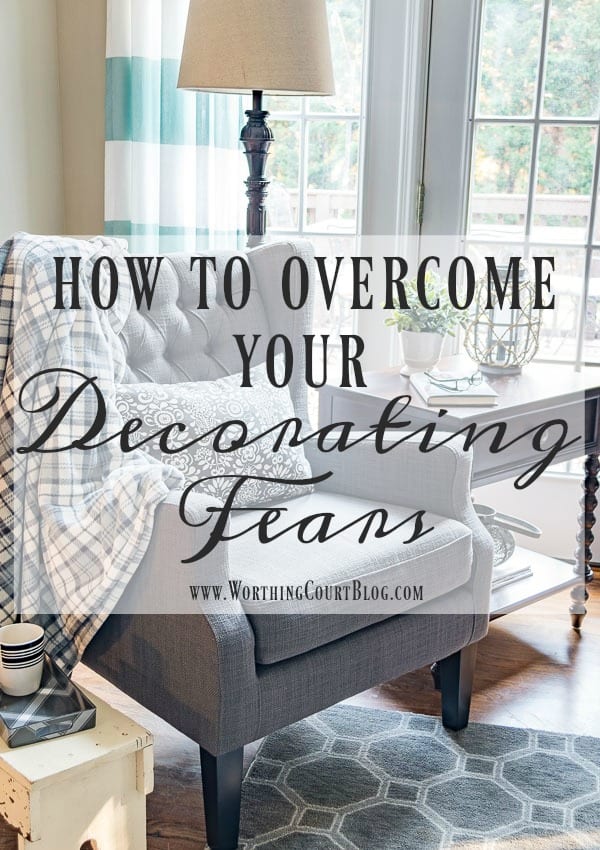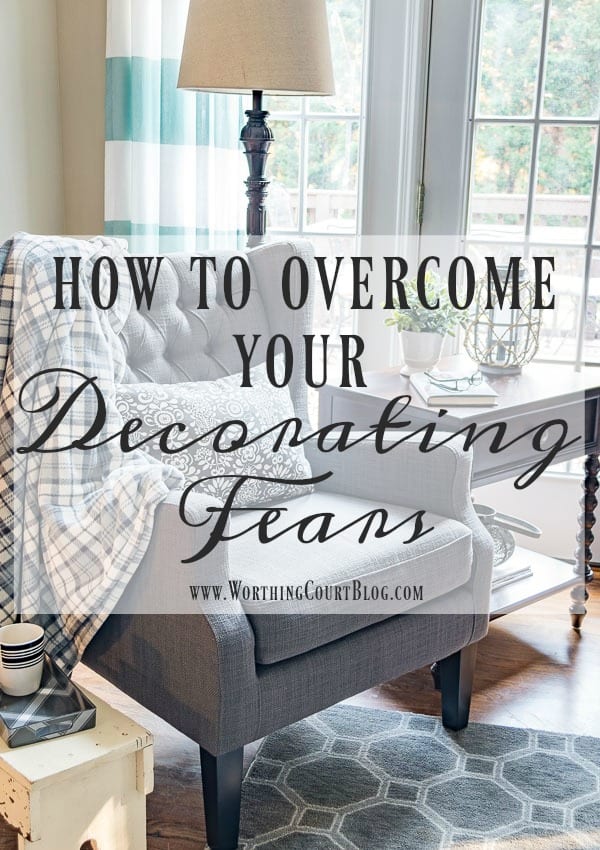 Pin