How To Style Your Coffee Table For Fall Or Any Season In 5 Minutes
You might think that decorating a coffee table should be a simple thing, but for many of us it can be a daunting task.  Here's how to put together a simple, yet stylish coffee table for fall (or any season) in just a few minutes.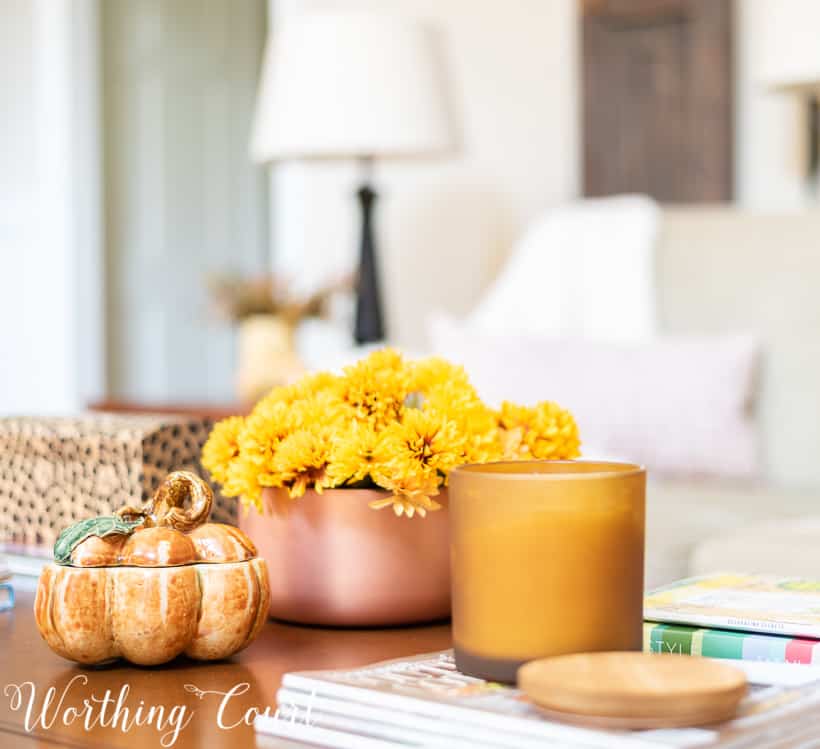 Pin
What should be one of the easiest things for me to decorate in our family room is actually one of the hardest – that would be our coffee table.  And it isn't just the coffee table in this house – I've struggled with how to decorate our coffee table in every single home that I've ever lived in!
I've tried everything – groupings within trays and without, groupings in the middle, groupings off to one side and multiple groupings, tall'ish statement pieces, minimalist and maximalist, and on and on.  I just couldn't come up with a look that was pleasing to the eye from every angle.  Most of my arrangements looked good from the front, but not the back or looked good from one end, but not the other.  And then there's the whole problem of using statement/focal point items so tall that it blocks my view of the person sitting across the room from my spot on the couch.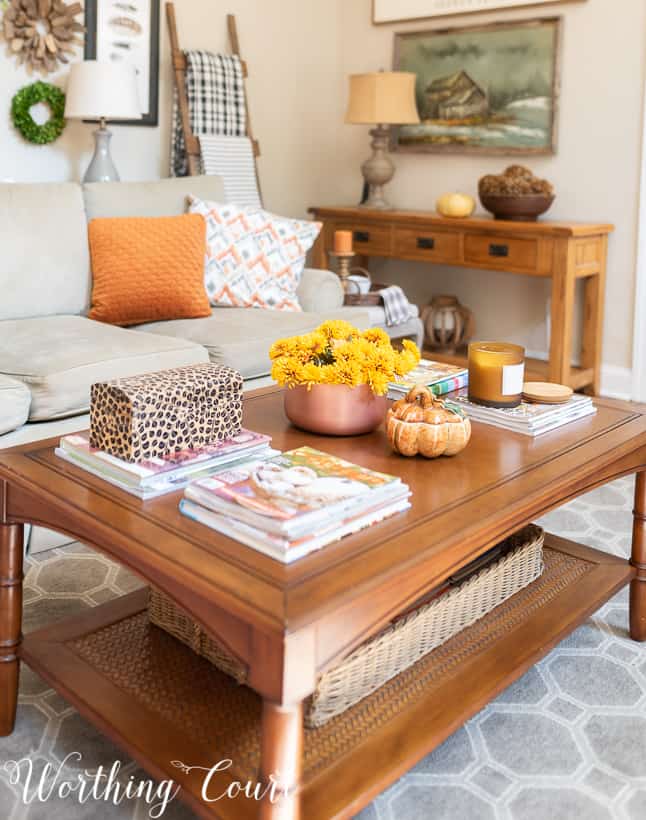 Pin
After all this time and many failures, I'm happy to report that I've finally found THE coffee table formula that is perfect!  It's a formula that can be adapted to fit any shape or size coffee table.  Best of all, it only takes about 5 minutes to put together, fits into my 'keeping it simple' fall decorating this year and can easily be tweaked for any time of year or holiday.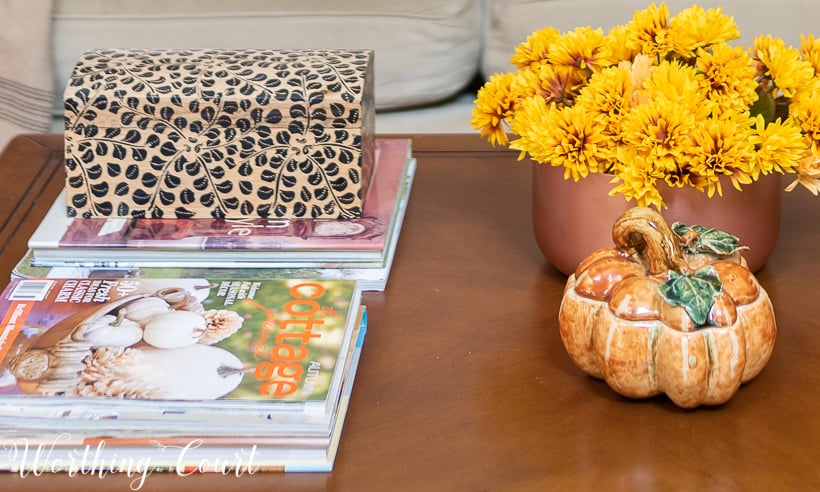 Pin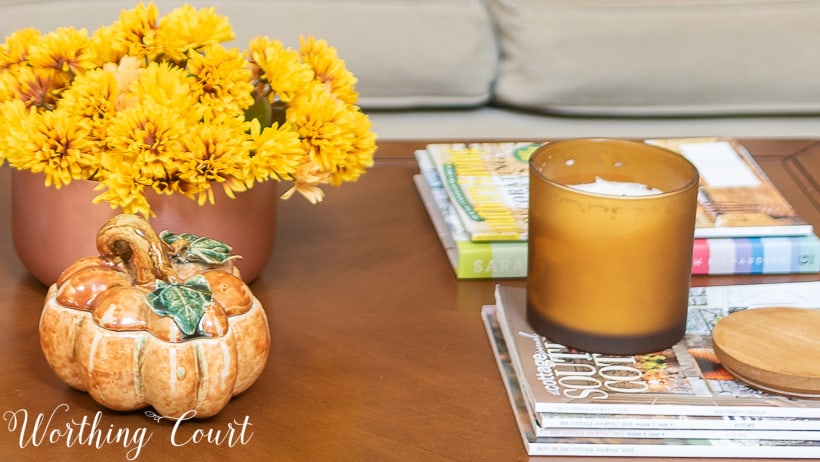 Pin
Let me lay a little ground work – our coffee table is rectangular shaped and is on the large side.  On a coffee table, I prefer to have some open space, but not so much as to look spartan.  I prefer to display objects of varying heights, but nothing too tall.
But most of all, I've learned that I prefer my display to be practical.  I don't want to have so many things on the table that there isn't anywhere to set the random drink or remote control, for example.  And in the realm of practicality, I want to be able to easily readjust things if and when they do get moved over or pushed off to the side a bit.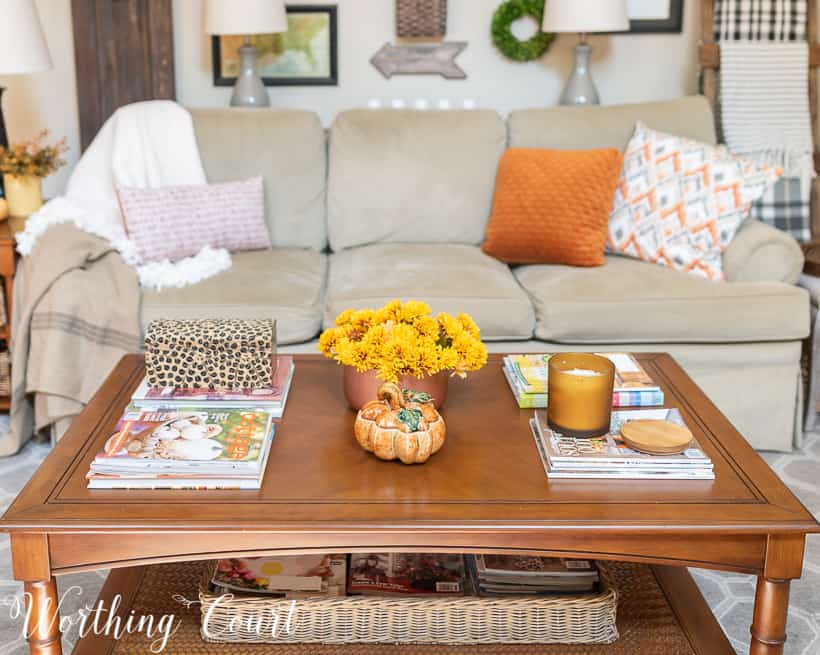 Pin
Of all the ways that I could style my coffee table, why does this arrangement work so well for me?  I guess it's my desire for symmetry.  This way of styling allows me to break the table into equally sized segments.  It allows me to have things neatly, but prettily arranged with a little bit of artisticness thrown in.  Check out this above shot and the imaginary lines that I've drawn to see what I mean.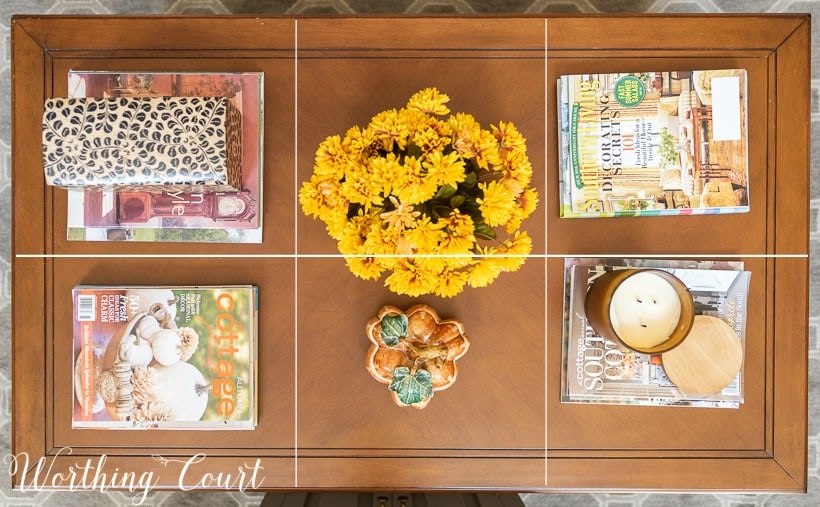 Pin
You can see that all of the decorations are kept on the minimal side, but still have the cozy look that I crave, especially as we head into cooler fall weather.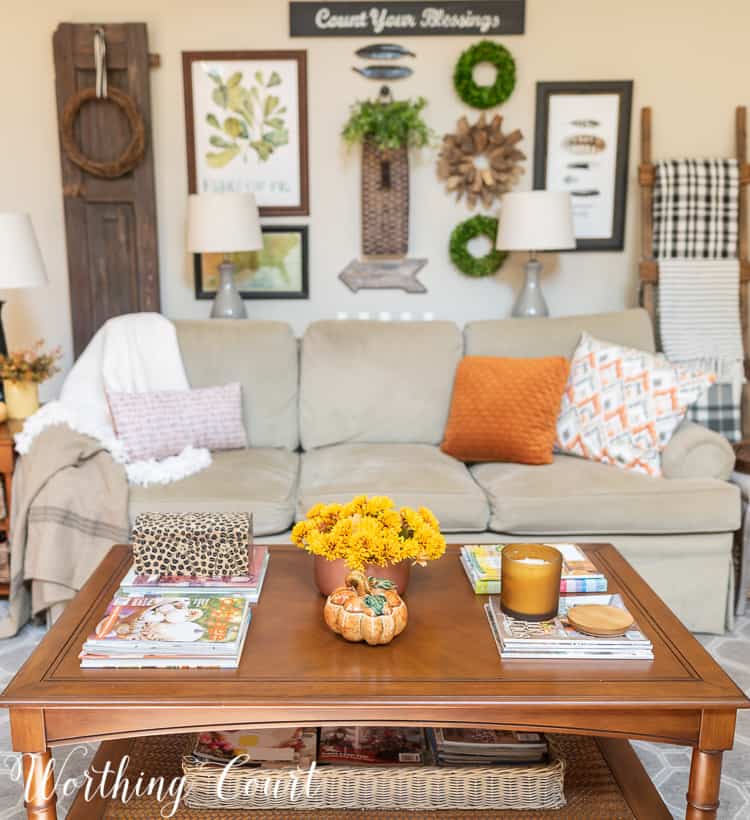 Pin
If you'd like to see some of my previous coffee table decorating attempts, click HERE.