One Of My Favorite Go-To Decorating Staples
I will show you how a twig wreath will be your go to decorating staple after you read this post!
Do you know what one of my favorite go-to home decor staples is?  It's none other than the lowly twig wreath. Twig wreaths pack a lot of bang for the buck!  They're inexpensive, come in a myriad of sizes and they add loads of that all important texture any place that you use them.  And they aren't meant for simply hanging on a door either – there's so much more that you can do with these versatile wreaths!
I often like to do something a little unexpected with my candlesticks by placing decorative orbs on top of them instead of candles.  The organic boxwood orbs that I placed on the candlesticks on my mantel last spring looked a little blah, but when I added a twig wreath it was just that extra little something, nature inspired oomf that they needed.
SPRING FIREPLACE MANTEL AND HEARTH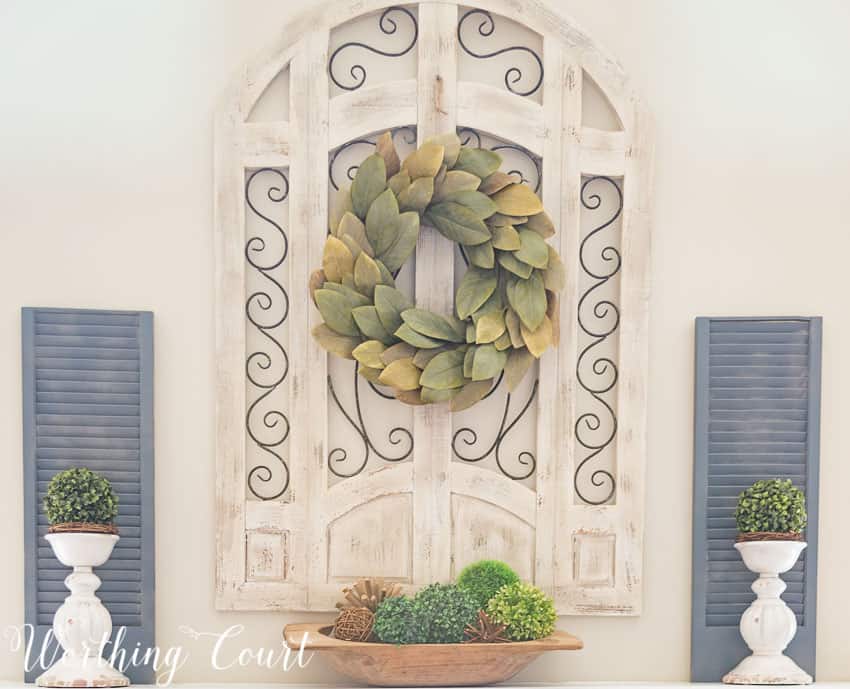 Pin
Pin
One thing that you'll see repeated over and over in my home, is an earthy twig wreath added to the front of just about anything.  In my office, I used twig wreaths to dress up the front of a couple of vintage printer's trays.  I think the trays would look pretty boring without the wreaths.
GETTING STARTED WITH MY OFFICE MAKEOVER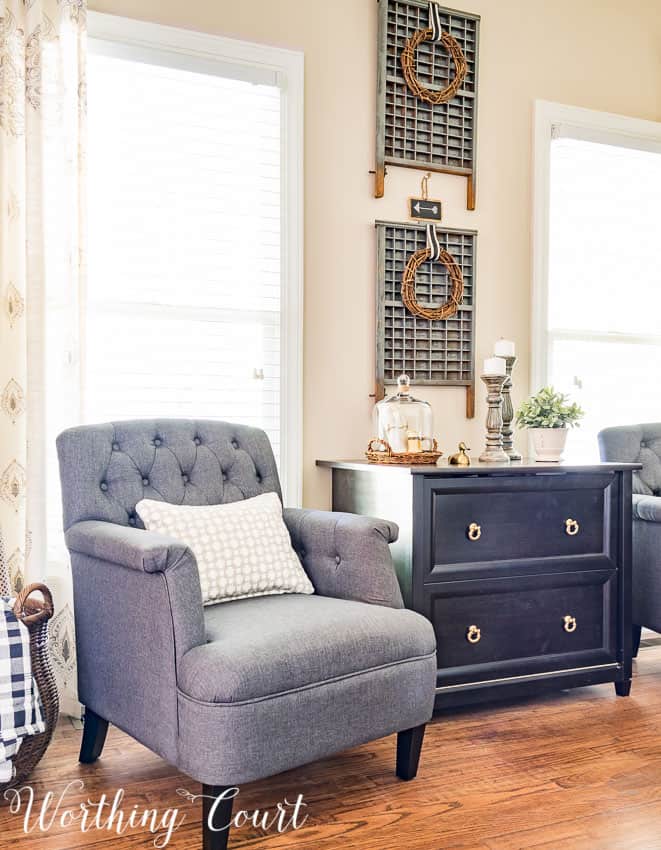 Pin
On the gallery wall behind the sofa in my family room, I added a twig wreath to the front of an old weathered shutter.  The black and white ribbon that it's hanging from helps it to pop.
MY NEW AND IMPROVED GALLERY WALL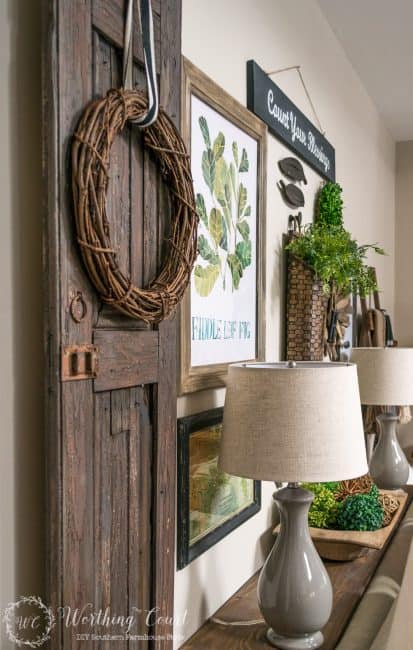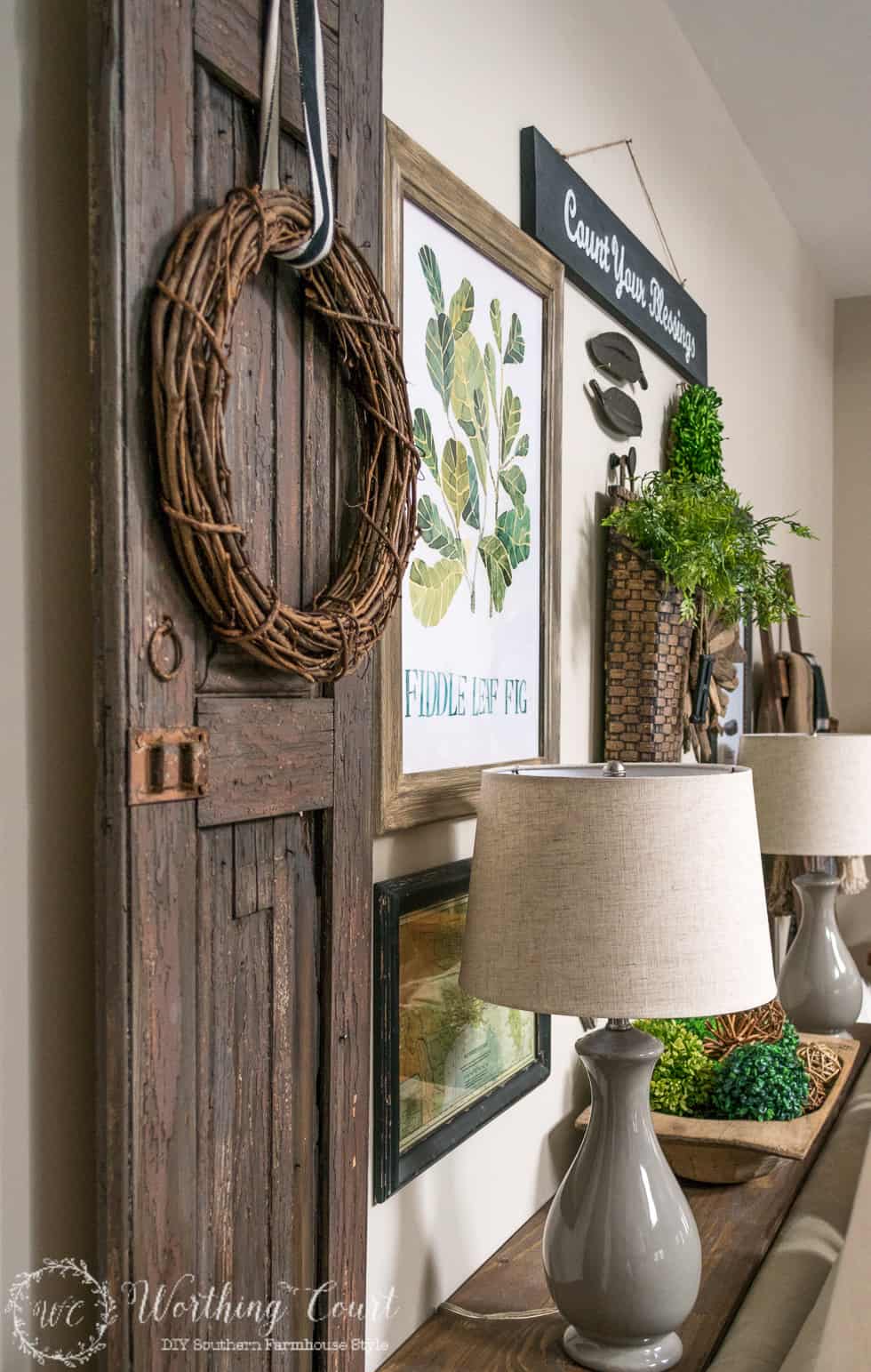 Pin
 I used the timeless twig wreaths and hung them from black and white checked ribbon to dress up the front of my kitchen cabinets last Christmas.  Each wreath has an ornament hanging inside it and little greenery and berries hot glued to the top.
CHRISTMAS IN MY FARMHOUSE KITCHEN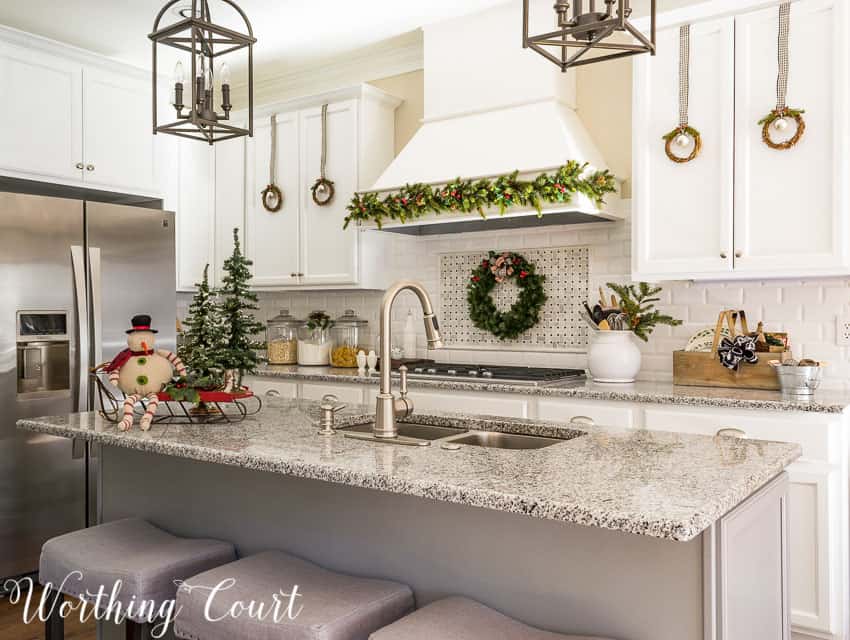 Pin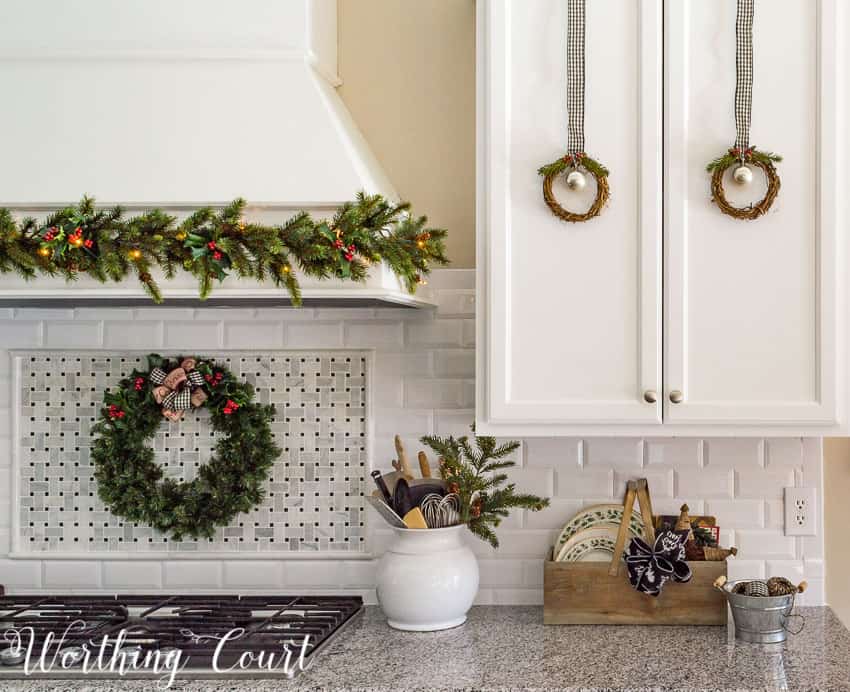 Pin
To dress up a framed printable, I even added a small  mini twig wreath to some greenery sprays that I tied together.  It's hanging from more black and white ribbon and has red berries tucked into the greenery.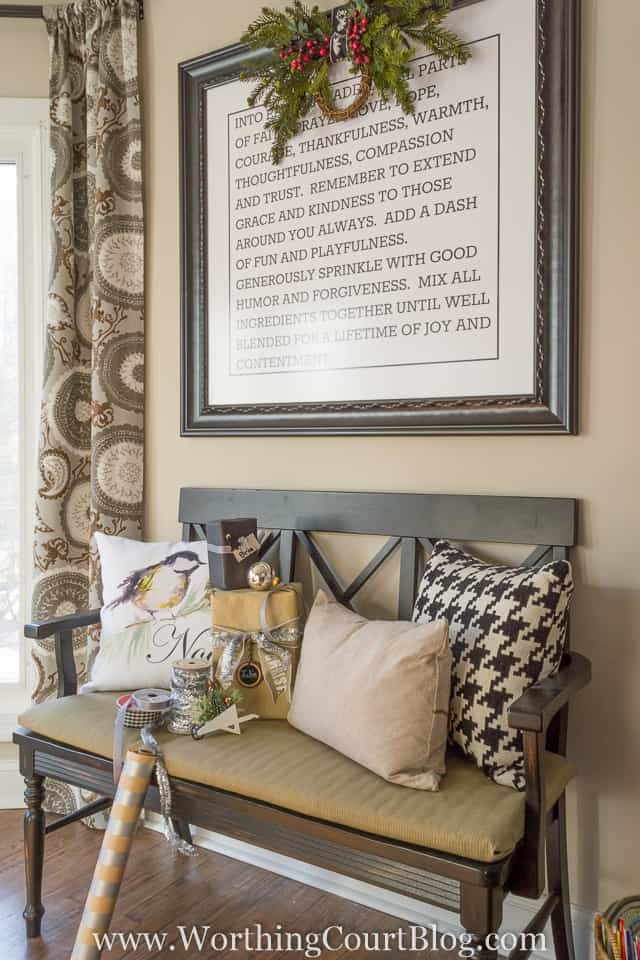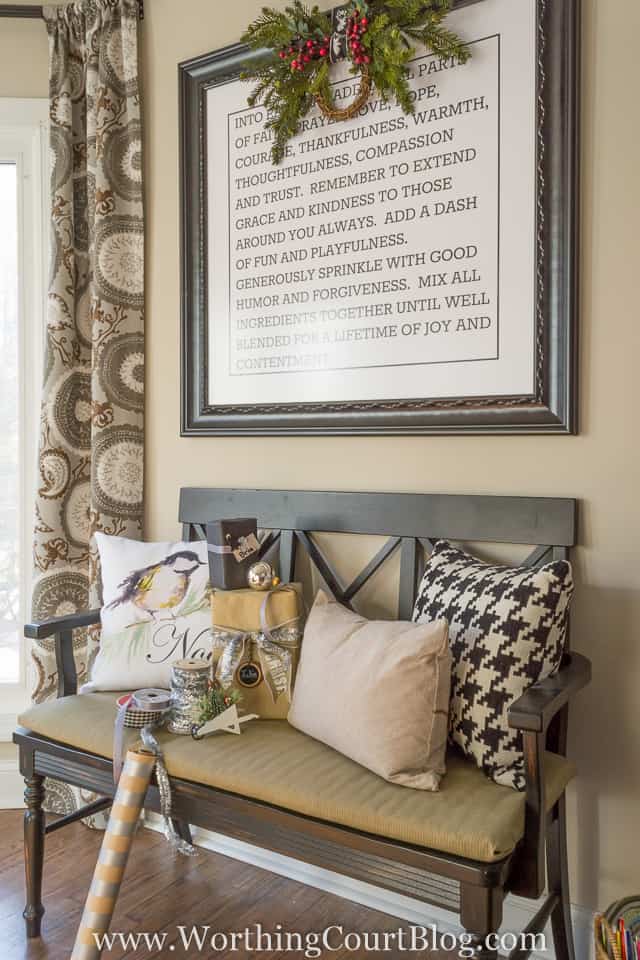 Pin
I'll say it again – twig wreaths can be used for just about anything!  Here I've used one as part of the filler in my dough bowl.  This dough bowl is rather deep and the woodland twig wreath helps to take up some of the space.
HOW TO LAYER AND FILL A LARGE DOUGH BOWL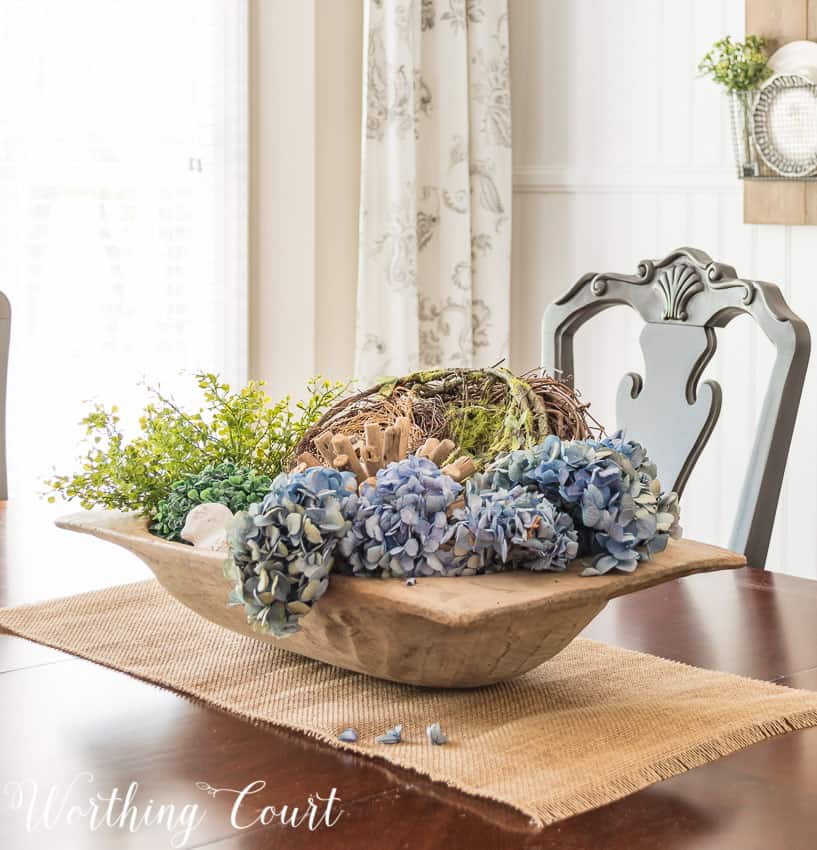 Pin
Twig wreaths are a no-brainer when it comes to fall decorating.  Here, I simply leaned a 12″ twig wreath up against the aged wood boards on my decorative fall mantel.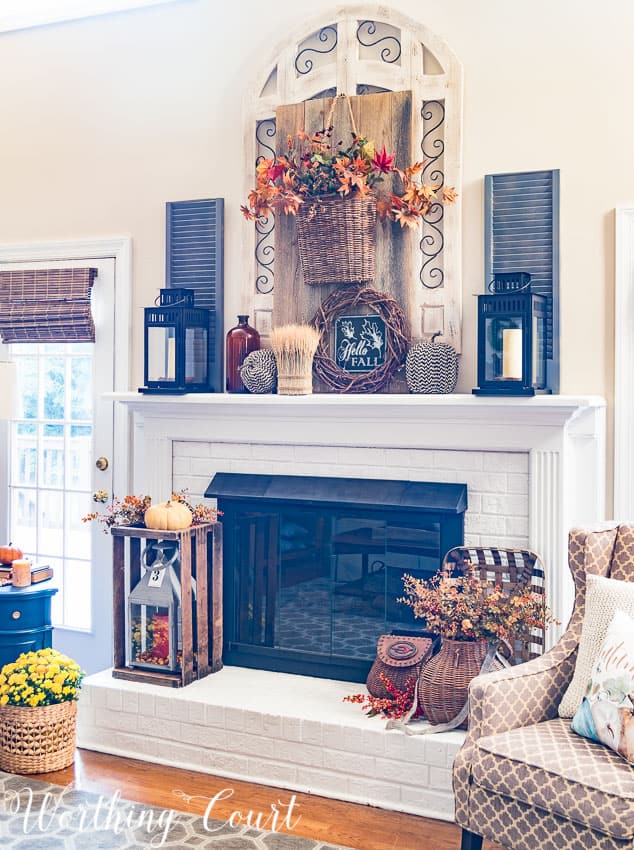 Pin
Twig wreaths are great for stacking too!  I love, love, love stacking two round twig wreaths together as a topper for the urns on my front porch!  The bottom wreath is a spray style twig wreath and the top one is just a regular one.
Welcome To My Fall Front Porch
On my front porch this fall, I added a few fall picks wedged into the wreaths.  Super easy and they add quite a bit of fall punch!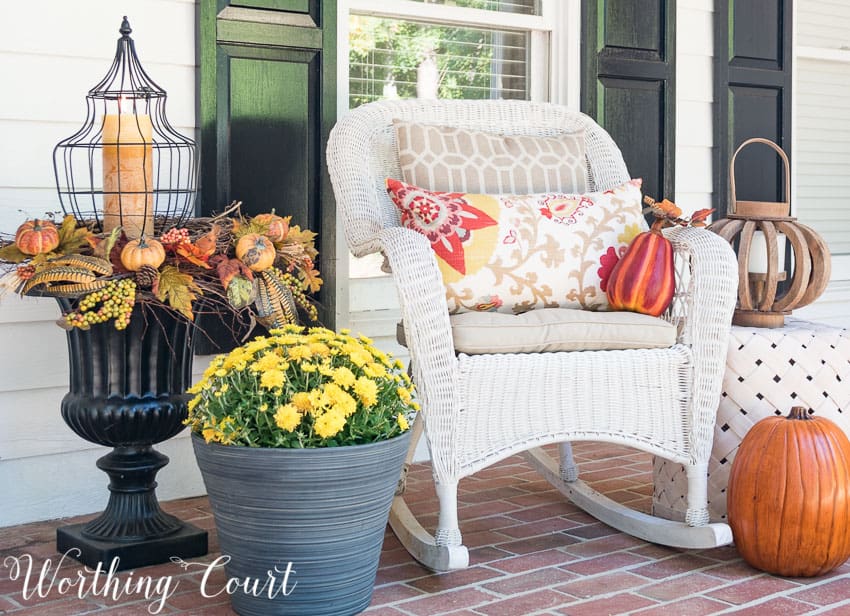 Pin
Last year, I dressed them up with just mini berry garland.  Very, very simple.  In this case, the twig wreaths helped to hold the pumpkins in place.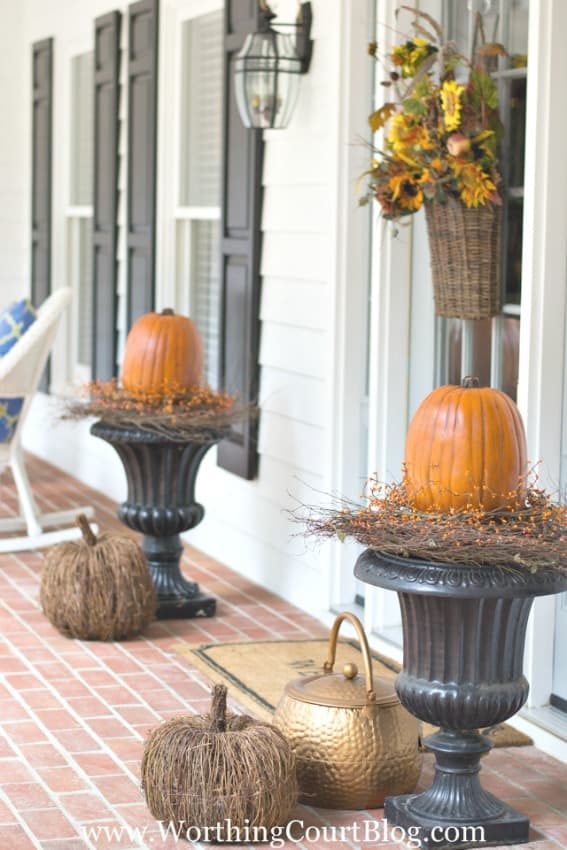 Pin
And lastly, I stacked two twig wreaths on top of each other in the tray that I put together for my fall coffee table.  These elevated wreaths do a nice job of helping to fill the tray – one wreath was just too skimpy looking.
ONE FALL COFFEE TABLE – TWO WAYS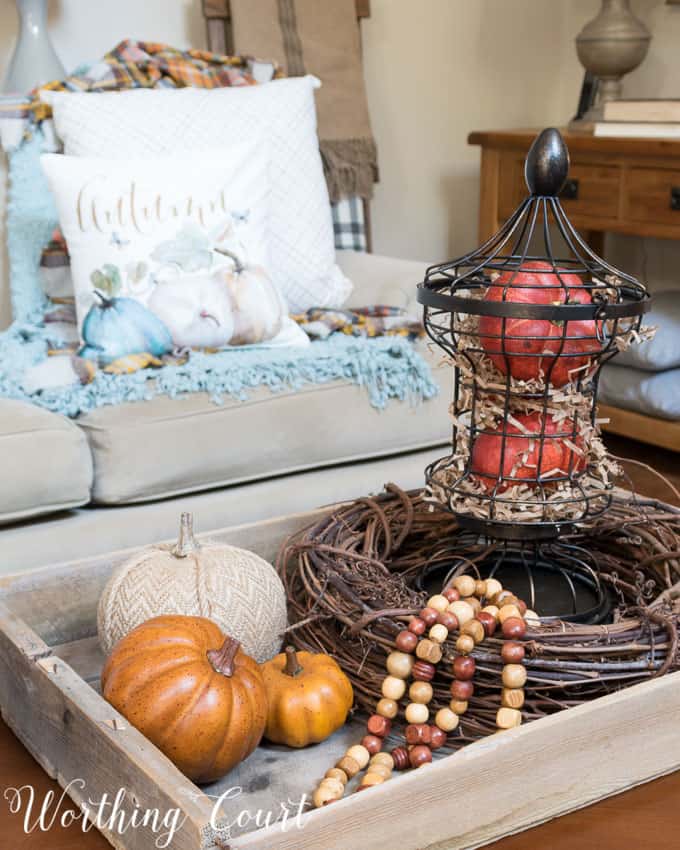 Pin
So, if you aren't already using twig wreaths, other than to hang them on a door, have I made a believer of you?