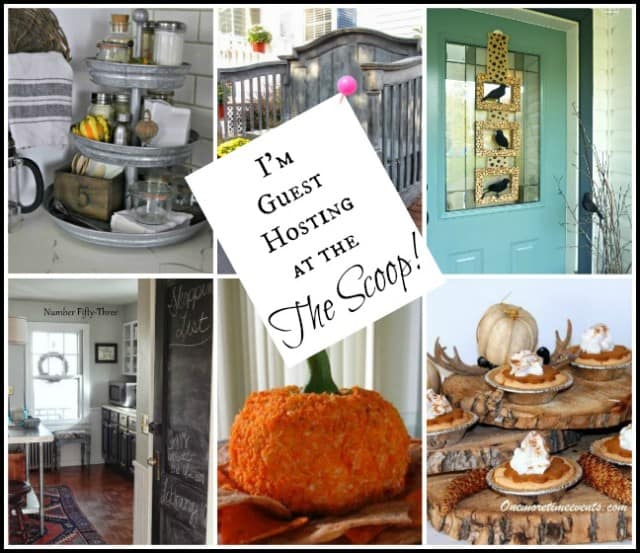 Welcome back to The Scoop
 The weekly link party featuring the scoop on the best posts from around the web!
More exposure + less time = win win! 
Anita from Cedar Hill Ranch

Linsey from 
Farmhouse Porch
Debbie from Confessions of a Plate Addict 
Anne from White Lace Cottage
Barbara from
The Everyday Home
Linsey here, from The Farmhouse Porch.
Before I move on to the party stuff, I want to
remind you about our mega party coming up. It
is a "Creating Fall Vignettes" themed, week long
show and tell, featuring day after day of
inspiration and fabulous photos and how-to's, by
your favorite bloggers!
Here are the dates and a schedule:
This week I'm "hosting a host". Our guest host joining us this
week is the beautiful Suzy of  Worthing Court. She's
going to tell you a little bit about her blog and pick out
our featured links from the party last week.
Hi everyone!  My name is Suzy and I blog at Worthing Court.

I'm a Southern girl living right smack in the middle of North Carolina.
My goal at Worthing Court is is to inspire others to beautify
their surroundings and their lives by sharing home decor,
decorating tips and how-to's, diy projects, crafts, recipes and
In addition, I have a weekly series every Friday called House Snoopers where I get other bloggers to let us come inside and snoop around their homes.  At House Snoopers you'll find homes decorated in every style and on all types of budgets.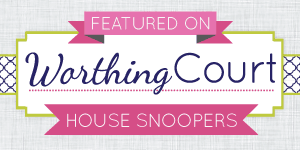 I am honored to be visiting at The Scoop with you this week!  
The Scoop has long been one of my favorite places to party.  
There are so many talented people who link up that I never
fail to find oodles of inspiration.  Now comes the really tough
part – narrowing it down to just a few favorites.   
I'll start with Debbie at Painted Therapy who repurposed a piece of furniture and created this fabulous bench.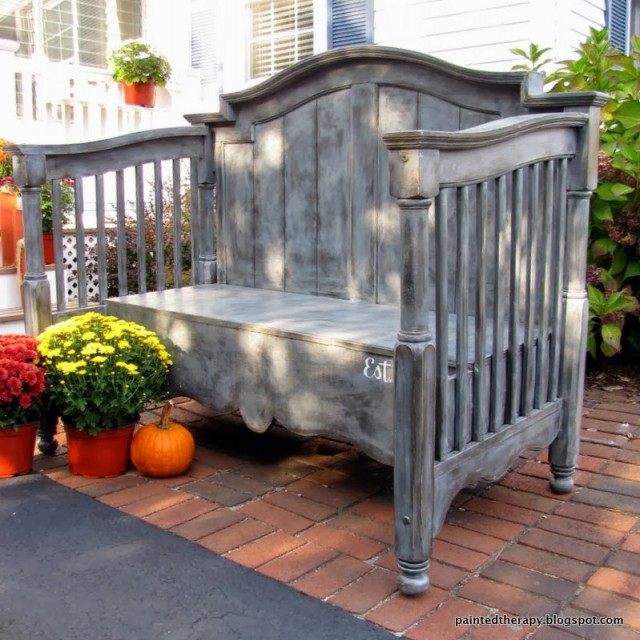 Go check it out.  You won't believe what it started out as.
Duane at Cottage In The Oaks put together a wonderful center for beverages that will take them all the way through the winter.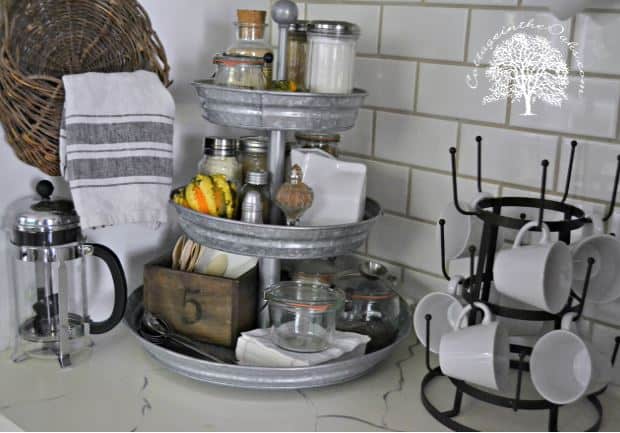 Note to self – must get a tiered galvanized metal stand. 
Krista from The Happy Housie created a unique and cute door hanging for Halloween.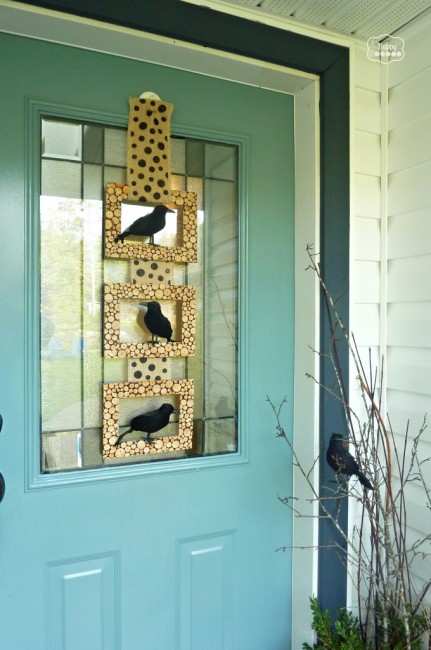 You"ll want to take a look at the rest of her cute Halloween porch too.
If you're looking for a super easy appetizer or snack for Fall, you'll want to grab this recipe from Linda at Crafts A La Mode.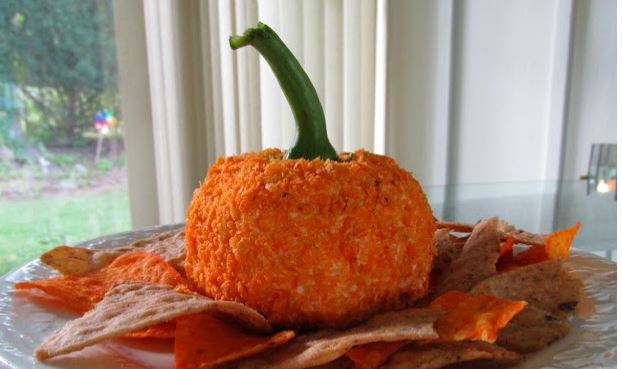 You'll be surprised at what I call the secret ingredient.  Definitely gonna try this one.
Tammy at One More Time Events shares a great idea for displaying and serving Fall and Thanksgiving dishes.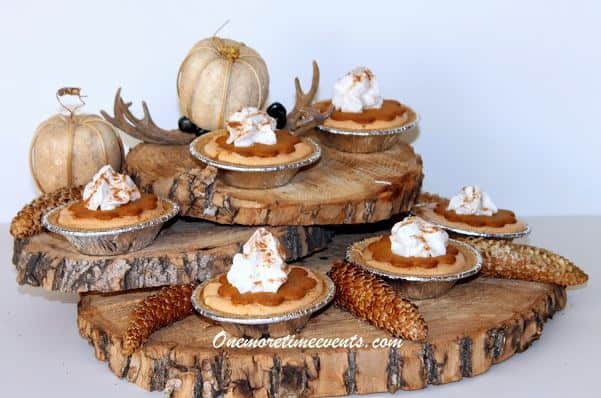 Now I need to go cut down a tree.  lol
Over at Number Fifty-Three, Angela has been steadily working to give new life to her oak cabinet filled kitchen.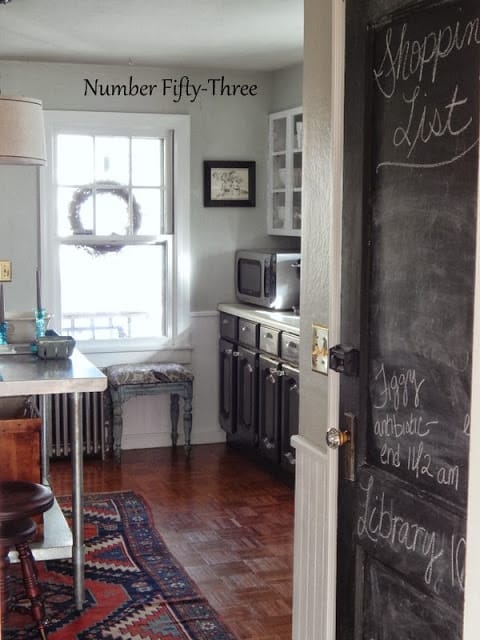 I love the eclectic modern, country look that she's putting together.
Thank you ladies, for having me over to visit at The Scoop today!  
Before I leave you, I'd love for you to come visit me sometime.  There's always a lot going on here at Worthing Court!
Just last week, I revealed the completion of my basement family room, which includes a Pottery Barn inspired typography gallery wall, along with a game table and media center.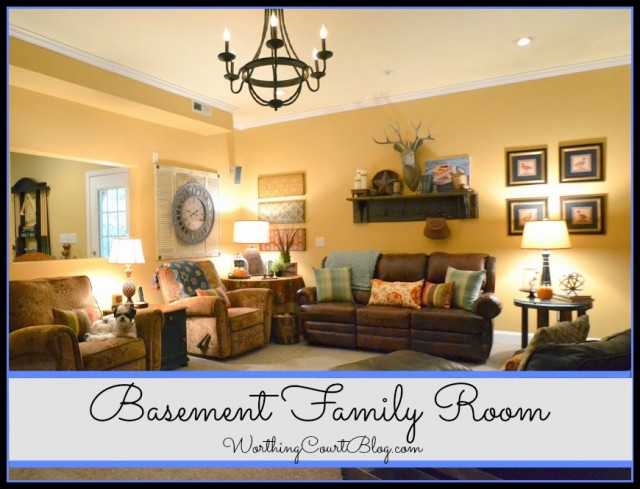 I recently put together a Beachy Fall Porch.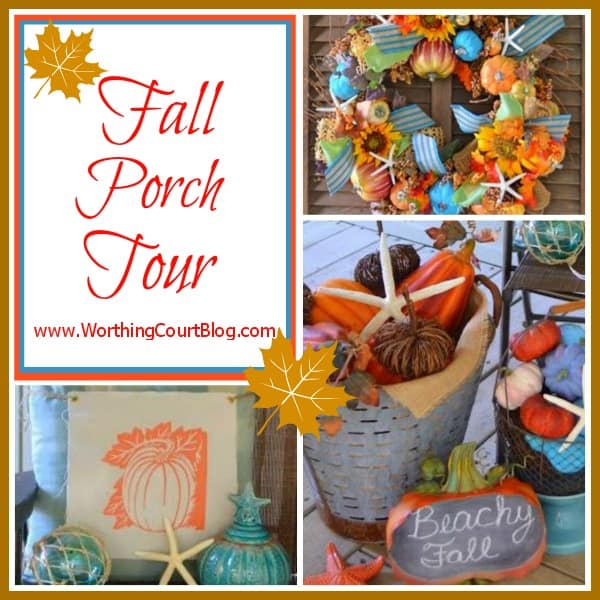 With Christmas fast approaching, you won't want to miss my Designer Secrets Step-By-Step Directions for Decorating Your Christmas Tree.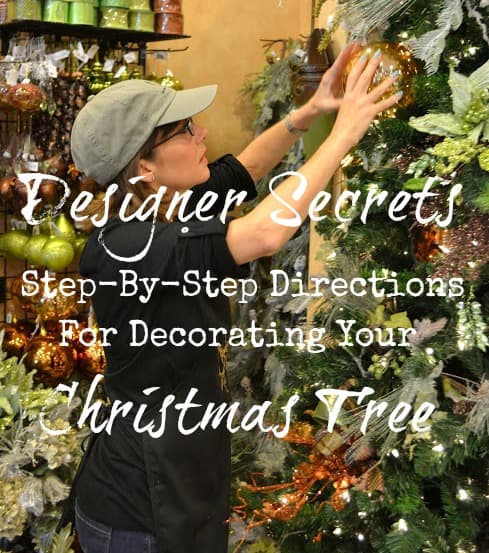 Thank YOU Miss Suzy Q! We were so glad to have you help us pick out some "featurees" this week.
~Linsey at The Farmhouse Porch