My Decorating And DIY Plans For 2018 And How I'm Going To Keep Myself On Task
I'm going to do something today that I've never done before – actually make a list of my decorating and diy goals for 2018 and put it down on the proverbial piece of paper. I've always kept a running list of projects in my head, but I've realized that it's too easy for me to get pulled off course that way. Oh, I know that bumps in the road will come along, such as the unexpected purchase of a beach condo that needed a complete overhaul last summer, but my hope is that by having a list I can refer back to, it will make it easier for me to get back on track when that happens.
I've realized something else too – completing decorating and diy projects always takes me longer than I anticipate! Case in point: we just returned from our beach condo after spending a few days there after Christmas. The plan was to spend a total of four days there – two days working on the installation of a backsplash in the kitchen and two days just relaxing before coming home and returning to the daily grind. What actually happened is that we had to extend our time there by a day and it took the entire time to complete the backsplash – five long days! It wasn't that the project was difficult or that we ran into any major problems – I just underestimated the amount of time a project like that would take. BTW – you can get a sneak peek at the new backsplash on my Instagram stories. If you don't already, you can follow me on Instagram by clicking HERE.
My list is quasi in the order that I would like to work on and complete the various projects. When making over an entire room, I do much better if I focus on only that one room, but now that we're also making over a beach condo, some of these projects will be worked on simultaneously. And some of these projects are ones that I started last year, but need to complete this year. So here goes….
I can't believe it, but I started the makeover of our foyer way back in February 2017 and haven't worked on it since April! What??? Once I actually got started, individual projects like new lighting, the addition of a board and batten wall, the building of two farmhouse benches and making over the dead space at the top of the stairs didn't take that long, but then it stalled big time. I got as far as figuring out the configuration of the gallery wall going up the steps and then nothing. Nada. My intention was/is to paint my own artwork to fill all of the frames, but I'm just not sure if that's going to happen. I only have one of the paintings complete and now that I've put it into a frame, I realize that it needs to be tweaked. You can see the befores of the foyer by clicking HERE, but here's where I left the area in April. This project is #1 on my list to complete because I just need to get it done, but to be honest, I don't think it will be the first to be finished because I'll have to sneak in time to work on paintings where I can.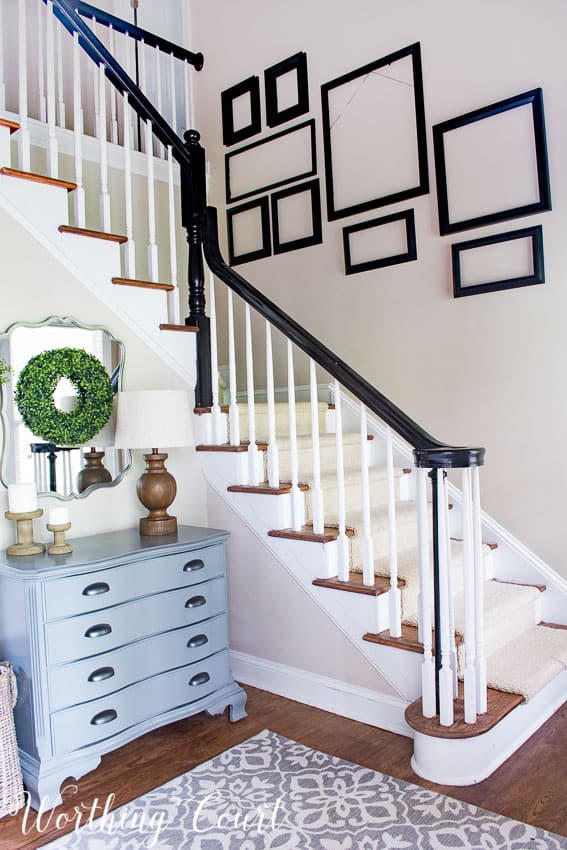 #2. MAKEOVER OUR DARK HALLWAY
This (bad) photo is a true before of the hallway that runs off of our family room. It's how it looked on the day that we first looked at our house. It's dark, boring and full of doors that lead to two bedrooms, a bathroom and a linen closet. This makeover shouldn't be complicated or take all that long. I'll share my plans for the space soon.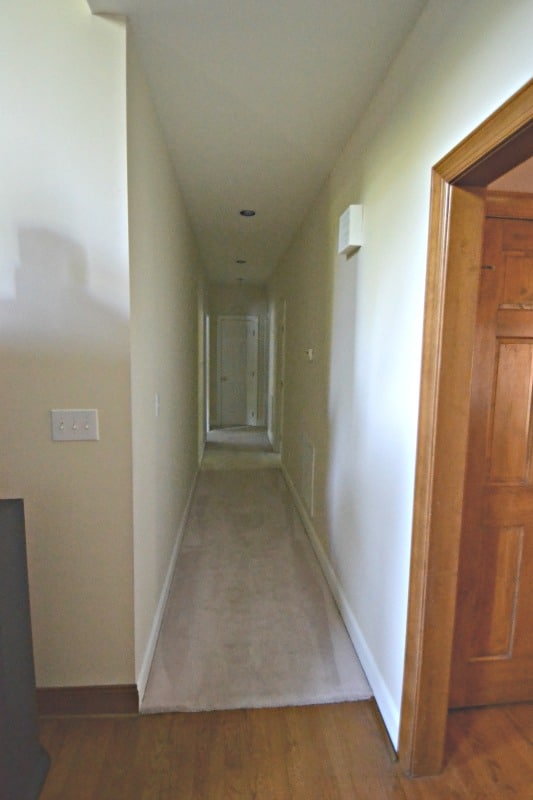 This is another makeover that I started several months ago and stalled on. I created a mood board with all of my plans, which you can see HERE, but that was as far as things went for a long time. I'm happy to report that work has actually resumed in this room and I'll be sharing an update with you this month! In the meantime, this is what that room looked like when I last shared it with you. You can see more befores of the room HERE.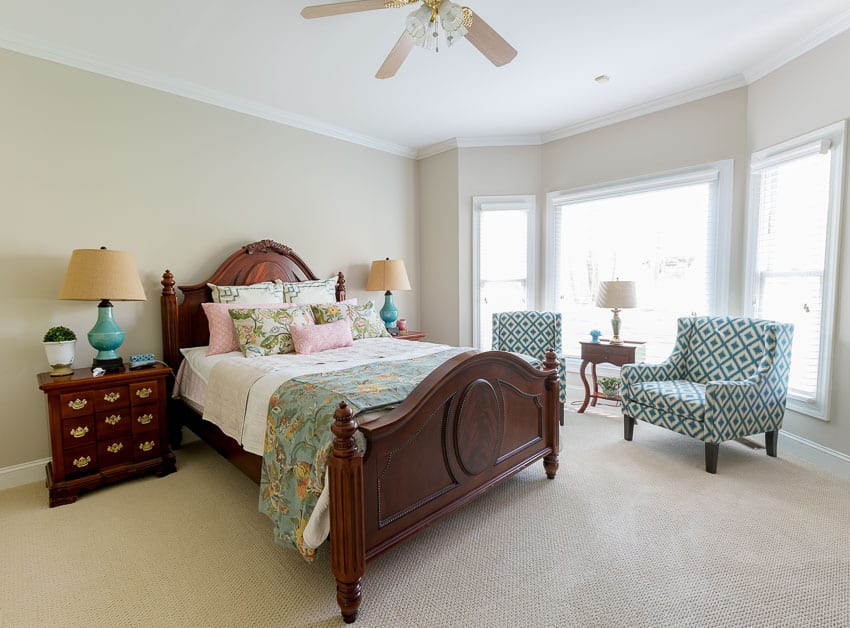 We unexpectedly sold our remodeled, teensy weensy condo at the beach last summer and purchased a larger one, which is much more conducive to family vacations. The purchase of the new condo threw a major wrench into the makeovers at our house because this condo needed an overhaul before we could even sleep in it, so I spent a huge portion of my summer and fall there. The large projects like new floors and interior painting have been completed and now I'm working my way through the condo one room at a time. One of the first areas that I started on was the dining room. It's almost complete, so I'll be sharing the reveal this month! You can see the before of the entire condo by clicking HERE. I occasionally share live videos on the Worthing Court Facebook page, so if you'd like to keep up with the progress, you can follow my page HERE. You can see the before of the space and my moodboard by clicking HERE. Here's how the dining room was looking the last time that I shared it with you.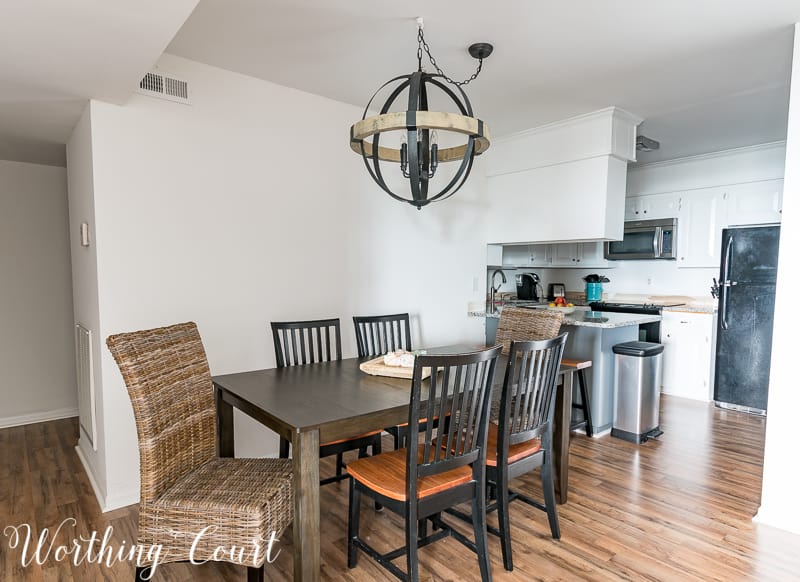 We've actually already completed a lot of the work in this room and I'm down to the nitty-gritty decorating part, but that's the fun part to me! I'll be working on things like making new window treatments for the sliding door and for the single window, doing something about the end tables, hanging artwork, choosing pillows and other small things. You may not know it, but I used to own and operate a custom window treatment workroom, so when I make the draperies I'll put together a post with step-by-step directions for making professional quality drapery panels. You can see the befores and more about the updates to the living room by clicking HERE. And you can watch a short video with the latest updates to room by clicking HERE.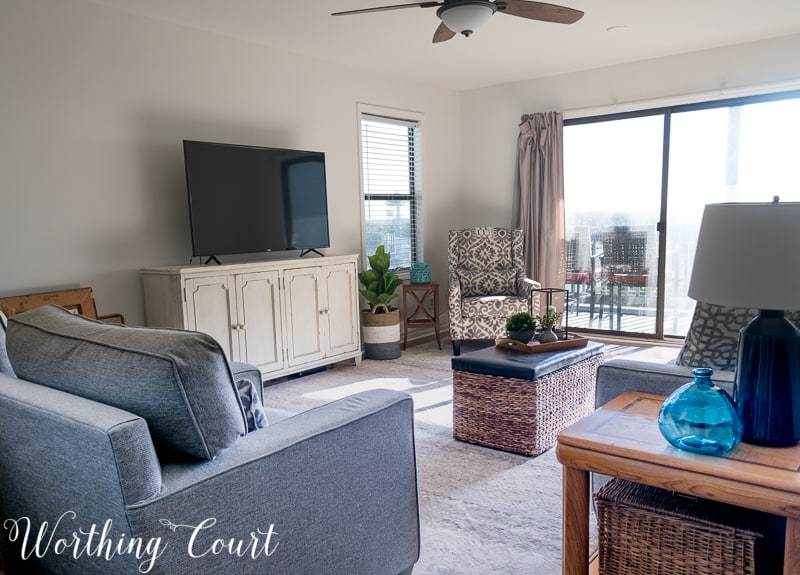 #6. COMPLETE THE DECORATING OF OUR FRONT PORCH & THE EXTERIOR OF OUR HOME
We had the entire red brick exterior of our home painted with Sherwin Williams Network Gray last spring and I love it! Other than seasonal decorations and a video that I made for my Instagram stories, I really haven't shared much of the exterior of our home at all. We've made a little progress, but this was another project that stalled because of the renovations at the beach condo. As soon as the weather warms up enough, I plan to complete what we started so that I can share my "vision" with you. Check out the short video by clicking HERE to see a quick look at the porch as it looks today. The photo below was written for another blog post, but it gives you an idea of the before and after of the painted house. Here's a question for you – do you think I should add shutters to both of the bay windows? I can't decide!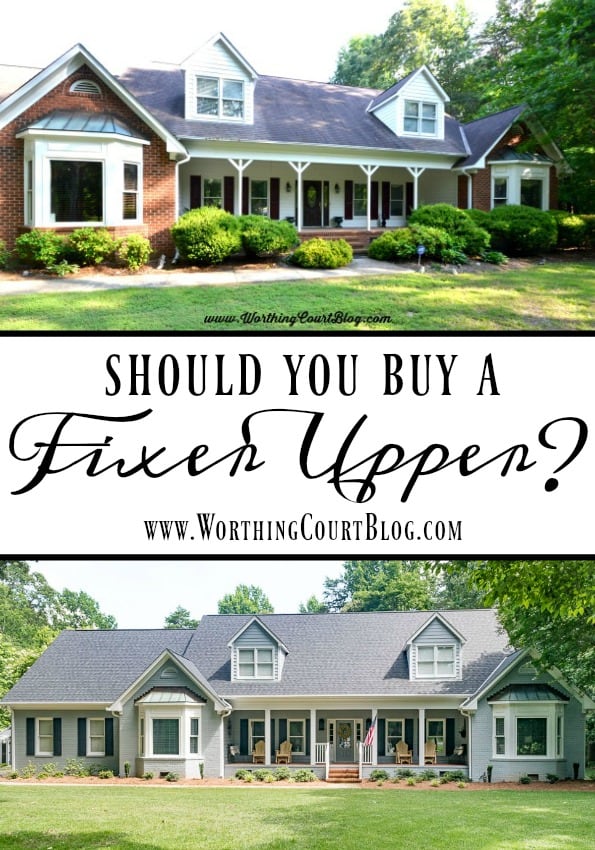 #7 IF I MANAGE TO COMPLETE ALL OF THE ABOVE
In between all of the projects that I've listed, there's seasonal decorating to be done, a blog conference or two to attend, photography classes to take along with living everyday life. So – if time allows, I'd also like to:
give our hall bath a cosmetic makeover
makeover the master bedroom at the beach condo
finish the makeover of the master bath at the beach condo
It will be interesting to compare my goal list at the end of 2018 to see just how far along I managed to get on all of my projects! Do you have a goals list for 2018?