Kitchen Cabinets Turned Into a Bookcase
I'm so happy to report that the new bookcases at the beach condo are finished!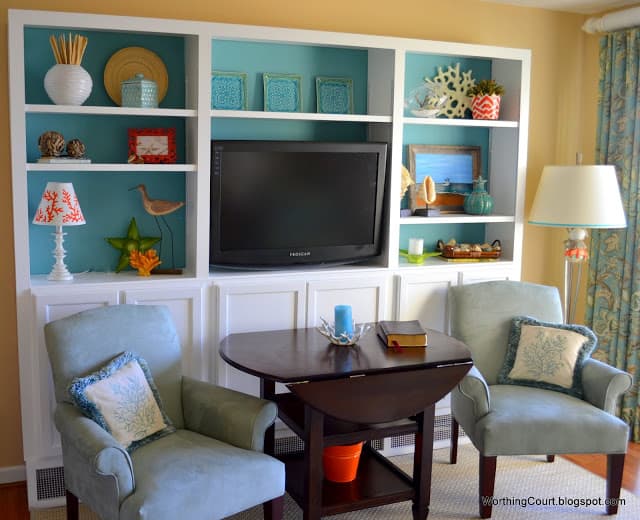 Because we live four hours away, it wasn't a quick project.  We dedicated every single weekend that we were at the beach since early March to building these.
The wall where they are located was a big blank space and was boring, boring, boring.


Pin
The bookcases are filled with an assortment of thrifty items that I've been accumulating for the last few years.  Yes – I said 
years
.  I've dreamt of having bookcases on this wall ever since we renovated our 
beach getaway
.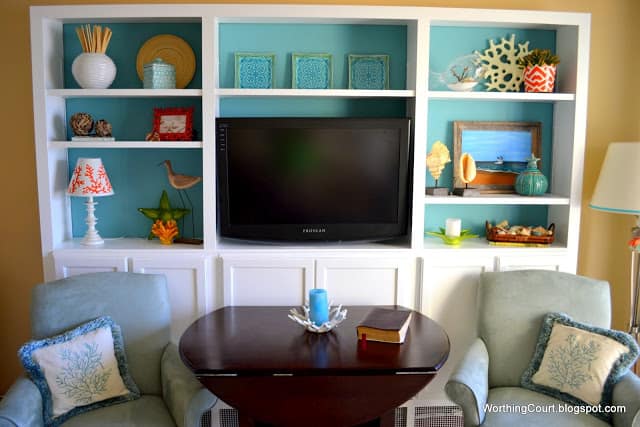 Pin
A painting by my Auntie Syl inspired me to use orange as an accent color.  I love orange and any shade of blue mixed together.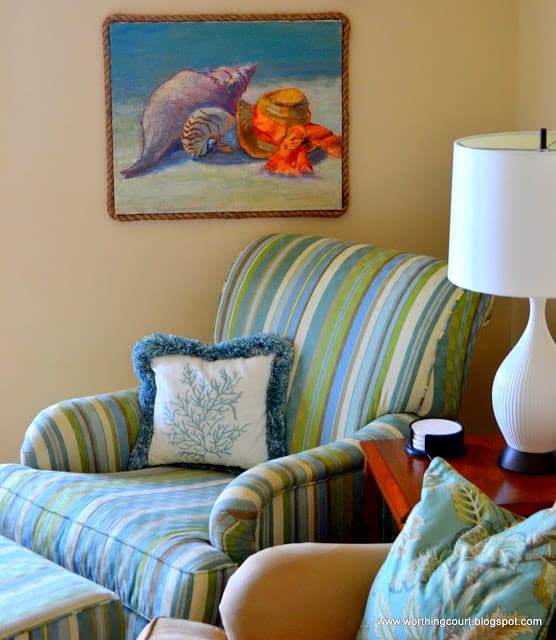 Let me show you around just a little.
My sweet stepdaughter, Ms. B, surprised me with this painting that she did of a seagull for my birthday a couple of years ago.  I finally found the perfect place to showcase it!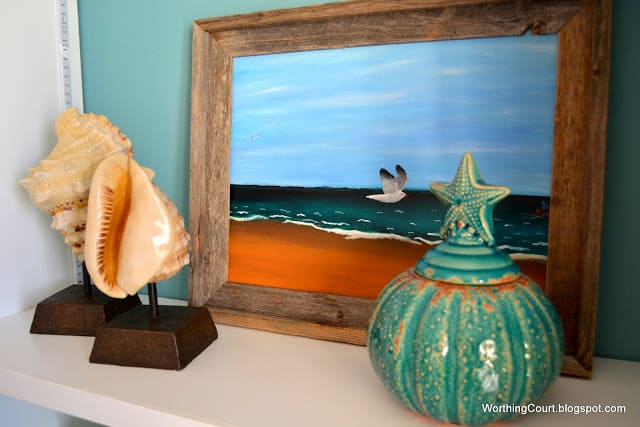 I love adding a small lamp to a bookcase.  It really adds so much ambiance at night.  I found this little one lamp at Maxway for a mere $12.  I thought that I'd be repainting it somehow, but I think I'll just leave it alone.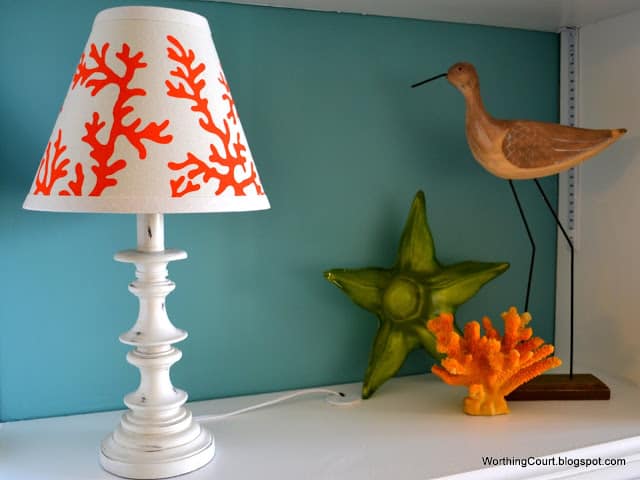 Pin
The little rattan tray filled with a combination of shells that we found ourselves and a bag of beach filler is sitting atop a book that has a lot of sentimental value to me.  It belonged to my mother who had such an adoration for the ocean.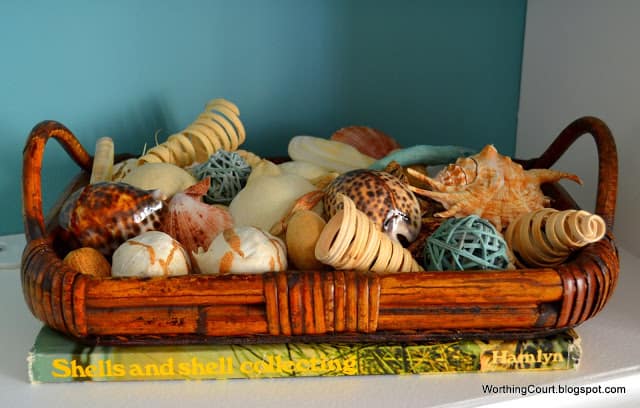 Pin
I found the large coral looking thingy at Goodwill.  I "stole" it from the bookcase in my master bedroom at home.  And the metal painted container came from One Kings Lane.  I sure do wish they'd have another sale on these containers!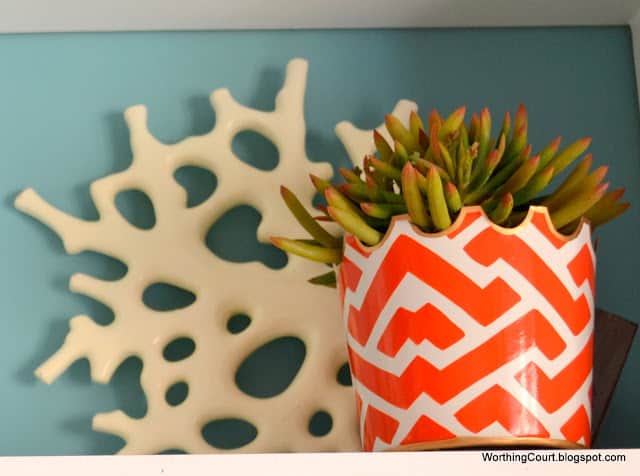 Because the walls in this place are a little wonky and because I wanted to make sure that both ends of the bookcase were flat against the wall, we chose not to put any kind of backing on them.  Instead, we just painted the wall to give it the allusion of having a back.  Worked like a charm.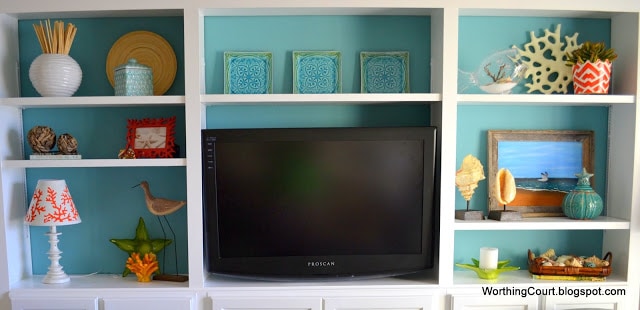 Now here's a question for all of you.  Should I put knobs on the cabinet doors?  I haven't so far because I'm concerned that it will look too busy.  I would use some sort of simple decorative knob if I were to add them.  What do you think?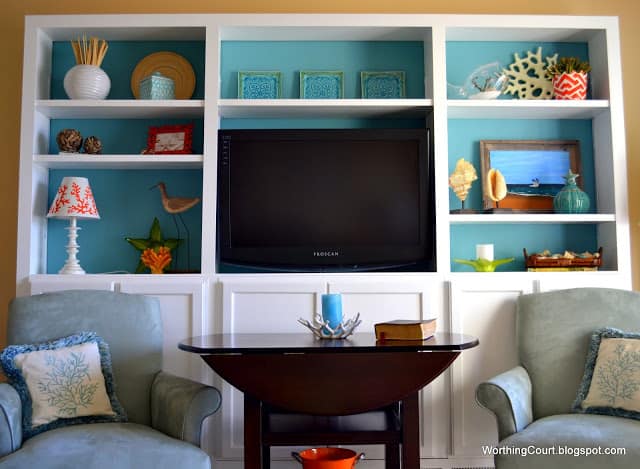 This wall has come such a long way, baby.
BEFORE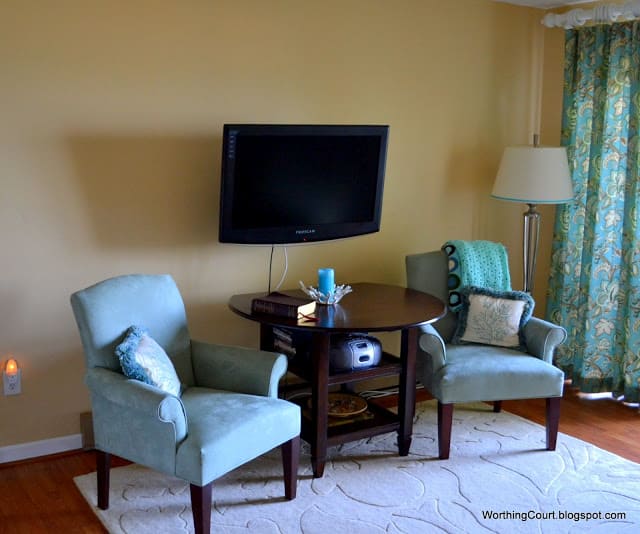 AFTER