My fall kitchen decor has really come together, see the whole look here and be inspired!
I'm really excited to have our house remodel far enough along that I can actually start doing some fresh seasonal decorating!  It feels like the last several months have been all about making our house livable with only a minimum amount of time spent on seasonal or holiday decorating.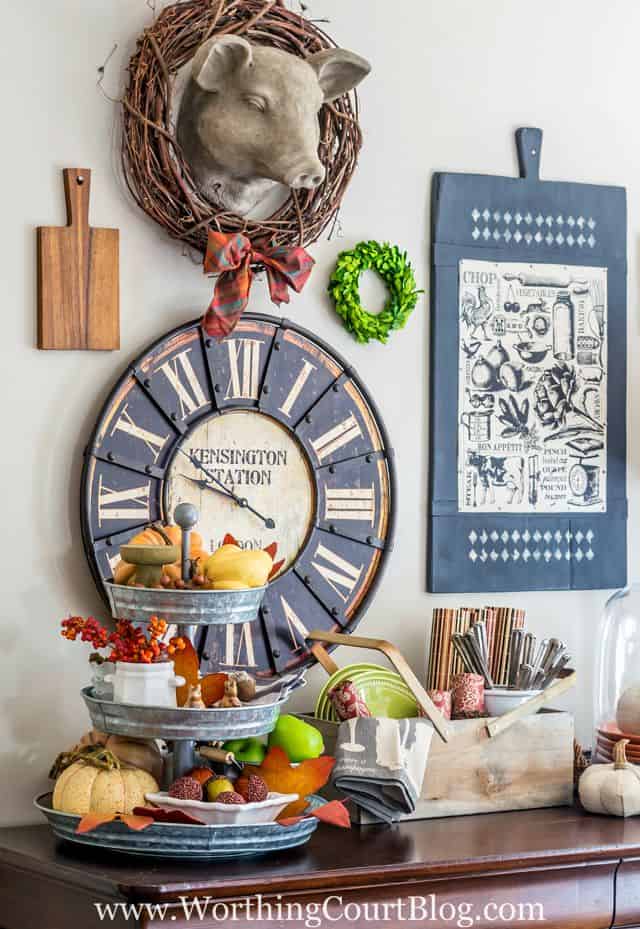 Maybe you've seen some snippets of the fall decorating that I've shared on Instagram, but today I'm here to share in more detail for inspiration.  First up is the wooden sideboard in my kitchen.  Well, it's really a dresser that I bought at a thrift store, but it's a real workhorse in my kitchen.  It holds all of my kitchen linens and table setting accessories.  Take a look HERE if you'd like to see how I have it all organized.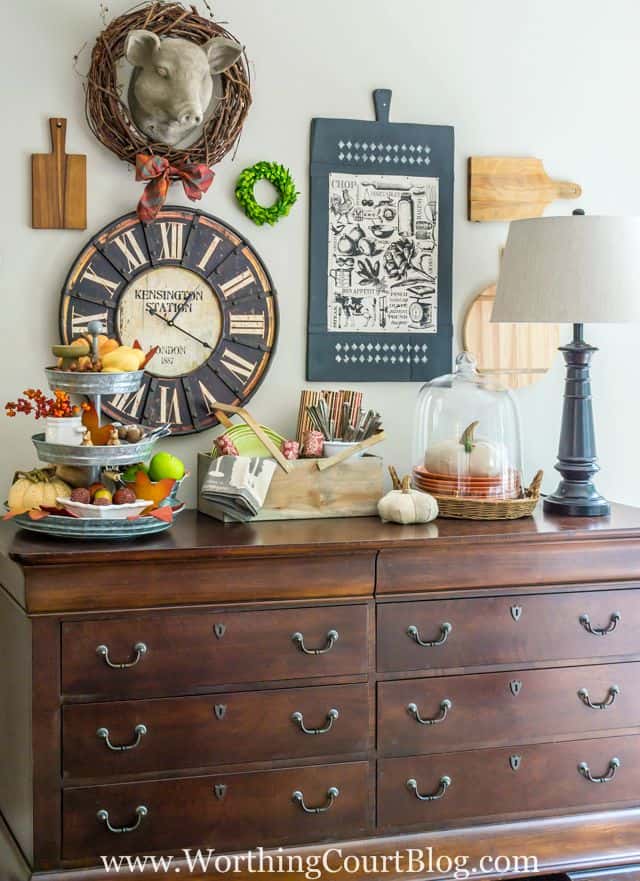 Before I go any further though, I want to let you know that I'm participating in a new monthly series, "Celebrations Of Home", with a group of awesome bloggers!  Each month, we hope to inspire you by bringing you just one of the ways that we celebrate the seasons and holidays in our homes.  This month it's all about fall!  Make sure you don't miss the links to everyone's fall projects at the bottom of my post.
Fall Kitchen Decor Ideas
I've wanted a large tiered galvanized tray forever, but most of them had a higher price than I was willing to pay.  After much searching, I lucked out on a brand new Pottery Barn tray on ebay for a great price. Sold!  I intend to put that puppy to good use!  For fall, I filled it with all sorts of nature inspired goodies that came out of my stash.  Pumpkins, berries, acorns, apples and some realistic burnished leaves.
I couldn't resist including a set of cutey patootey squirrel salt and pepper shakers.  I used them a couple of years ago as part of a Woodland Thanksgiving Tablescape that I put together in the dining room of our former home.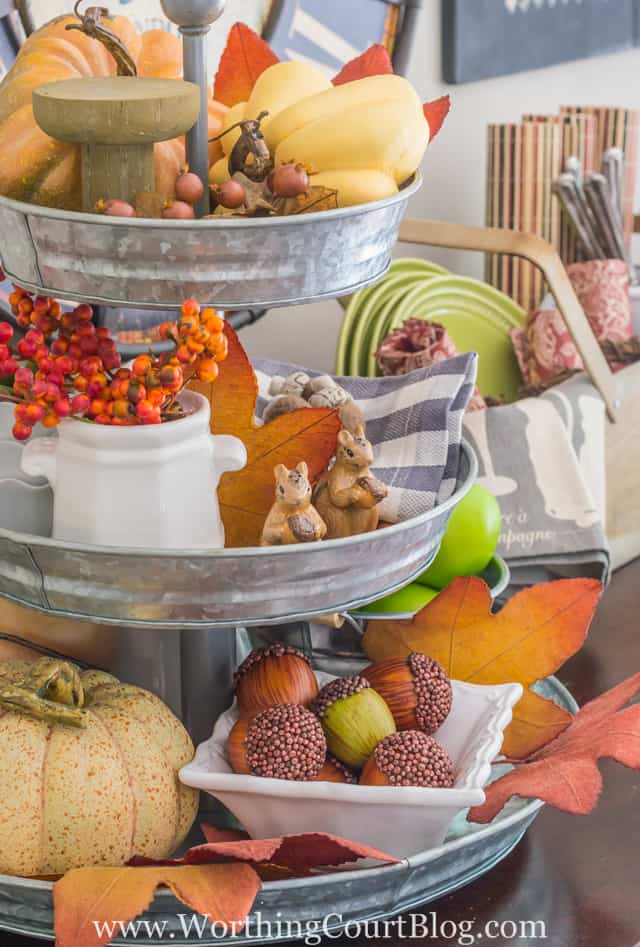 A vintage-look weathered toolbox holds a few bold green plates, rolled up place mats and some silverware. Even paper napkins look pretty when several are all rolled up together and secured with twig napkin rings.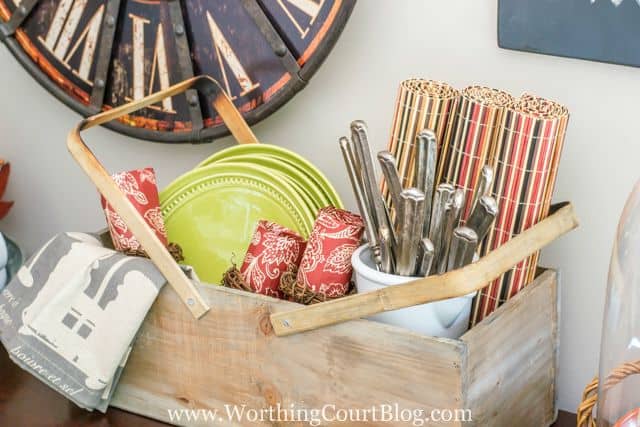 A few rust colored plates from a dollar store and a white pumpkin are displayed under a pretty glass cloche.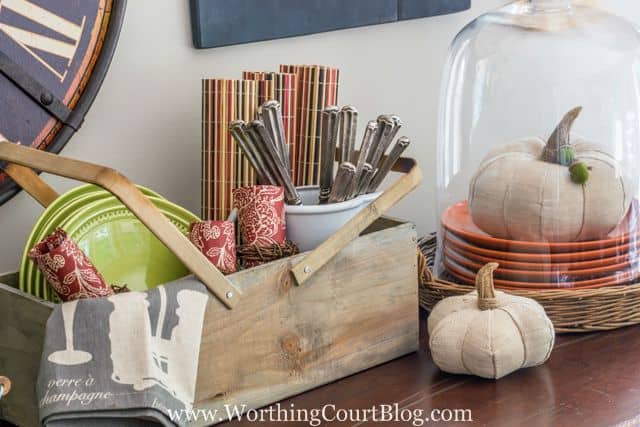 I picked these fabric pumpkins up at Pottery Barn when they had gone on clearance after the fall season last year.  Gotta love after season sales!  I dressed them up a little by wrapping some twine around the stems and adding some green acorns to the pumpkin underneath the cloche.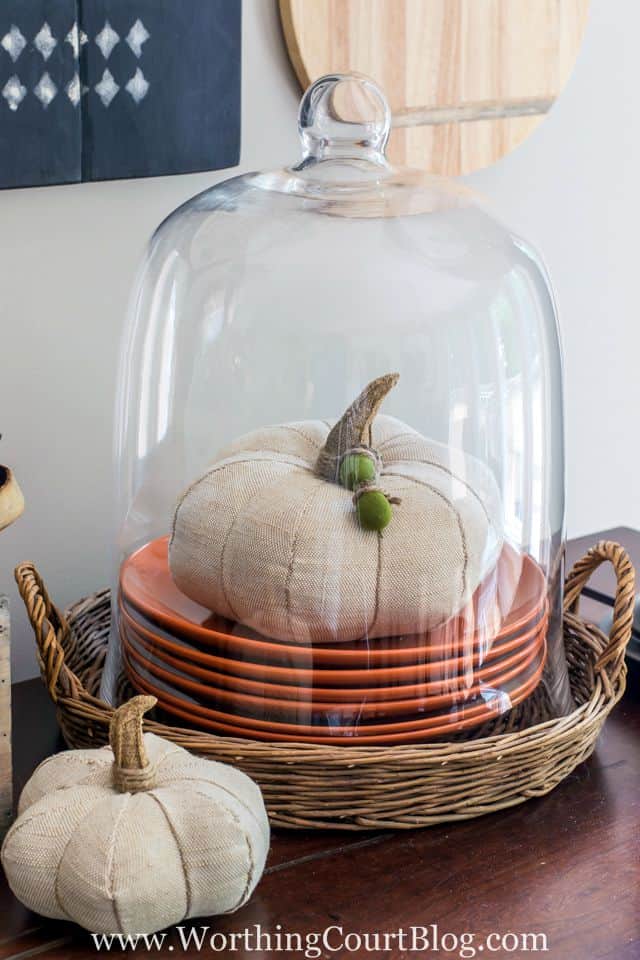 The star of the show is Hubert, who is overseeing the whole scene.  At least that's what I'm calling him this week.  Sometimes it's Orville, sometimes it's Porky, sometimes it's Wilbur – but I digress.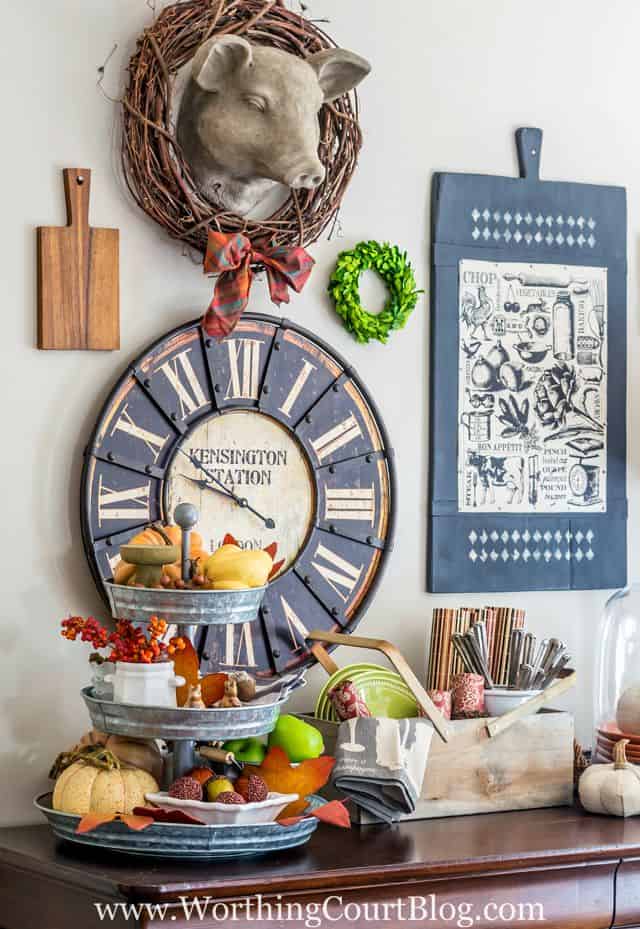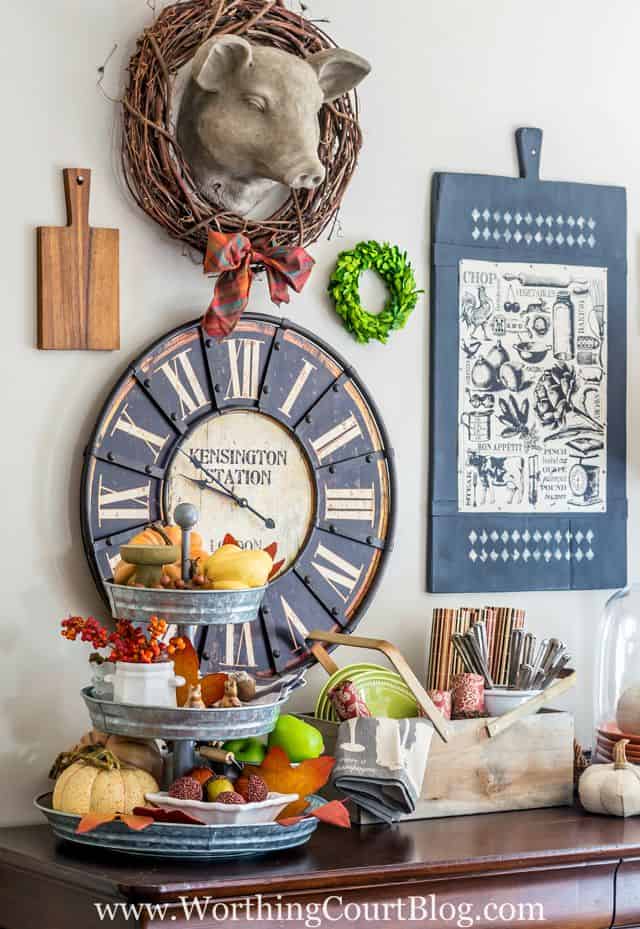 I dressed Hubert up for fall with a twig wreath and a little fall ribbon bow tie. He really does suit the farmhouse simplicity look the I go for!  I actually purchased him about three years ago even though I didn't have a place for him in my old kitchen.  He was the very first thing that I hung up in the new house.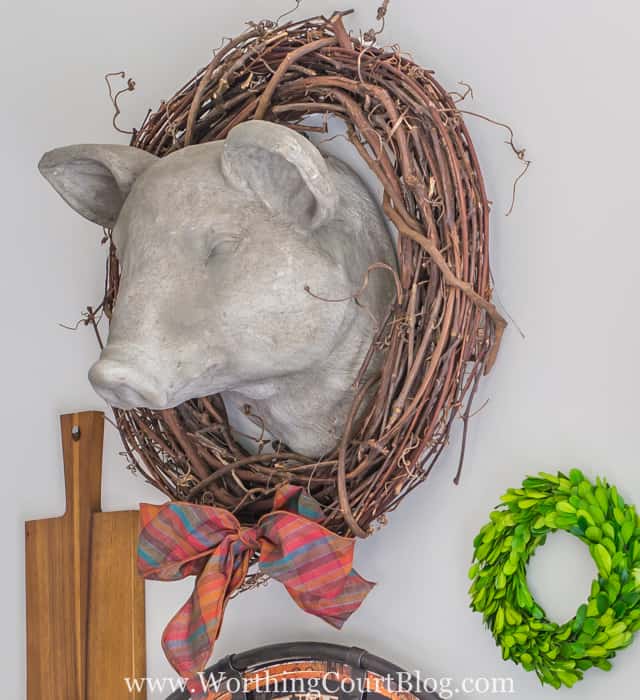 One of the changes that I made to the original look of the gallery wall was to move the clock that used to be here into the remodeled laundry room.  This clock's more rustic look suits this wall much better, I think.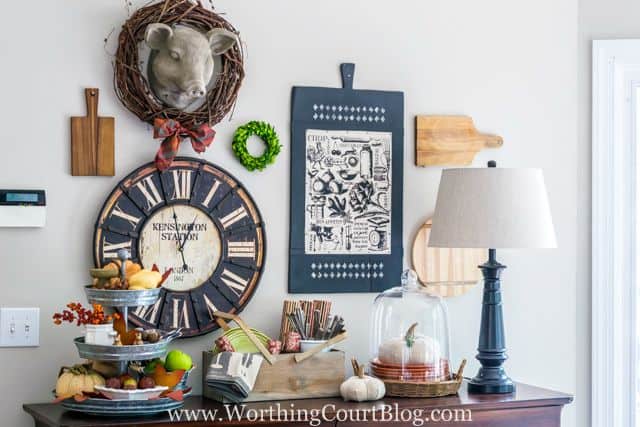 I also added a few wooden cutting boards that I picked up here and there and a boxwood wreath for a little pop or splash of color.  I madeover the large black cutting board too.  Click HERE to see what it used to look like.  I simply flipped it around to the backside, used small upholstery tacks to attach a piece of printed canvas and stenciled a couple of rows of a houndstooth pattern to the top and bottom.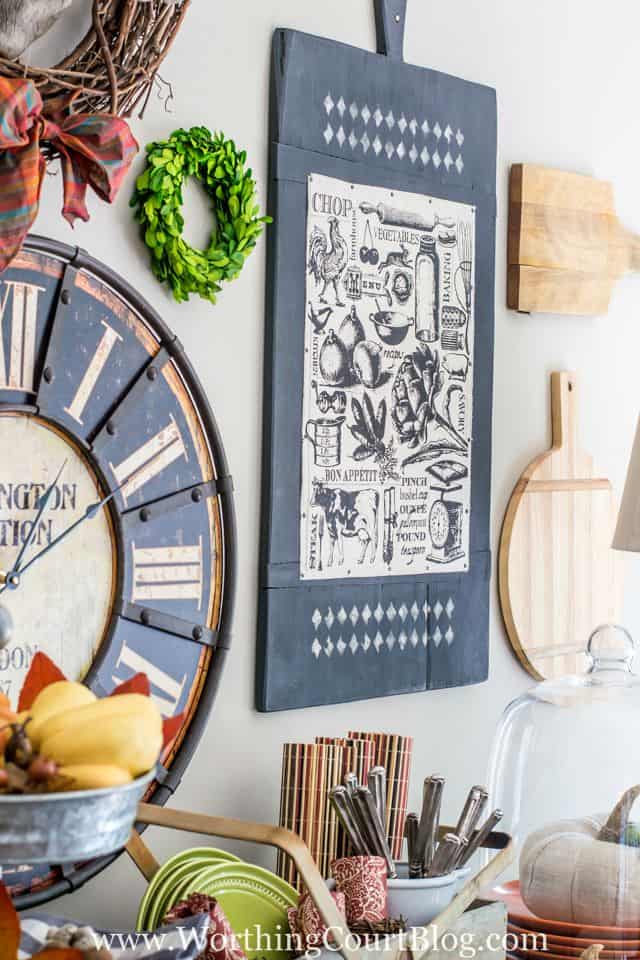 I love the serene view that I have from my spot on the couch now.  See that little sneaky peeky of my fall table centerpiece?  I'll share that on another day.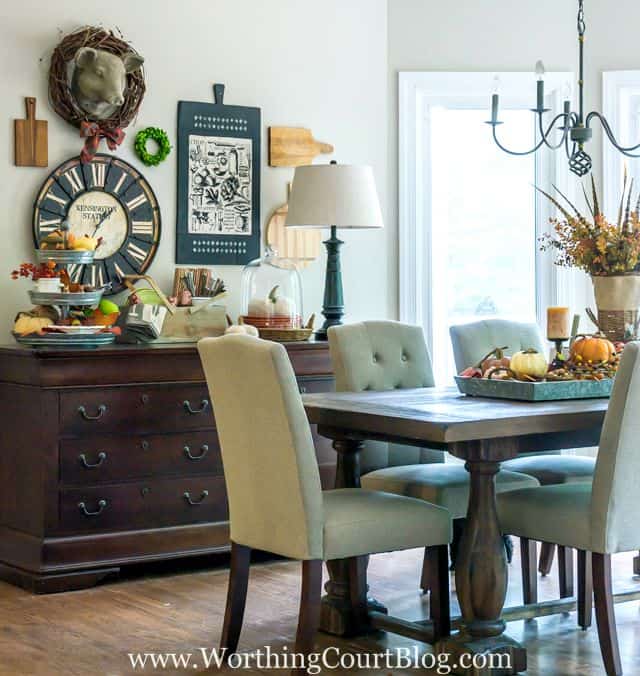 And once the sun starts to set and I turn the lamp on, the whole area takes on such a soft and cozy feel.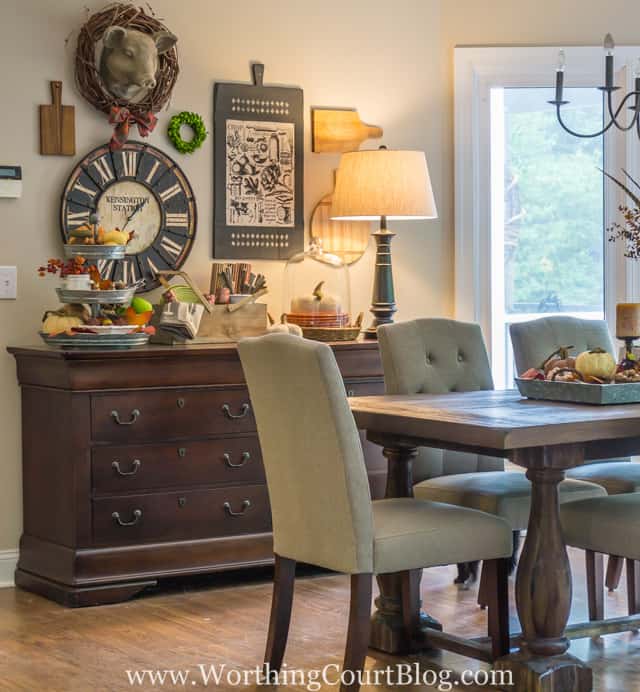 UPDATE:  My gallery wall is gone!  Take a look at what I did in its place.
Rustic Farmhouse Breakfast Area