Boy, things sure do seem to move in slow motion sometimes, don't they? That's how it feels when it comes to finishing my kitchen. We have grand plans, but life gets in the way on occasion – and that's okay. This house remodel has been a great lesson in patience and perseverance for me. And while my tendency is to 'hurry up and get it done', I'm actually glad that we're taking it slowly.
I've known for a long time what I wanted in a kitchen. Finally having the basic shell done is making it so much easier to be intentional with my decorating decisions – well, except for figuring out the backsplash – more on that later.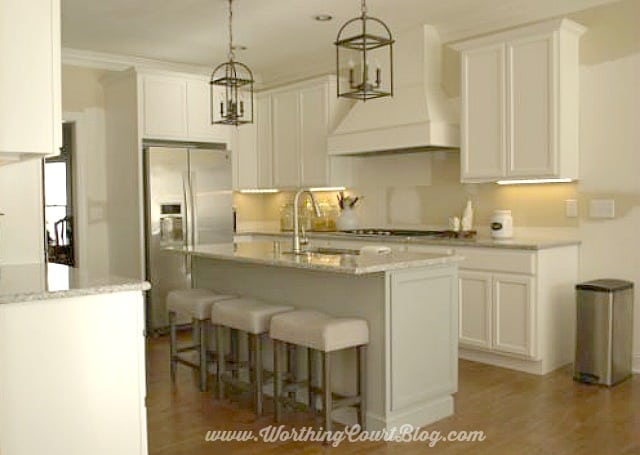 So, with all that being said, it's time for a kitchen update. The last time that I showed you the kitchen the granite counters weren't installed and the lanterns above the island weren't hung yet.
I've wanted a white kitchen for years and finally have one! We chose simple, shaker style cabinets with just a little bit of added detail. (Resources are at the bottom of this post.)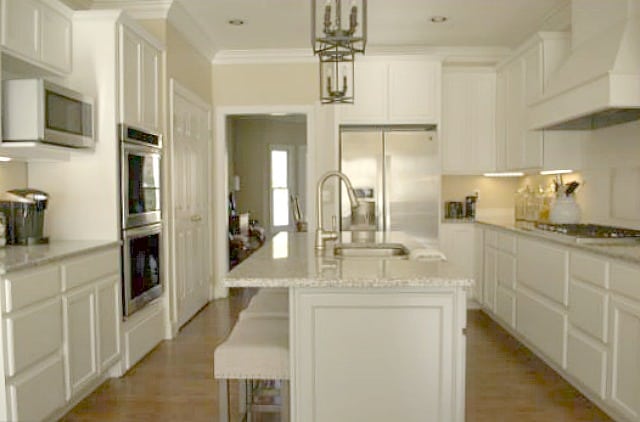 To add interest and warmth and to break up all of the white, I used gray cabinets (from the same cabinet line) for my island. I wrapped the island in matching baseboard and added dummy cabinet doors to each end of the island to make it look more like a piece of furniture. The addition of the baseboard also helps to "ground" the island since it's floating in the middle of the room.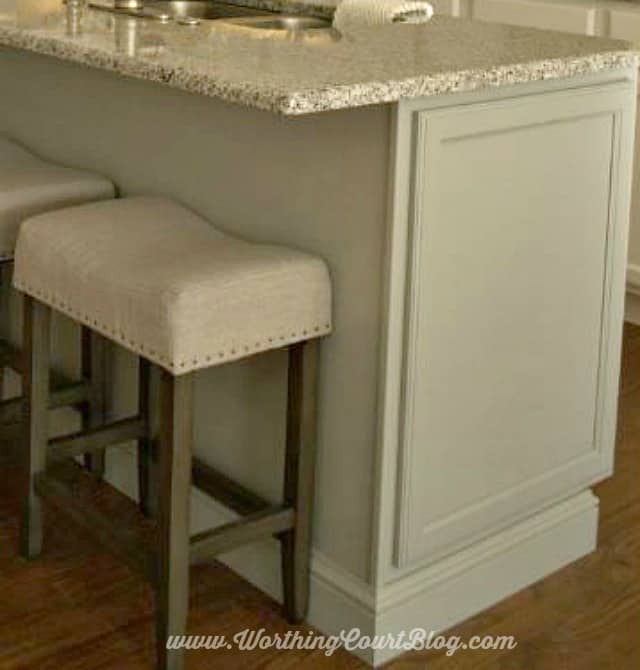 We ripped up the vinyl that the previous owner had and added hardwood floors stained in rich, warm brown that isn't so dark that it shows every spec of dust.
Searching for just the right granite was a huge process. Trying to mesh color and pattern desires along with a budget isn't easy sometimes, but I am in total love with what we chose. It has all of the warmth and color that I had hoped for, without being too busy for me.
My sink is located in the island, which is right in the middle of the kitchen area. The Delta faucet is like jewelry and I love it. I originally wanted polished chrome, but a friend warned me about the difficulty of keeping it free of water spots, so I went with brushed nickel instead.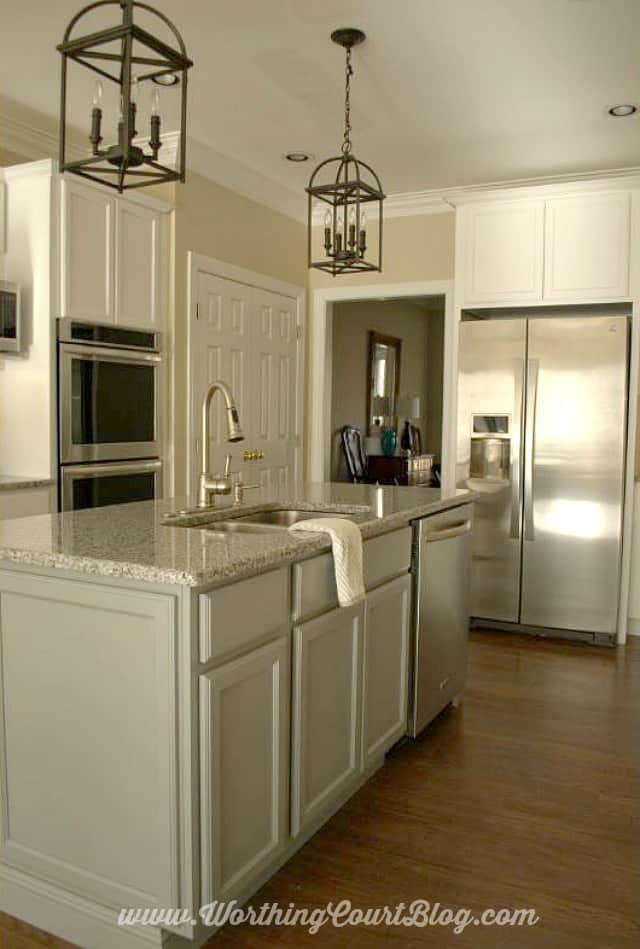 The layout of the kitchen is perfect for me. Everything is just a step or a turn away, right down to the location of my trash can. And believe me, we had lots of discussion about where the trash can should be located!
Pookie is such a supportive hubby – we have an agreement. I get 55% of the vote on the house design and he gets 55% of the vote when it comes to our cars. I always seek and value his opinion, and want him to be happy, but, he is an engineer and his natural tendency is to maximize every square inch of space. In his mind, it's more about function than form. I'm pretty much the opposite. I bet a lot of you ladies can identify with that gender difference! So fighting (not really fighting, more like insisting) to have my cooktop and hood be the only element on the one wall was a biggie for me. But I'm sooo happy that I stuck to my guns. It's exactly the feature that I wanted it to be.
(I don't know why the floors look so awful in this photo!)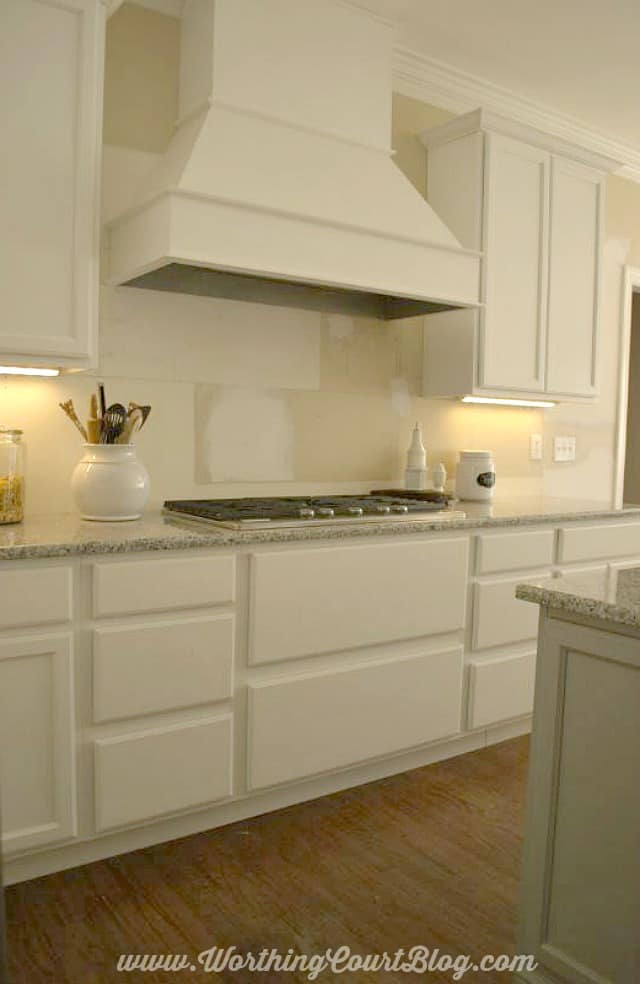 I searched and searched for bar stools that I like and was tickled pink when I ran across these at Target. They fit into the style of the kitchen perfectly and look great with the chairs at the breakfast table.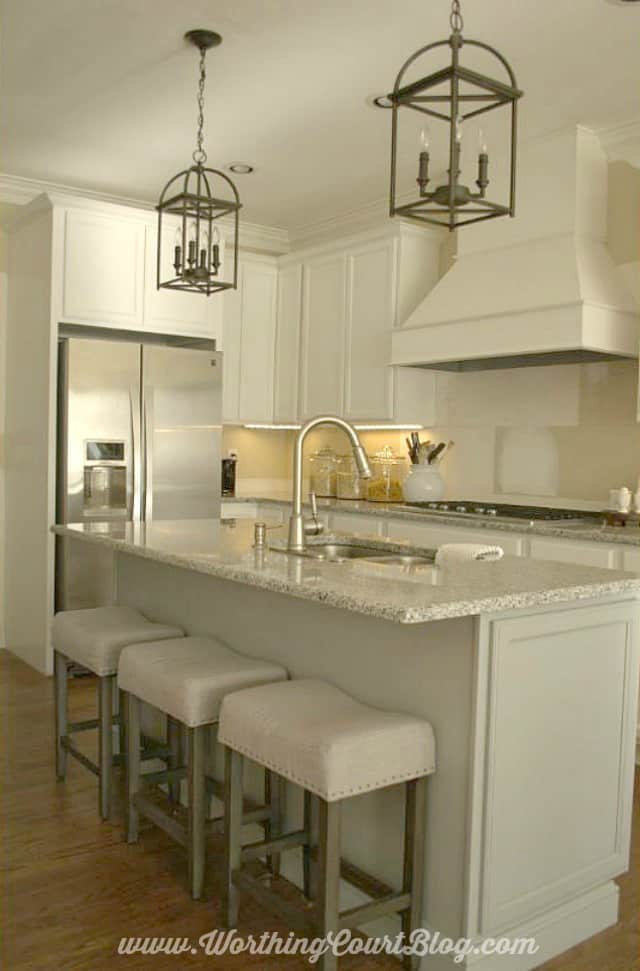 The pantry, microwave and wall ovens are located on the wall on the other side of the island.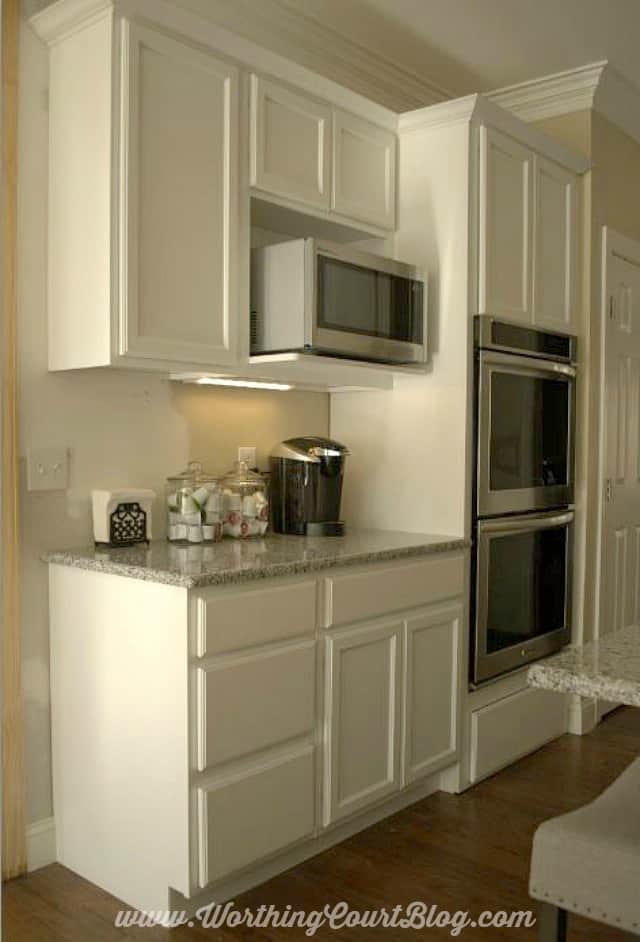 Having the dishwasher located in the island is so convenient. I can place everything on the island, nearest the cabinets that each item goes into, so that I'm finished unloading and putting everything away in a snap!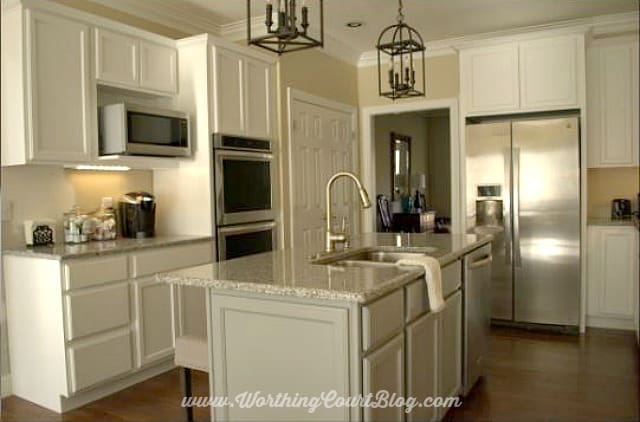 The kitchen renovation is nearing its end (yay!), but we still have several things to do. Hardware needs to be added to the cabinets, the light rail needs to be added to the bottom of all the cabinets, the baseboard needs to be completed and the whole kitchen still needs to be painted. But, foremost in my mind right now is trying to decide on a backsplash. I'm weird because I don't want anything that will be too busy next to the granite. Should I do white beadboard (love!), white subway tile or gray subway tile or something altogether different? What do you think?
In spite of all the stress of decision making, it's been so much fun to watch my dream and vision come to life!
From the layout diagram…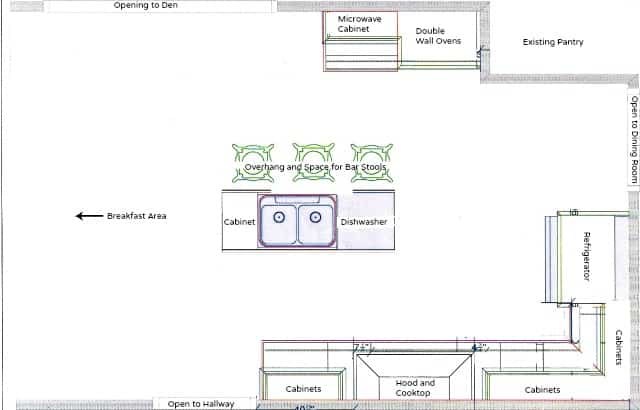 …to the digital rendering…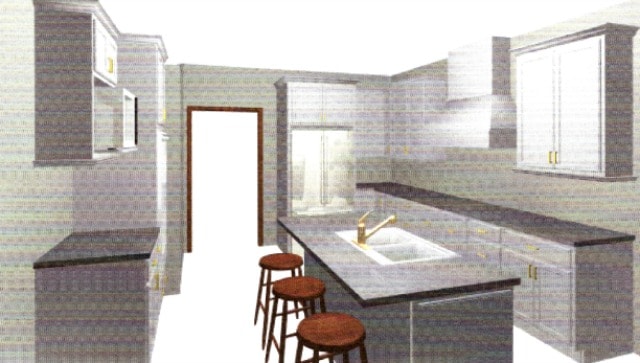 …to the reality.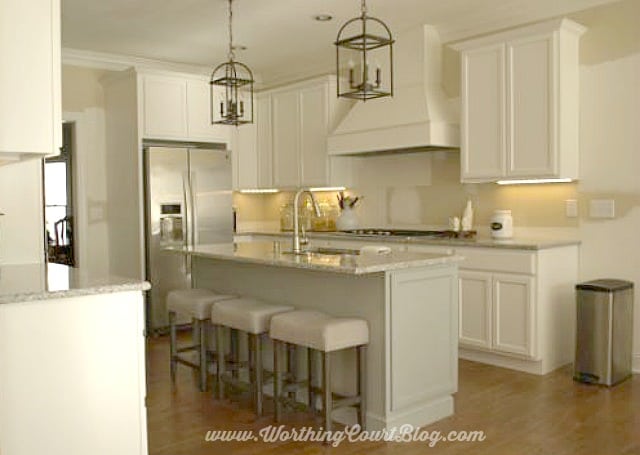 I've made changes to the breakfast area at the other end of the kitchen too.
Adding Some Farmhouse Style And Dressers Aren't Just For Bedrooms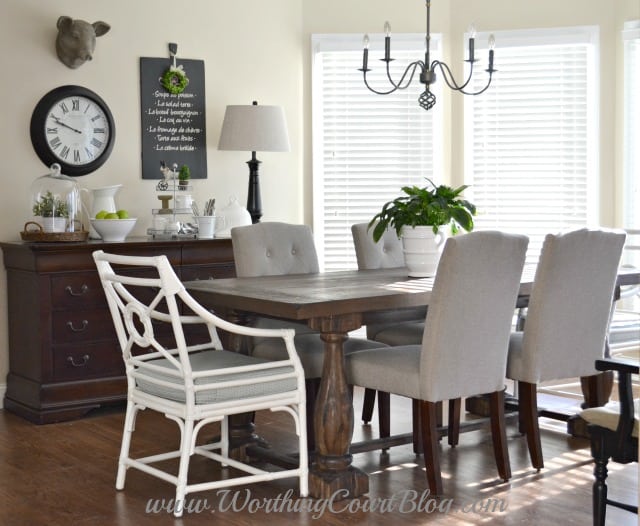 A Bench, Oversized Art And A Free Printable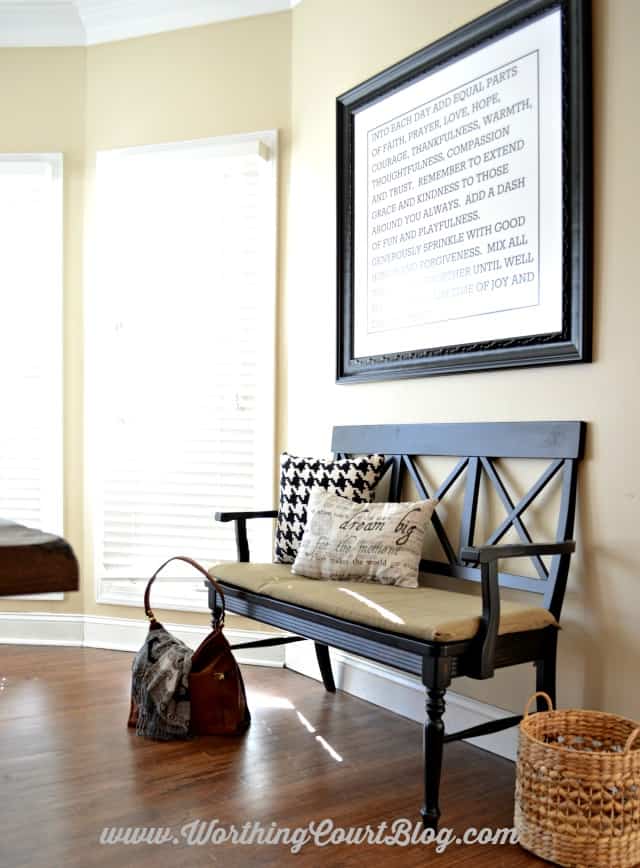 RESOURCES:
Cabinets and Hood – Lowes, Diamond Brand, Amherst style in White and Juniper Berry (gray)
Faucet – Delta Savile Pull Down Faucet from Lowes
Lanterns – Thomasville Piedmont Collection from Home Depot
Barstools – Threshold Linen Saddle Stool from Target These are on sale online for a great price right now!
Granite – White Pearl from Affordable Stone
Sharing here:
Inspiration Monday at Refresh Restyle, Inspire Me Monday at Sand and Sisal, Monday Funday at That's What Che Said, Your Designs This Time on Monday at Bre Purposed, Metamorphosis Monday at Between Naps on the Porch, The Scoop on Tuesday at Worthing Court, Inspire Me Tuesday at A Stroll Thru Life, The Makers on Wednesday at Home Made By Carmona, Tutorials and Tips on Tuesday at Home Stories A to Z, Wow Us Wednesdays at Savvy Southern Style, Weekend Retreat on Thursdays at AKA Design, Inspire Me Please on Thursday at Blissfully Ever After, Treasure Hunt Thursday at From My Front Porch To Yours, Feathered Nest Friday at French Country Cottage, The Inspiration Gallery On Fridays at Craftberry Bush, Show-Licious on Saturday at 3 Little Greenwoods, Share It One More Time on Saturday at One More Time Events