The New Kitchen Backsplash
Come see the backsplash I chose for our new kitchen!
Even though we have been working on a ton of smaller projects around the house, our main focus has been on completing the kitchen.  Perhaps it's because finally getting a new backsplash in the kitchen is a lot more exciting than things like new baseboard and new towel bars!
The kitchen is so close to being finished.  It hasn't been given it's final paint color yet, but I couldn't wait to share our new backsplash with you.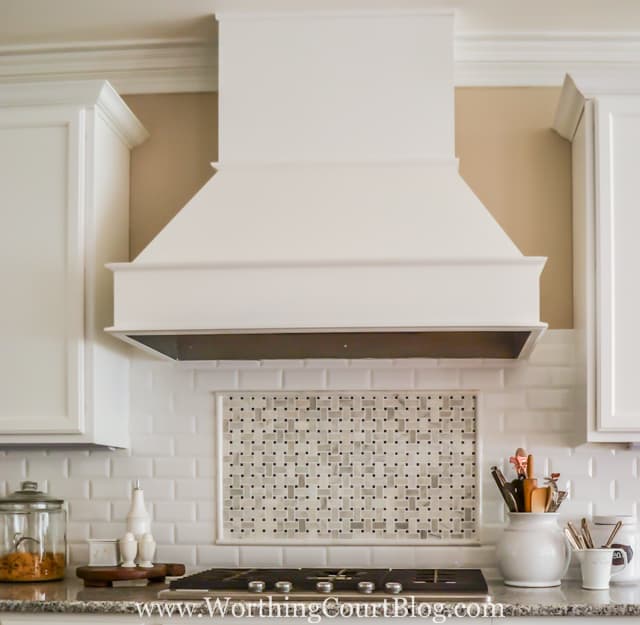 Pin
I had three requirements when it came to selecting tile for the kitchen:  a) it had to be an updated style, yet timeless – nothing too trendy, b) it needed to be neutral so that I wouldn't be stuck with a specific color and c) it couldn't be so busy that it fought with the granite countertops.
Pin
I must have brought home a bajillion samples, but nothing ever seemed quite right. That is, until I picked up samples of faceted subway tile, basket weave tile and pencil tile to use for the "frame" around the basket weave.  As soon as I saw it all together in my kitchen, I knew right away that this combo was THE one!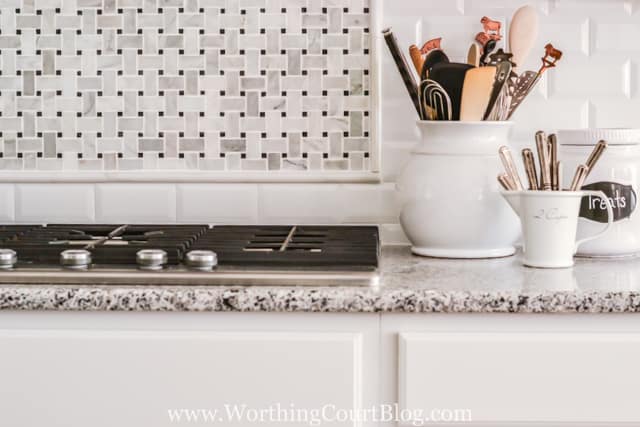 Pin
When we started down this remodel path, I was convinced that I didn't want white tile for the backsplash and I for sure didn't want subway tile, but look what I chose – white subway tile.  Go figure.  Now don't get me wrong – I love subway tile, but I was afraid that it would be too much white.  But THEN, I found a faceted version of it and that was all she wrote. The facets in the tiles throw light and create shadows so that it breaks up all of the white between the upper and lower cabinets.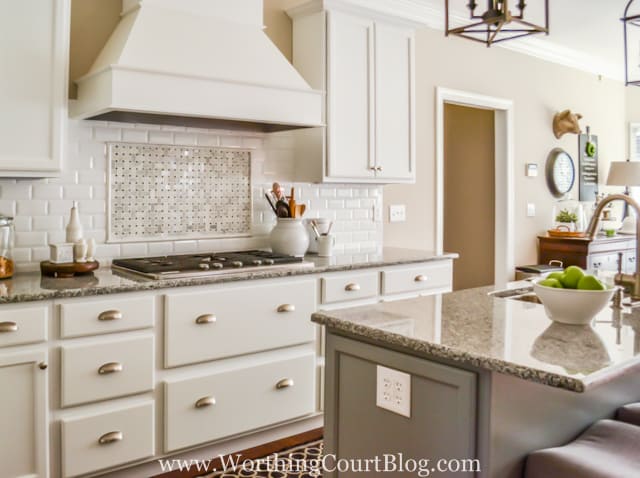 Pin
To keep the look clean, I used white mortar and for a little more interest I laid the tile in a brick pattern.
The only place that I used the basket weave accent is above the cooktop.  On the other side of the kitchen, where the coffee pot is located, I used white subway tile by itself.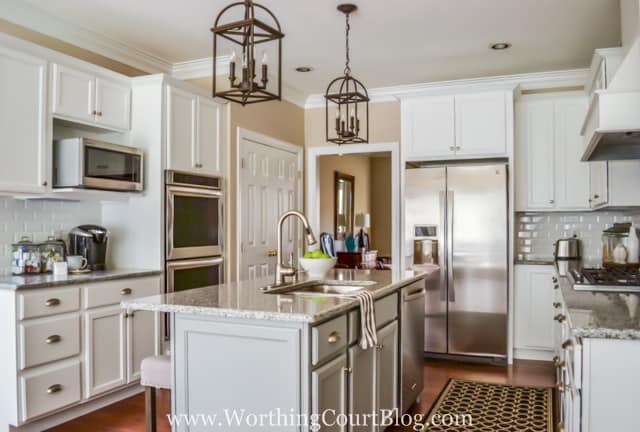 Pin
We've added hardware to the cabinets since the last update on the kitchen remodel.  What a difference something so simple makes!  Pookie used a template to make sure all of the knobs where placed just so.  The pulls on the drawers below the cooktop were a bit of a challenge to get lined up perfectly (even with a template), but I think he did a great job.  No telling what the hardware would look like if it had been left up to me.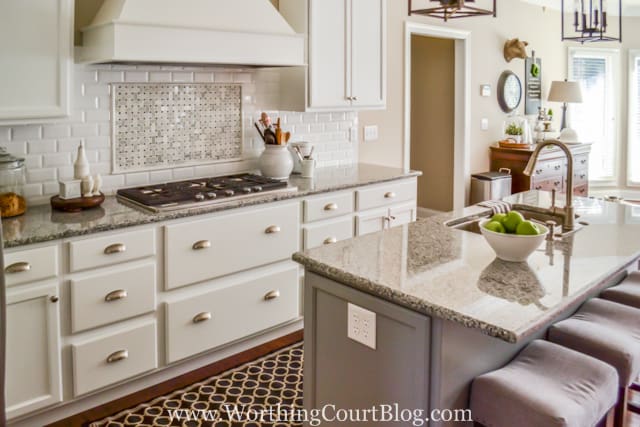 Pin
I'm trying to decide if I need to add two more dummy knobs to the cabinets in the corner, to the right of the refrigerator.  Those doors unfold when you open them, so I don't need knobs to make them functional, but it kind of looks like I'm missing knobs on two of the doors.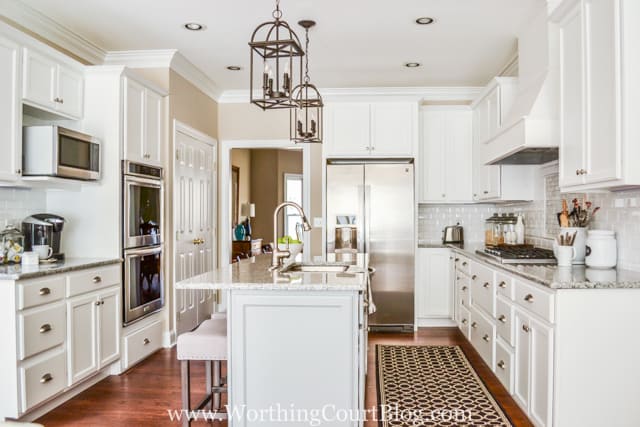 Pin
If you have sharp eyes, you'll notice that I added a rug in here too.  Another simple thing that makes such a difference in the room.  It's a brown and white indoor/outdoor rug which is perfect in front of the sink.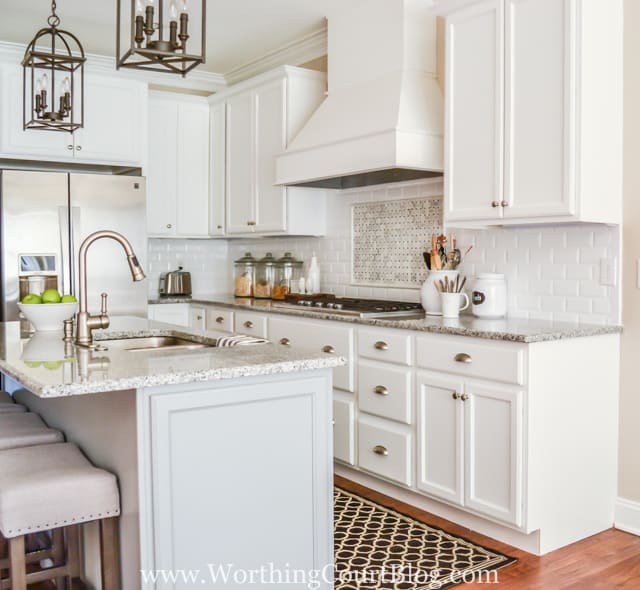 Pin
I've fallen in love with the 100% polypropylene indoor/outdoor rugs that are available now. They're hard-wearing so they're perfect in high traffic areas and are a snap to clean so they're great in a home that has pets.  An added bonus is that they're inexpensive too.  I have three more located at doors coming into the house and will probably use one in the family room as well.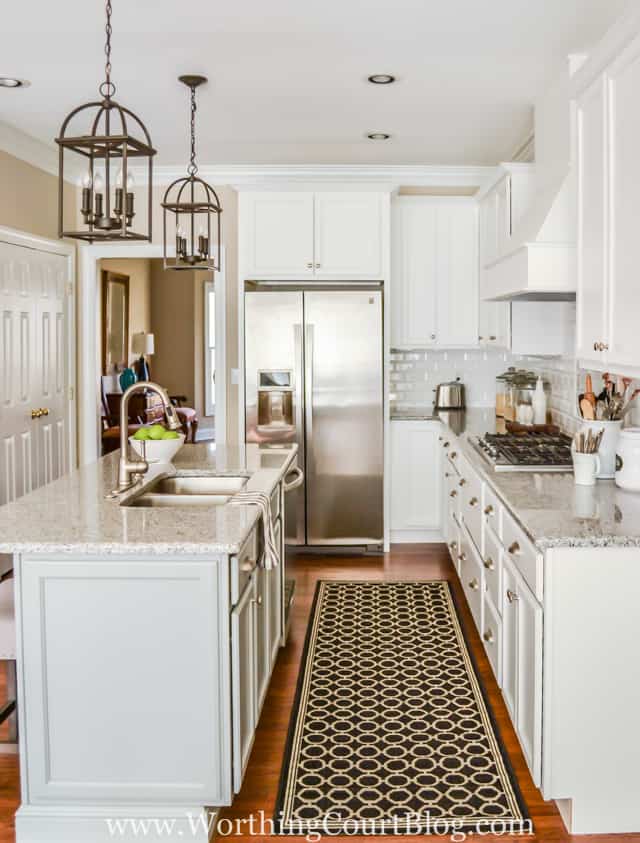 Pin
And the counter height barstools?  Yeah, I'm pretty much in love with them.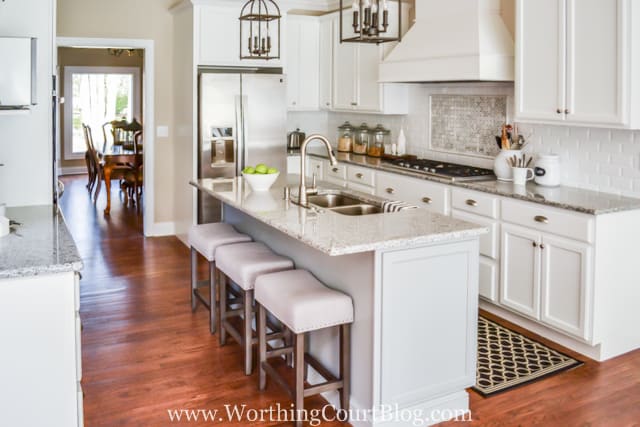 Pin
Other than giving the room its final paint color, we only have one more project to do before I can officially declare that the kitchen is finished, and that is to add light rail below all of the cabinets to help hide the under cabinet lighting.
Explore the breakfast area of the kitchen HERE.
KITCHEN RESOURCES:
Faceted Subway Tile:  Jeffrey Court Pearl White Beveled Tile from Home Depot
Black and Carrera Marble Accent Tile:  Anatolia Venatino Polished Natural Stone Baskeweave Mosaic from Lowes
Carrera Marble Pencil Tile:  Available from any tile specialty store
Cabinet Hardware:  Home Depot
Rug:  Bermuda Indoor/Outdoor Rug from Ballard Designs
Cabinets and Hood – Lowes, Diamond Brand, Amherst style in White and Juniper Berry (gray) 
Faucet – Delta Savile Pull Down Faucet from Lowes
Lanterns – Thomasville Piedmont Collection from Home Depot
Barstools – Threshold Linen Saddle Stool from Target  
Granite – White Pearl from Lowes