A Covered Back Porch Filled With Vintage Goodies
Ready for a little break? Grab a cup-a-something, sit back, relax and enjoy what I'm about to share with you.
You remember the tour of Linda's remodeled kitchen, don't you? Click
HERE
in case you missed it. Well today, we're going to tour her awesome back porch! When you step out of Linda's sunroom, you are greeted with this.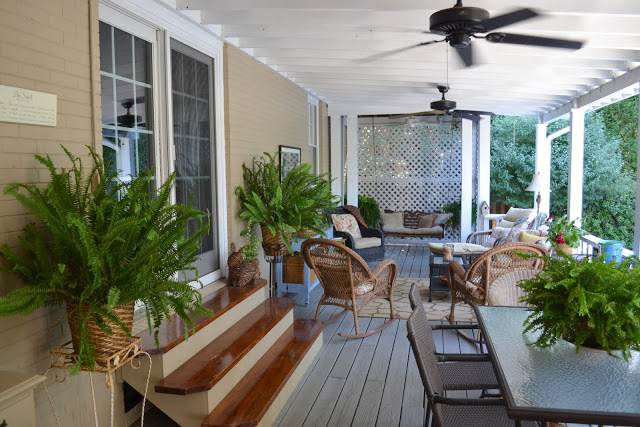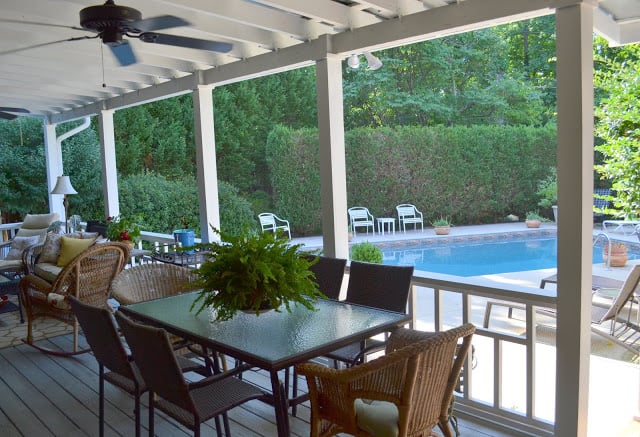 When Linda and Gene purchased this house the only access to the pool were some steps out of the sliding glass doors. In 1993, Gene along their son Brandon and another family member added a deck spanning the length of the back of the house. The deck was very pretty, but there was no roof to shield you from the sun so it wasn't a very pleasant place to be during the height of summer. Fast forward to 2007. At long last, the transformation into what you see here began. With Linda as the designer (love her railing design!), Gene did the majority of the work himself. You rock Gene!
Linda found this dining room buffet at a consignment shop and repainted it. It gives her quite a bit of outside storage. I love the rusty, chippy plant stand that gorgeous fern rests in.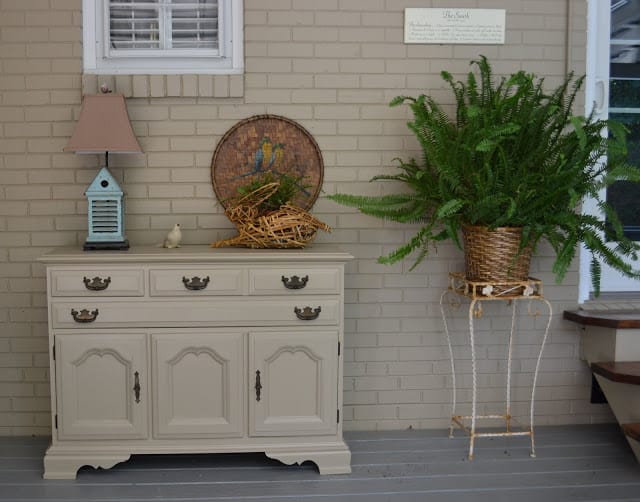 Isn't this a sweet vignette?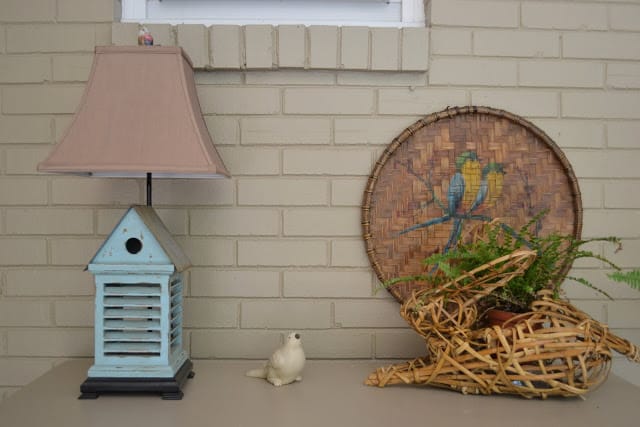 I think the wicker bunny planter is so cute! And aren't those birds painted on the tray cute too?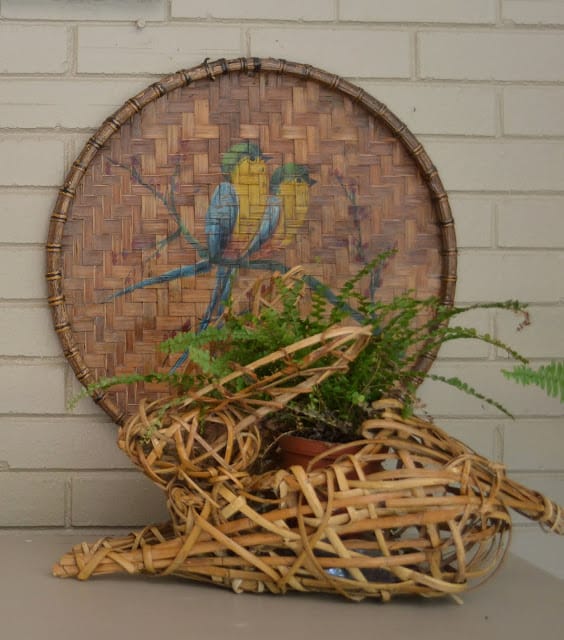 Linda found this birdhouse and had it made into a lamp. Adorable!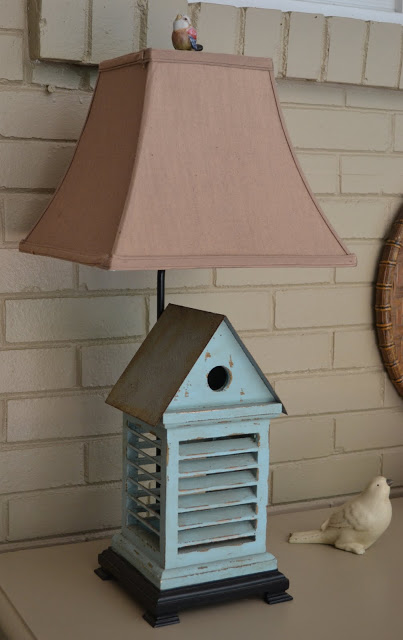 Did you notice the sign above the fern? In case you can't read it, here's what is says:
The South
\tha' 'sau' th\, noun
The place where… 1)Tea is sweet and the accents are sweeter. 2)Summer starts in April. 3) Macaroni & Cheese is a vegetable. 4)Front porches are wide and words are long. 5)Pecan pie is a staple. 6)Y'all is the only proper noun. 7)Chicken is fried and biscuits come with gravy. 8)Everything is Darlin'. 9)Someone's heart is always being blessed.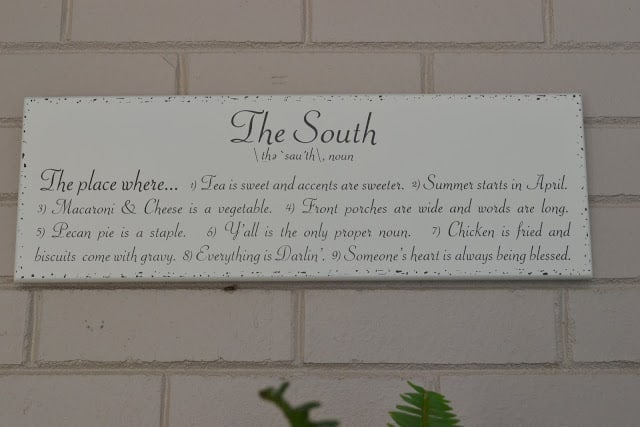 Would you like to be able to sit outside on your oh-so-inviting porch and watch tv? I'd have a hard time keeping my eyes on the tv – they'd constantly be soaking up all of the eye candy out here.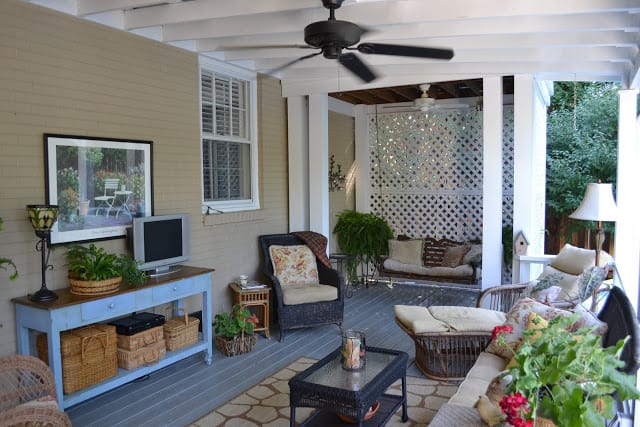 The picture is another consignment store find. The frame was gold and Linda simply painted it black. I love all of the baskets stacked together on the bottom.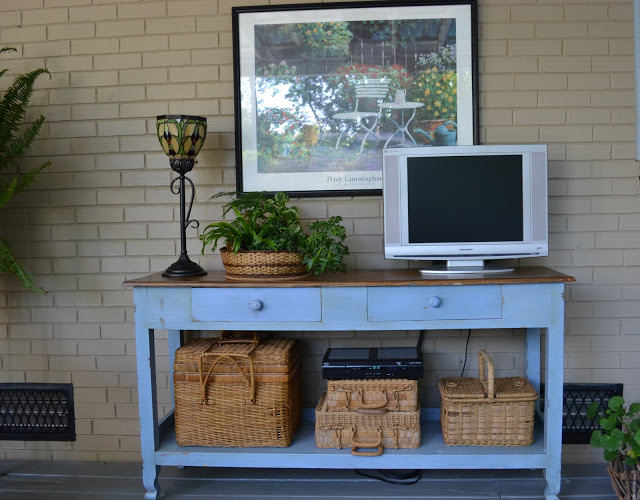 Take a look at this! Linda found it in a old garage! Oh. my. goodness. Love.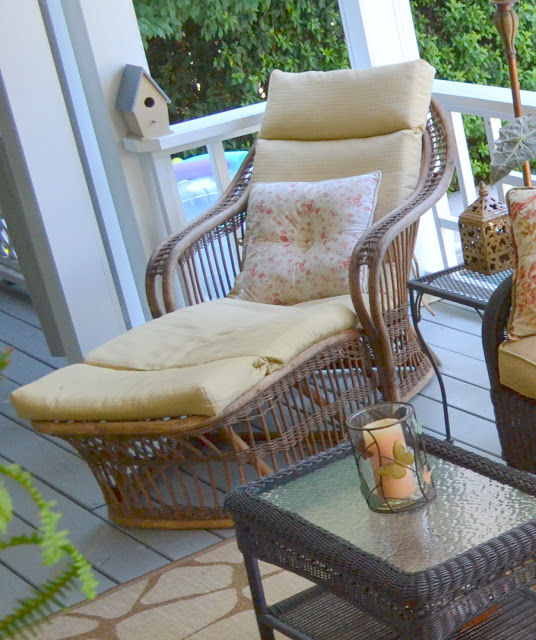 This sweet little tea cart says "Bless your heart, you're all glistenin'…come set a spell and cool off with a glass of tea". You should know that Southern ladies don't ever sweat – we glisten or maybe in extreme cases we perspire. But sweat? Never!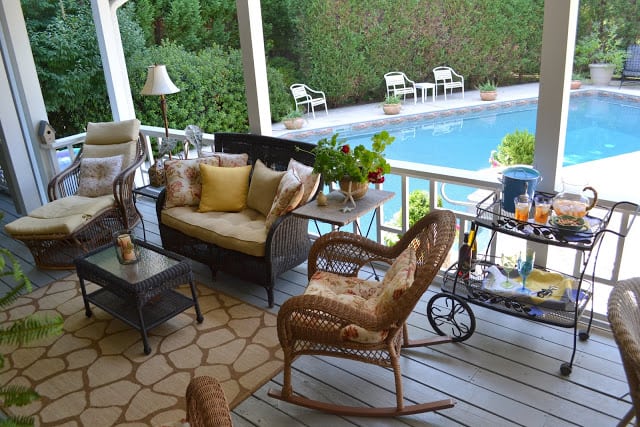 See that little nook at the end?
Linda says it is her very favorite place to sit on the whole porch.
Looking back toward the house from the swing nook. The sliding glass doors at the end go into their sunroom.
Another cute bunny planter.
See these sliding glass doors? They are to the master bedroom.
Why yes, I'd like to be able to walk out of my bedroom on a hot summer morning to take a nice refreshing dip in this…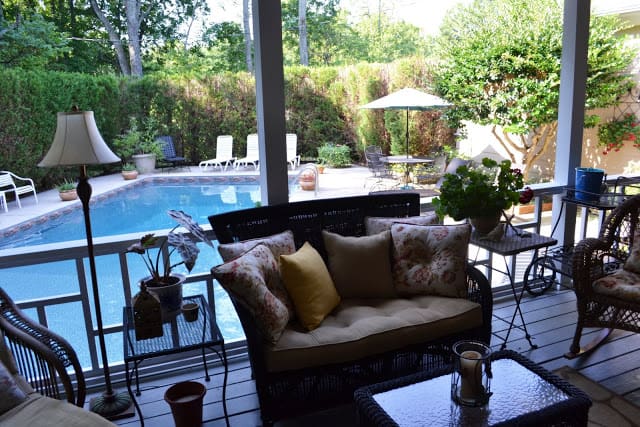 Pininda once told me that they first looked at this house in the dead of winter. Much of the interior was covered with dark paneling and the main rooms of the house were small and closed off. Linda and hubby Gene knew what they could turn the house into, but when she went out back and saw that it had an in-ground pool – SOLD!!!!!
As you head toward the pool from the porch you enter this little alcove with a fountain hung on a lattice wall.
It makes the perfect, soothing, refreshing sound.
This is the porch looking back from the other end of the pool. Don't you love the railing that they designed and built? You can't see it in any of these pics, but the porch has a tin roof! Oh how I would love to sit out there and listen to it rain.
Linda says to ignore the dark spots on the roof. The house will be getting a brand new one before long.
Linda's attention to detail is carried right here to the pool deck. Concrete planters lined up against the wall filled with pretty white flowers and a very pretty wall planter.
A metal wall planter holds a pretty ivy geranium.
I love the shape of this concrete planter. The flowers look so pretty combined with the bush.
You have blown me away once again, my lovely friend!