My High Style/Low Cost Storage Solution For Our Office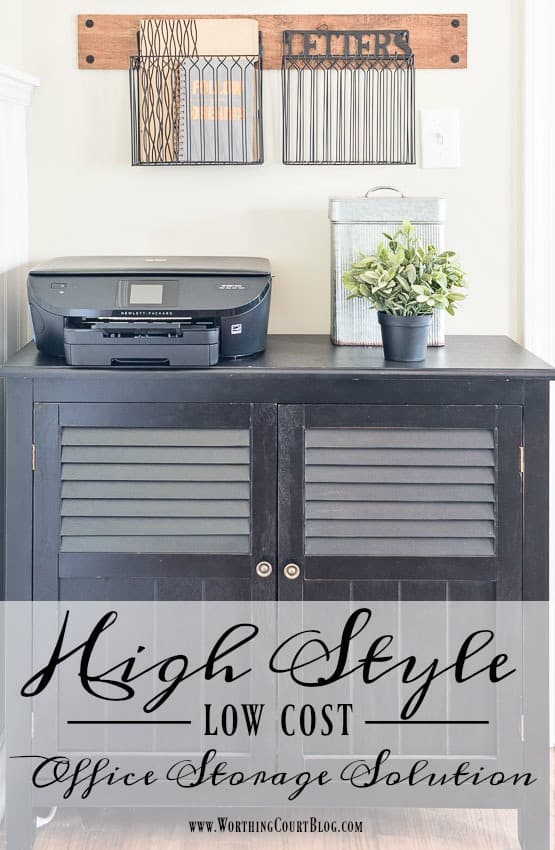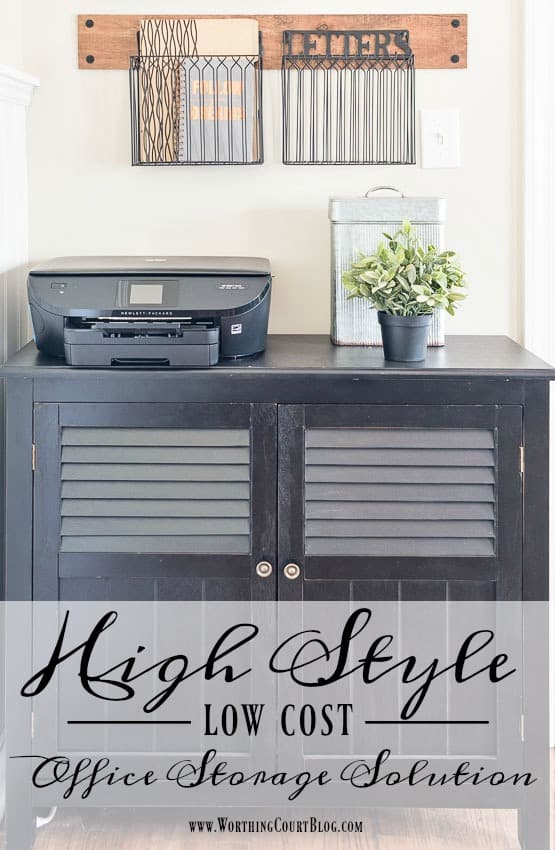 Little corners are important! Did you know that? During our office makeover, I've discovered just how important a small spot can be when it comes to making a room functional.
Let me explain. Our office is technically the living room in our house. It's right off of the foyer, so there's no way that you can miss it when you enter our front door. It isn't very large, so any furniture has to be functional as well as attractive. And that my friends, can be a challenge! Our desk floats in the middle of the room, facing the windows that look out over the front yard. I needed a piece of furniture that would comfortably fit in the small corner beside the desk. Something that would hold our printer and all of the office and bill paying paraphernalia.
This is what we've lived with since we moved in two years ago. A hot mess of a tiny cabinet that has a door that won't stay closed. A drawer that almost falls out every time you pull it open. Wires and more wires everywhere. Ugly and annoying. No denying that we needed a much more functional (and better looking!) piece of furniture.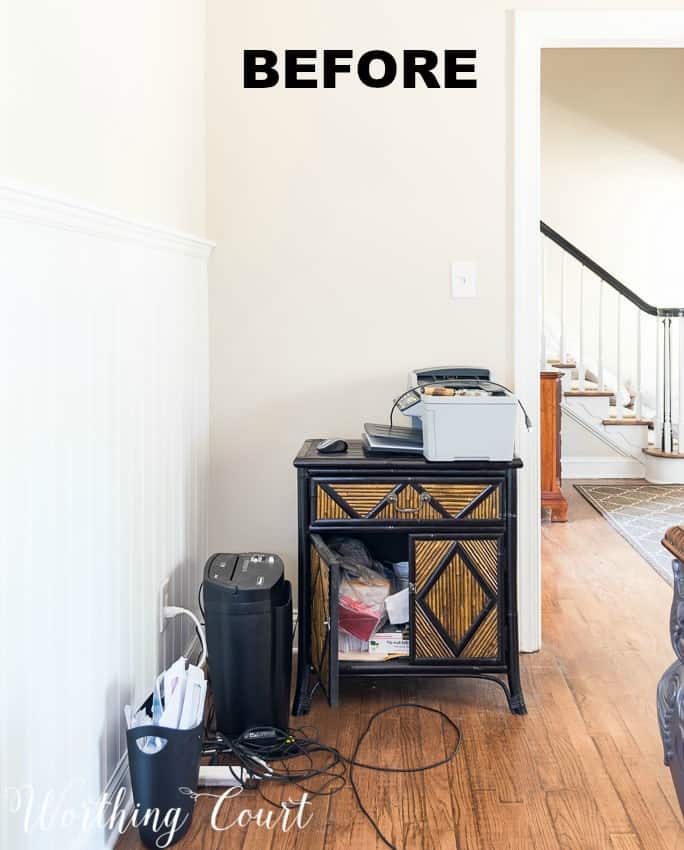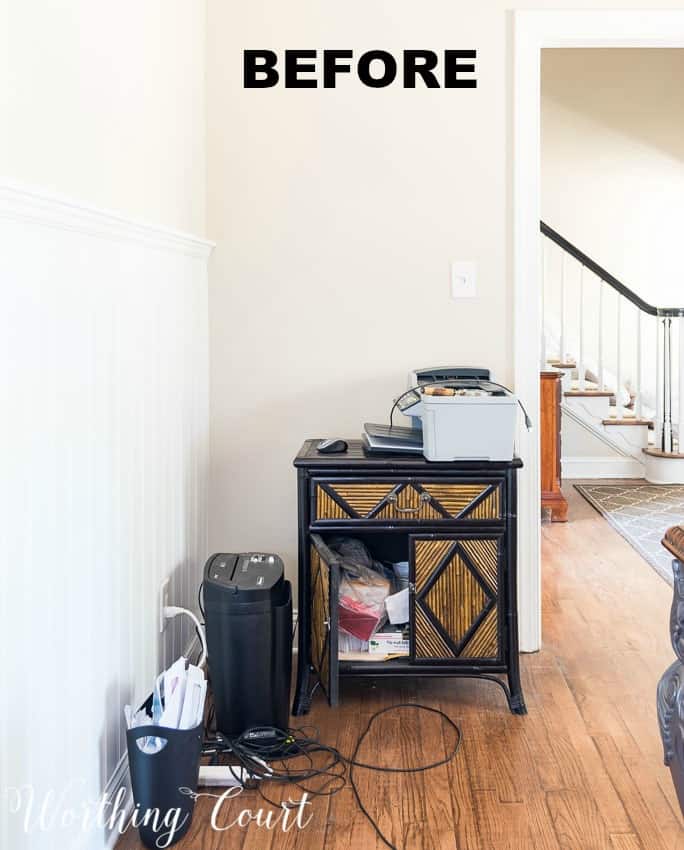 So began the search. I had three requirements: 1) nothing dinky – it had to be wide enough and tall enough to fill the corner, 2) it had to be deep enough to hold the printer, yet slim enough to fit in the tight space beside the desk and 3) it had to be stylish, but very affordable. Oh – and it had to be something that would express the farmhouse, slightly rustic and slightly industrial vibe that I was going for in the office.
It can be hard to find just the right thing when you're searching for something with such specific requirements! So, I headed straight to my local At Home, The Home Decor Superstore. With their everyday low prices, I find myself frequently shopping there. They have such a great selection of every kind of on-trend, designer decor I could ever need for any room in my house – lamps, vases, furniture, textiles, housewares, patio and garden, rugs and seasonal. Plus, they add over 500 new items every week- wowza!
As I was shopping the aisles of At Home, I ran across just the right thing! This chest filled all of my "looks" requirements and was the right depth, width and height that I was after. Plus, it had a shelf behind the doors that would allow me to store and organize all those pesky office supplies.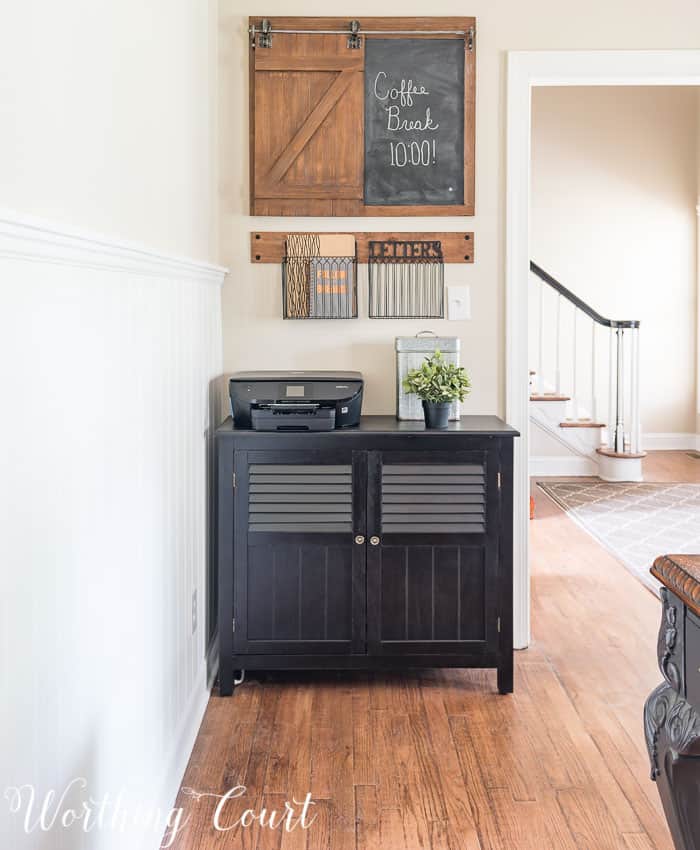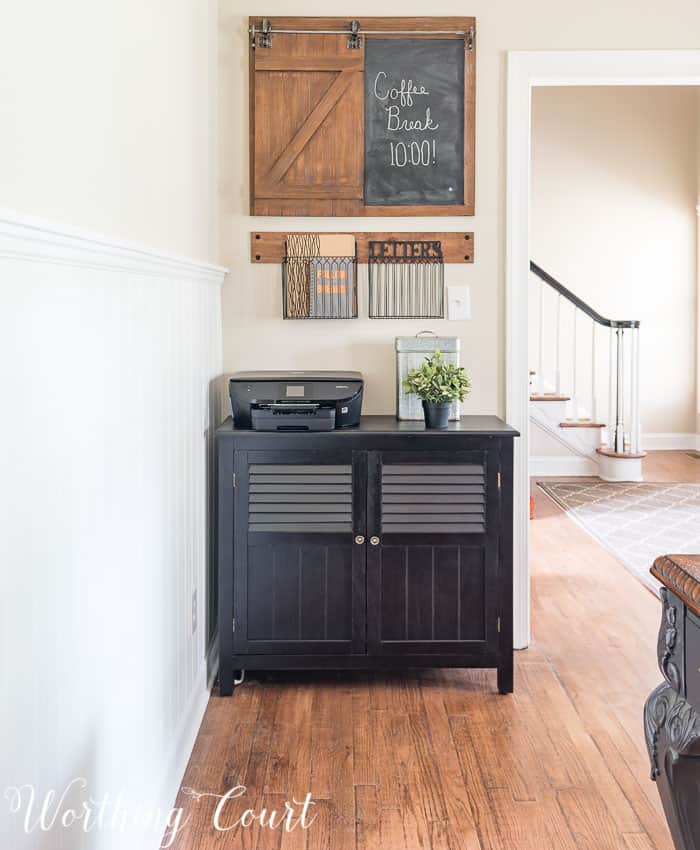 I wanted to dress up the wall above it too, so I picked up two hanging wire baskets, from At Home's wall decor department, that I could use to hold bills and other assorted pieces of mail. I left one of them empty so that you see that each basket has the word LETTERS across the top. Perfect for our home office!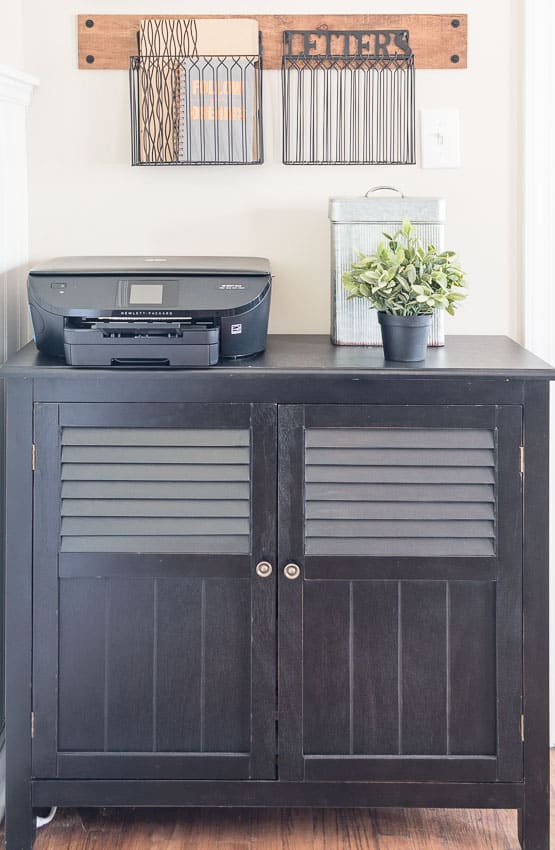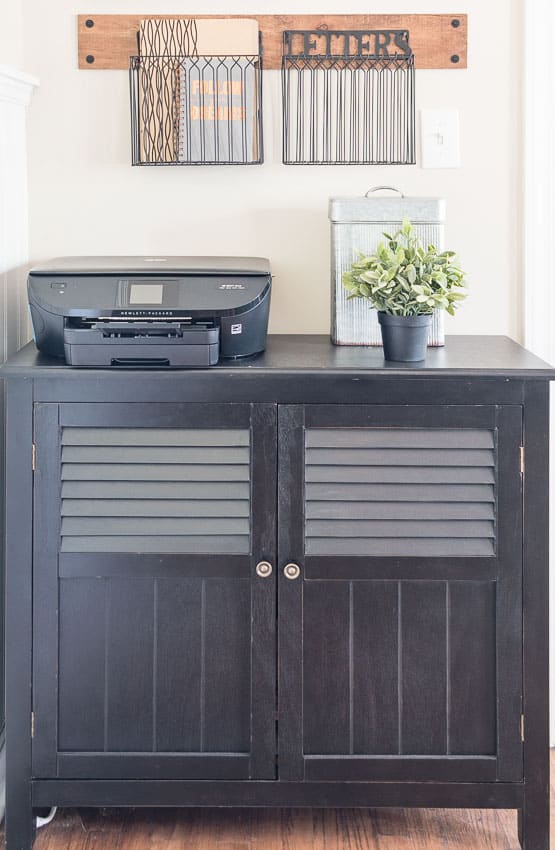 To help it all blend together, I mounted the baskets on a scrap piece of wood that I stained. To reinforce the industrial vibe even more, I attached the board to the wall using black screws and washers.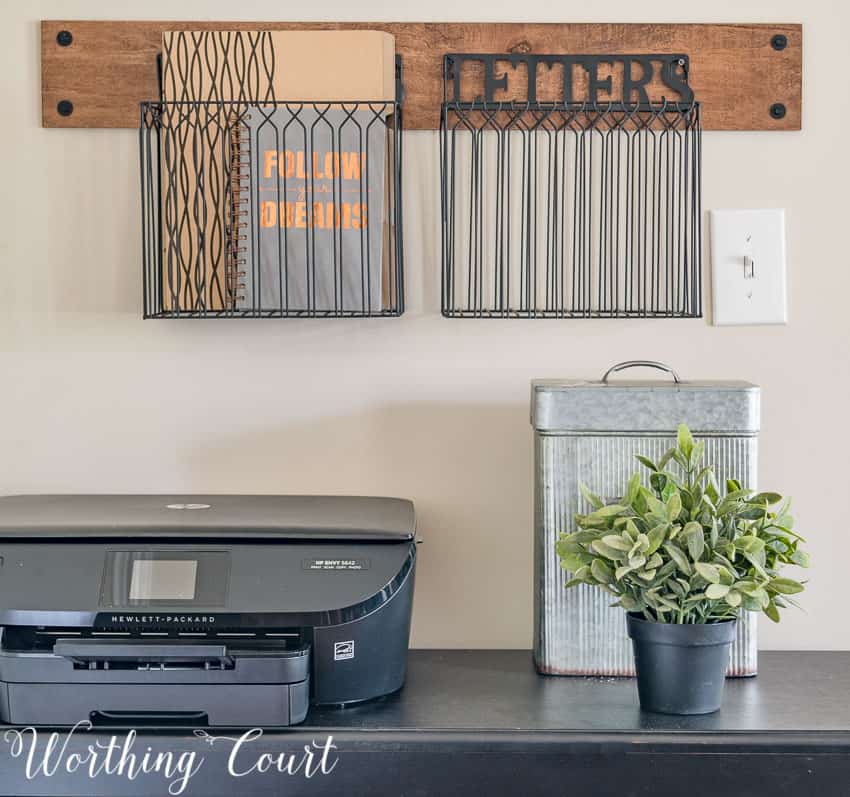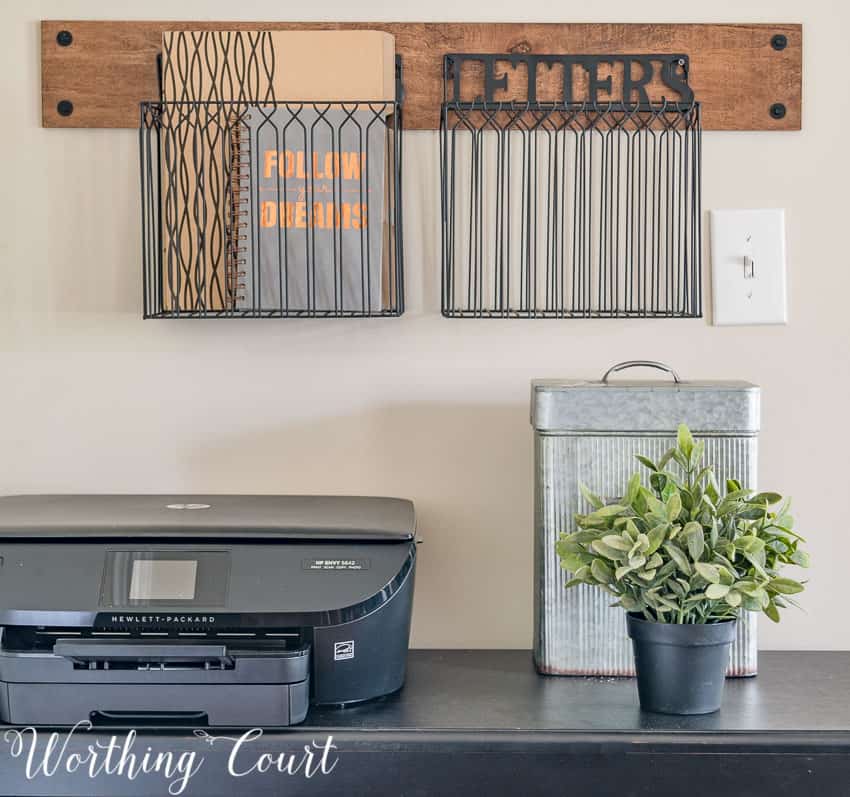 From this side view, you can see that the slim profile of the chest doesn't impede on the walkway at the side of the desk at all. Perfect for this tight spot!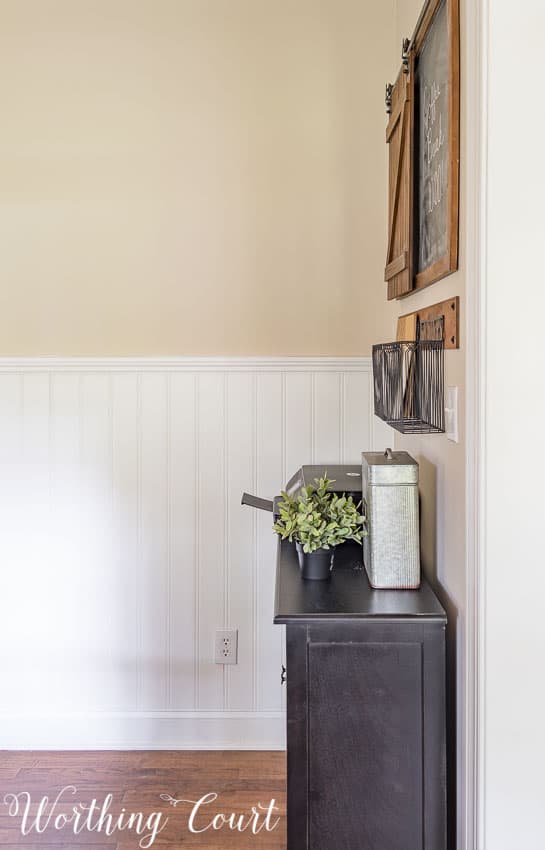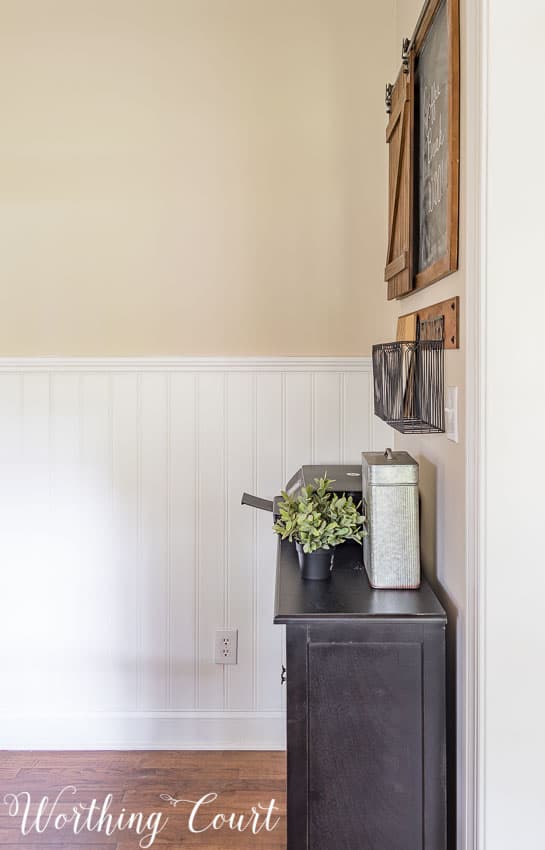 Here's a tip for you: when shopping for something specific, make sure you take measurements with you!. I carried our printer measurements to At Home with me, to make sure that whatever I purchased would work.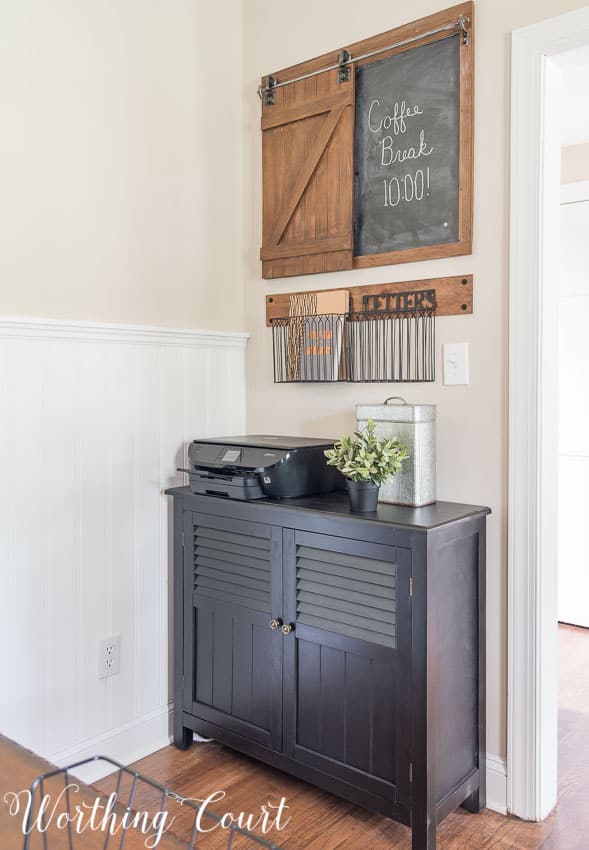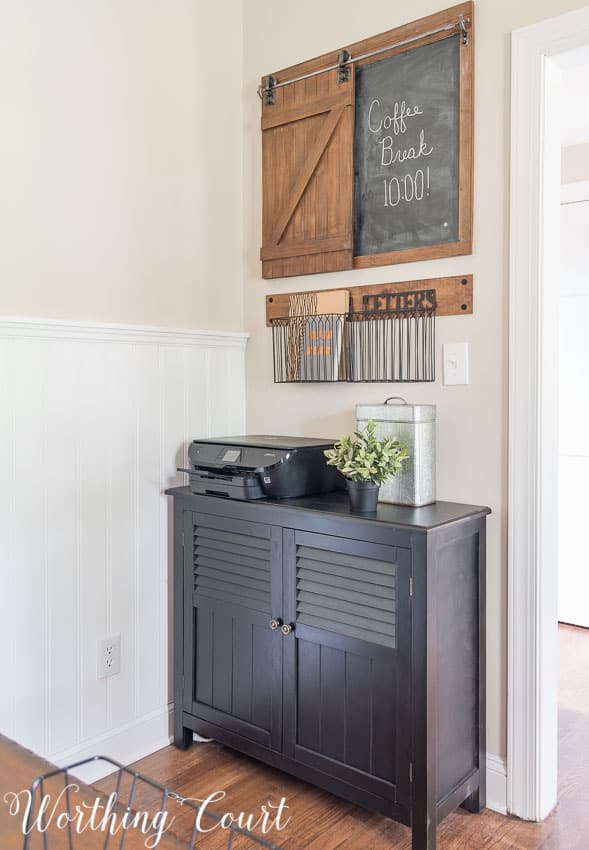 Now I no longer have to be embarrassed by the junky looking small chest that struggled to work for us!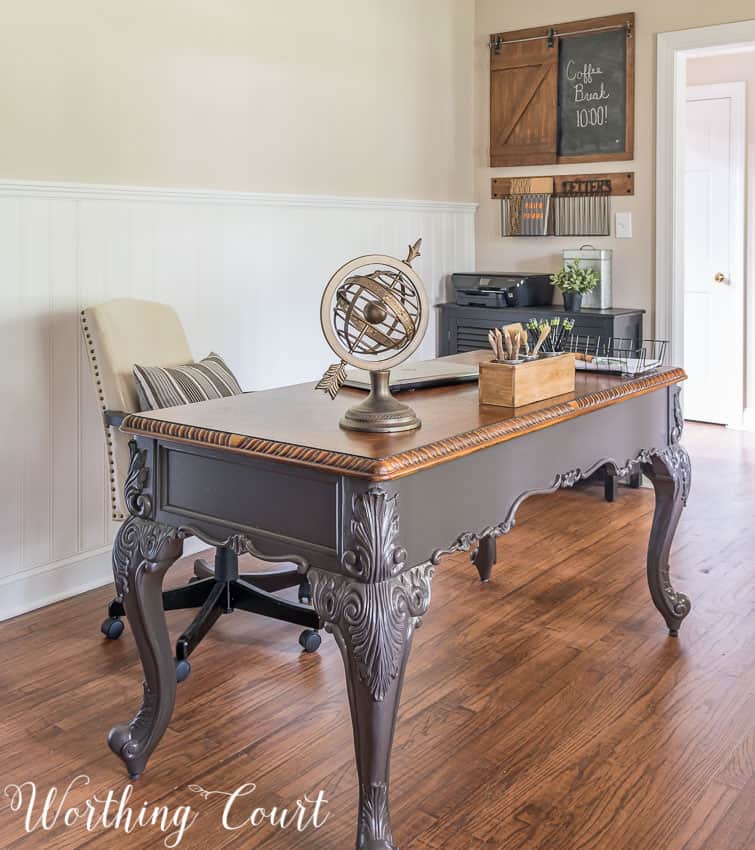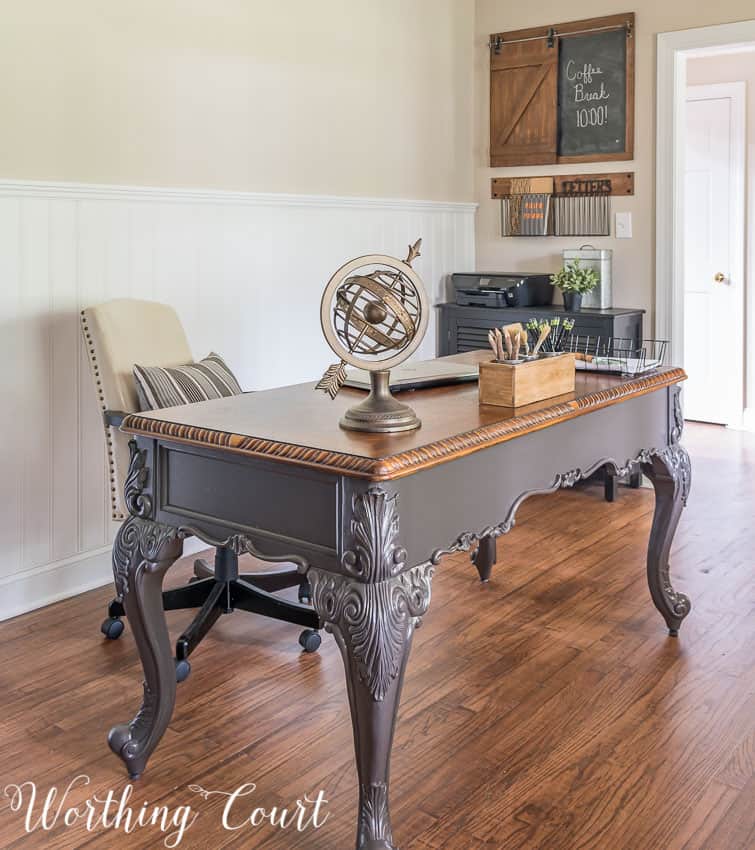 Do you have any specific furniture pieces that you're searching for? If you aren't quite sure what you want, click HERE to find tons of inspiration and ideas on the At Home website!
Sharing at THESE great parties.
This is a sponsored conversation written by me on behalf of At Home. The opinions and text are all mine.
Comments submitted may be displayed on other websites owned by the sponsoring brand.