Home And Garden Decorating Ideas From My Trip To Magnolia Market
A destination like Magnolia Market in Waco, TX is a fabulous place to gain decorating inspiration for your own home and garden.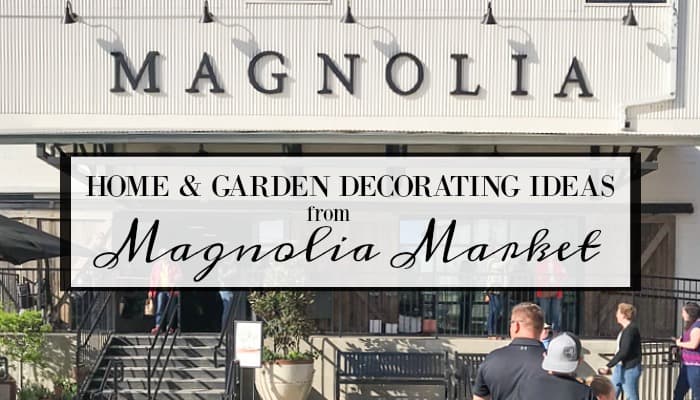 A little over a week ago, I traveled to a conference in Austin, TX to learn about all things blogging. To say that the conference was phenomenal in every way would be an understatement! I know you probably don't care about that, but what I bet you do care about is a little side trip that I took to this town you just might have heard of called Waco. 😀
Yup – the conference was only about two hours away from there so there was no way I was going to miss an opportunity to visit the famous Magnolia Market. I left my home in NC a couple of days early, flew into Austin, rented a car and drove to Waco to stay overnight and spend a whole day exploring, relaxing and generally enjoying myself at the silos. The very first thing I did when I arrived was to grab a random stranger to take a pic of me at a little photo opp place right outside of the store.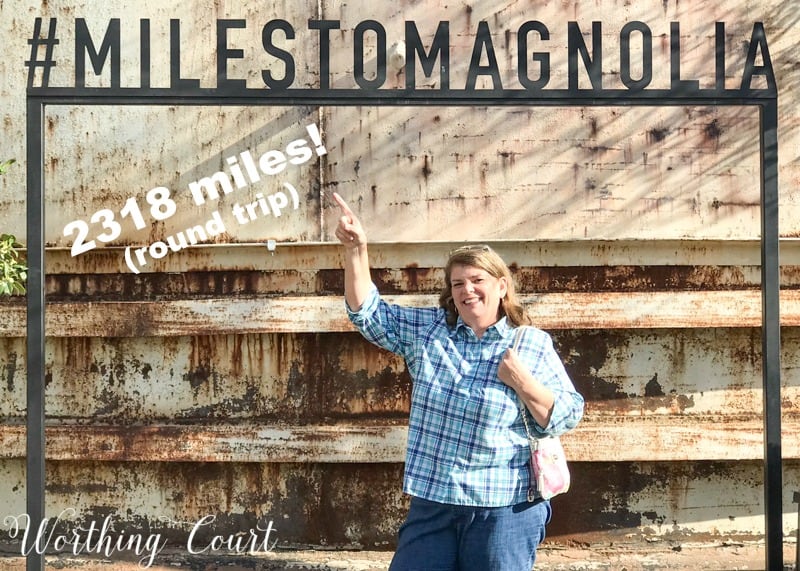 I just snapped away at whatever took my fancy with my phone's camera because to be honest, I had no intention of writing a blog post about my trip. BUT – when I got home and started scrolling through my photos, I realized that there just might be some ideas that you could be inspired by. So settle back with your favorite beverage and let me take you on a virtual trip to Magnolia Market!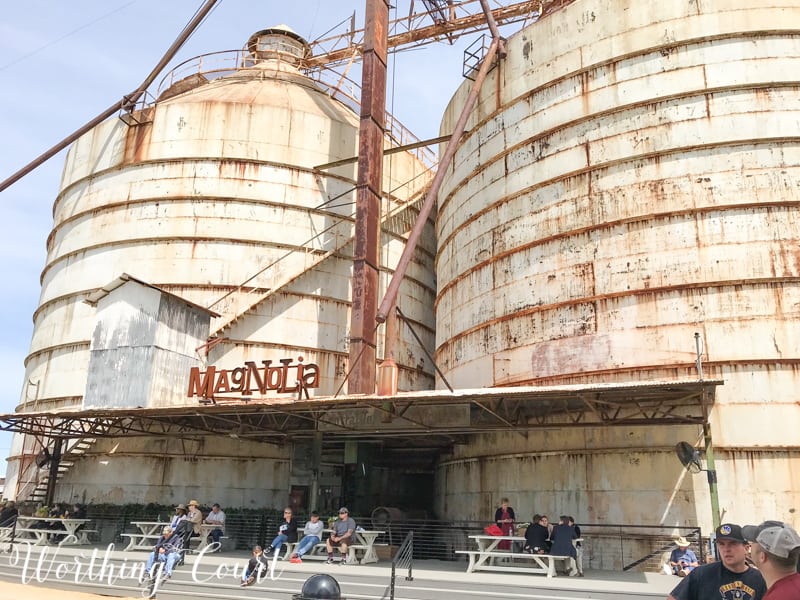 I arrived at the market at around 10:30 on a Wednesday morning and was fully expecting to be greeted by a long line to get into the store, but I couldn't have been more wrong. I was able to park in a lot located right behind the silos and walked right up and into the store. The store and grounds got more and more crowded as the day wore on, but there was never a line of people waiting to get in. But the bakery? That's was a whole different story! By the afternoon, the line wrapped around the building and down the block. I did hear that there were over 30,000 people at the silos the week before during their spring festival though, so I'd check about any special events that might be going on if you want to plan a trip there and want to avoid crowds.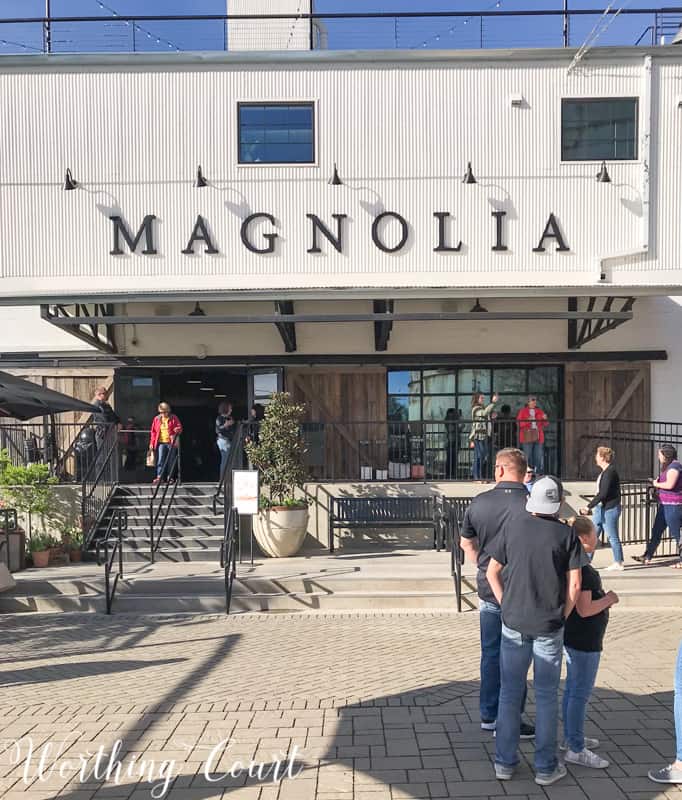 The store is broken up into two areas and the shelves are kept well stocked and neatly organized by all of the staff working there. There are two areas to check out in the market, each one with several cash registers. Checking out took me about 15 minutes, but it was standing in line waiting to have my purchases shipped that took the longest (about an hour, but I met some really nice people to chat with). Magnolia Market offers free shipping via FexEx for purchases over $100 – all you have to pay for is the packaging. My cost was $30 for the two large boxes of items that I had. If you spend under $100, the shipping fee is only $7 + packaging materials. Not bad when you consider that as of that day, I would have had to pay at least $25 for each suitcase that I checked with the airline.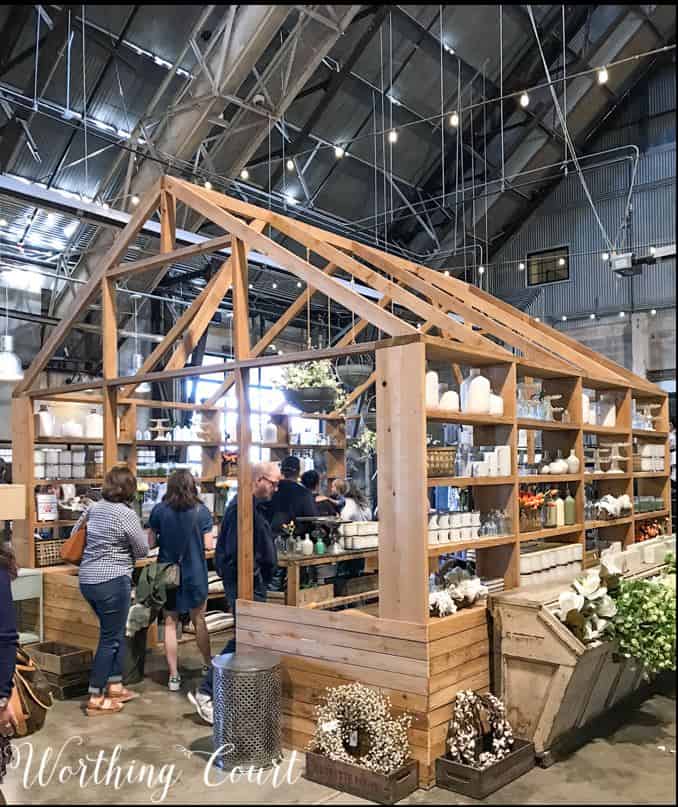 The stylists at Magnolia Market have to be some of the most talented people ever! Inside the store, there were beautiful displays filled with eye candy everywhere you looked. I loved the idea of the moss covered cubbies with cute pots of flowers displayed in each opening. I probably wouldn't create a display of this magnitude, but I can easily envision a small cubbie organizer with sheet moss attached to the frame and with little mini flower pots inside. I'm adding this to my spring decorating ideas board on Pinterest!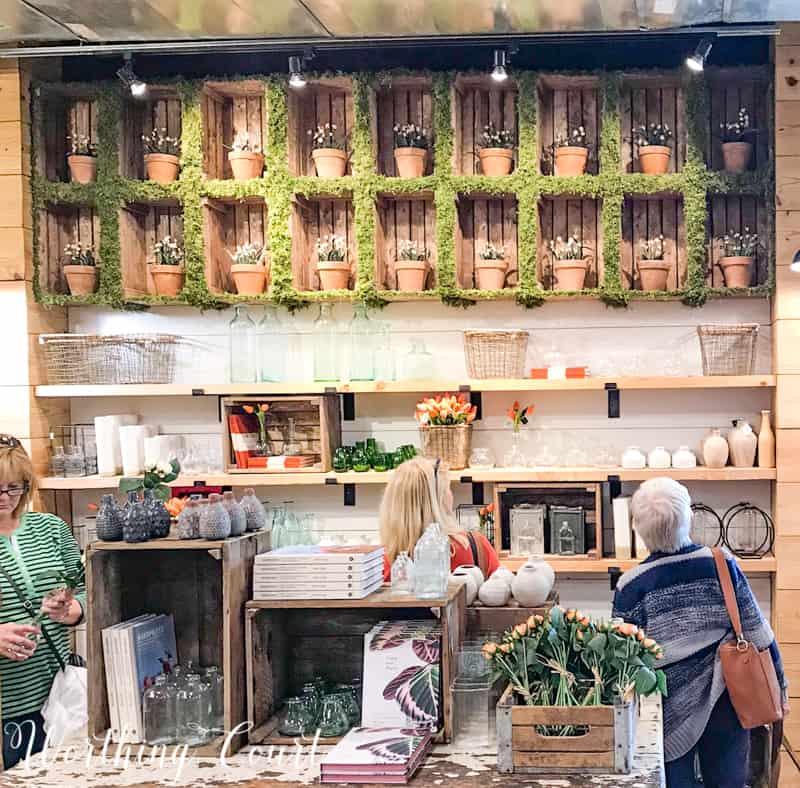 I would so love to be a little birdie to follow along with whoever does the "picking" for Chip and Joanna. Where oh where do they find all the cool doors that I consistently see them use on Fixer Upper?!? I've never seen a door with a shuttered window like this, but it has all the heart eyes from me. You could recreate this look with a salvaged door by cutting out the window and adding a couple of small shutters to it. By the way – they had ivy lattice displays like this on the wall in a few places in the store. I looked closely and could tell that it's just faux ivy garland attached to string that is tacked to the wall in a diamond pattern.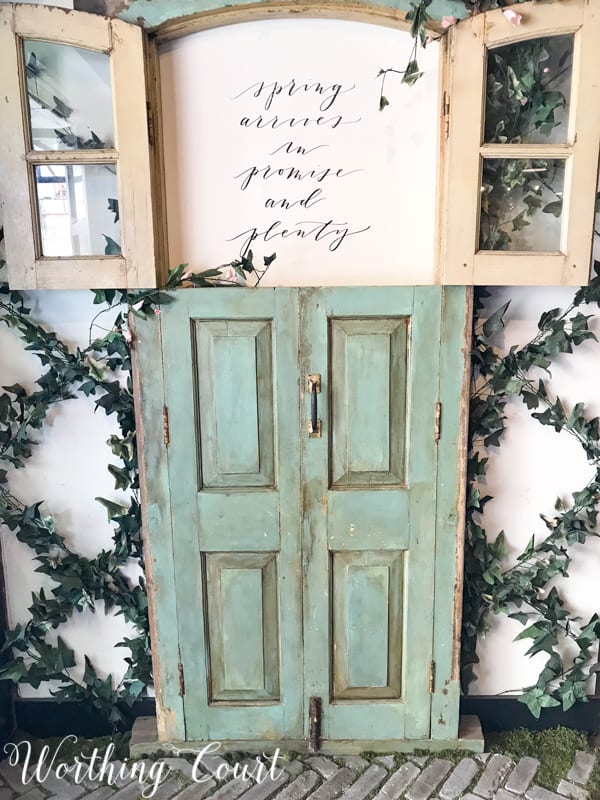 There were two different faux fireplaces set up and I loved the way both of them were styled. The first display was filled with faded and worn vintage looking botanical prints and tags with dried flowers attached with paper tape just randomly attached to the wall. I wouldn't do this directly on my wall, but you could attach everything to a board or piece of foam core from the dollar store and hang it or lean it above your mantel.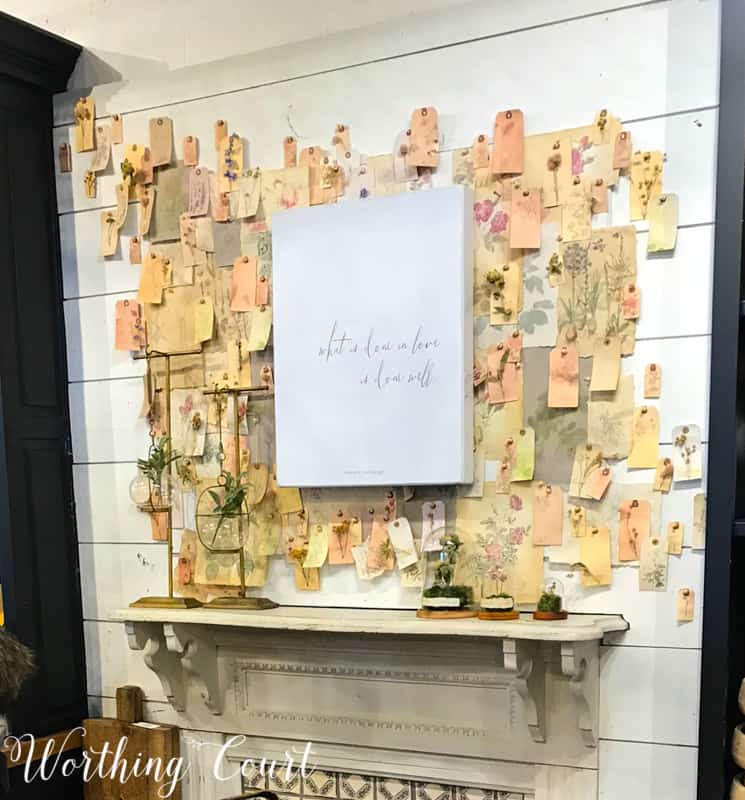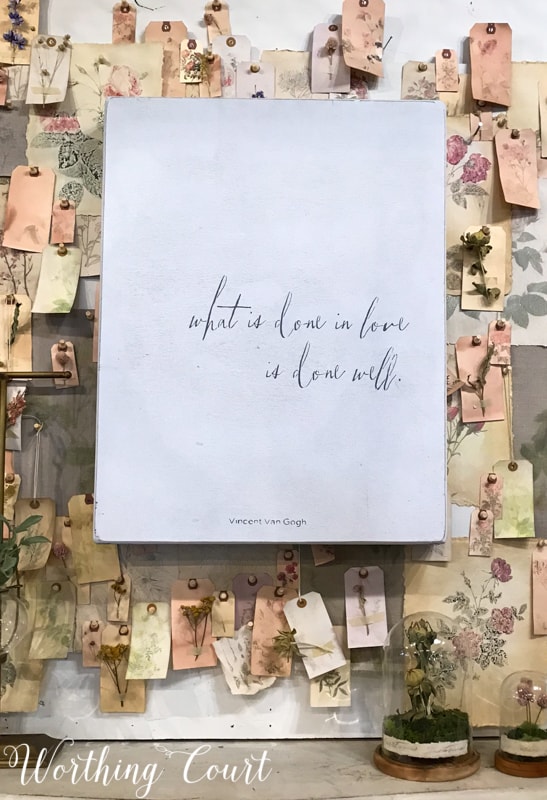 My favorite fireplace display though was this simple one. These round baskets must be all the rage right now because it seemed that nearly everyone was buying at least one!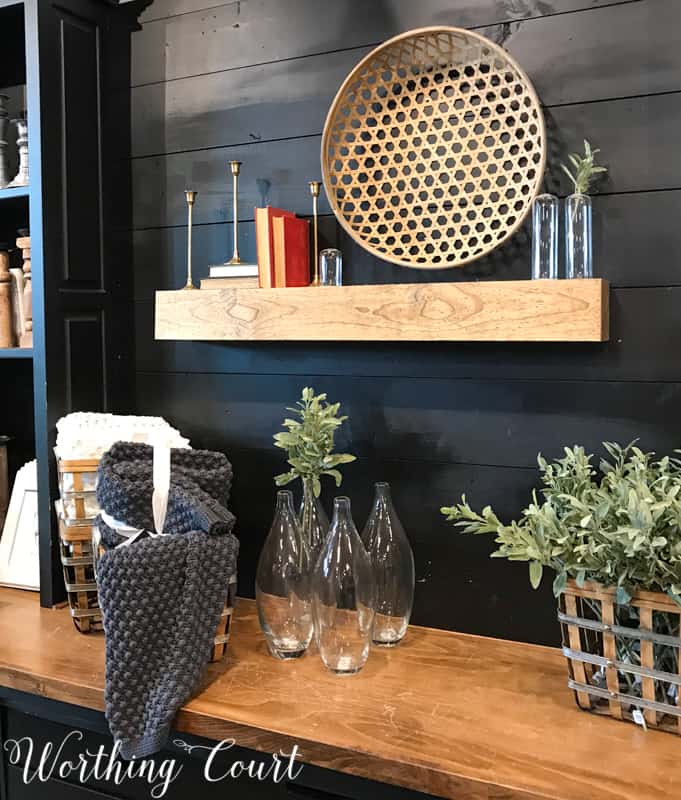 There was what looked like the skeleton of a greenhouse built in the largest area of the store. I was really enamored with this flower filled family of metal orbs that were hanging from the "ceiling". You might just see me adding something like these to our screen porch!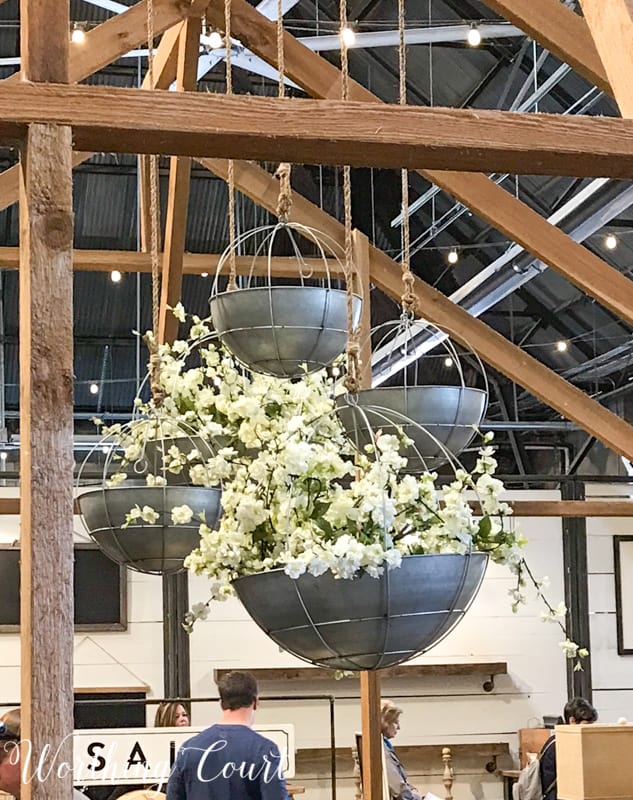 Outside the market is a whole 'nother experience and it's a wonderful one! I couldn't have asked for better weather the day that I was there. I strolled around and when it came time for lunch, I bought a burger from one of the many food trucks that were parked there. Guess what the truck with the longest line was – it was a truck selling sweet tea! I was amazed to see so many people lining up and paying a premium price for a mason jar filled with sweet tea. Is sweet tea a novelty in the south? This is just one of the many shade-covered choices for places to sit to eat or rest. Sharing a table and meeting new people is half the fun!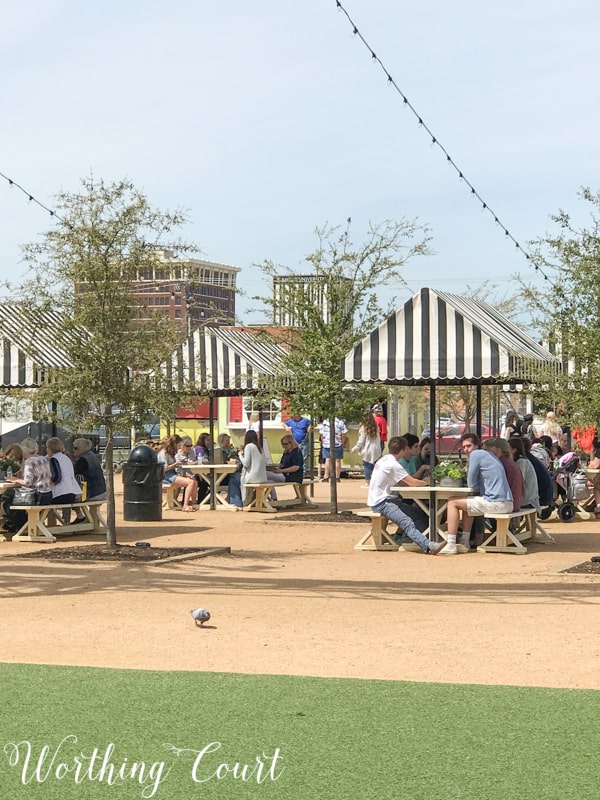 After lunch I headed off to check out the Magnolia Seed + Supply Company and the rest of the beautiful grounds. This little shop is filled with all sorts of cute and unique gardening goodies.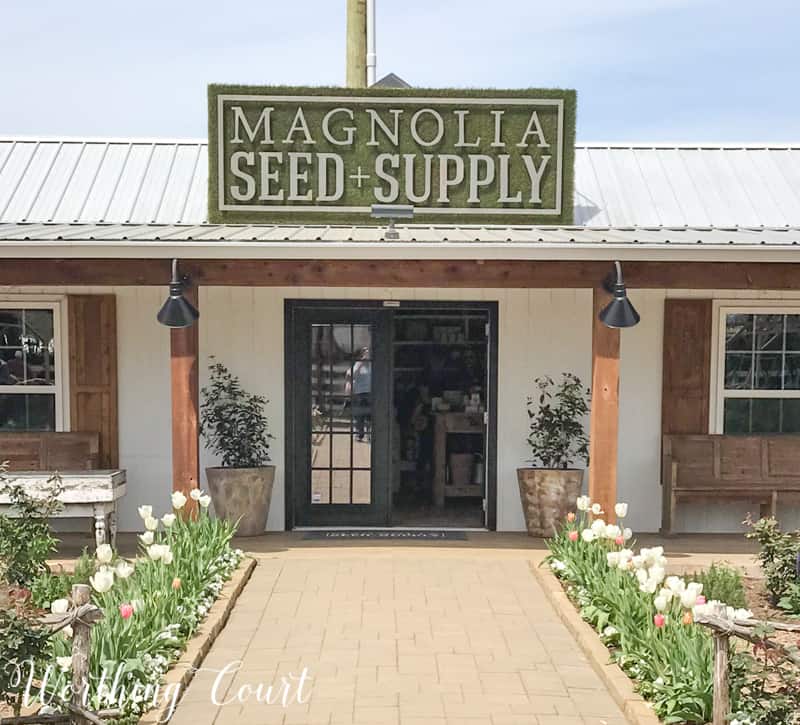 But what really attracted me were all of the gardening ideas in the large area in front of the shop. No just plain raised beds in a wooden box at Magnolia – theirs were topped off with a simple, but great looking wood structure.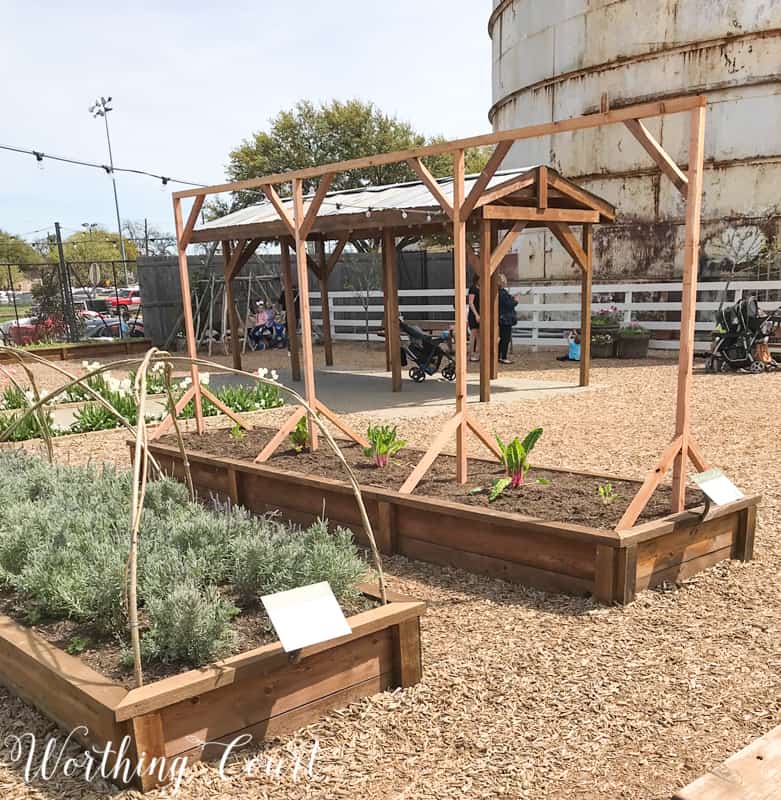 I especially loved the long branches/sticks that they used to create a trellis of sorts above some of the large planting beds.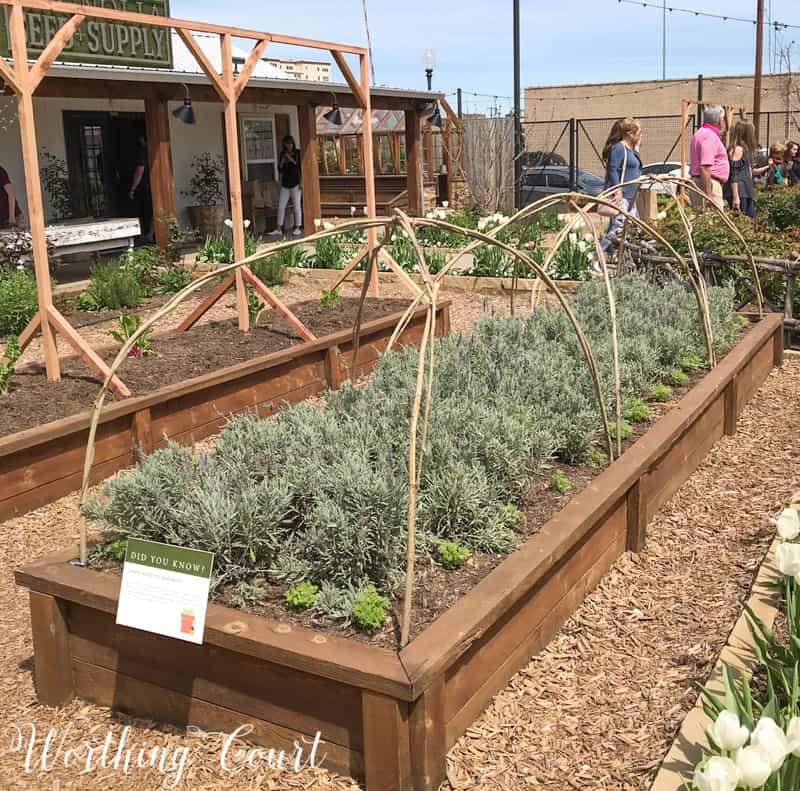 Some of the beds were surrounded with a little fence made from found wood tied together with rope.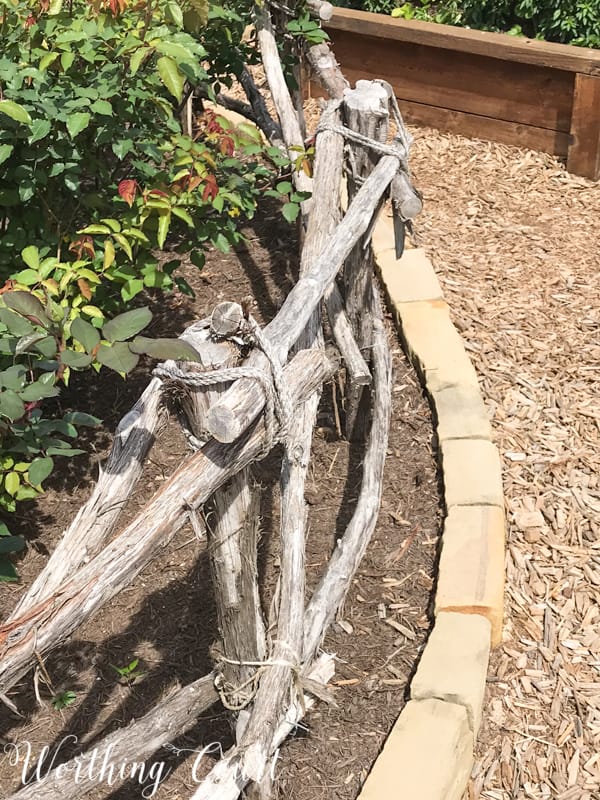 Here's an idea for a great way to dress up those storage sheds that many of us have outside of our homes. I know for a fact that you can buy a wooden trellis, like the ones attached to either side of the door, at one of the big box home improvement stores for under $15. I used one to add some definition to our screen porch. And a cupola has been on my wish list for our little shed for a long, long time. Maybe this year!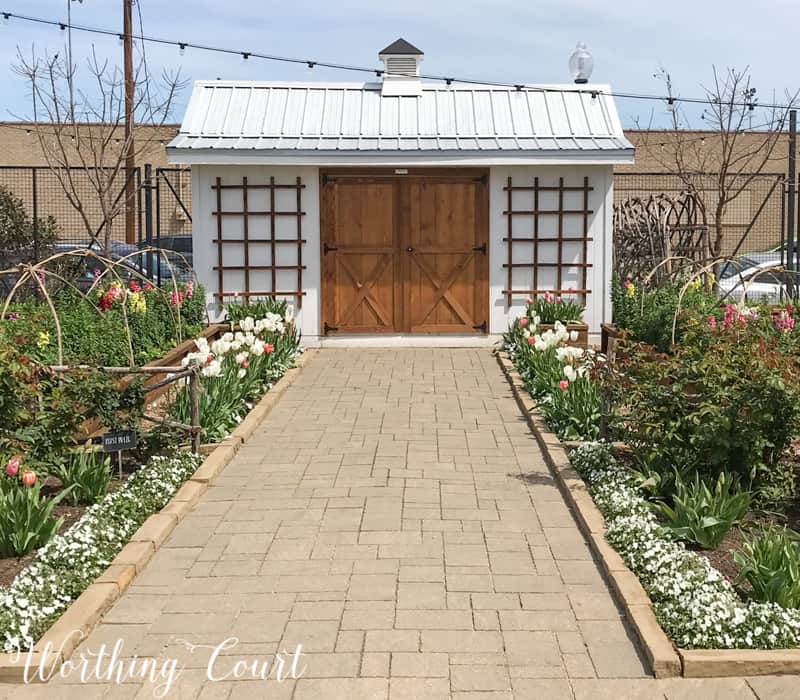 Right beside the steps, going into the main store, was a pretty garden display too. I could easily see a flower-filled garden bed with an old wheelbarrow or cart that's filled with pots of flowers placed in the middle of the bed.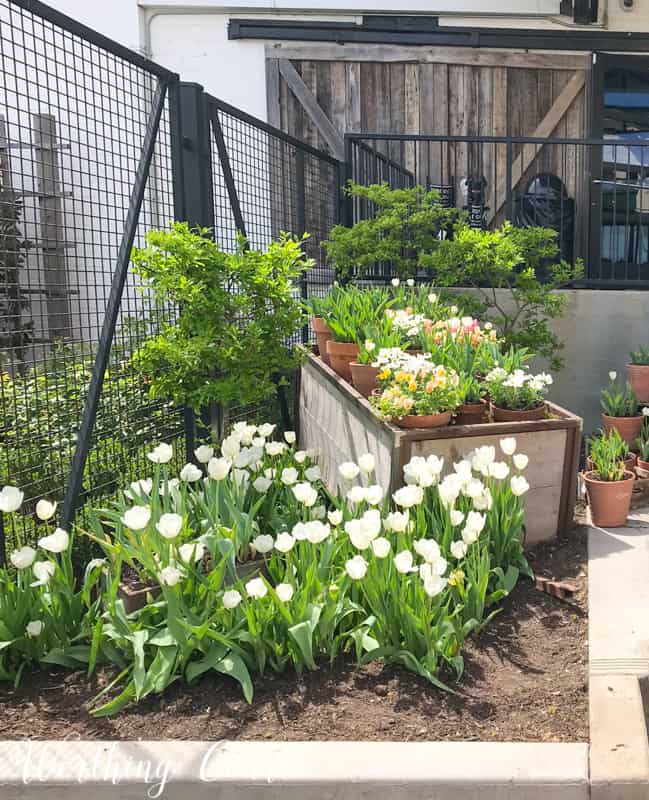 Small trees were planted in large wooden planters that were filled with flowers too.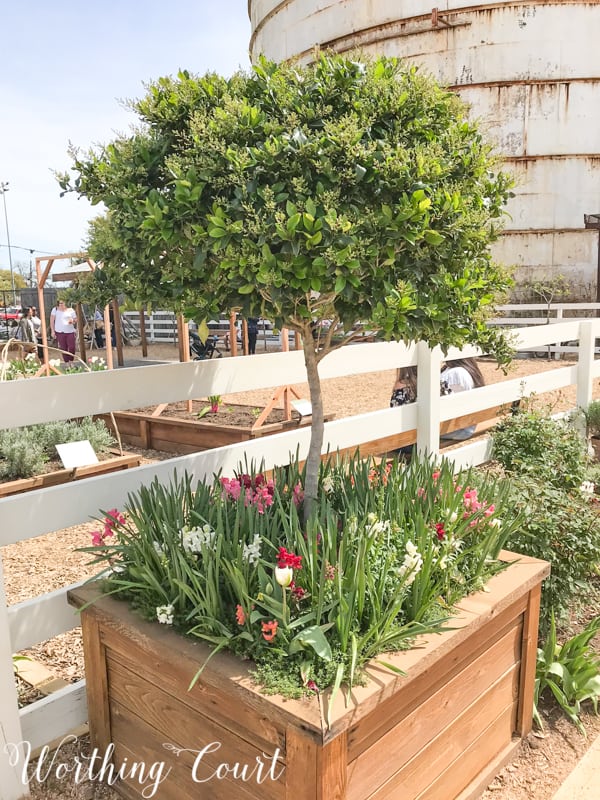 Kudos to you if you've stuck with me to the end. 🙂 There's soooo much more that I could show you about this wonderful place, but this has gone on long enough. Just know that if you ever have the opportunity to go anywhere near Waco, Magnolia Market is a must see destination! It's a fun, magical and very family friendly place to wile away a day.
And lastly, to answer what I just know is your most burning question – no I didn't see Chip and Joanna. 🙁 🙁 🙁