My Three-Step Recipe For A Cozy Winter Home
I have a three-step recipe for creating a very cozy home especially during these winter months!
Well…the Christmas holidays are over and all of the decorations are put away – now what???  My home looked so barren and cold to me once all of my Christmas decorations were put away.  All of the rooms felt sparse and my home wasn't welcoming at all!
There's a part of me that enjoys not being surrounded by so much stuff.  A fresh clean slate feels like a new beginning!  I guess it is, in a way.  But, even though the clean slate has an appeal all its own, I still want (and need) my home to reflect a warm,  cozy and welcoming personality.  How do I accomplish that?  Let me share my easy three step recipe with you!
Before we go any further, did you see that a new $100 Visa gift card Reader Appreciation giveaway has started for the month of January?  Entry is easy!  Simply leave a comment on ANY blog post to automatically be entered.  More comments = more entries!  Click HERE for details.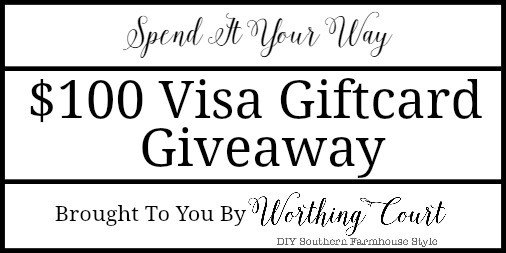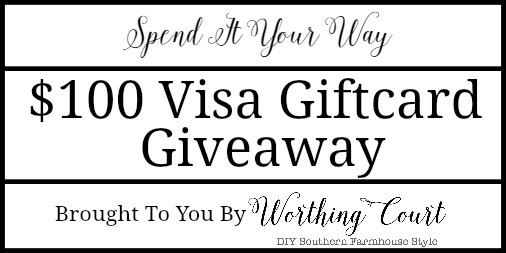 Pin
ADD AND LAYER TEXTILES
The first thing that I do is to make sure to generously layer homespun textiles throughout each room.  Things like throws, pillows, rugs, draperies, fabric poufs – basically anything made with some kind of fabric or rug material.
HOW TO BUILD A RUSTIC LADDER FOR UNDER $20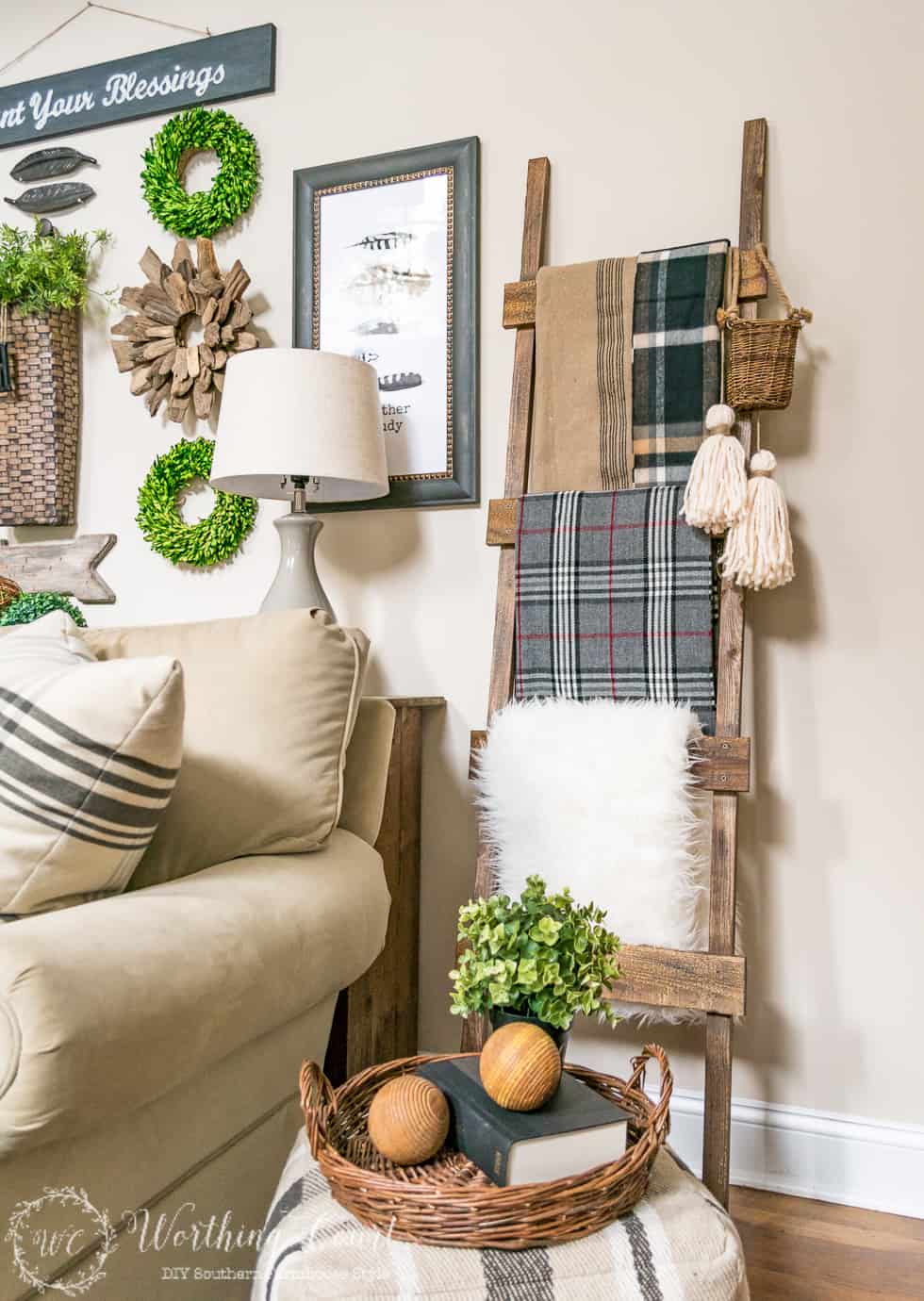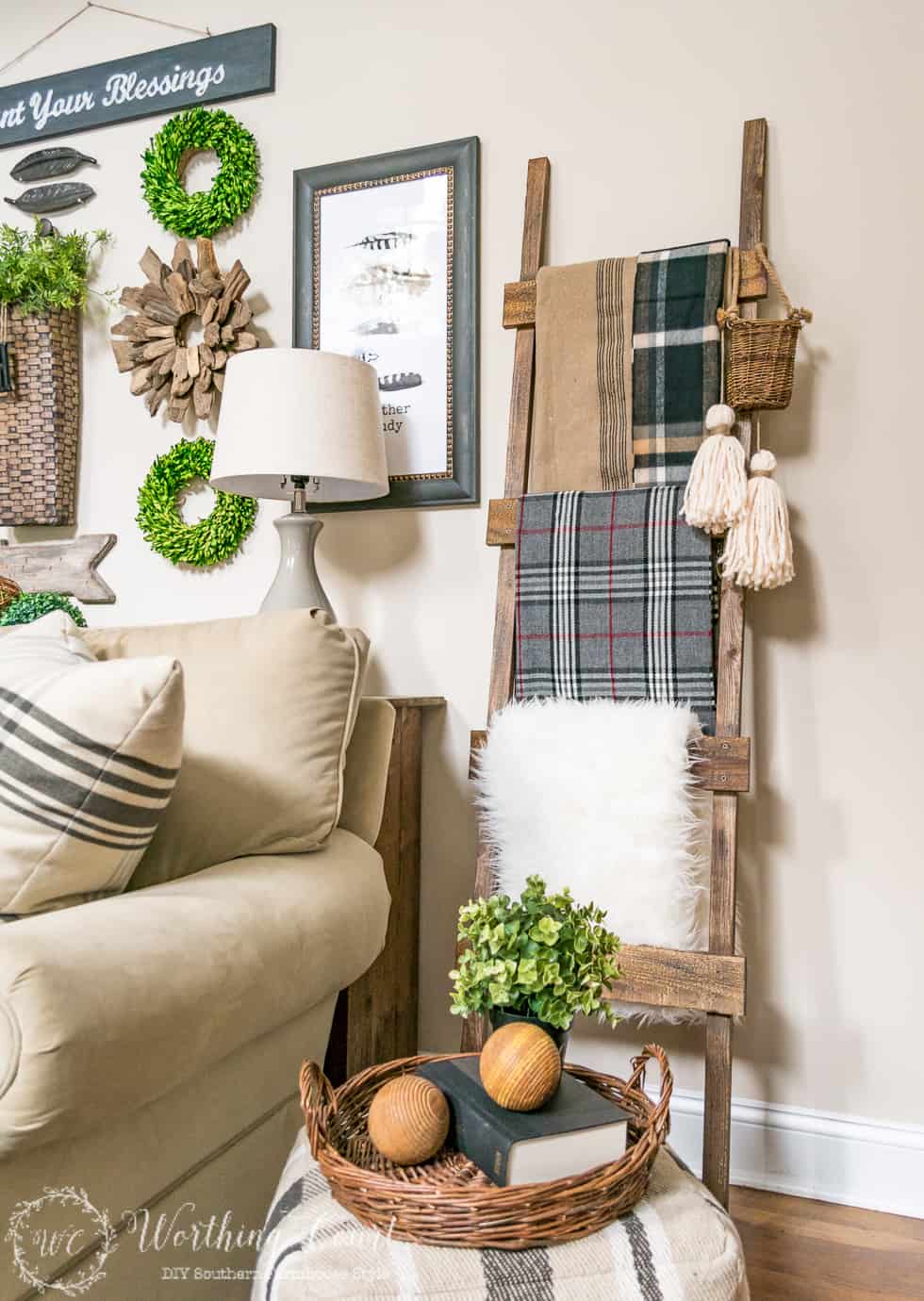 Pin
INCLUDE LOTS OF TEXTURE
I can't emphasize this one enough!  Every room that I've ever seen, whether monochromatic or full of color, falls flat without the inclusion of textural items.  Things like baskets, trays, nubby fabrics, fur throws or pillows, wreaths, plants and on and on.  Even things like shelves and artwork add texture.  Texture = Dimension = Good!  You get what I mean – right?
MY 2016 WINTER FIREPLACE AND MANTEL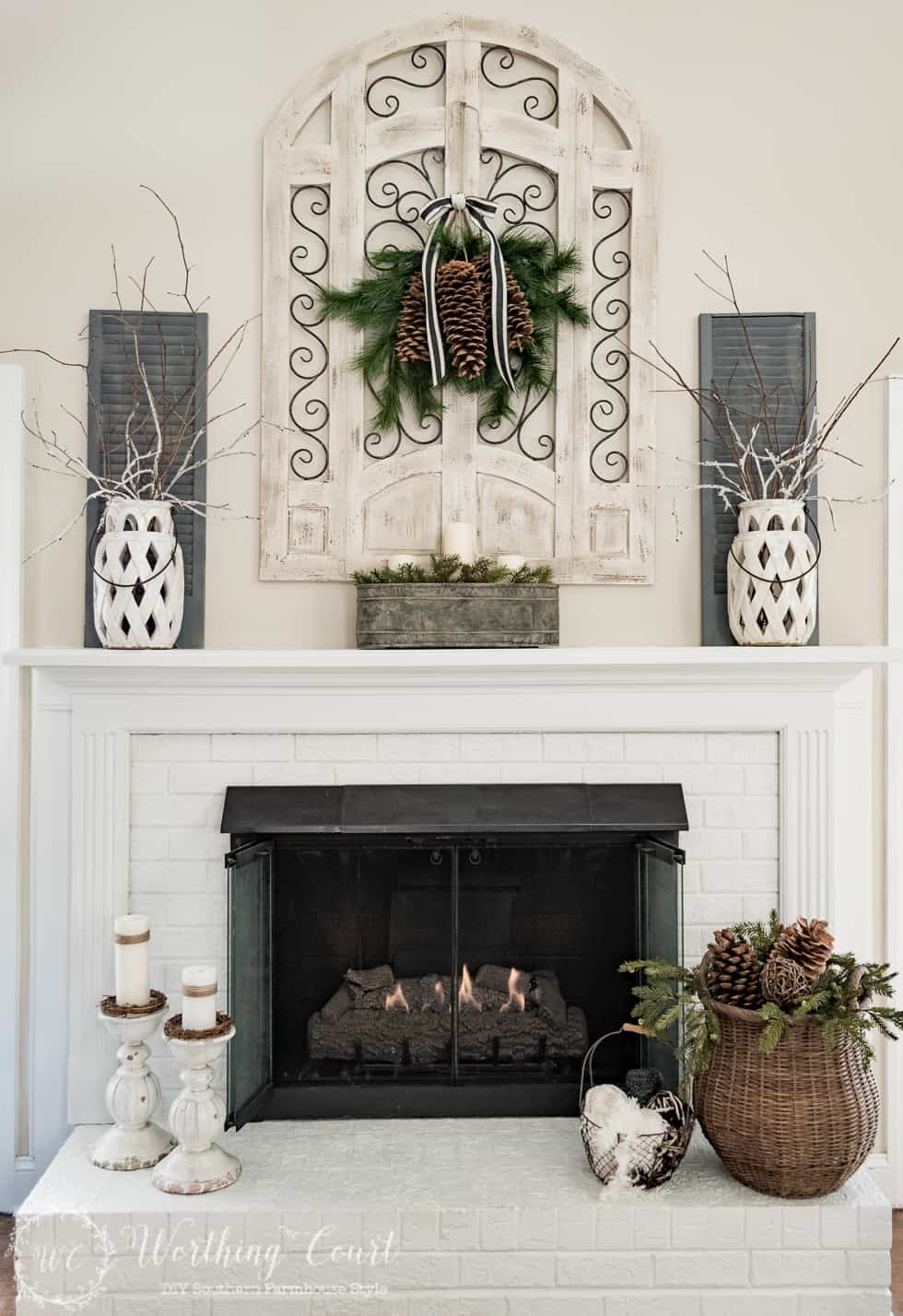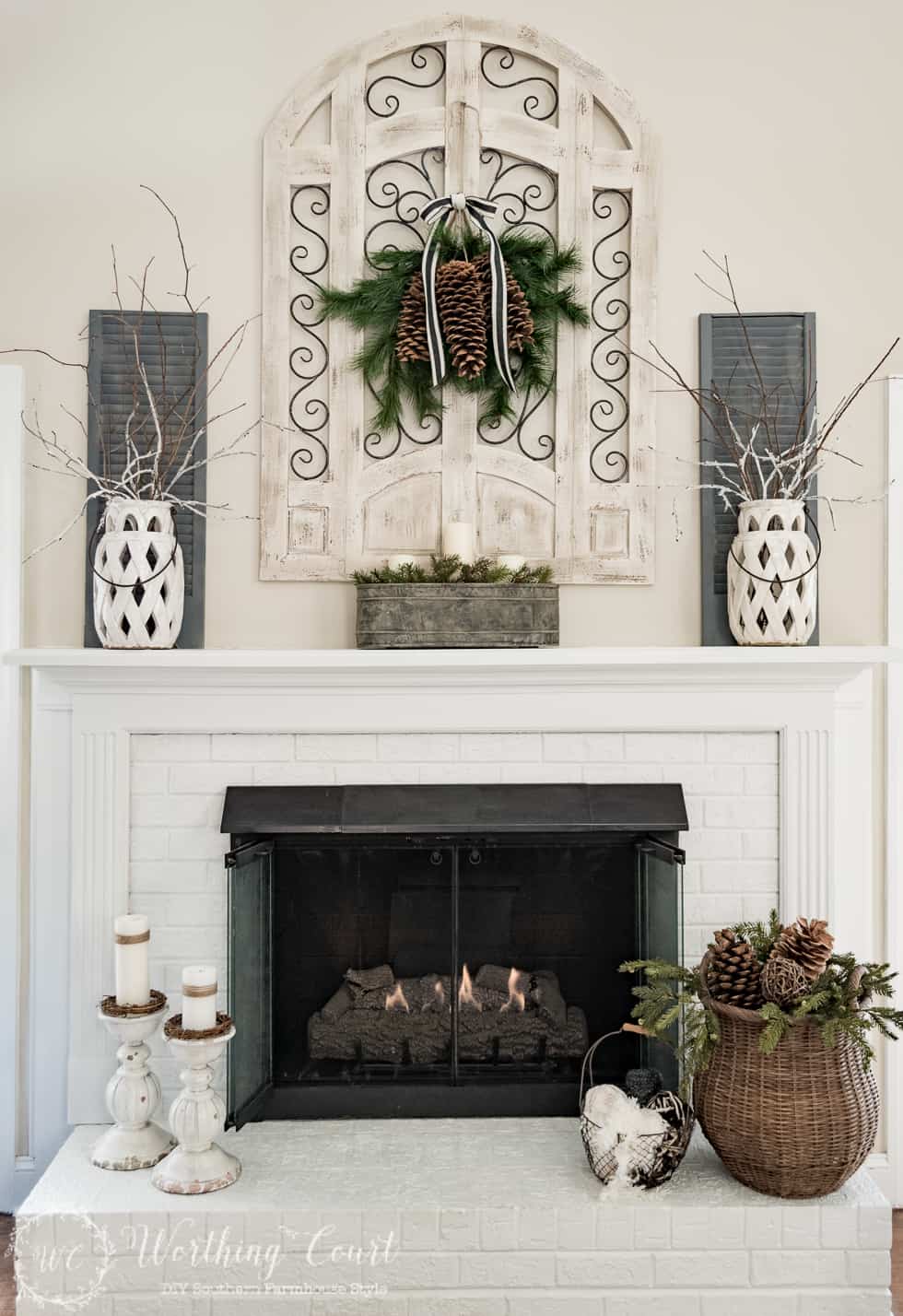 Pin
LOOK OUTSIDE YOUR WINDOWS
Take a look at what's outside this time of year.  If you take your cues for indoors from what you see outdoors, you can't go wrong!  In my neck of the woods this time of year, the colors of winter are gray skies, barren brown tree branches, brown pinecones, white snow (if we're lucky!) and the green of pine boughs and cedar trees.  So, I make sure to tuck in lots of faux pine branches and pinecones in all sorts of places, throughout every room.
Dining Room Centerpiece
I'll give you a little peek-a-boo of the current centerpiece on my kitchen table.  You'll see that I've incorporated all of the elements – brown in the dough bowl, faux pine and cedar greenery and white candles with paper cutout snowflakes scattered throughout.  (I'll be sharing more of this super easy centerpiece soon!)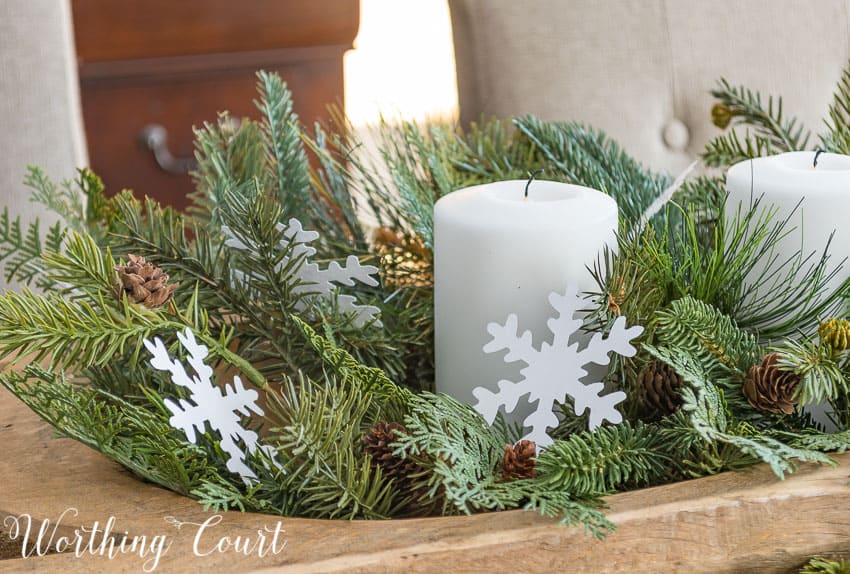 Pin
See – easy right?  And not quite so hard after all!
TEXTILES + TEXTURE + NATURE = ONE COZY HOME!
Sharing at THESE great parties!