Wow, just wow.  What an unbelievably crazy last couple of weeks it has been around here – mostly in a good way!  And then my computer went on the fritz last week.  No so good.  BUT – it came out of the shop early so, good!  Before we go any further…
SCROLL TO THE BOTTOM FOR ALL OF THE GIVEAWAY DETAILS.  NO PURCHASE NECESSARY!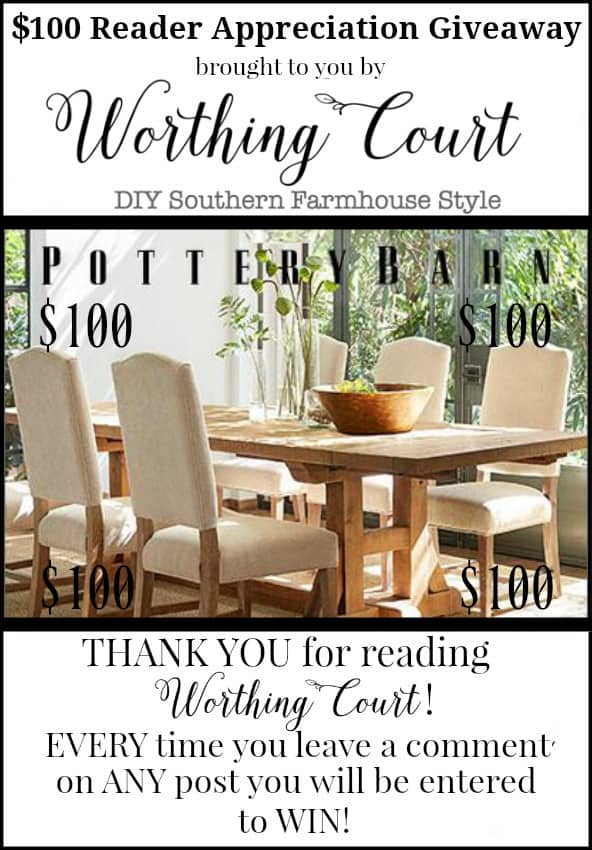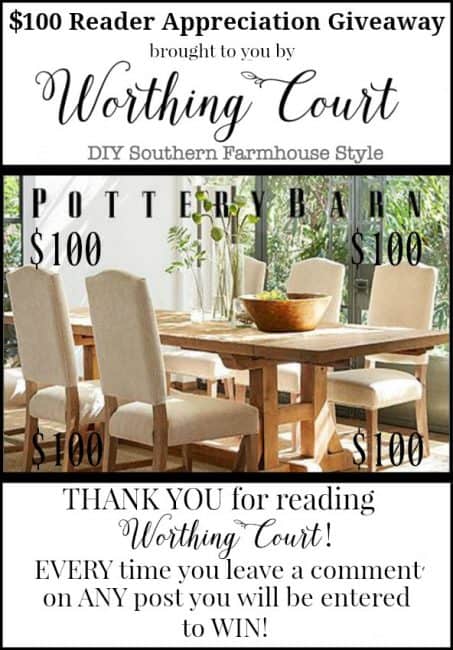 My crazy couple of weeks started off with us heading down to our beach condo for a few days over the Memorial Day weekend for a bit of R&R.  Then Pookie got the crazy notion to repaint the whole place, which led to a myriad of other projects – you know how that goes.  We're actually going to be giving the whole condo a bit of a refresh.  We gave it a complete remodel way back in 2009 and things were beginning to look a little worn and dated.  I look forward to sharing the changes with you once we get a little farther along.  😀
I've been hinting for a while that there were HUGE changes coming to the exterior of our main house.  After waiting for over a year for the timing to be right for a our painter, in the last few weeks our house has gone from this…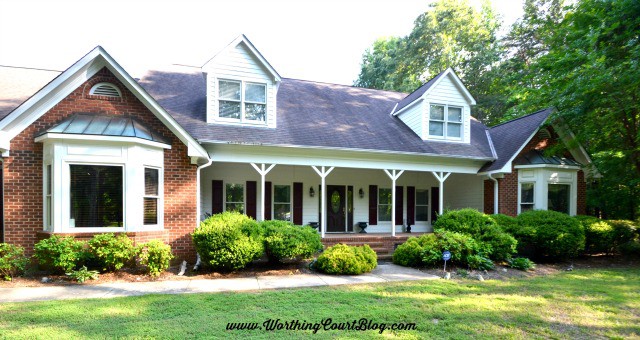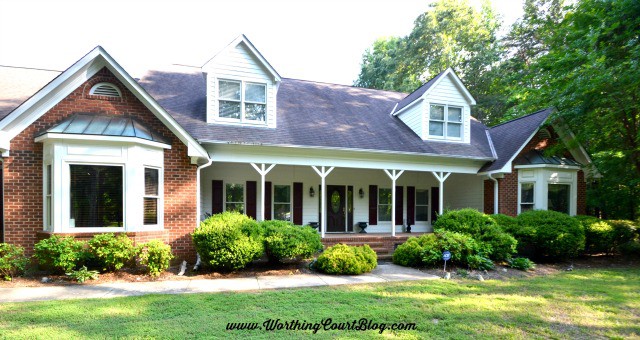 to this!  In this photo, the siding on the dormers and on the porch haven't been painted yet.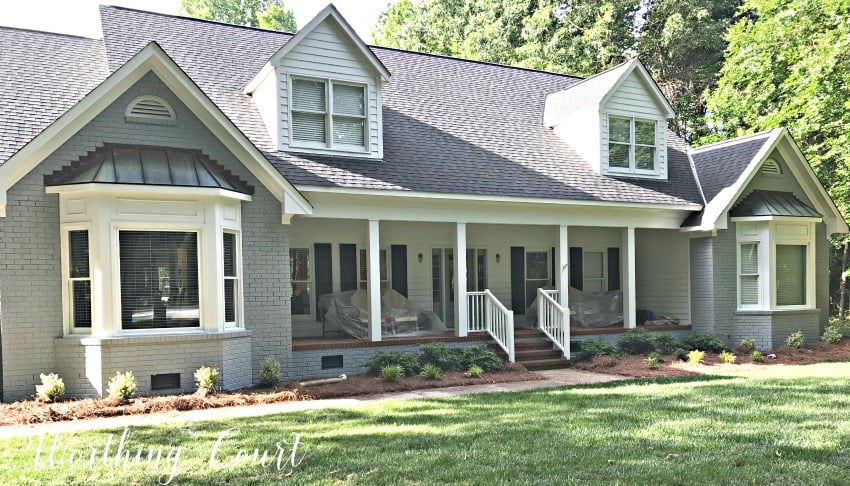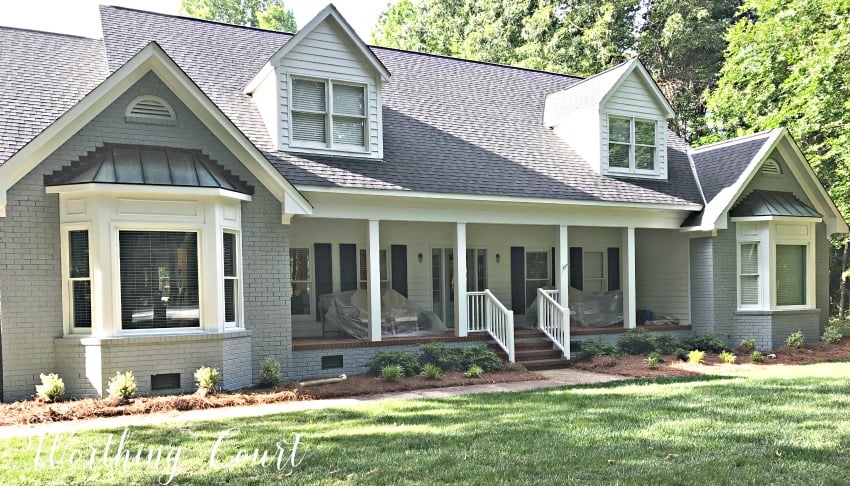 First, all of the old beat up gutters were removed, then the whole house was power washed and finally, FINALLY, we got paint!  There were several rain delays which were no bueno, but the painting is complete now and we are in absolute awe of what a huge difference it has made.  New gutters with gutter guards will go up this week, a mix of new and refurbished light fixtures have been hung and new yummy wood slat gliders have been added to the front porch (they're under that plastic on the front porch).  All the details and more to come later, but in the meantime I can tell you that the paint color is Sherwin Williams Network Gray, mixed at 85%.
To top all of that off, we purchased the most awesomest in the history of awesome sofa swing for a our screened in back porch!  Happy birthday to me!  Naturally, that started the ball rolling for a complete refresh on our porch, so I'll be sharing that with you soon too.  Just have a couple of more projects I'm trying to figure out.
Let's take a look back at some of the highlights here at Worthing Court from May.  Just click on the title above the image to see more!
JOIN ME FOR A TOUR OF MY SUMMER SUBURBAN FARMHOUSE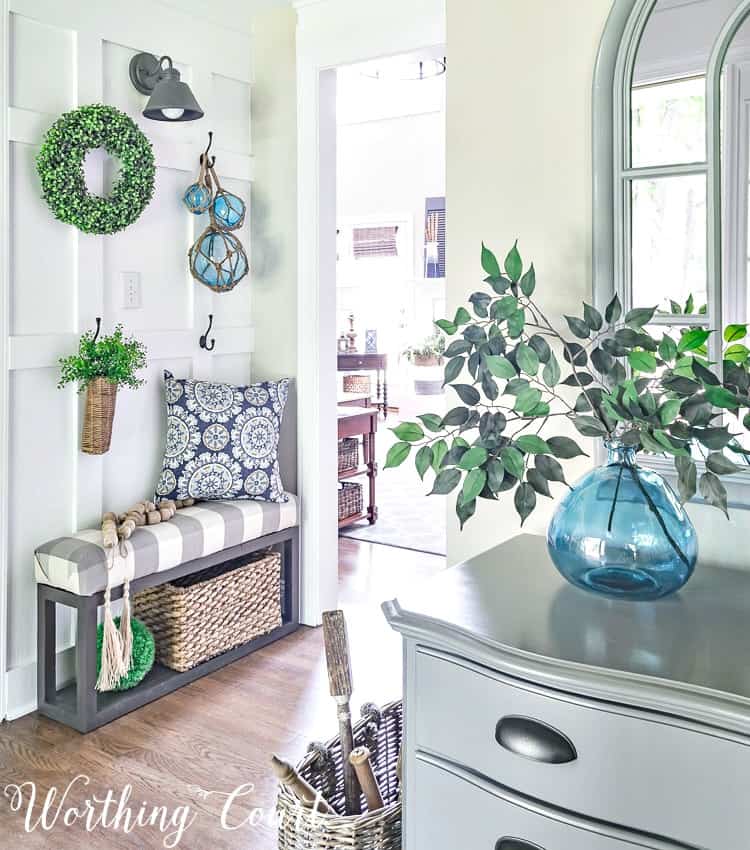 COPY CAT WHITE CLAY FLOWER POTS TUTORIAL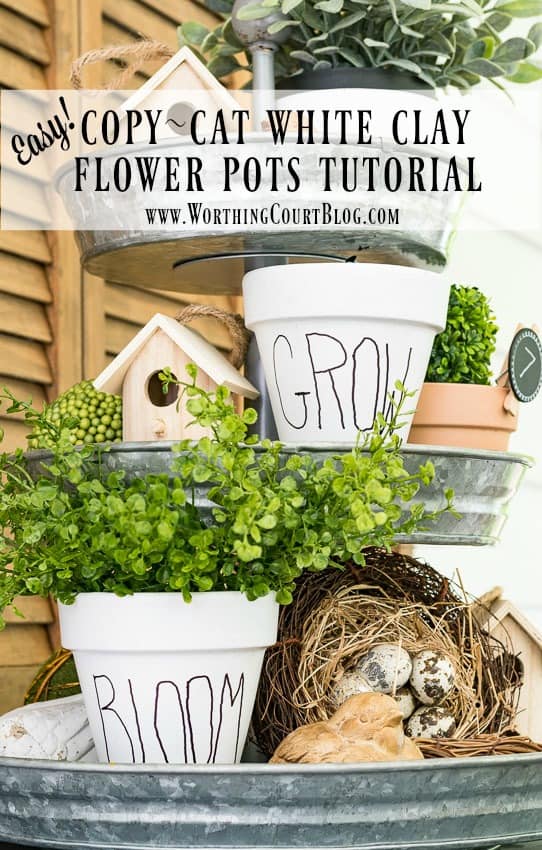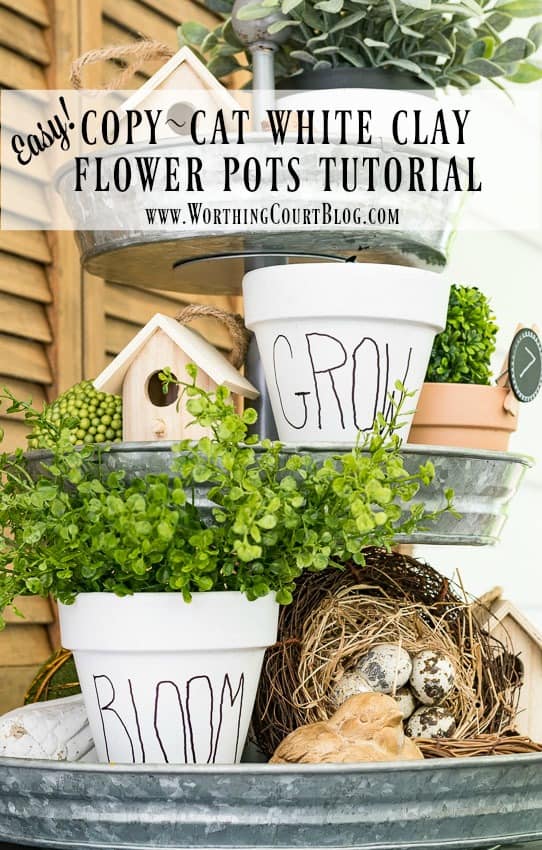 THE BEST AFFORDABLE FARMHOUSE DECOR FINDS: VOLUME 1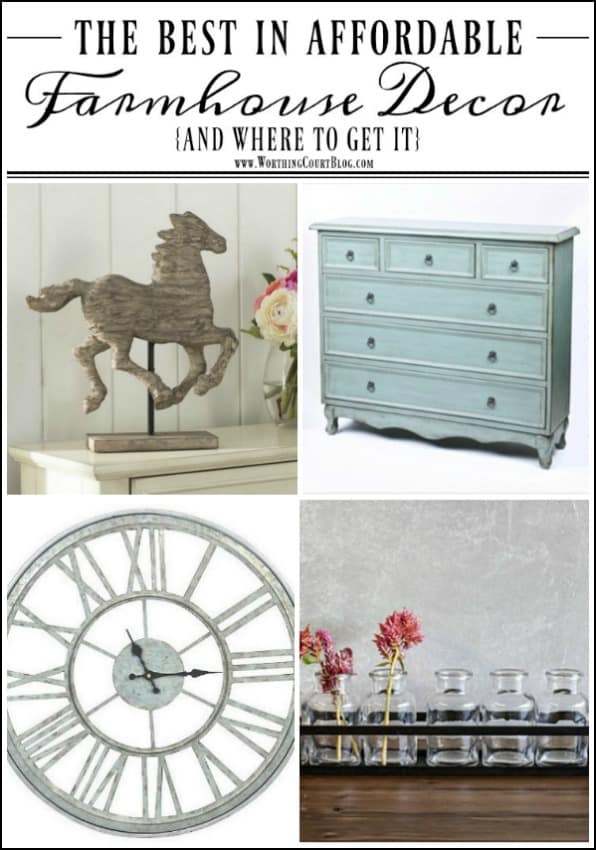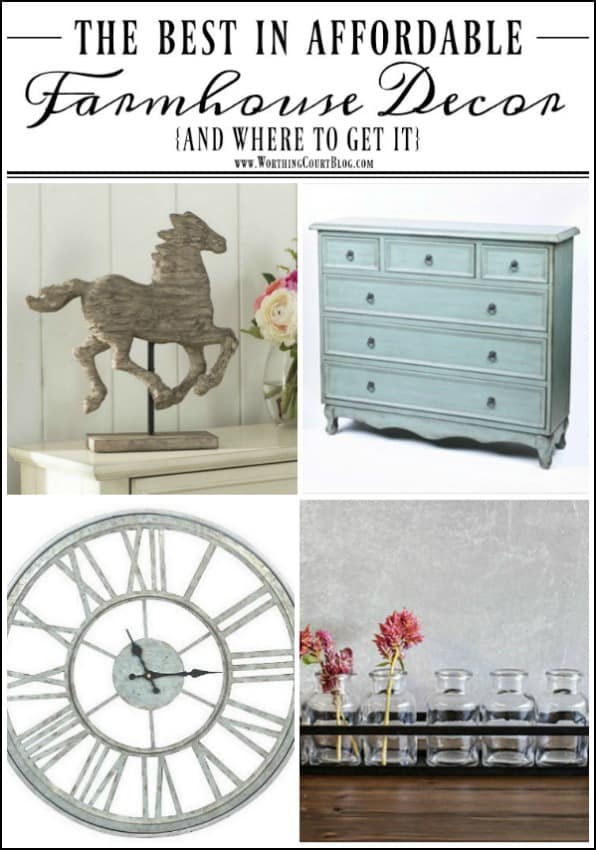 YOU'LL LOVE THE RESULTS WHEN YOU MAKE THIS EASY LEMON CHEESECAKE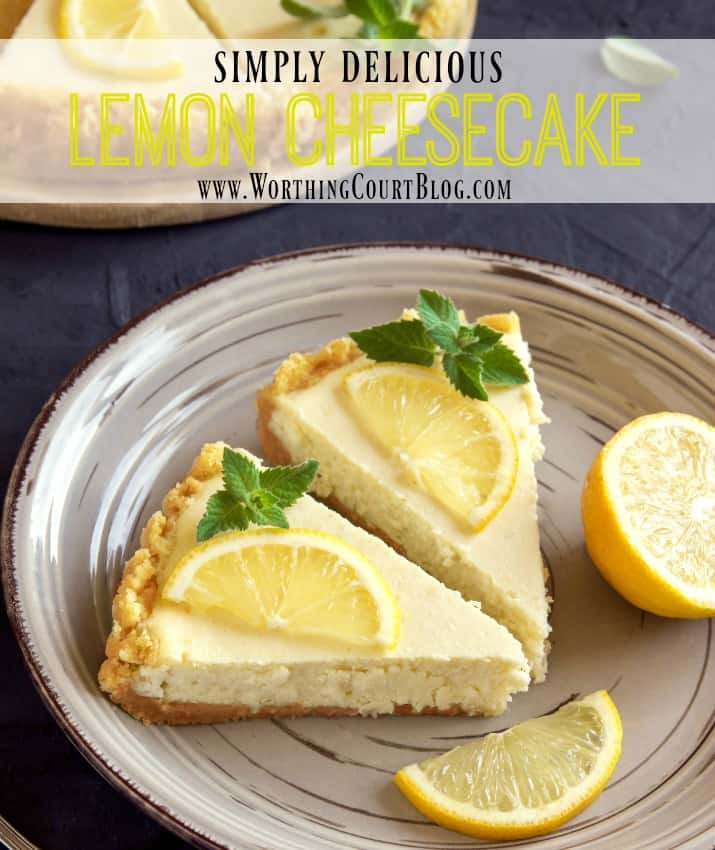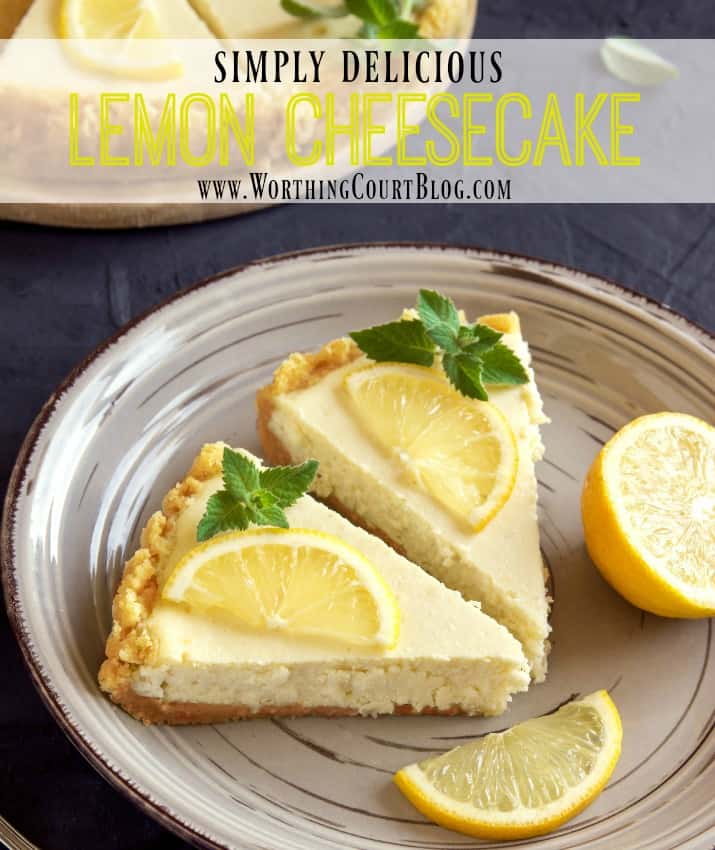 HOW TO MAKE ANYTHING LOOK LIKE DRIFTWOOD – AN EASY 4 STEP FORMULA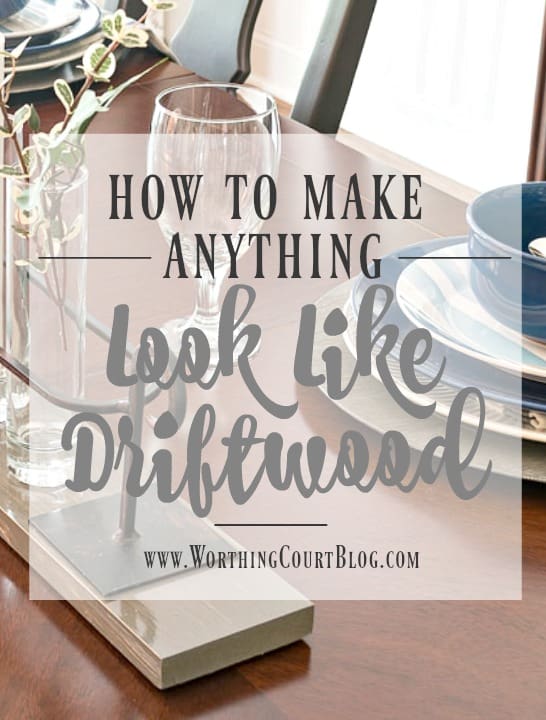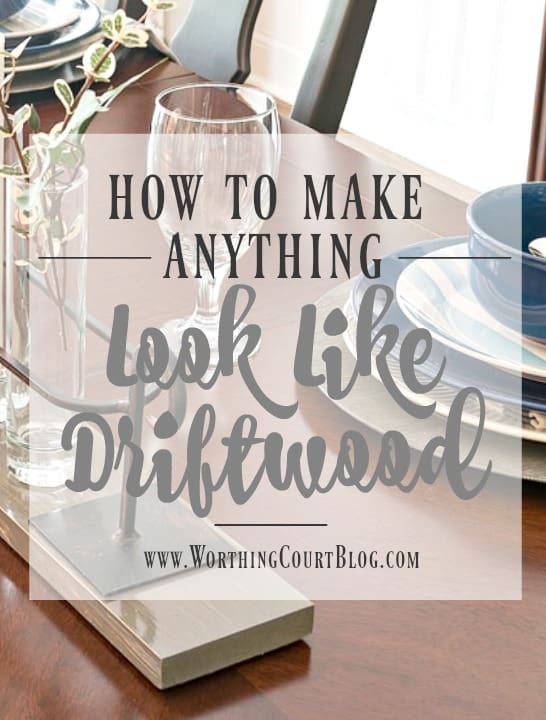 THERE'S MORE!
MY TOP 6 TIPS TO LIGHTEN AND BRIGHTEN YOUR HOME FOR SUMMER
OVERCOMING YOUR FEAR JUST MIGHT BE THE BEST THING YOU'VE EVER DONE FOR YOUR HOME
HOW TO KEEP YOUR FIREPLACE DECOR SIMPLE FOR THE SUMMER
A STEP BY STEP GUIDE FOR CREATING A SUMMER CENTERPIECE THAT WILL GRAB YOU ATTENTION
SUMMER RUSTIC FARMHOUSE OPEN SHELF DECOR
MY SUMMER FARMHOUSE DINING ROOM
I'm so thankful to have all of you follow along with thIS crazy journey of ours.  I hope that somewhere along the way, I'm able to you inspire and help you to create "home" no matter where you live!
READER APPRECIATION GIVEAWAY RULES – NO PURCHASE NECESSARY: