Create Mod Pumpkins With Napkins
Here's an easy pumpkin craft idea using using napkins to create mod pumpkins to fit in with your fall decor.
I recently found some decorative napkins in all of the colors that I knew my daughter would love.  I picked up a couple of faux pumpkins at Michaels and went to town with the ModPodge.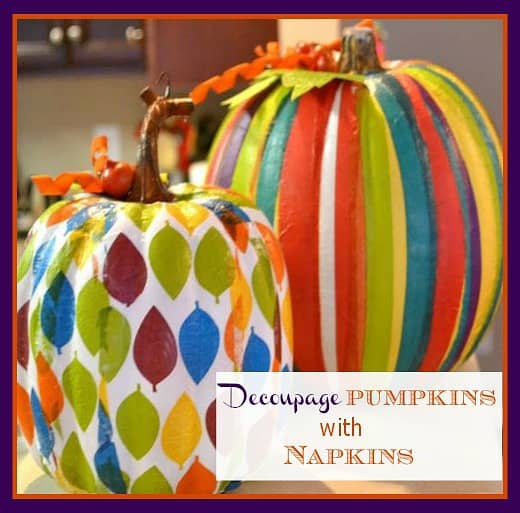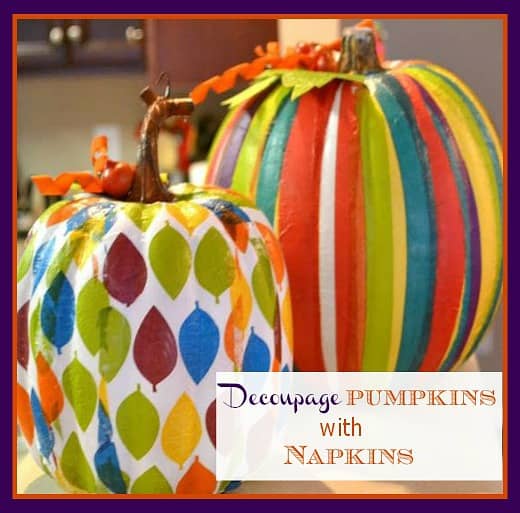 These are really easy to do, but it does require a bit of patience because the napkins are so thin and will tear easily once they are saturated with ModPodge.
Here are most of the supplies that I used: Faux pumpkins, spray primer, ModPodge, a spray mask, two different patterns of napkins, a ruler, pencil and scissors.  I used a couple of other items as I went along that aren't included in this photo, but you'll see them below.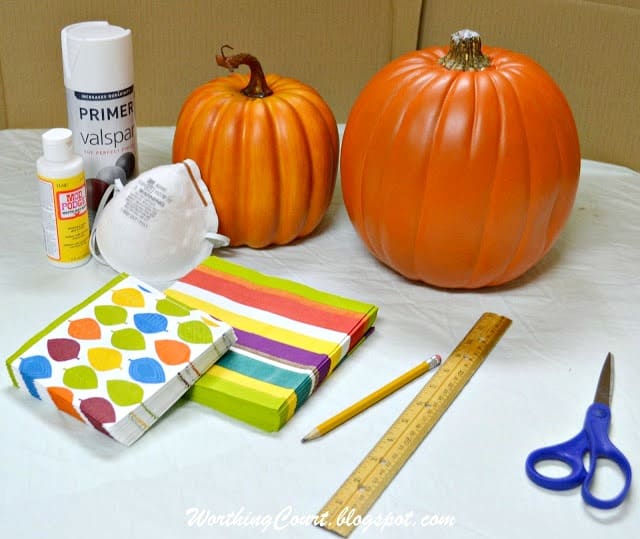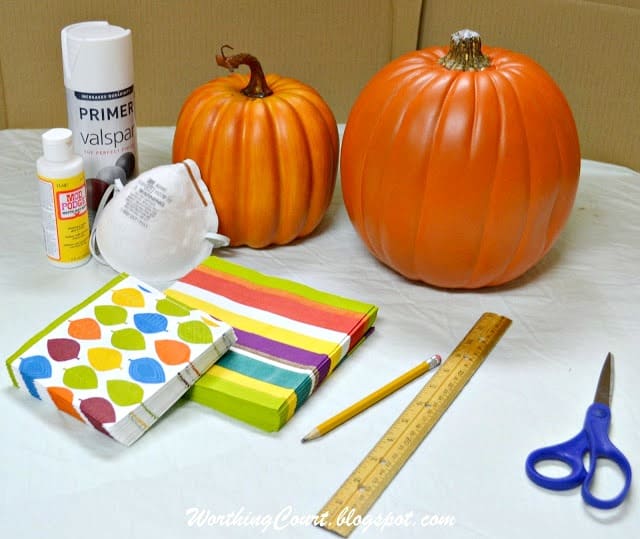 I started off by wrapping the stems of the pumpkins with painter's tape because I wanted to leave them their original color.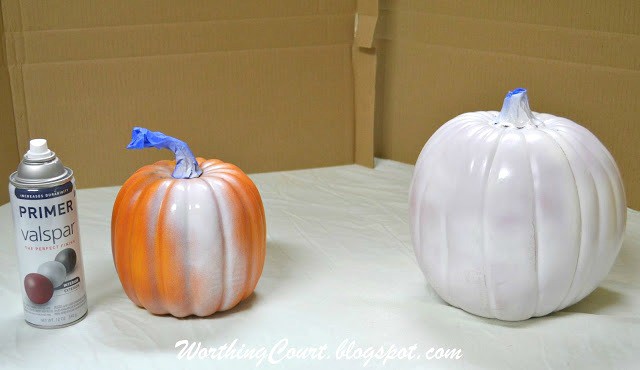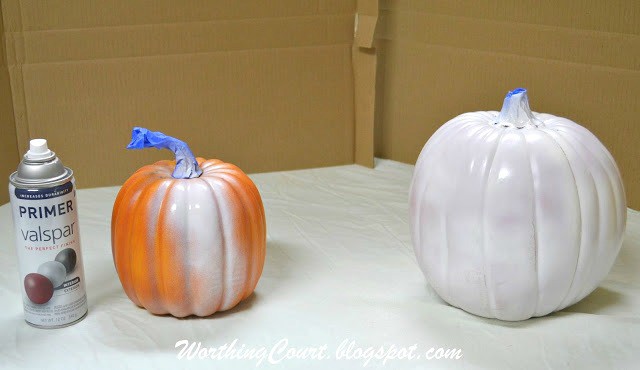 Then I spray primed the pumpkins so that the orange color wouldn't show through the napkins.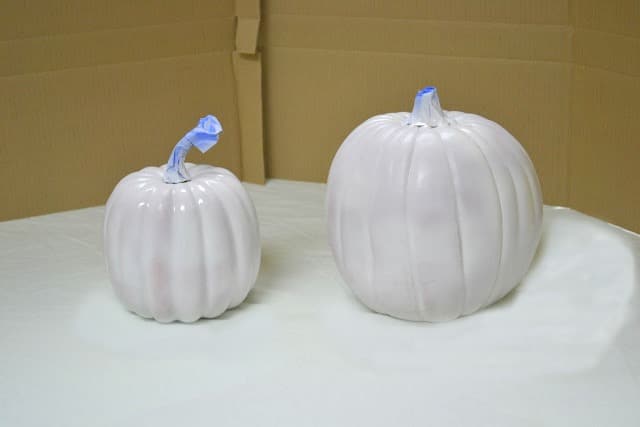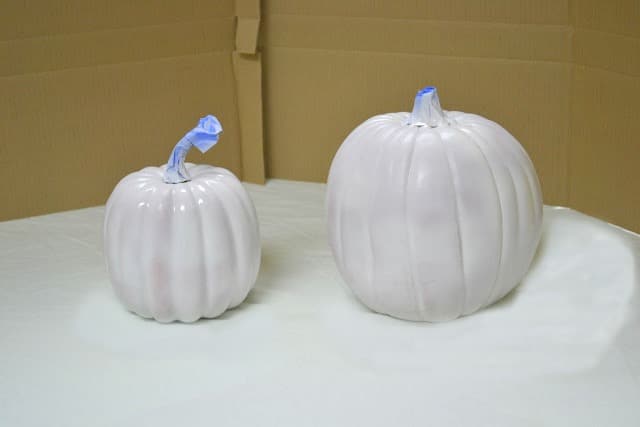 I decided to use the striped napkins on the larger pumpkin and the leaf pattern on the smaller one.
The napkins were three ply thick, so I peeled them apart until I had just one layer.  Remember to handle the napkins with care because they are very thin.  I cut three napkins into strips roughly 1″ wide.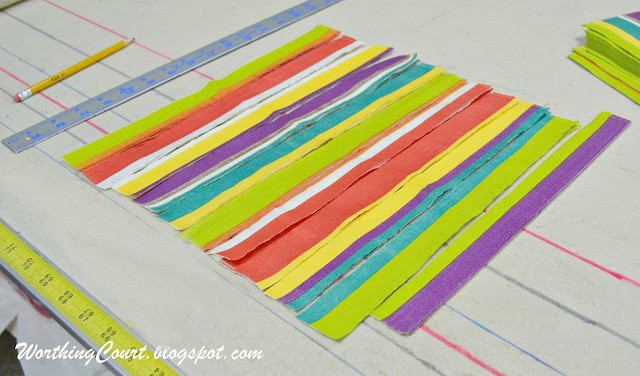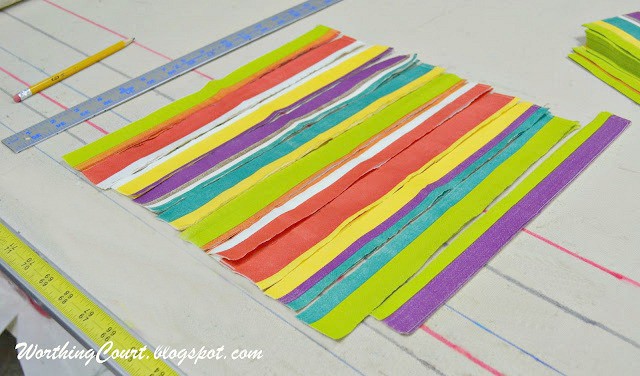 Next, I applied the strips of napkin to the larger pumpkin with ModPodge.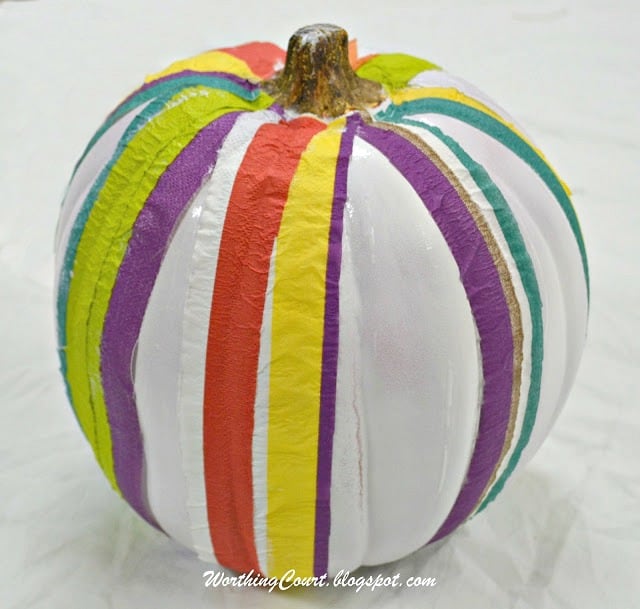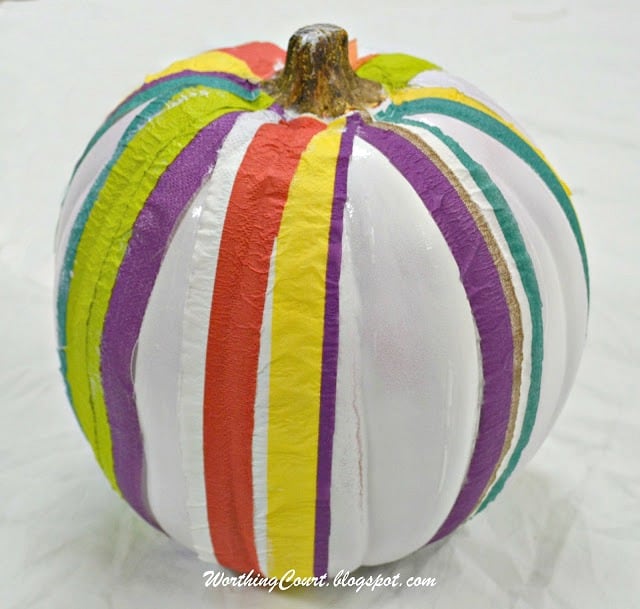 After letting them dry completely, I added a coat of ModPodge over the applied napkin strips and allowed that to dry completely.  This is the completed, striped pumpkin.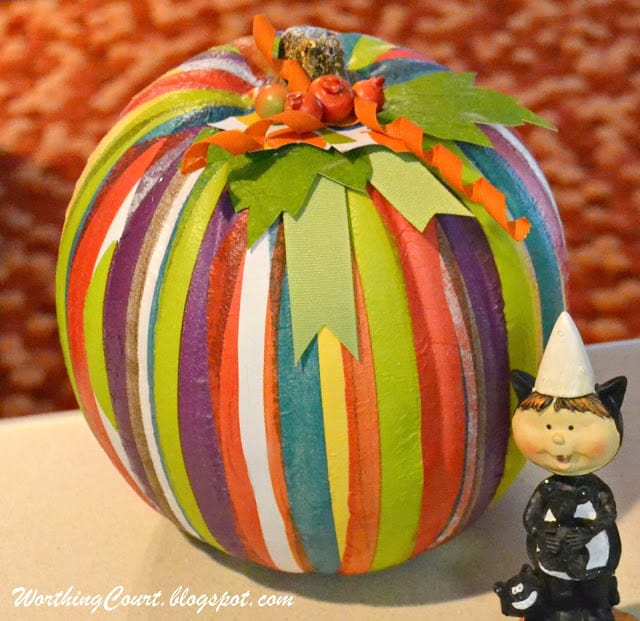 It was looking a little naked, so you can see that I added some leaves, ribbon curly cues and berries around the stem.  I'll go into that process below. I covered the smaller pumpkin with the leafy napkins using the same method.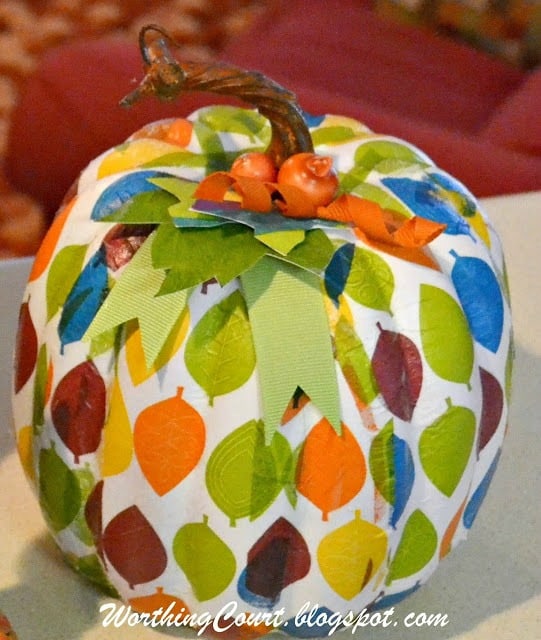 To make the leaves, I ModPodged pieces of the napkin to a stiff piece of paper.  I grabbed a couple of different faux leaves from my stash and traced around them onto the ModPodged napkins – after they had dried thoroughly.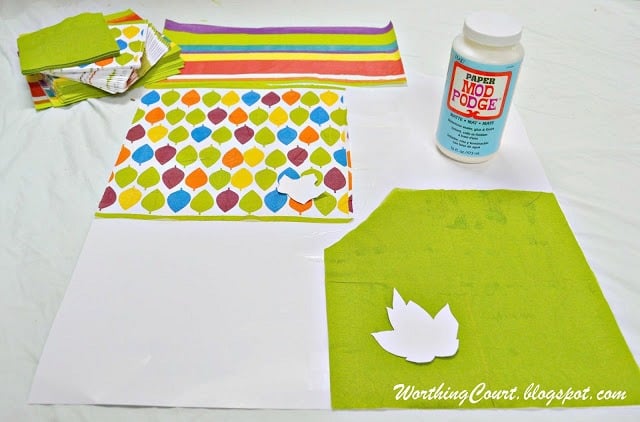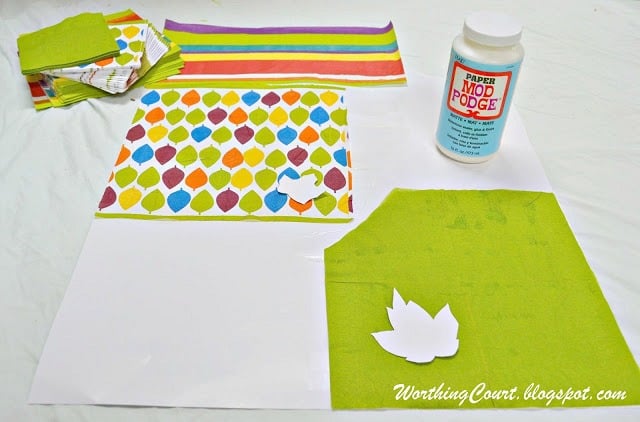 I then cut out the traced around the leaves so they could be glued to the pumpkins. Next I made some curled pieces of ribbon to use.  I simply cut some strips of ribbon, slathered them with Stiffy Fabric Stiffener, and wrapped them around a pencil until they were dry.
This is my hi-tech drying rack.  ☺  I stuck the pencils down in some floral foam to hold them up while they were drying.  You can see I used some painter's tape to hold the ribbon ends on the pencils.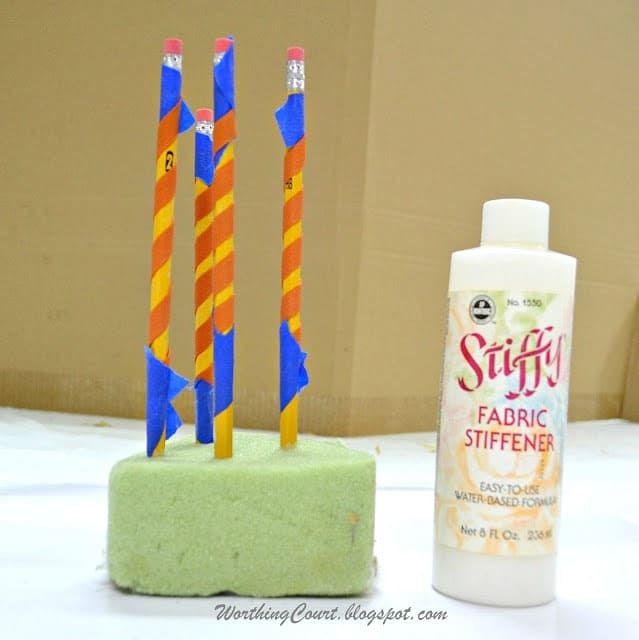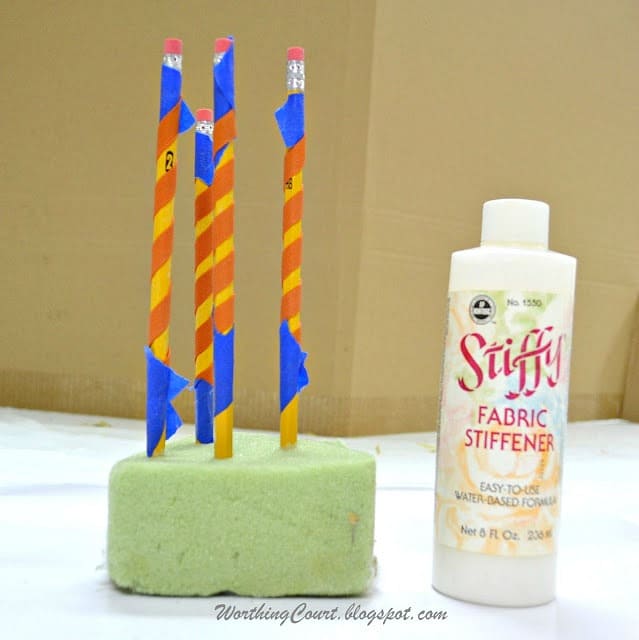 It was easy to remove the ribbon from the pencils once it was dry.  This is what I wound up with.  I think they make cute little curly cues.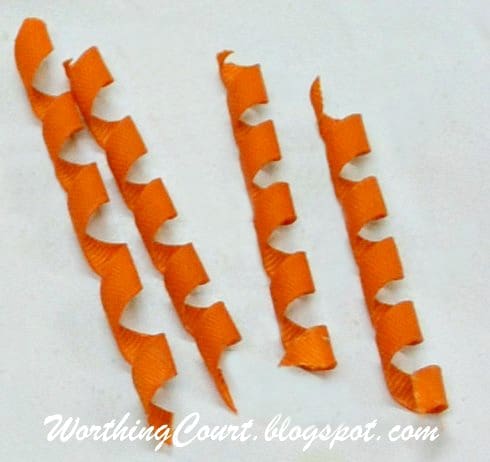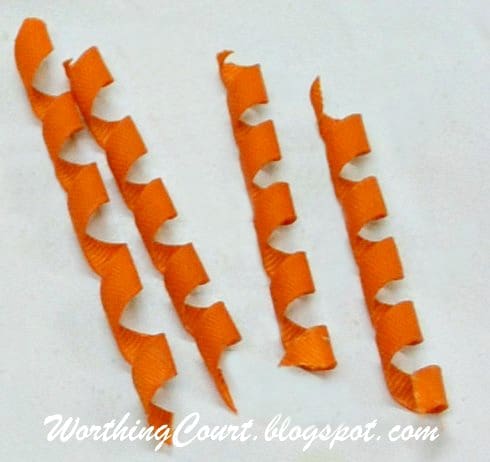 After that I just hot-glued the leaves and ribbons to the pumpkins.  I added some strips of green ribbon too and a few faux berries. They look really cute for Halloween…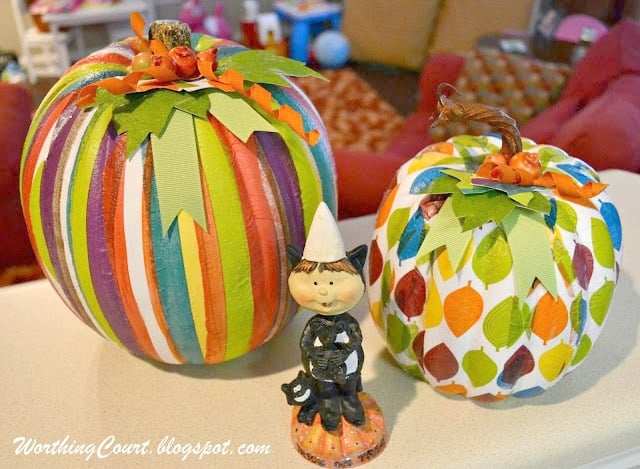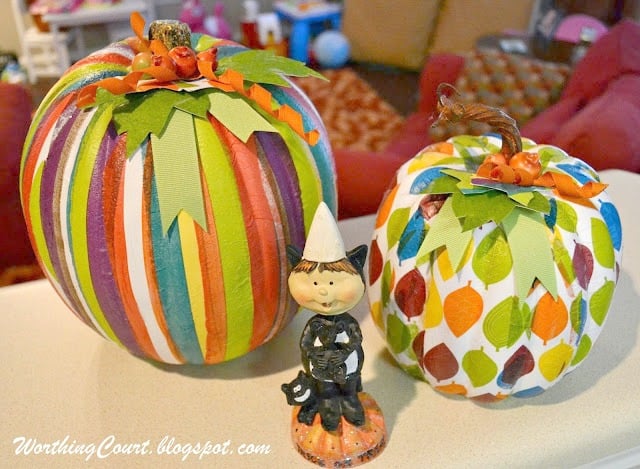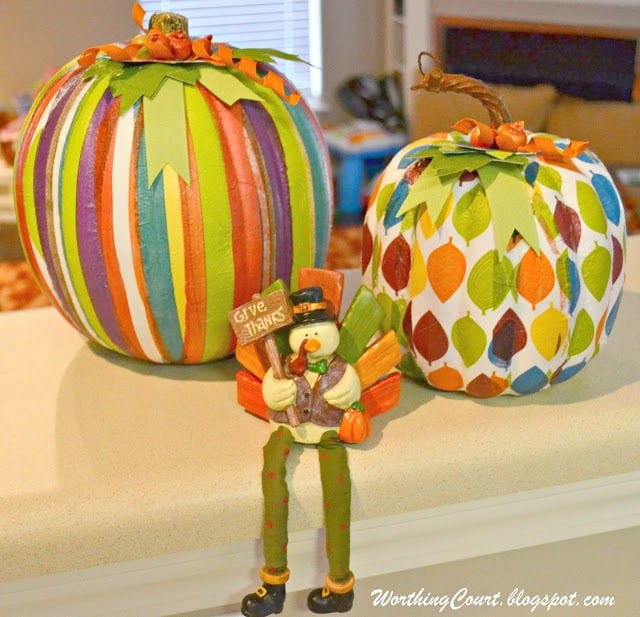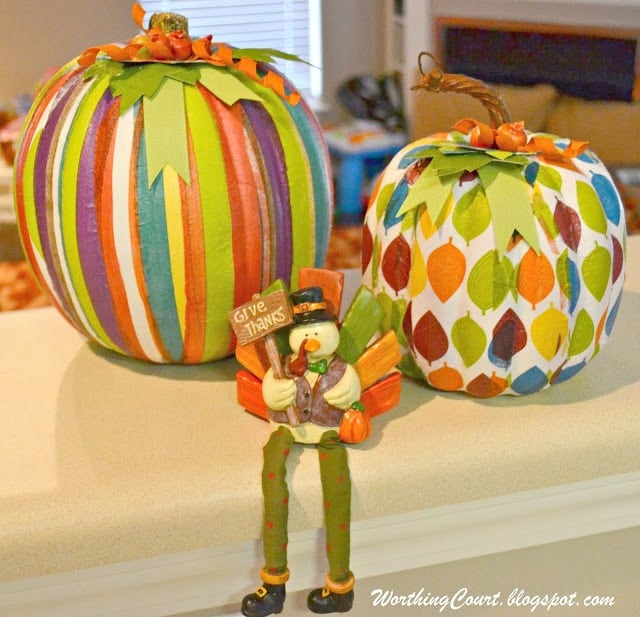 Looking for more fall inspiration?