Christmas in my family room looks totally different compared to Christmas in the dining room.  That's because I have a lot of Christmas decorations that I've accumulated over the years that I still love and want to use.
The older decorations are more traditional so I usually keep them in the living room, dining room and foyer.  BUT, in family room and kitchen I like to have fun!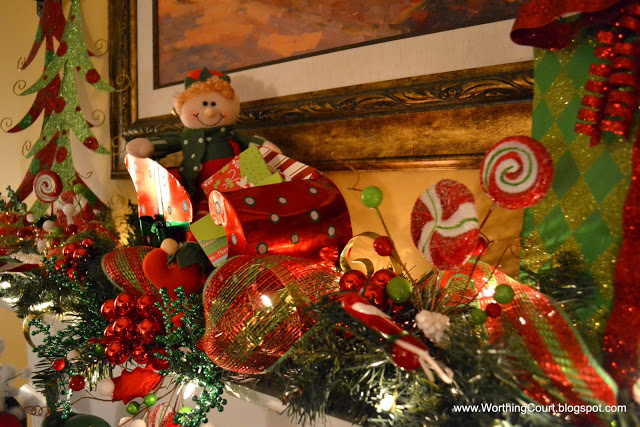 I want to keep things whimsical for the children that will be present at the Christmas family get-together at our house.  This year they range in ages from three to eight.
(My walls are not this yellow!)
I've been adding more and more of the apple/lime green and red over the last few years.
I love these whimsical stockings!  I added some ornaments and a fuzzy white stick to make them a little more interesting.
This is the first year that I've ever had lights on my mantle.  The thought of the electrical cord hanging down one side really bugged me.
One day it finally occurred to me that I could use some Command Strips with small hooks to hold the cord against the woodwork.
You really can't see them unless you walk behind the tree.  The nice thing is that I know they'll pull right off without taking paint with them once Christmas is over.
So there you have it – my fun Merry Christmas mantle!