I've been making some changes in my living room in an effort to give it a bit of an updated look.  My goal was to do it without buying new furniture or repainting the walls.  Seems like it took me forever, but I finally finished…for now that is!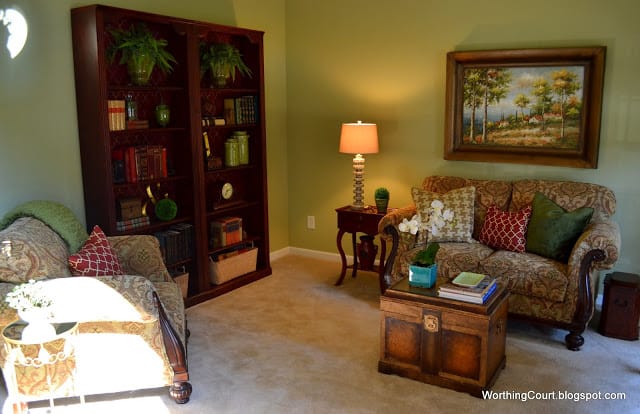 I apologize for the lighting in some of these pics.  This is such a hard room to photograph.  The only time the room isn't dark is when the morning sun streams in through the front door and then it's blinding in pics!
You can see that I made some new pillows for the loveseat.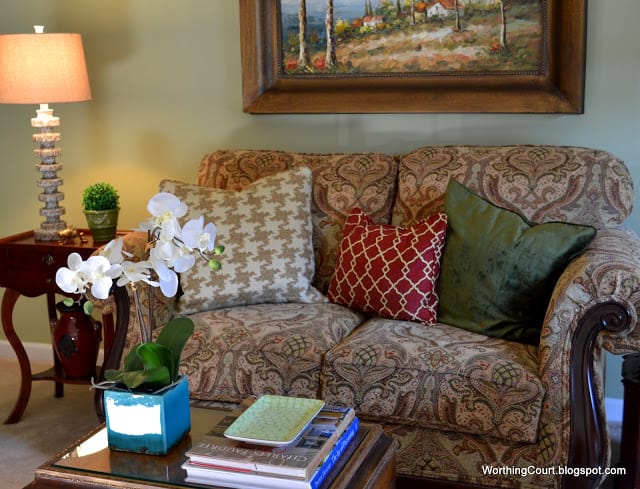 I love mixing unexpected patterns and colors within a room and pillows are such an easy way to do that.  The mix of patterns on the love seat helps to draw the eye away from the upholstery that I no longer love.
I added a new pillow to the chair too (opps – it's crooked!) and moved some pictures that were in my powder room to above this chair.  (I've never shown you my powder room before.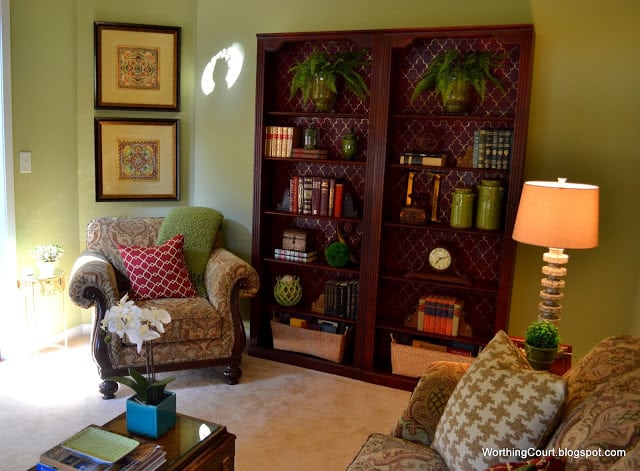 It's just a fluke that the fabric that I used on the red pillows mimics the stencil that I  used on the back of the bookcases.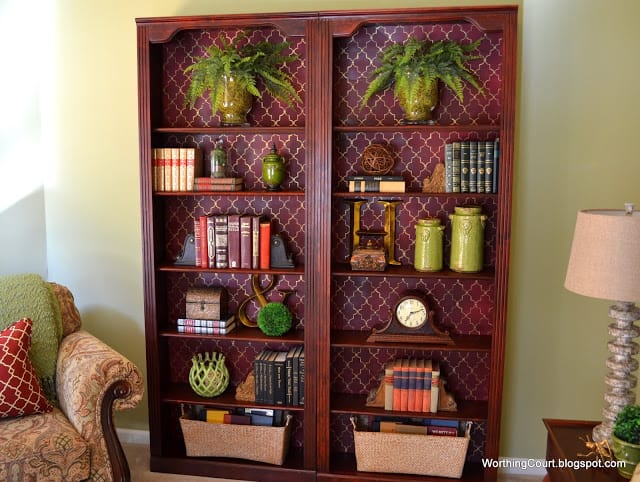 I also replaced the lamp on the little table to the left of the loveseat and added a cute little cricket that I painted gold.  An orchid in a turquoise pot was added to the trunk that serves as a coffe table in an effort to pick up the blue in the picture hanging above the loveseat.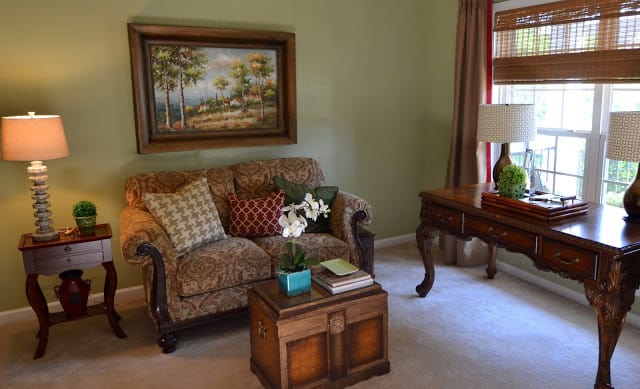 I have plans to move that picture somewhere else in the house, but that's for another day!
Here's the little cricket.  Isn't he cute?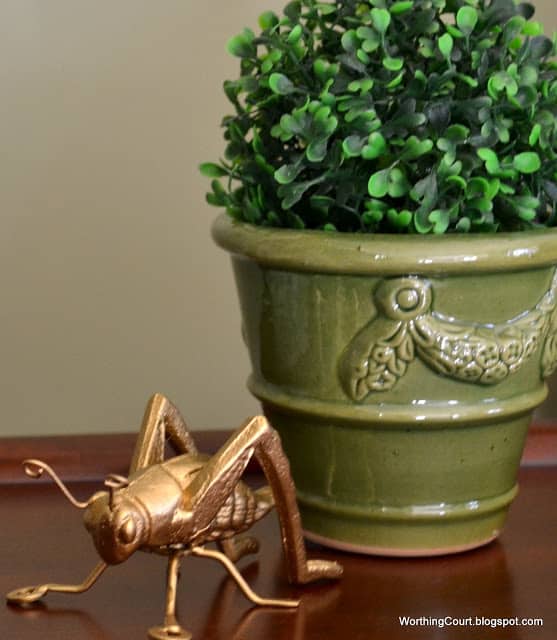 I changed the lamps and the vignette on the table in front of the windows.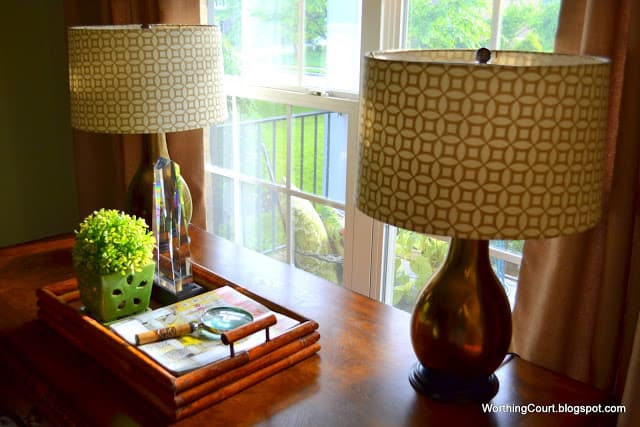 There's been another change in this area too.  Can you spot what it is?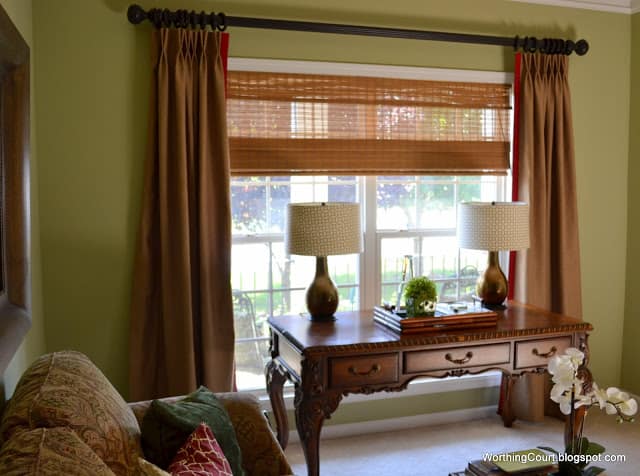 Can't see it?  Look at the before and after of this same area.  Obviously, I removed the flag pendants from the drapery panels.  What may not be so obvious is that I narrowed each one of the panels by about 18″ and also added a deep red ribbon trim to the leading edge of each panel.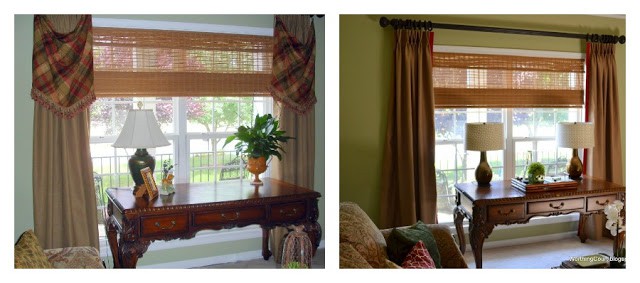 I showed you the copycat accent table that I added a couple of weeks ago.
It sure does help to fill that awkward corner.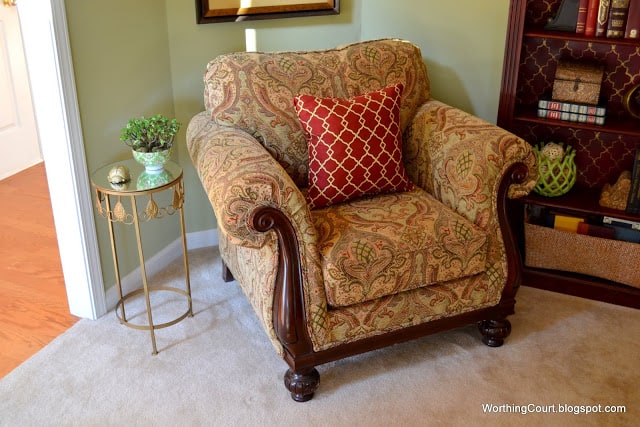 Here's how the entire room looks now.
The left side…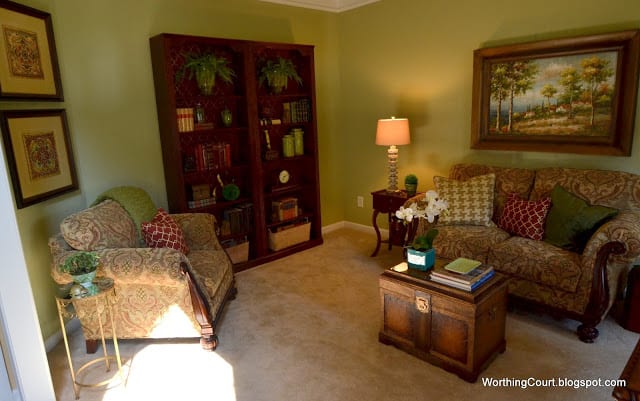 …the right side…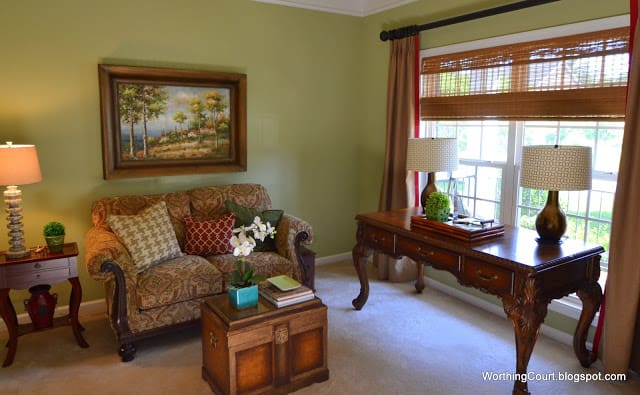 …and the whole room all in one shot.