One of my favorite places to shop for home decor is New River Pottery that has way more than just pottery!
Do you have a favorite shopping haunt that stirs your imagination every time you walk through?  I actually have several of them!  One of them is New River Pottery in Wilmington, NC.  I never miss a chance to stop by there when we're at our beach condo.  Grab your favorite beverage and let's go shopping – virtual style, that is.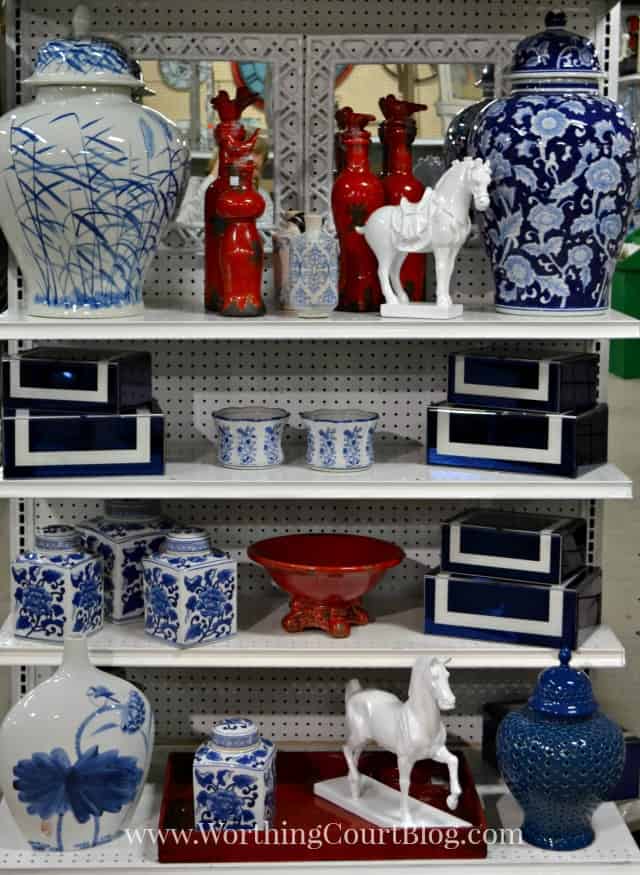 Don't let the name fool you – this is not a pottery shop.  It is one stop shopping for all things home decor.  I picked up a few beautiful things while I was there, but I spotted a couple of things that I overlooked as I was editing my photos.  Drat!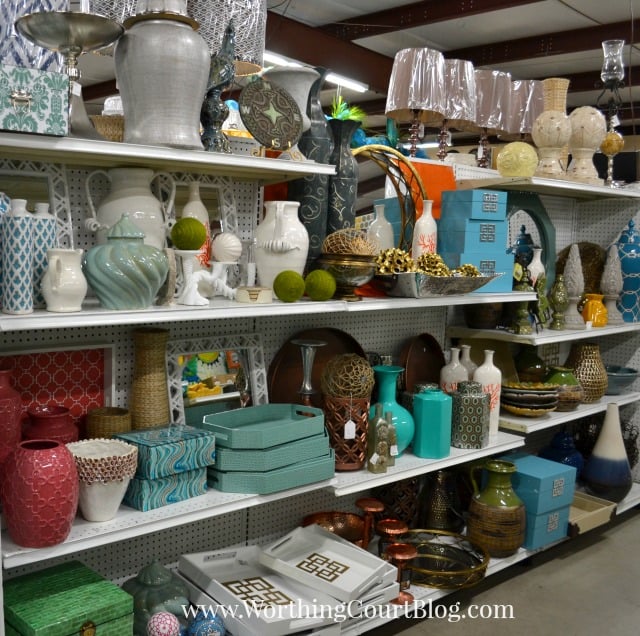 Unlike some stores, where they aren't good about carrying current products, the items at New River Pottery are always on trend with what I see on the latest home decor websites. I'd say that their prices are about the same as they are at HomeGoods – maybe a little less.
A couple of these stunning gold orbs jumped into my buggy when I wasn't looking.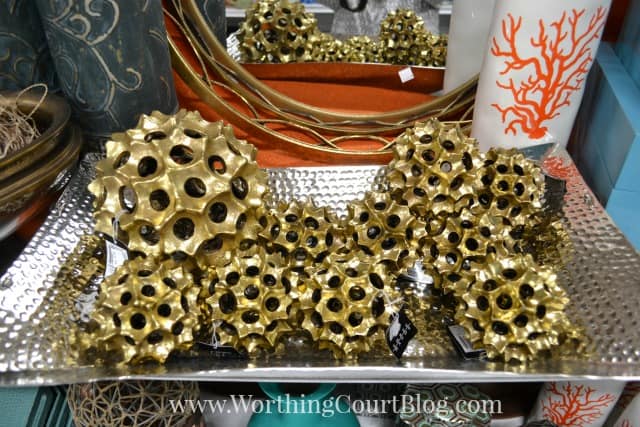 I didn't buy one, but I thought these boxes were pretty awesome.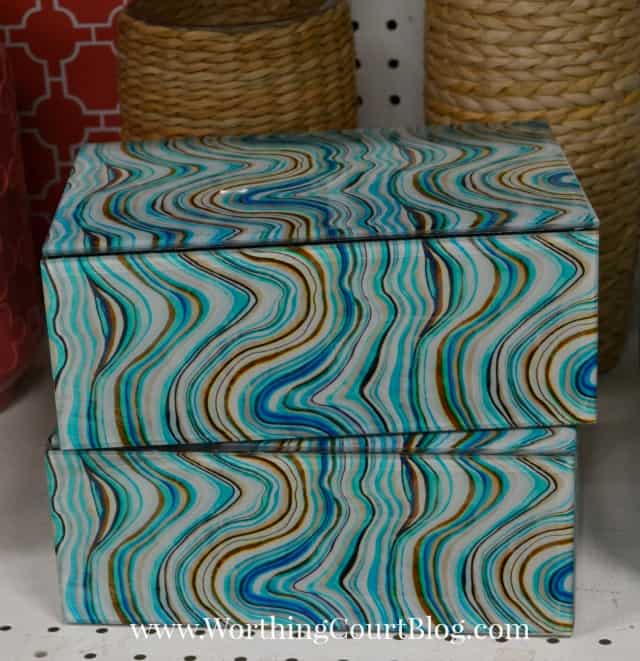 You might think that what they sell would skew heavily toward beachy decor since they are located in a coastal town, and while they do sell those types of things, they have a very wide variety of everything else too.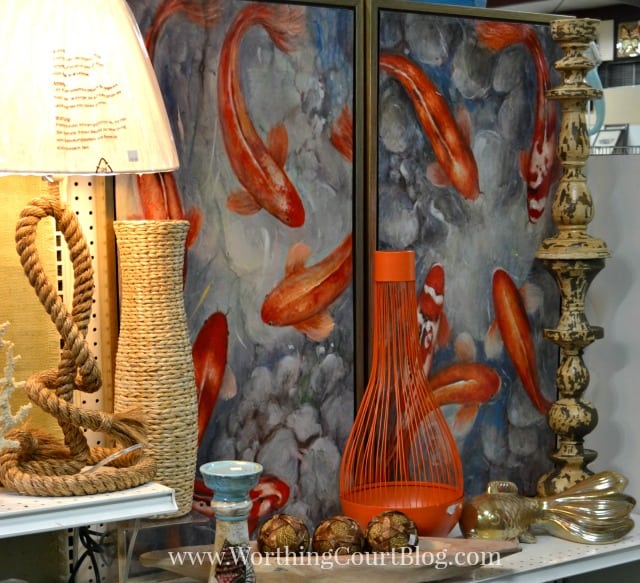 I always come away from here totally inspired for home decor.  Sometimes my shopping cart is full too!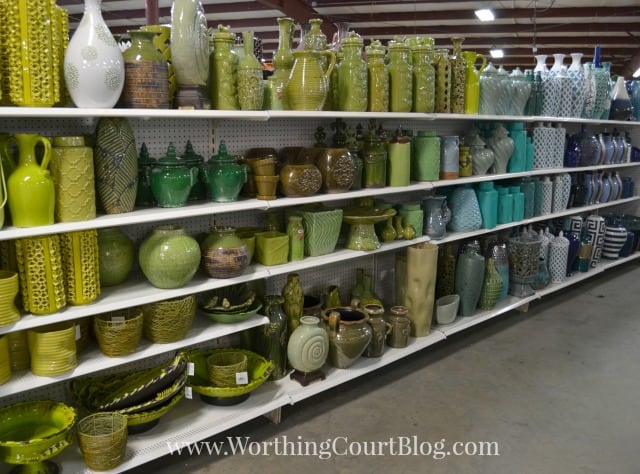 I love these small lotus bowls with their gold interior.  I picked up one of each for my daughter.  I couldn't think of any place to use them at my house.  And do you see the gold and white canisters to the left?  She wanted a couple of those too.  You might have seen the picture that I posted of them on Instagram.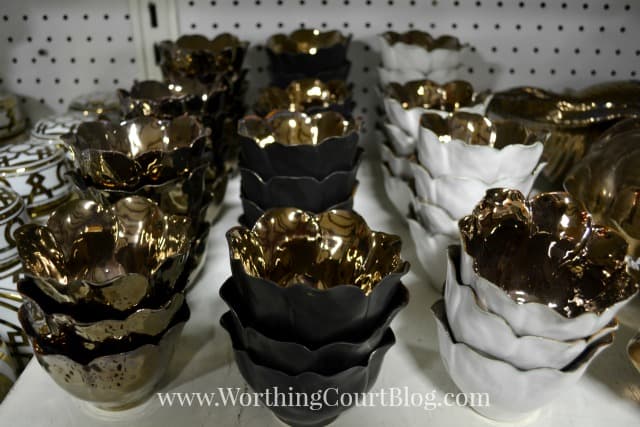 They had a lot of white to choose from.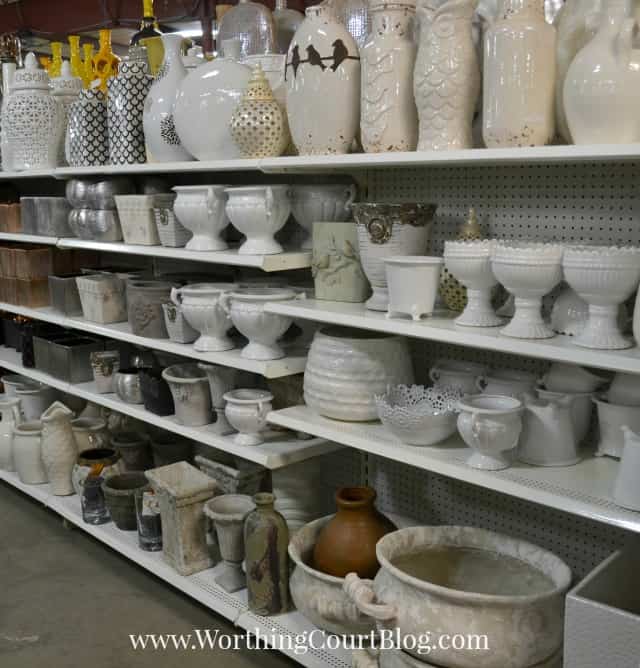 Loved this pale blue urn, but nope, didn't buy it.
Patterned and blue urns and jugs.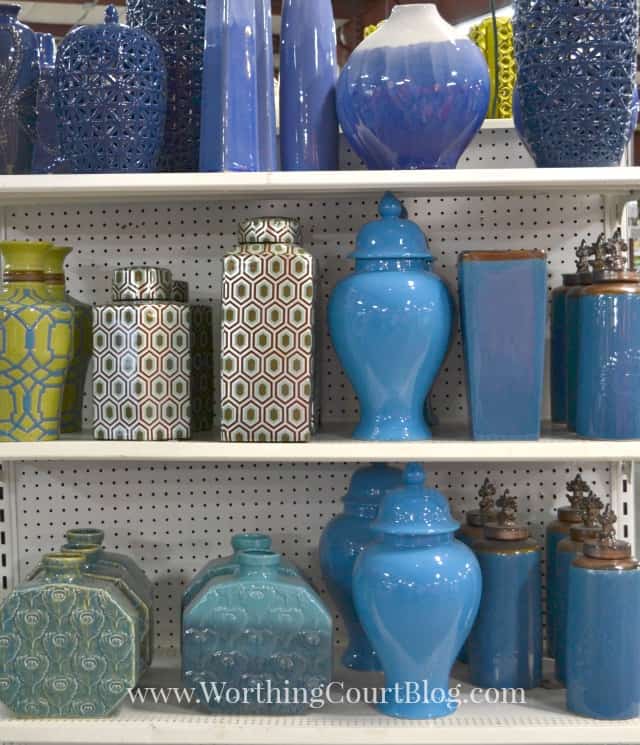 Burlap, driftwood, rope and fishing floats.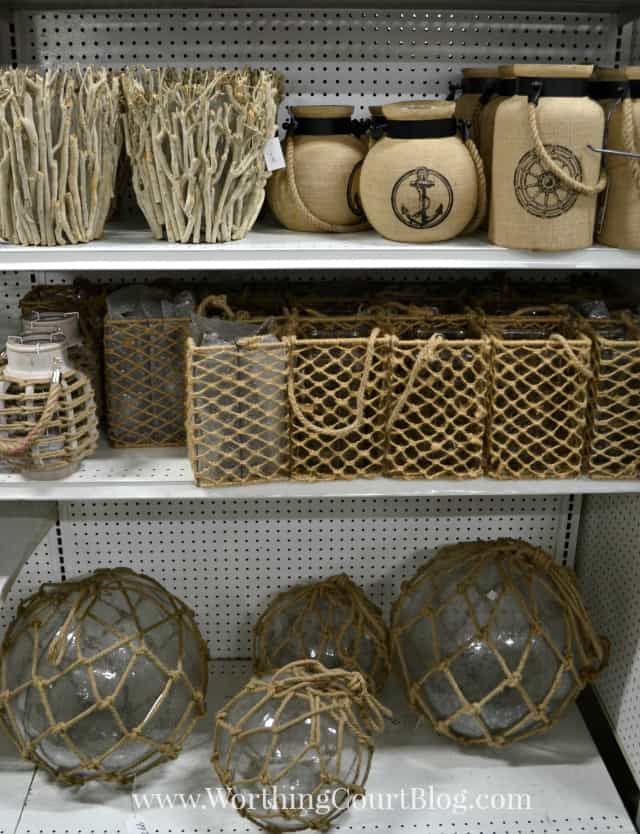 Blue, white and gold.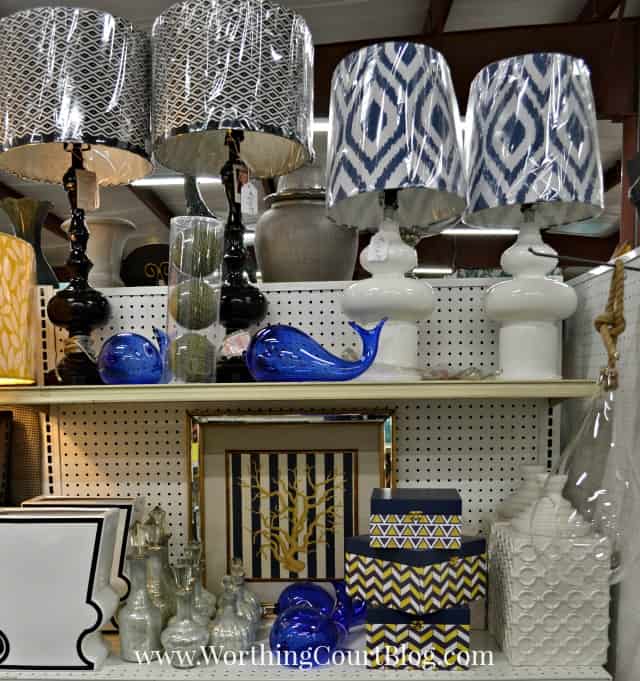 Anyone want a boxwood topiary?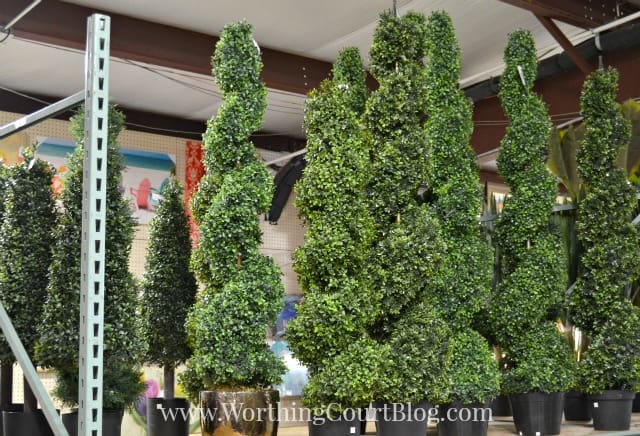 How about a rug?  They had a fairly large selection.
All of that was just a part of what is in the front half of the building.  The back half is a Christmas wonderland starting at the end of the summer.  Right now, it has everything you could ever want for outdoor living.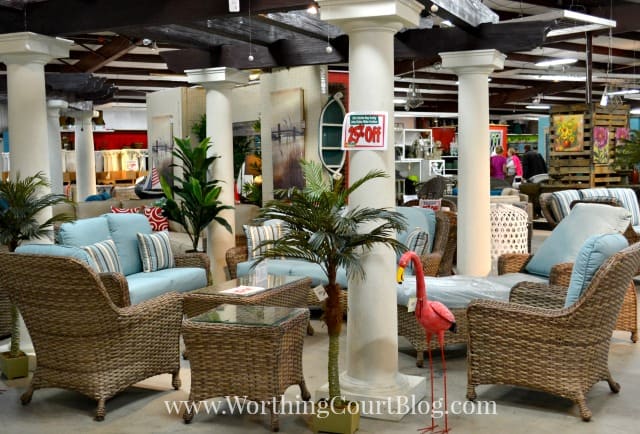 They had every kind and color of outdoor cushion imaginable.  Too many for me to try to get a good photograph of.
Love, love, love this bench design.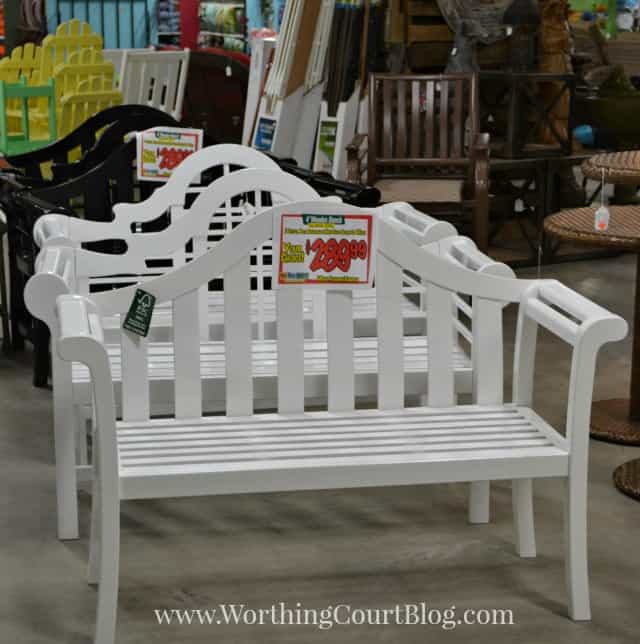 Colorful adirondack chairs.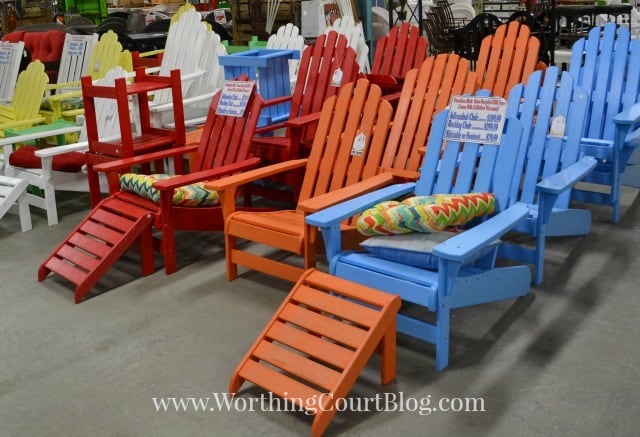 I could go on and on, but this post is already too long.  Just take my advice and do your best to stop by New River Pottery if you're ever in the vicinity of Wilmington, NC.  It's a stop well worth it.  Oh – and make sure to wear comfy shoes!