No Sew Changeable Pillow Covers
If you know me at all, you know that I sew.  I sew all types of window treatments, pillows, bedding and make upholstered headboards.  You would think that a project like this would be a piece of cake for me.  Ha!  My project wasn't hard – it was really very easy.  The hard part was resisting the temptation to use my sewing machine.  😉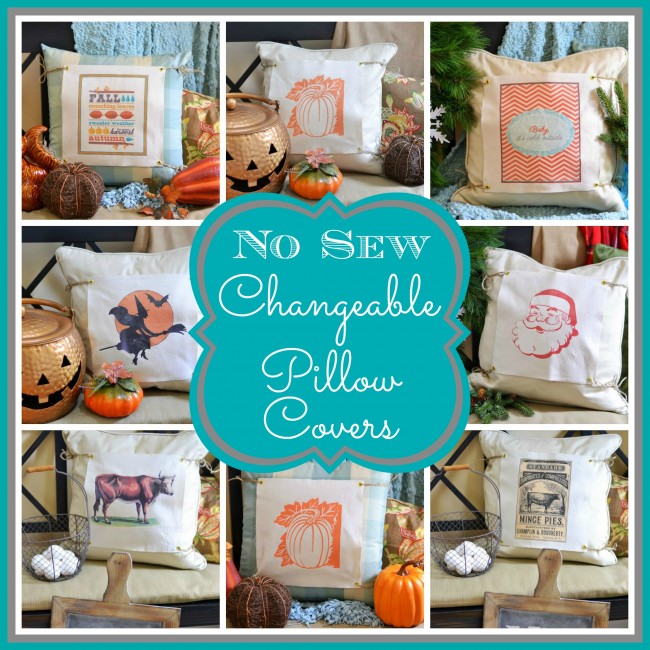 Pin
Are you a pillow lover and hoarder like me?  I love pillows sooo much that it's actually become a joke between Pookie and me.
My problem is that I never want to buy a ready-made pillow since I can make them  – usually for waaay less than what I'd buy one for. I've been known to pay $10 for one, but that's pretty much my limit.
Therein lies my problem.  I have very, very few seasonal or holiday pillows.  I won't buy them and I never seem to get around to making them.
Enter changeable pillow covers!  I cut a dropcloth into 12″ squares, printed free printables onto transfer paper, ironed them onto the dropcloth squares and applied a grommet in each corner.  I didn't even hem the sides because I wanted this to be an easy peasy project.
I was able to give my pillows a whole new look for the season by laying a dropcloth square on each side and running twine through the grommets to tie them to the pillows.  Now when a holiday rolls around or the season changes, all I need to do is to tie the appropriate covers to one of my existing pillows!
My favorite place to display seasonal pillows is on the bench in my foyer, so that is where all of these pictures were taken.
For an everyday, farmhouse'ish look,I chose a transfer of Bessie the Cow to grace one side of my pillow.  Or I can simply flip the pillow around to the other side for a vintage typography advertisement.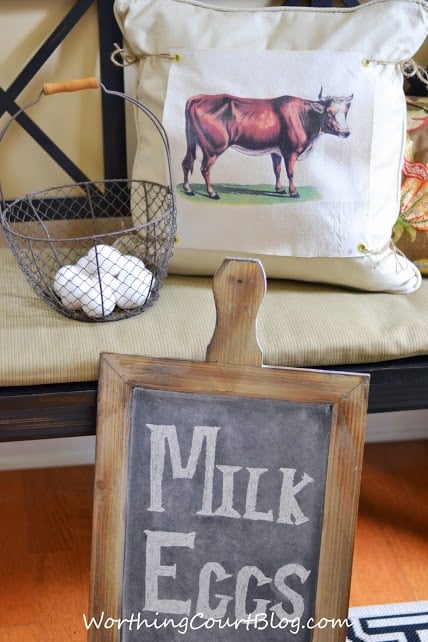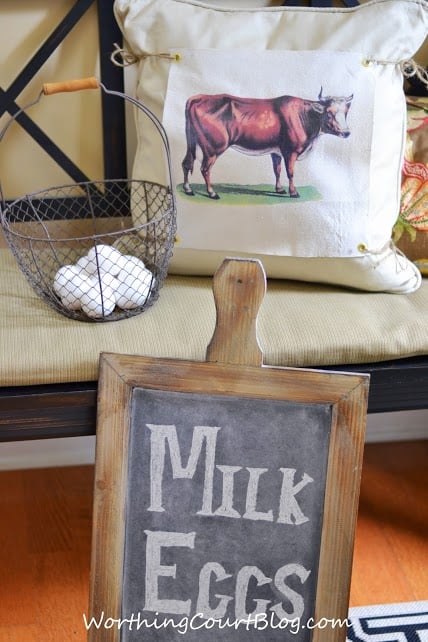 Pin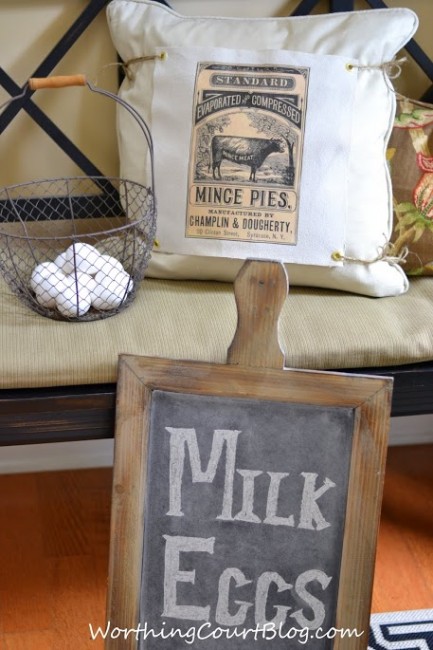 Pin
With the onset of Fall fast approaching, I have this cute pumpkin cover for one side of the pillow and a Fall typography print for the other.  I love the blue mixed in with the traditional Fall colors so I chose one of the pillows out of my basement to use.  This pillow will carry me through Thanksgiving if I don't have a chance to make more covers.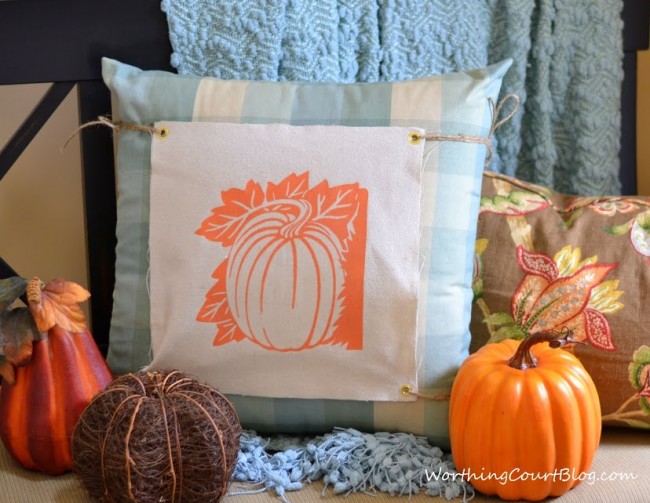 Pin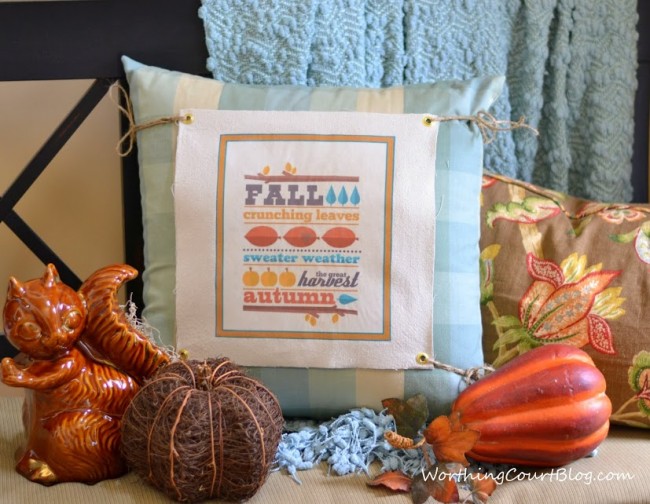 Pin
When Halloween rolls around, I'm all ready with a spooky witch on one side and the same pumpkin on the other.  The pumpkin looks completely different on a natural colored pillow as opposed to the blue one above.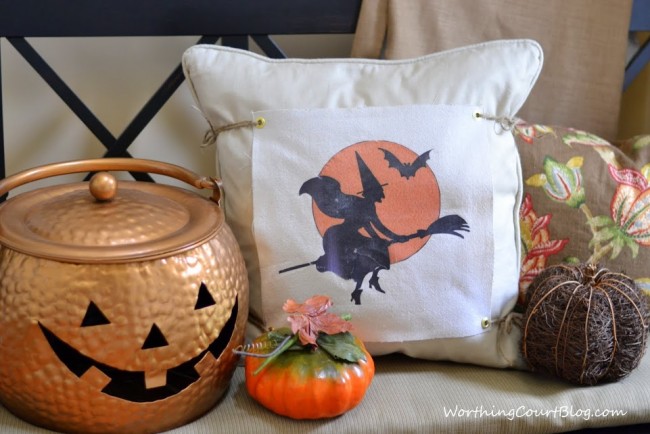 Pin
PinAnd finally for Christmas I have a cute Santa silhouette on one side and a graphic on the other that would carry me through the rest of the winter.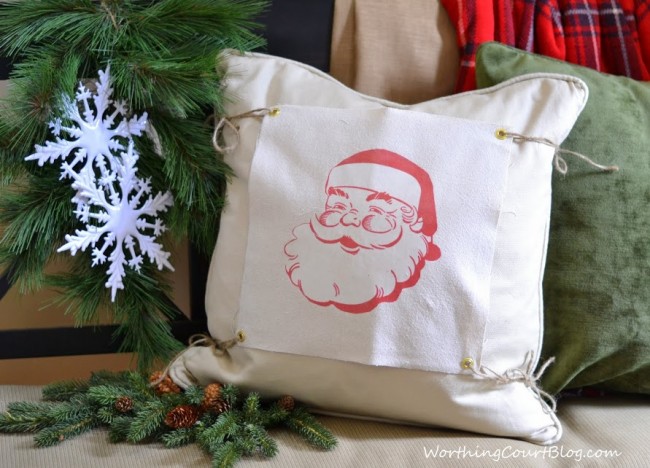 Pin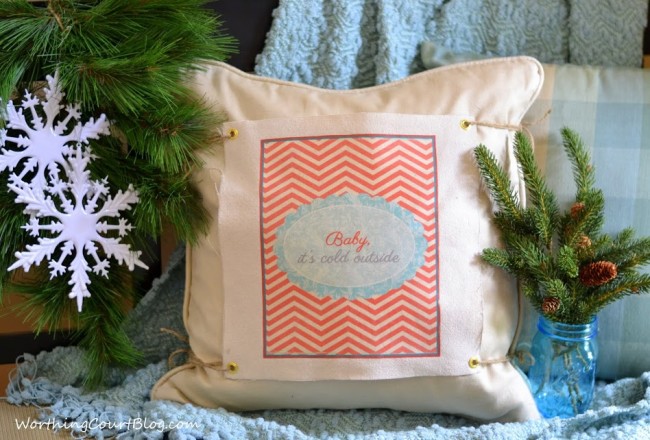 Pin
 Like I said, these were super easy and fun! to make.  You basically just follow the directions on the transfer paper for printing and transferring the images onto fabric and also follow the directions on the grommet kit for how to apply them.  That doesn't mean that I don't have some helpful tips though:
Wash and dry and iron (if it needs it) your fabric before using it.
I mentioned above that to keep this as easy as possible, I didn't hem the squares.  I did spray all the edges with a no-fray spray though.
If you are using a printable that has an image that needs to be turned a certain way, you will need to save the printable in PicMonkey and flip the image before printing it on transfer paper.
Before applying the transfer, cut out the image that you're transferring to the fabric.  Cut as closely to the edge of the design as possible.
Make sure to apply plenty of pressure when ironing the image onto your fabric.  I don't recommend working on transfers when you're in a hurry.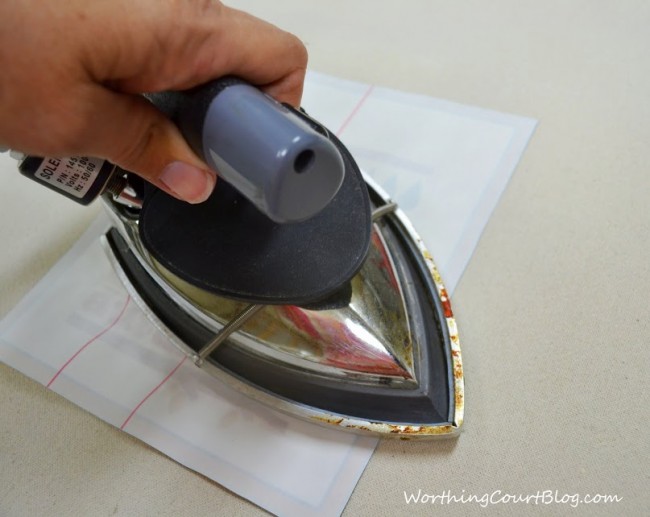 Pin
It really helps to put a hard surface of some kind underneath your fabric.  I just used a scrap of plywood that I had laying around.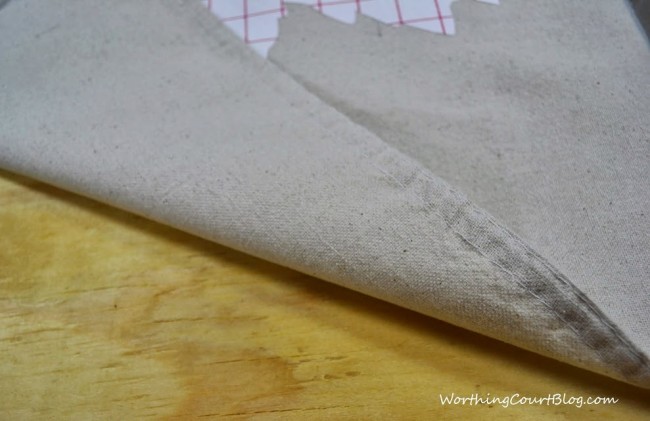 Pin
Use the very tip of the iron to go over and over all of the edges of the transfer.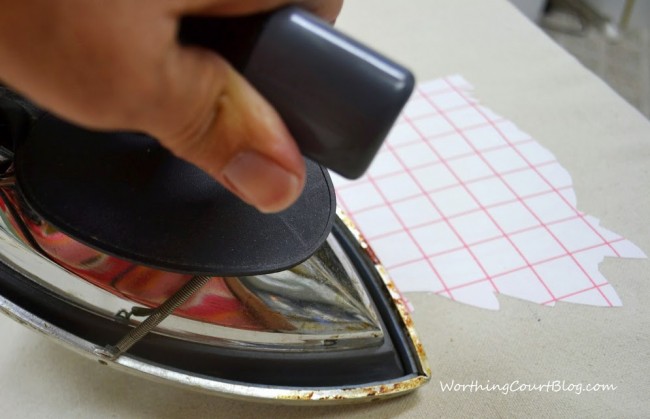 Pin
Wait until it is completely cool before pulling the transfer paper off of the fabric.  Do it very slowly, pausing to re-press if any part of the image starts to lift and allowing it to cool again.  When removing the paper, I sort of rolled it back as opposed to pulling it straight up.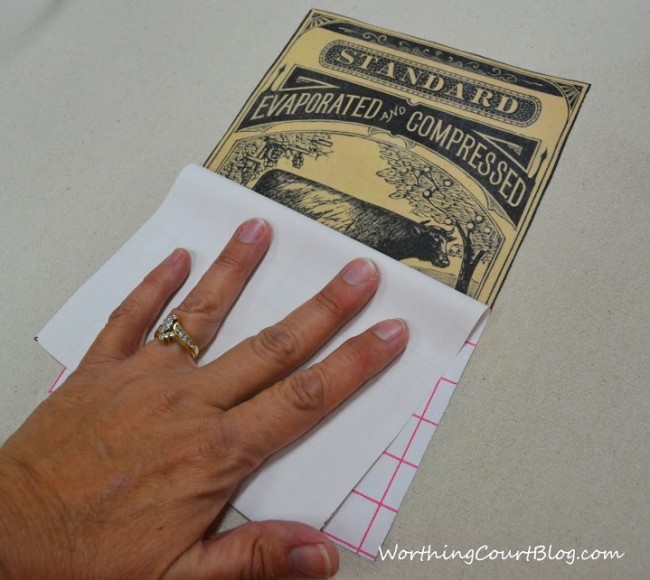 Pin
I made a 1/2″ square template out of a piece of cardboard to mark the location of each grommet.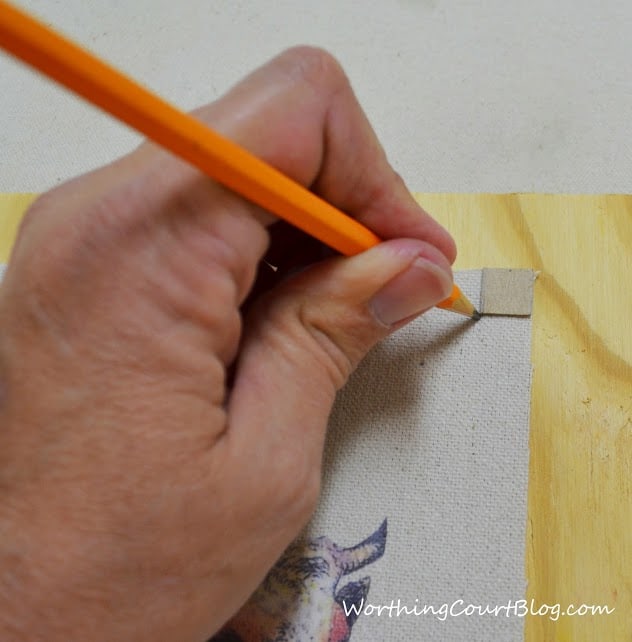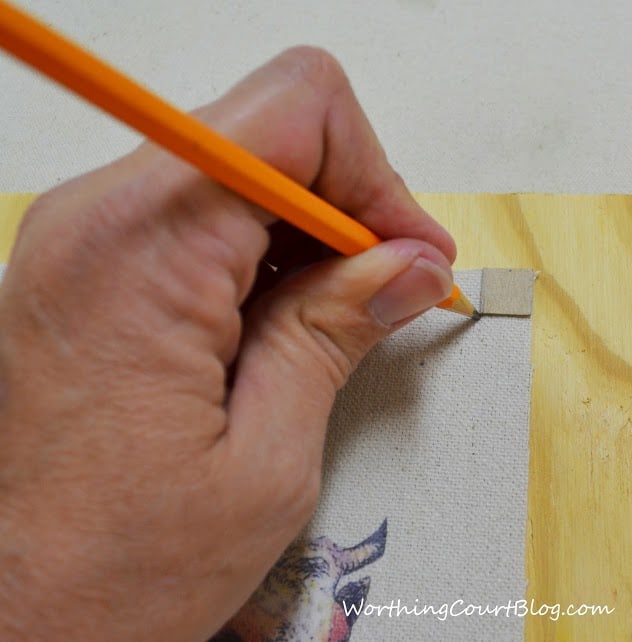 Pin
I enlisted Pookie to help me with the grommets.  Even with his strong arms, he had to get something even harder than the plywood to get the cutter to go all the way through the thick dropcloth.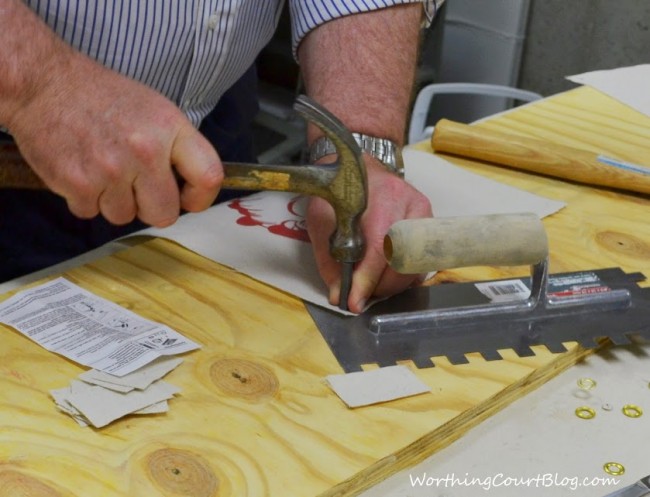 Pin
This is the grommet kit that I used.  It's just what Home Depot happened to have at the time.  I'm sure any brand will work just fine.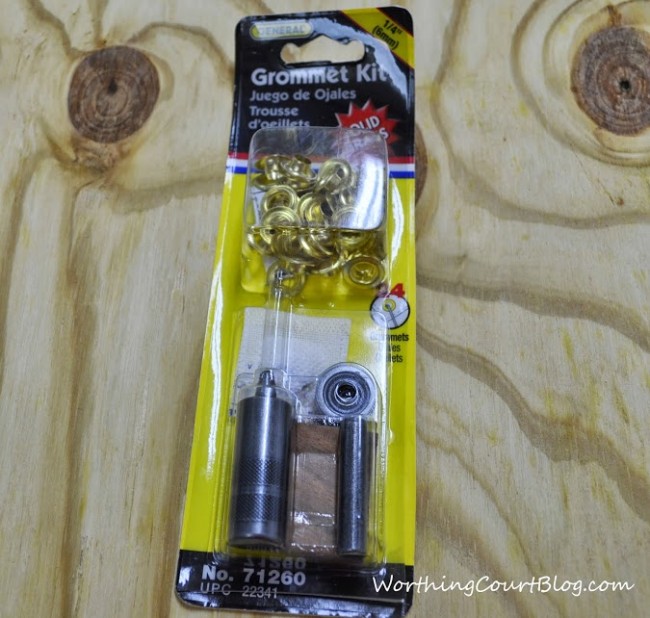 Pin
To be honest, I was kind of dreading this project because it seems like many of my crafts just don't turn out looking the way that I envisioned them.  This was actually a fun project to do and for once I'm pleased with the result!
I can't wait to make some snowflake ones for winter and some hearts for Valentines and some shamrocks for St. Patrick's Day and and and…..
So, how about you – do you change your pillows for different holidays and seasons?