One Fall Coffee Table – Two Ways
I will show you how to style a coffee table two ways for fall.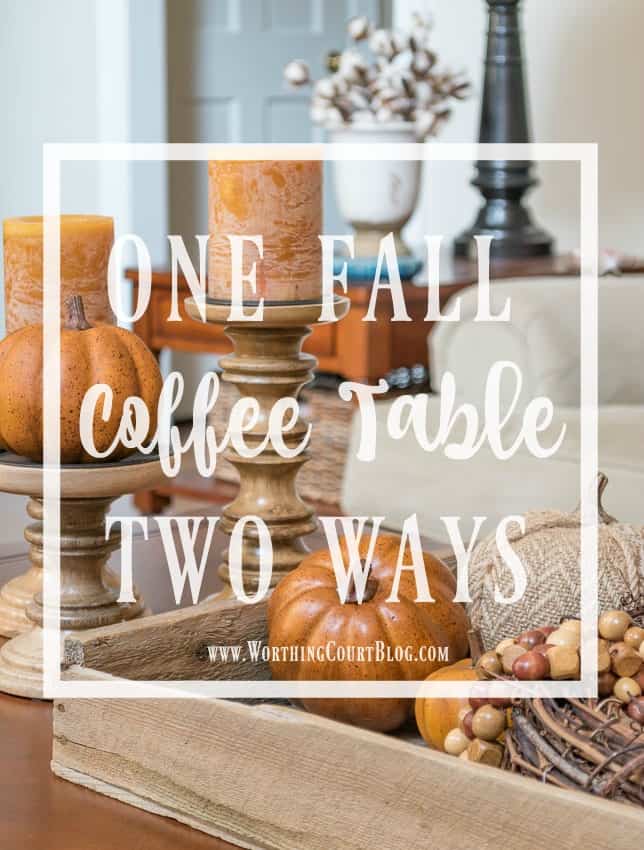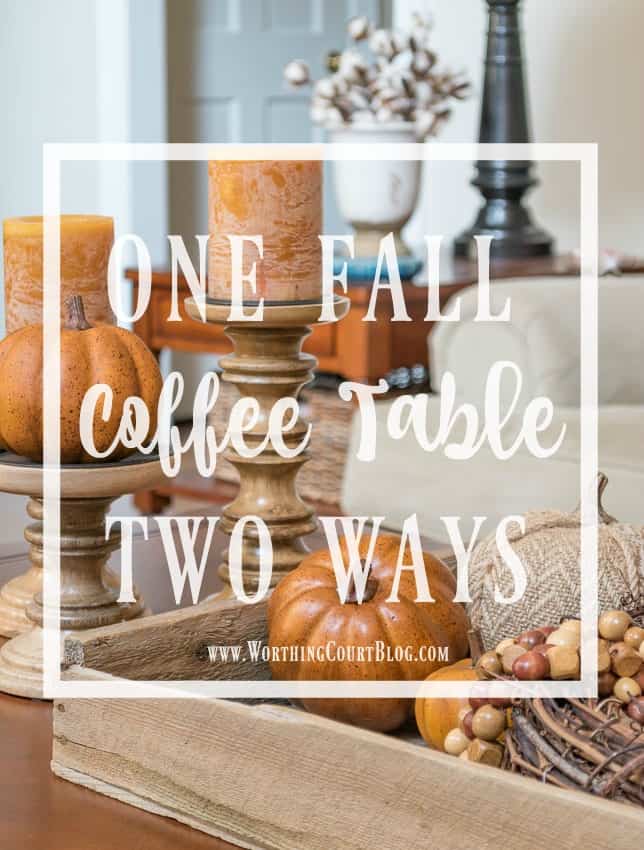 The last thing left to do, after I had done all of the fall decorating in my house, was the coffee table in my family room.  This one spot is always the hardest for me to figure out what to do with!  It's a large coffee table, which is nice, but that presents its own set of challenges when it comes time to add decorative seasonal displays.
Coffee Table Styling
My number one goal was to keep whatever I did simple.  To be honest, by this point, I was a bit tired of all the decorating around the rest of the house and just wanted something quick, that wouldn't require a lot of thought.  So I tried two different vignette looks to see which one I liked the best.  Scroll on down to the bottom to see which look I kept!
But first, don't forget to leave a comment on ANY blog post to automatically be entered to win my Reader Appreciation Giveaway!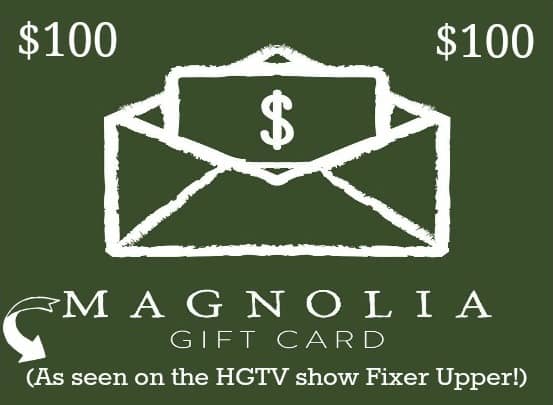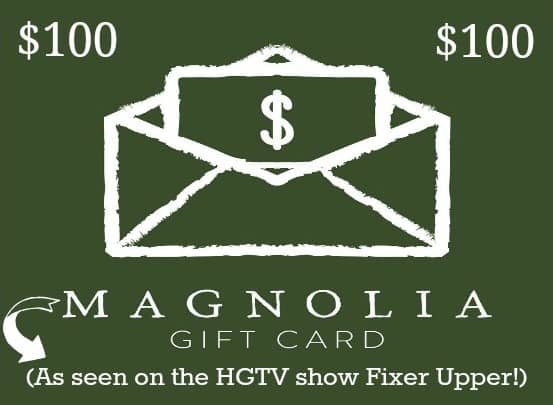 CLICK HERE TO SEE THE CONTEST RULES.
Here's look #1. An old wooden plant tray filled with fall pumpkin goodies and three candlesticks off to the side.  I mean, look how easy!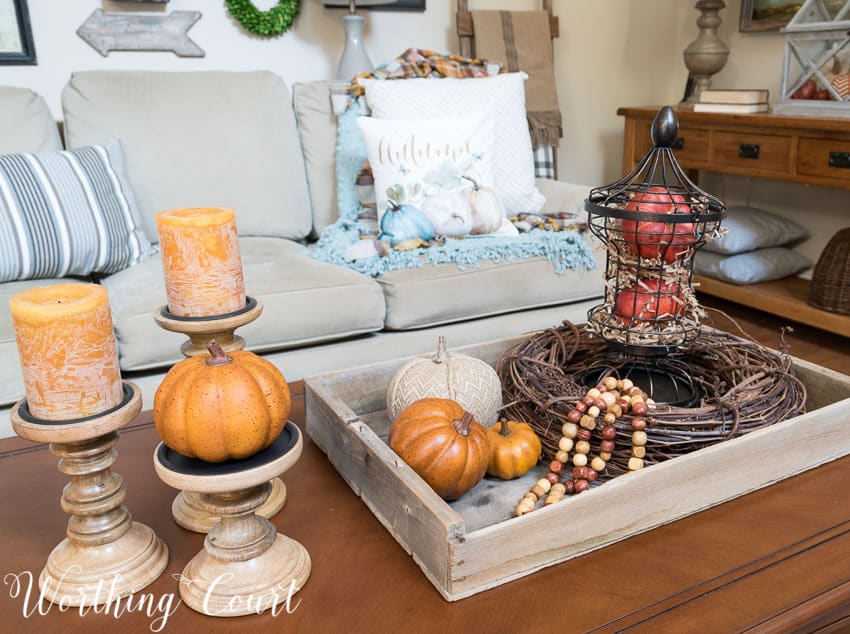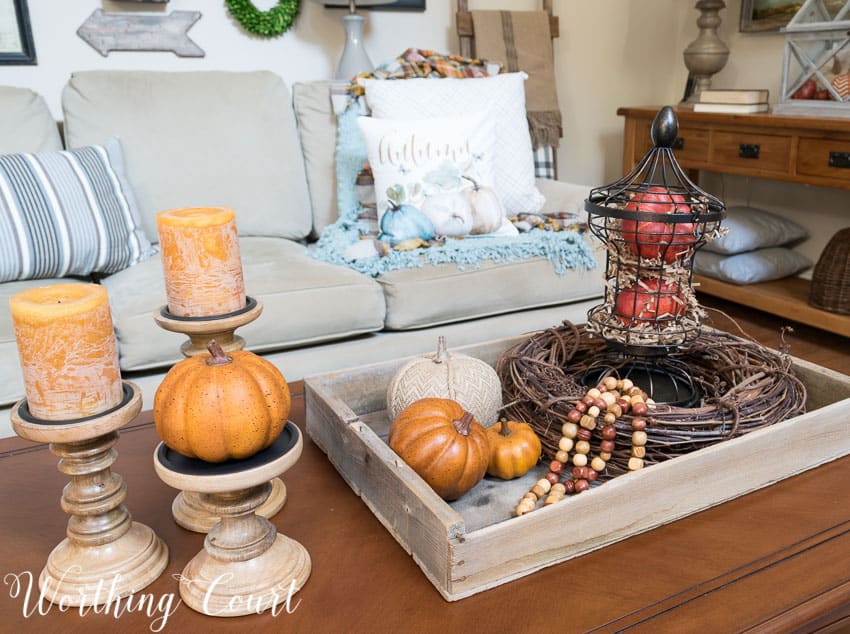 I filled a wire cage thingy with rich rust colored pumpkins and brown paper filler.  To give it height, I placed it on top of an old lamp base and then placed two twig wreaths stacked together around it.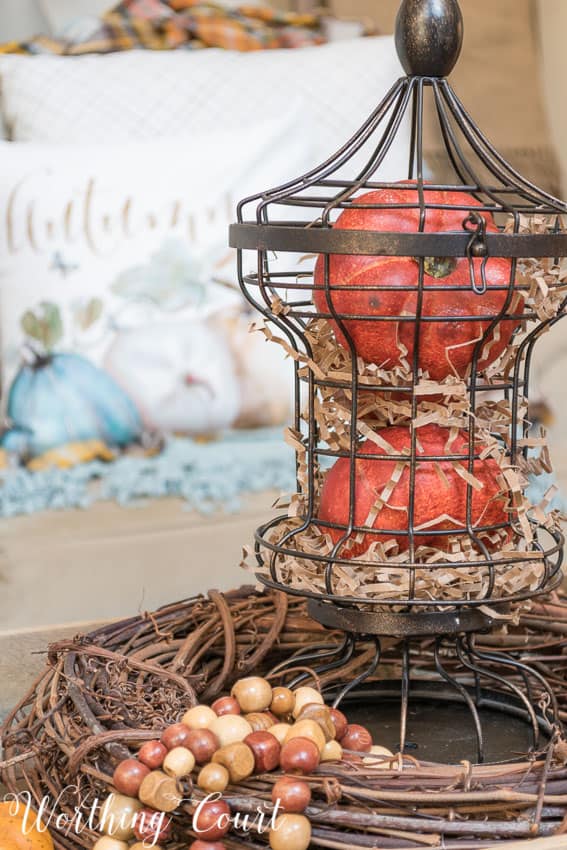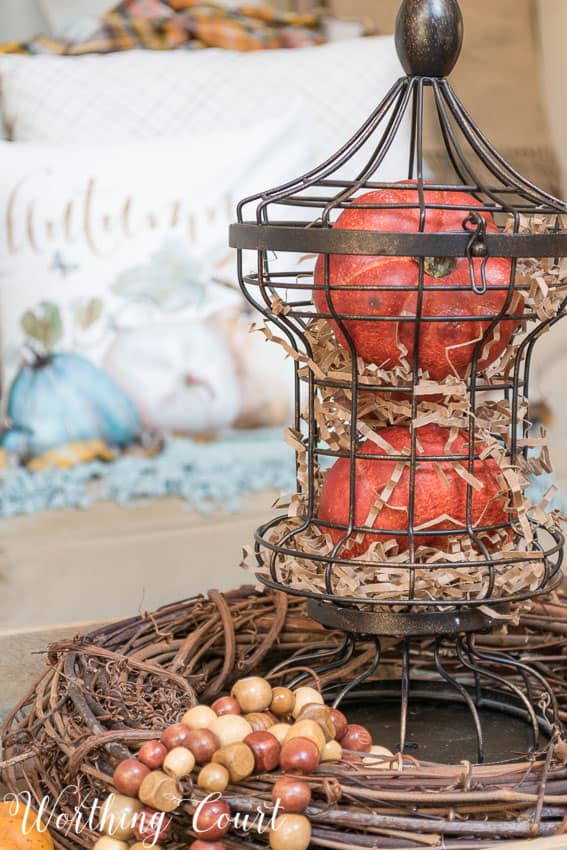 To fill the tray out, all I added were a few small pumpkins and a strand of decorative beads.  I made the bead strands a few years ago to use as a garland on one of my fall mantels at my previous home.  They're easy to make – simply purchase a container of mixed beads at a craft store and string them onto fishing line.  Click HERE to see the mantel that I originally used the beads on, but overlook that I spelled m-a-n-t-e-l incorrectly!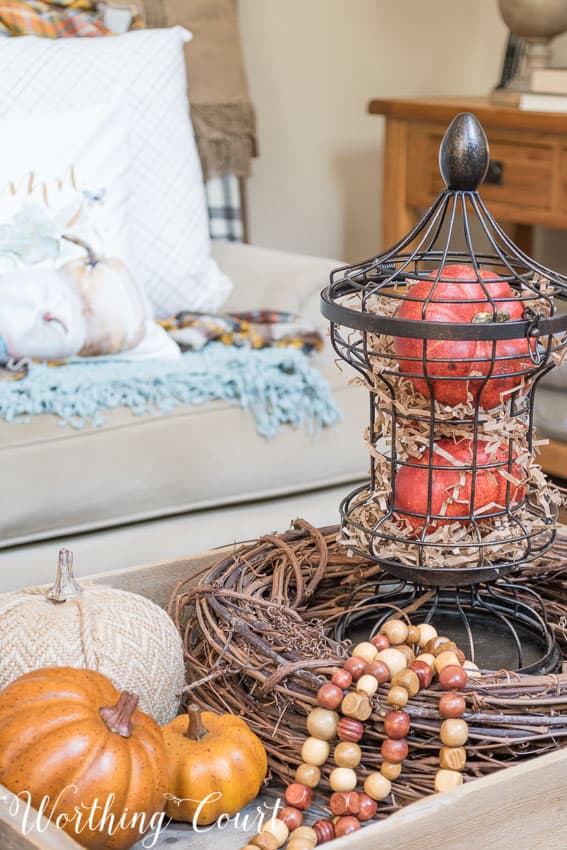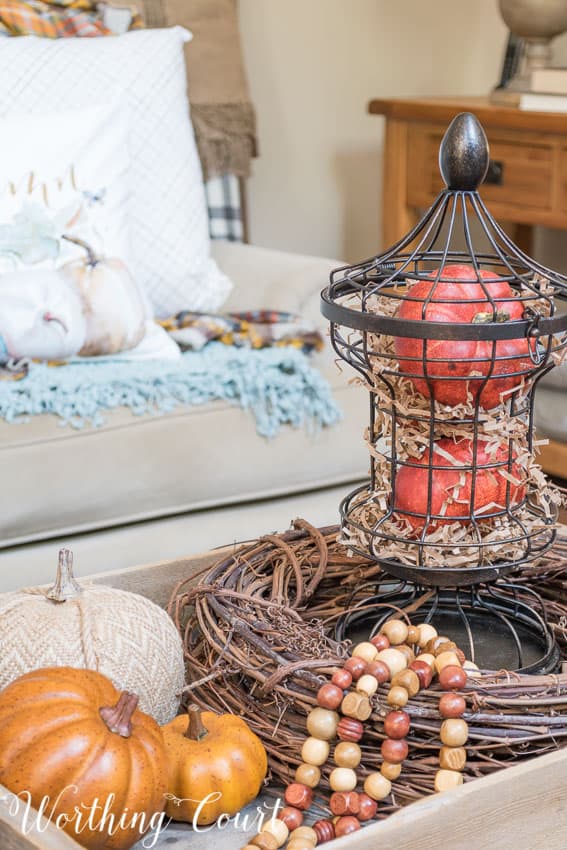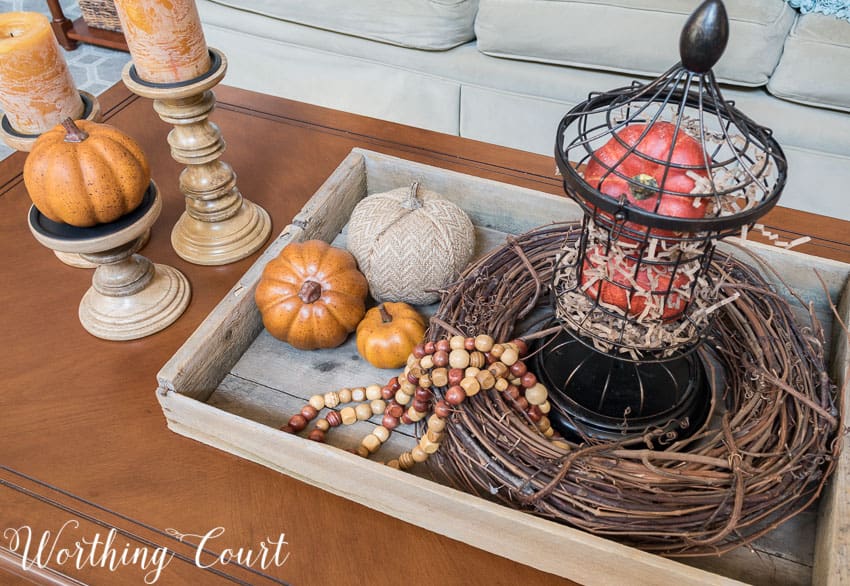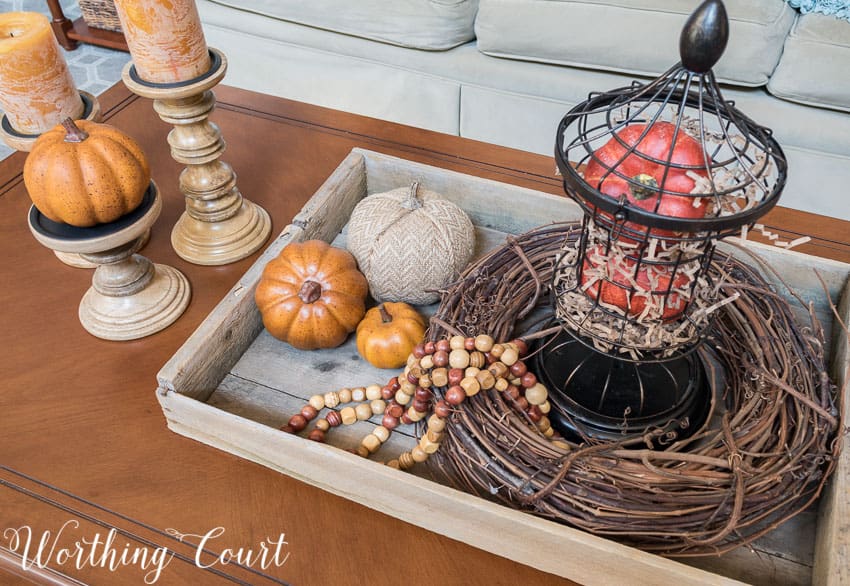 The candlesticks help to finish the fall vignette off and to keep the tray from looking lost on the coffee table.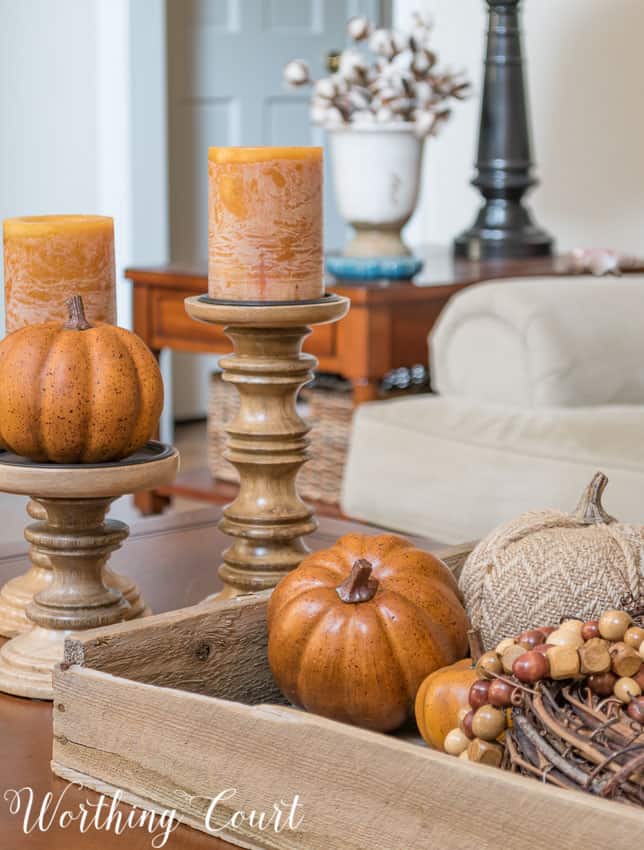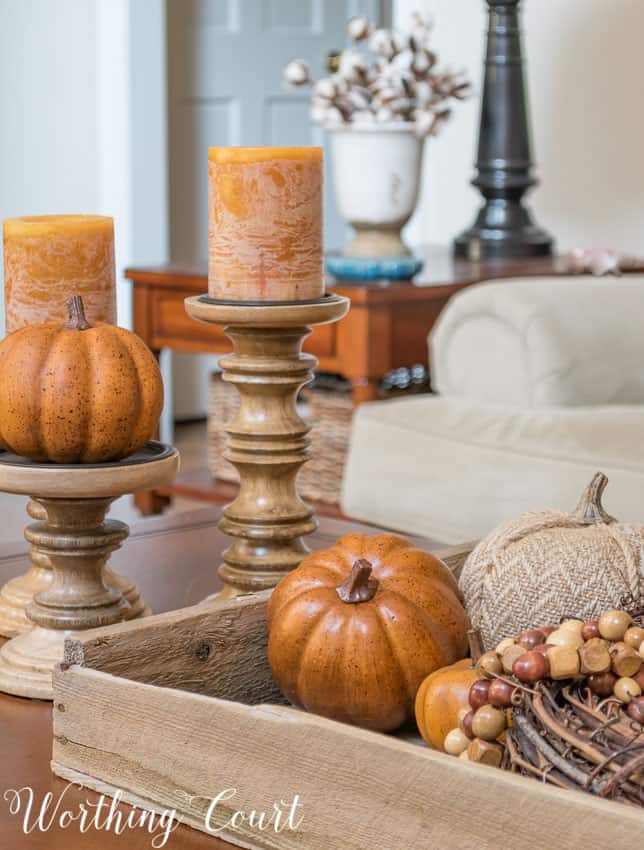 For look #2, I used a rather large glass terrarium and filled it with small pumpkins and cotton.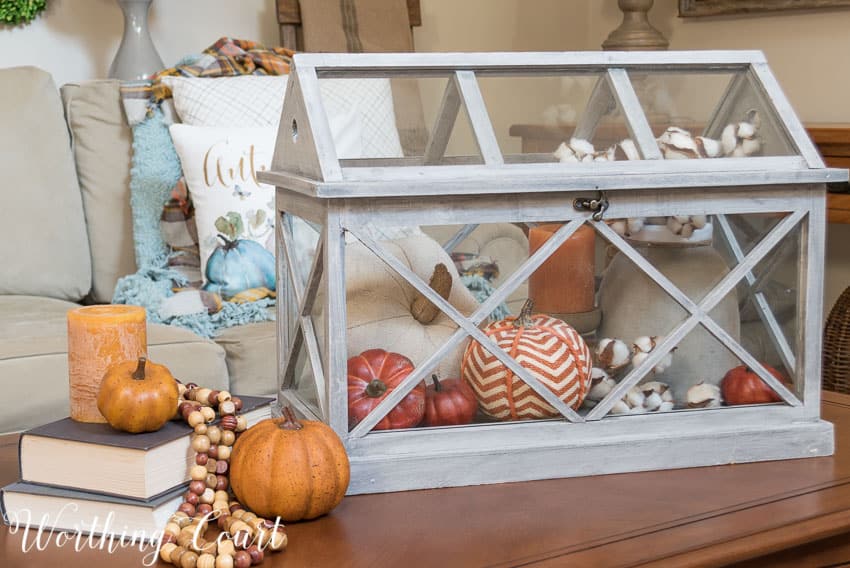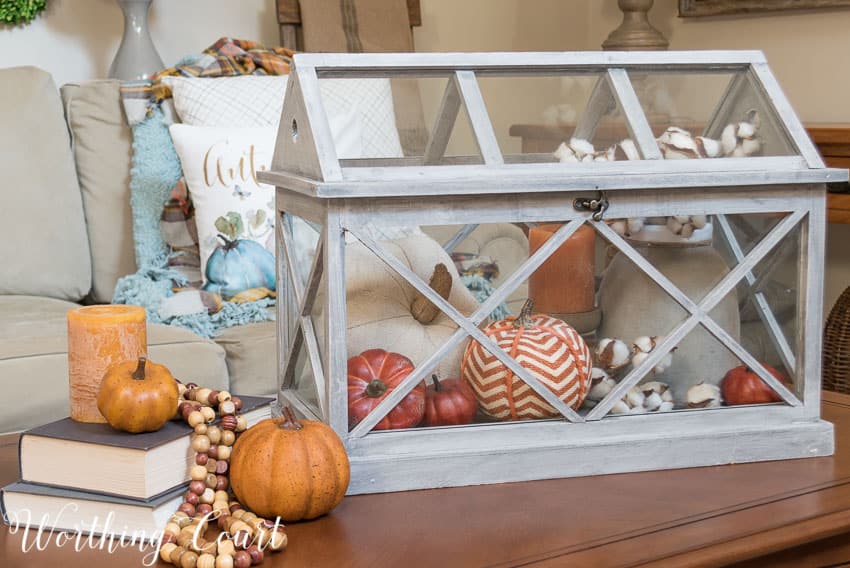 Terrariums are so much fun to play with!  You can fill them with anything for any season.  Mine is on the big side, so it holds quite a bit.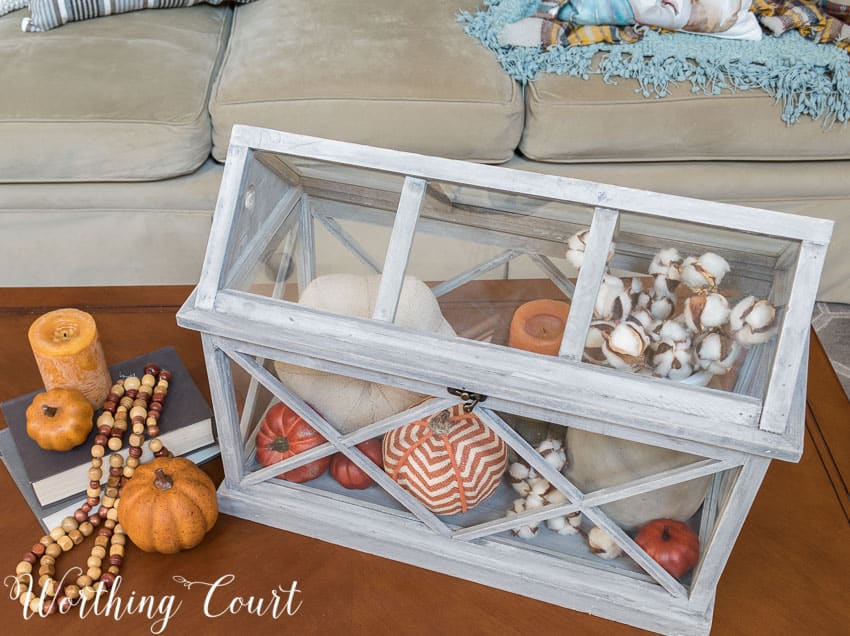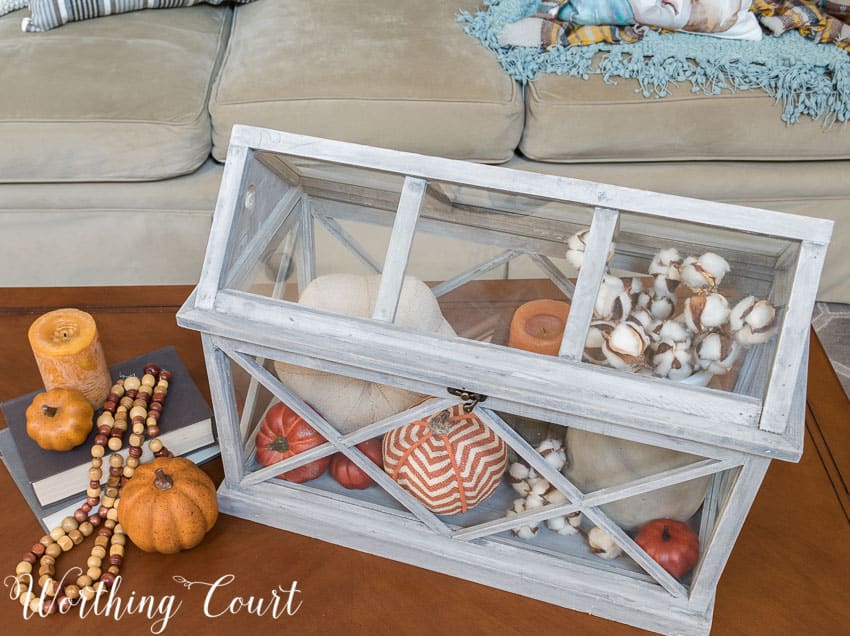 My wooden beads made an appearance again along with a couple of books and pumpkins.  Those beads are so versatile!  I can't believe that I almost gave them away when we moved.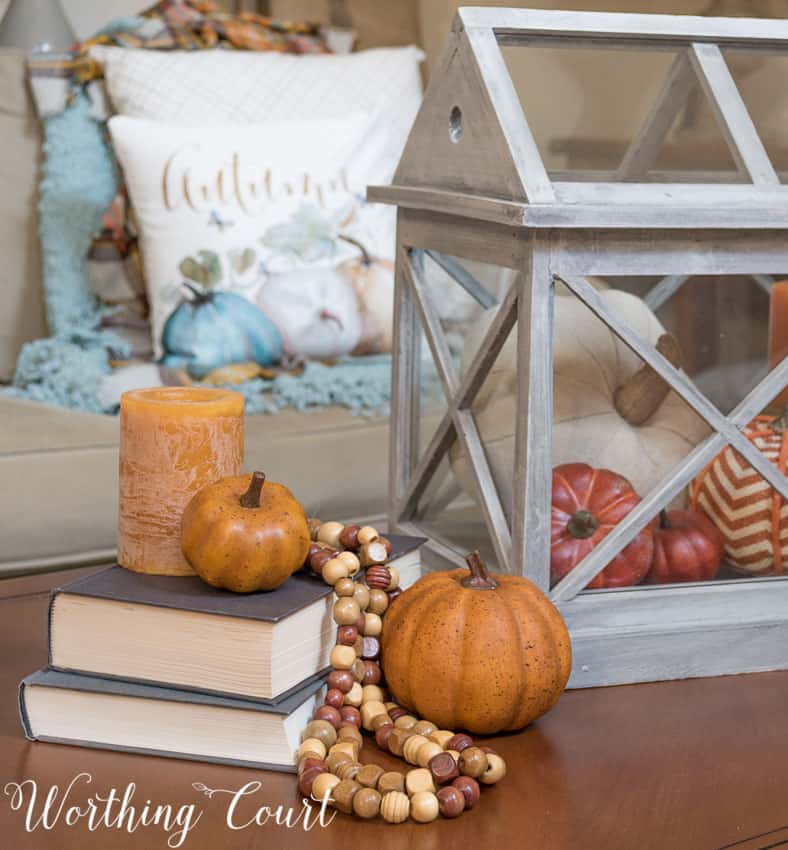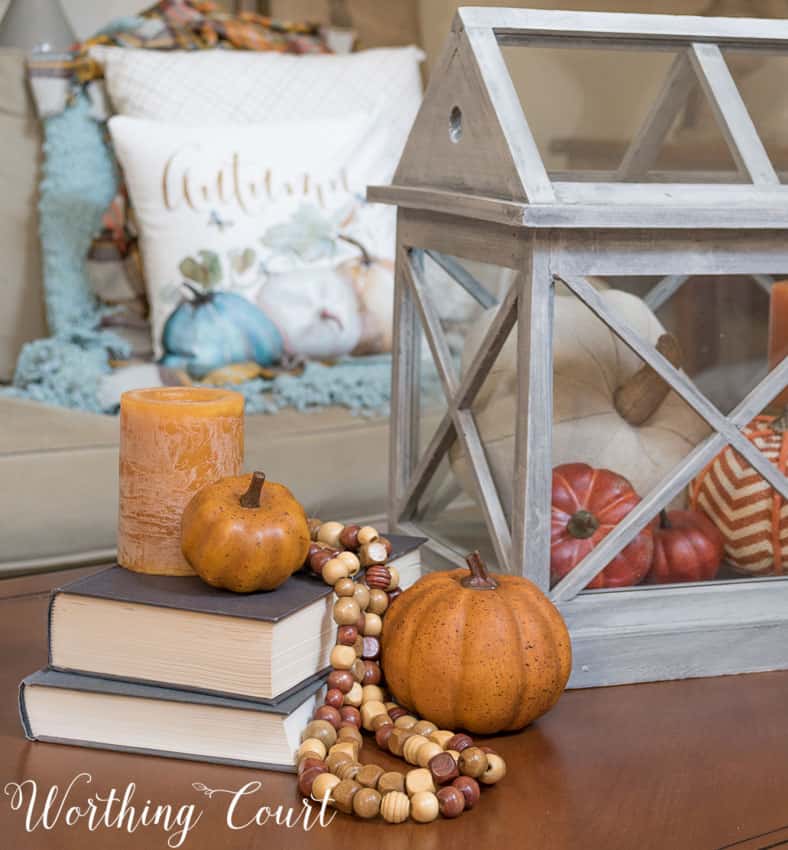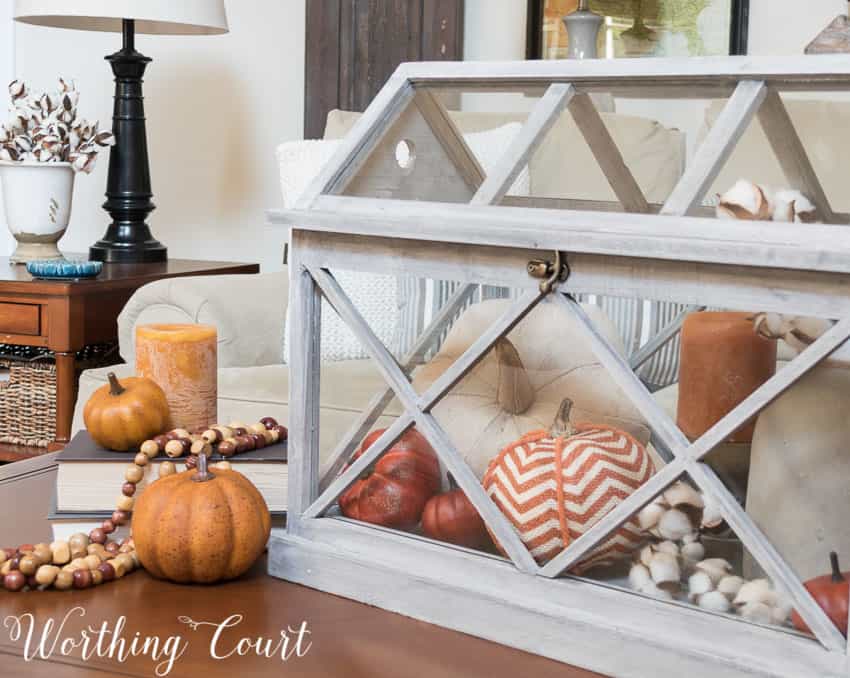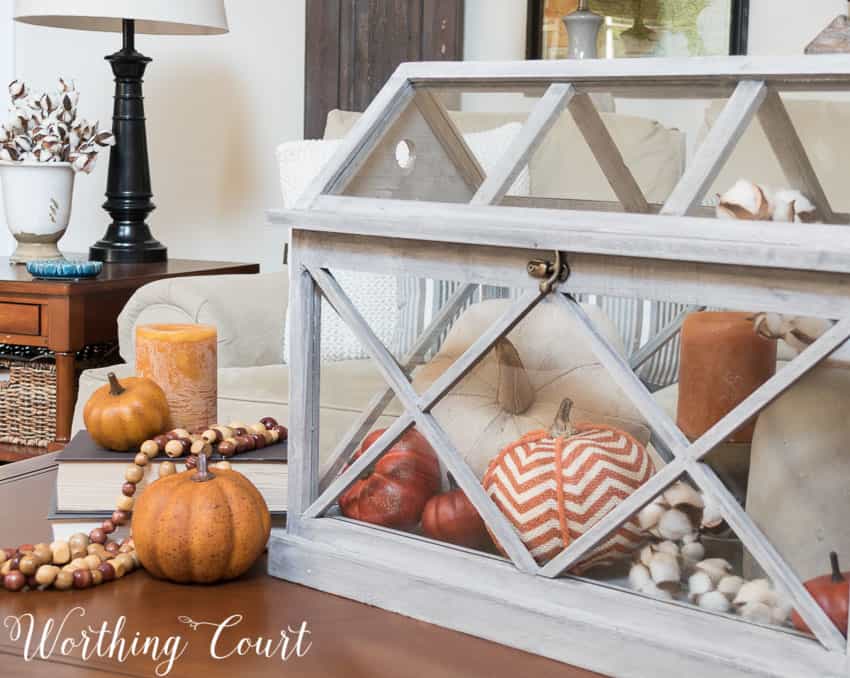 Alright.  Want to see which gorgeous look I kept on the coffee table?  Do you think it's look #1 or look #2?  Drum roll…..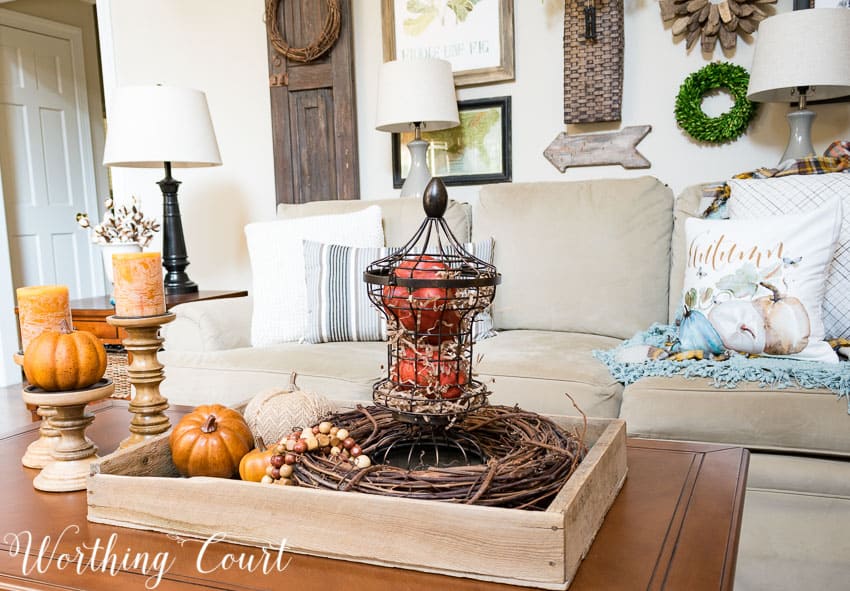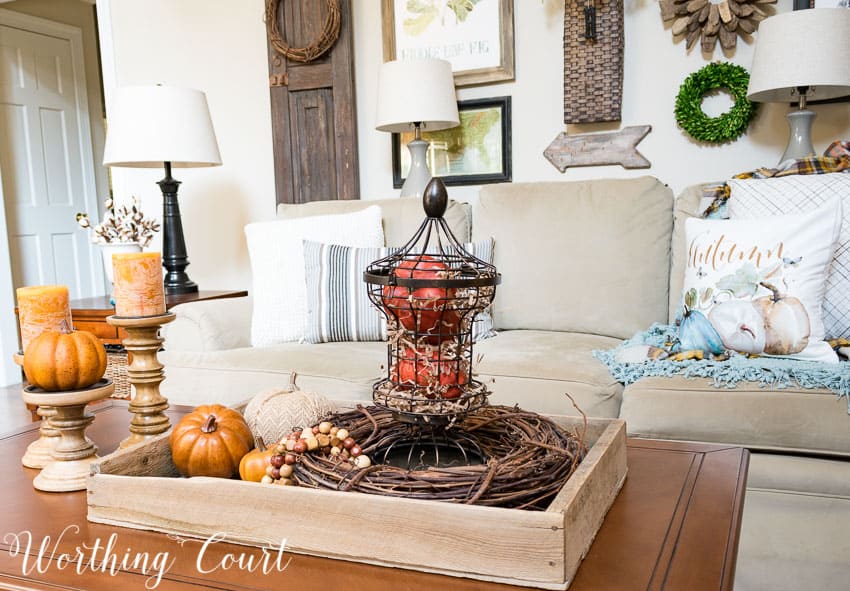 I love the look of BOTH vignettes, but in the end, this one won the day because the terrarium was just a little too tall for me to converse with who ever happens to be sitting on the opposite side of the room.  I'll be sure to show where the terrarium wound up another day, but if you have sharp eyes, you just might spot it in one of these photos!
I hope you were inspired on  how to style a coffee table for fall!
IF YOU'RE LOOKING FOR FALL COFFEE TABLE INSPIRATION, PIN IT FOR LATER!


Sharing at THESE great parties.