Enjoy this July 4th decor in the dining room of our previous home.  Click HERE to see my brand new farmhouse dining room!
Just in time for Memorial Day, I'm here with a patriotic decorating idea that will carry you through from now until July 4th.  I still love this vignette today as much as when I originally posted it in 2013 (when we were still in our last house).  I'm sharing again because my readership has grown quite a bit since then and I'm sure some of you didn't see it.
In addition to making a
patriotic wreath
to carry me through Memorial Day, Flag Day and July 4th, I also put together a little fun patriotic vignette on the sideboard in my
dining room
.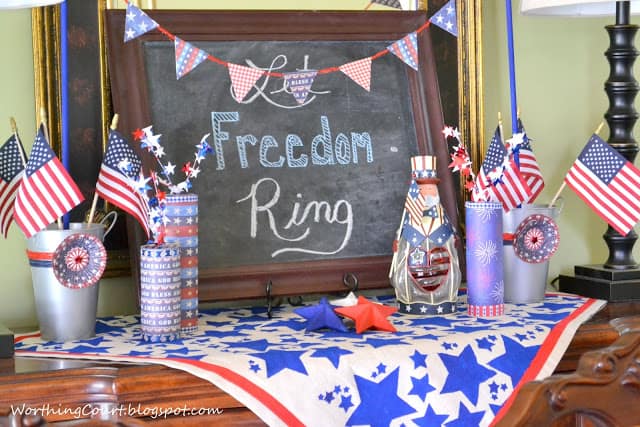 My favorite patriotic decor always has a vintage Americana look to it and that's what I was aiming for with my July 4th vignette.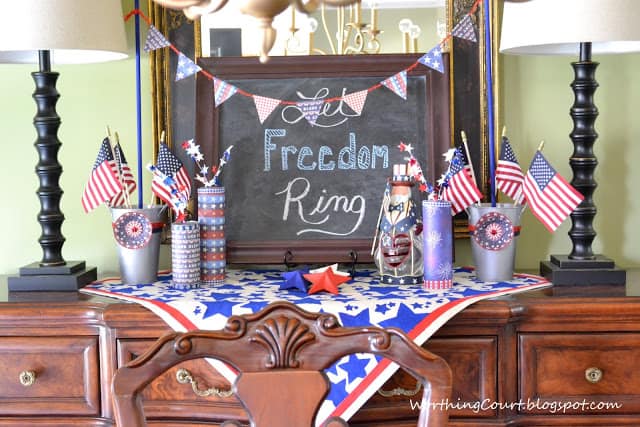 The base of the whole display is a hemmed square of drop cloth fabric, that I taped off and painted to create the red stripe around the perimeter and then used a star stencil to add all of the blue stars.  I just used plain old craft paint to do all of the painting.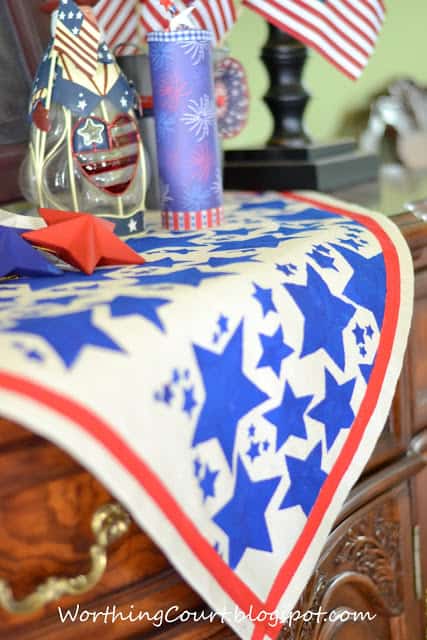 The buckets holding the dowels for the mini-bunting are Dollar Tree finds. I spray painted them a brushed nickel finish and filled them with dried beans to hold the flags and dowels for the bunting.  I then wrapped them with red and blue twine and added little flowers that I created by layering a couple of cupcake wrappers.  A little star shaped gem glued to the middle adds more dimension.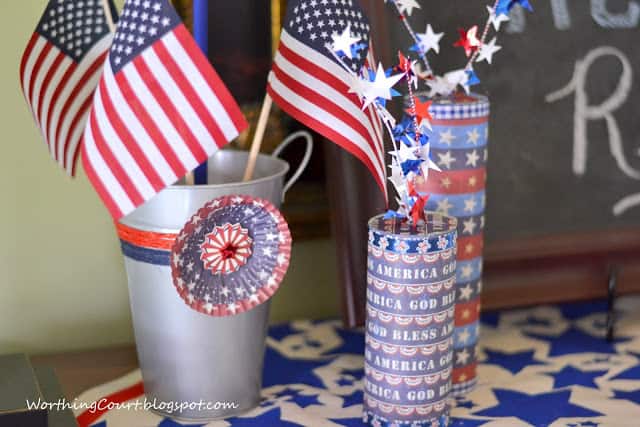 The bunting itself is made with red twine and double-sided flag shapes that I cut out of scrapbook paper.  Once the shape is cut out, simply fold it in half over the twine and secure with a spot of glue.  The bunting is suspended on painted wooden dowels that I picked up at the craft store.  Sooo easy and sooo cute.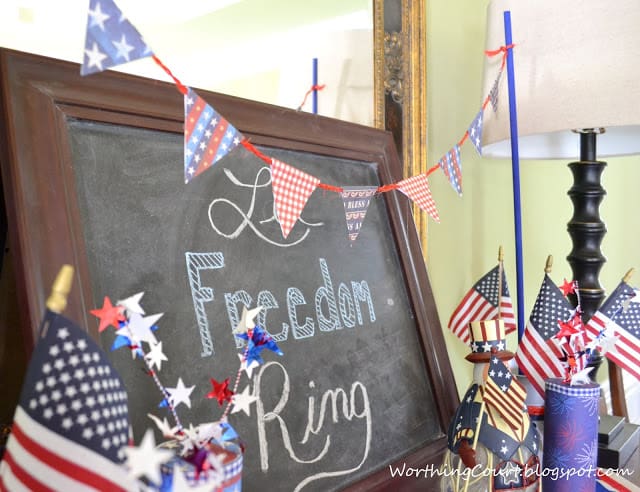 I don't think that the whole vignette would look nearly as cute and pulled together without the bunting.  It just makes it, in my book.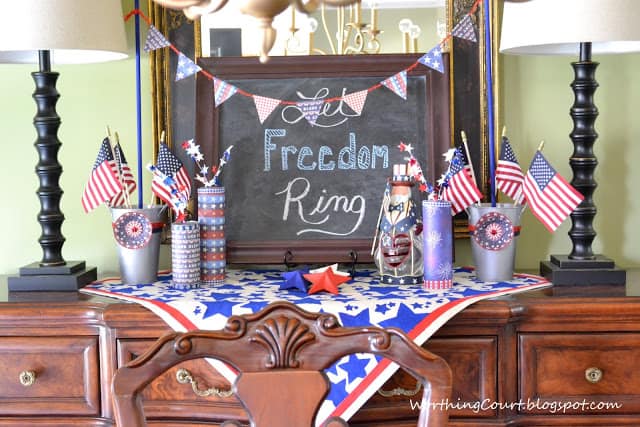 Old faithful Uncle Sam has been hanging out around our house for several years.  Maybe he's a little kitschy, but I still think he's awfully cute.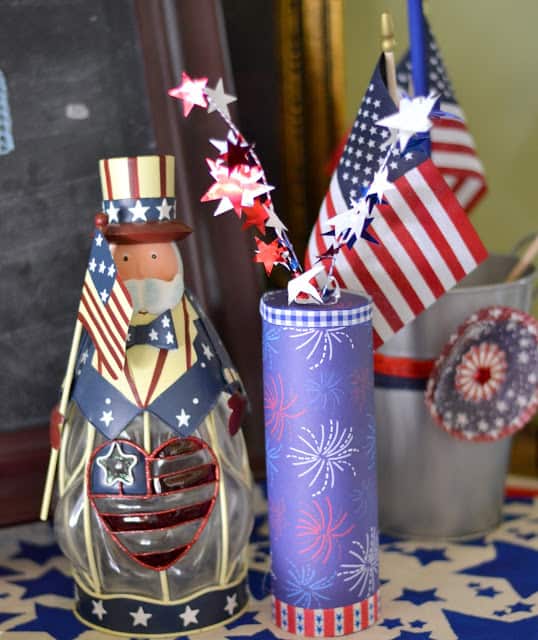 I sure do wish that I could be a chalkboard artist extraordinaire like so many of you, but alas, I am not.  This is about the best that I can do.  #notenoughpatience and #shakyoldhands  I've since learned an easy peasy way to get perfect chalkboard art every time.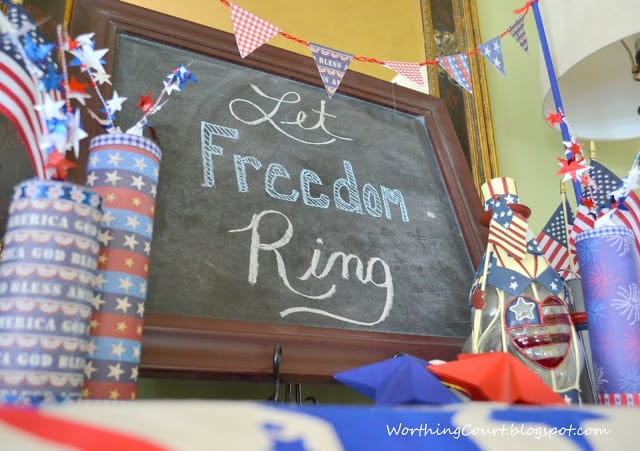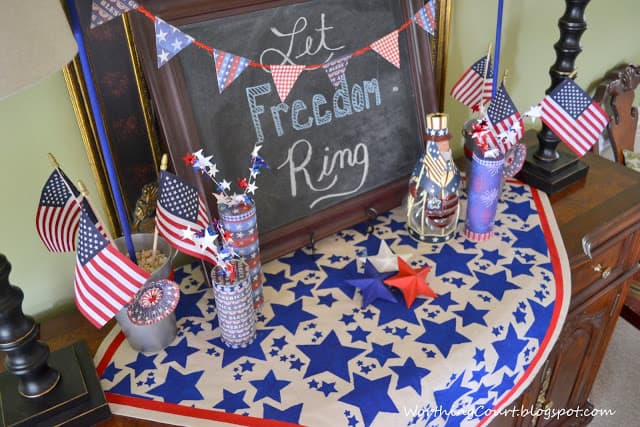 I hope that each of you have a fun-filled and safe Memorial Day weekend!