Plus Size Fashion After 50 – Classic Black & White
Beautiful and classic black and white fashionable outfits for the over 50 set!
Welcome to the first installment of Plus Size Fashion After 50!
Before we get started, let me say how touched and overwhelmed I was by all of the comments and emails that everyone sent to me showing your interest in this topic.  I wasn't able to respond to each and every one of them, but trust me – I read them all and took them to heart.  Thank you, thank you for your responses.  Many of you got a little personal and shared your personal struggles.  We all have them in one form or another, don't we? Hopefully, you'll come away from these posts feeling supported, encouraged and inspired.
Let's kick off the series with some classic black and white for summer.  A casual outfit that's just dressy enough for church, work or a special outing.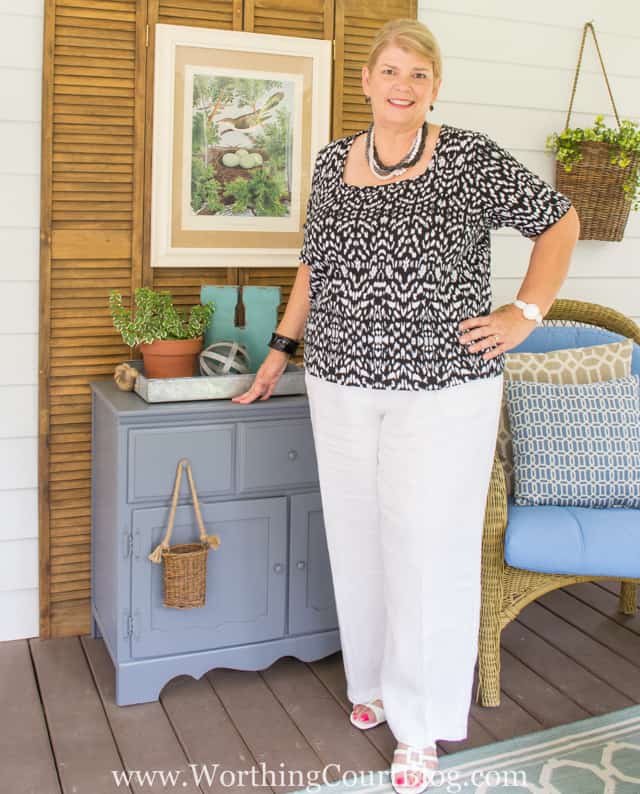 Pin
I'm all about staying cool and comfortable in the hot summer months, so no bulky layers or anything too fussy for me.  White linen pants scream summer fashion.  Pair them with a short sleeved black and white knit top for an easy breezy fashionable look.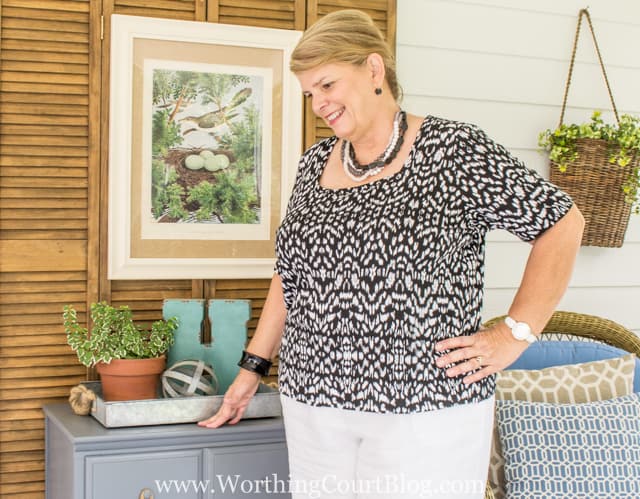 Pin
Just like decorating my home, I try to be frugal with my clothing shopping opting for classic clothing pieces that will stand the test of time.  My favorite places to shop for clothes are TJ Maxx, Marshalls and Belk.  This top is a Jones NY piece that came from Marshalls.  The pants are by Madison and came from Belk.  The shoes are simple white stappy sandals by Life Stride and have a 2″ heel.
I enjoy shopping for inexpensive costume jewelry that can totally update an outfit that you might have had for a while.  Charming Charlie's is one of my favorite places to shop for affordable jewelry, but I've recently discovered that Walmart has upped their jewelry game.  Their prices are uber affordable.  In fact, the necklace that I'm wearing came from Walmart and was only $5.  The watch came from Charming Charlie's and the earrings and bangle bracelet are pieces that I've had for a while.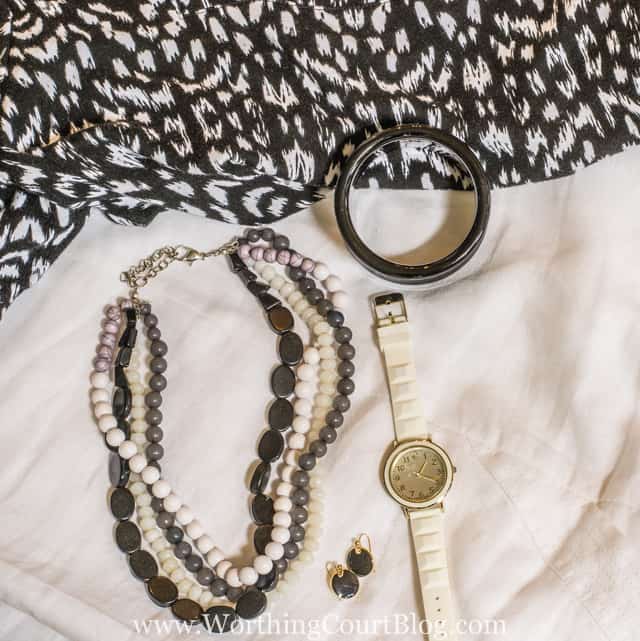 Pin
I love to wear my hair up when it's hot and humid and so muggy outside.  It may look like I have my hair up in a French twist, but it's actually just swept back with my hands then twisted around and held together with a French twist comb.  It's a super easy style that works even though my hair isn't very long.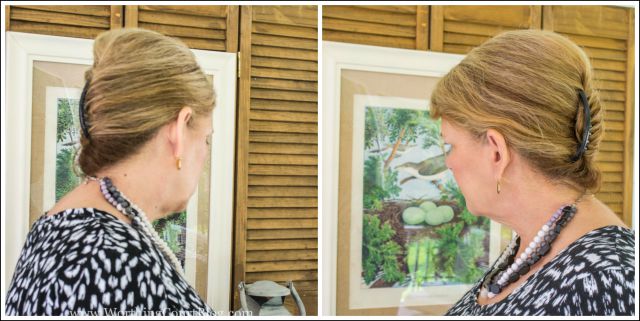 Pin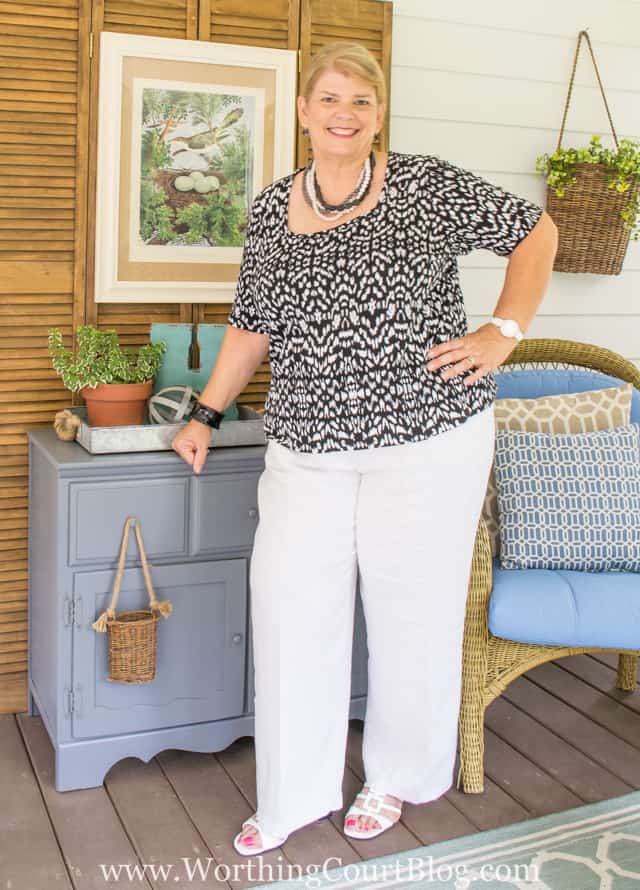 Pin
If you'd like to recreate this same look, I've pulled together some similar products for you. Just click on the item name below the photo to be taken to the website.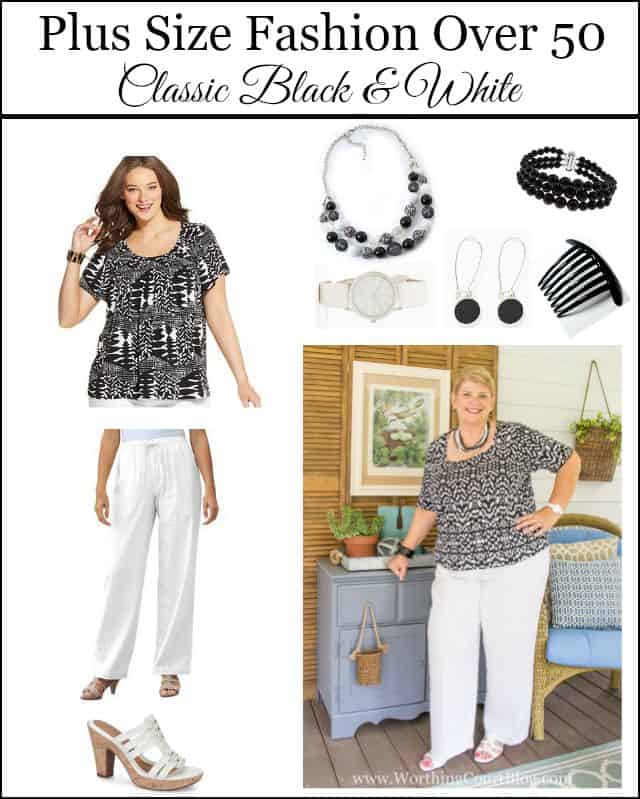 Pin
Top,  Pants,   Shoes,  Necklace,  Bracelet,   Watch,  Earrings,  French Twist Comb
When I first inquired to see if there was any interest in this topic, I mentioned that Pookie and I are working to eat healthier and to get moving.  The first thing that I did was to start creating a weekly supper menu.  This may not sound like a big deal to many of you, but I had gotten into a bad habit of eating out almost every night.  Not that there's anything wrong with eating out – it's just that it's really tough to eat a healthy diet that way.  Plus, I am not a fan of grocery shopping, but sticking to a menu forces me to hit the grocery store about once every week or so.  I'm actually learning to enjoy it.  Go figure.
I've been doing a lot of searching for healthy recipes on Pinterst and came across this one for Zucchini Lasagna.  It is delicious!  It was a bit time consuming to make, but so totally worth it.  I did all of the prep and assembled the lasagna in the morning and popped it in the refrigerator until I was ready to bake it that night for supper.  There were plenty of leftovers for us to eat on for a couple of days.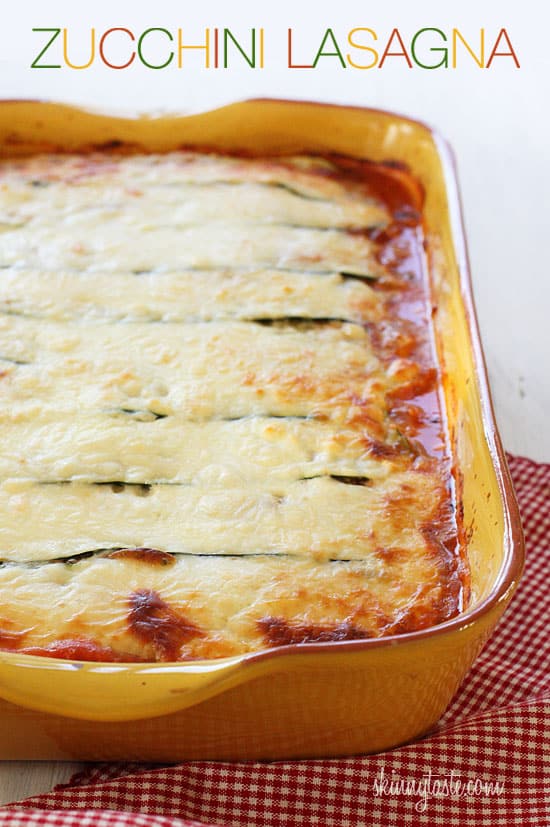 Pin
And that my friends brings me to this month's challenge.  I challenge you to stop eating with no plan in mind.  I challenge you to set aside some time to put together some healthy meals, grocery shop for them and actually prepare them.  It's one of the most important things you can do for yourself!  I'll check back in with you next time to see how you're doing.
I'm sharing at these great parties.