I will show you how to turn your pumpkins into a planter that is filled with fresh pretty flowers!
I'm still up to my eyeballs in cardboard boxes from our recent move.  Will it ever end???
Thankfully, my friend Karen from Dogs Don't Eat Pizza, is stopping by today to share a great last minute way to add quick fall curb appeal to your home.  I love this brilliant idea!
~~~~~~~~~~~~~~~
I am the first to admit that I'm a little slow decorating for fall. As they say, though, better late than never, right? Today I have a great home project for adding Halloween curb appeal to your home – it's quick and can be done last-minute!
I had bought some yellow mums, but I wanted to do something more creative than just put them in our regular, non-festive planters. Then it came to me…a pumpkin is a perfect shape for a planter! Voila: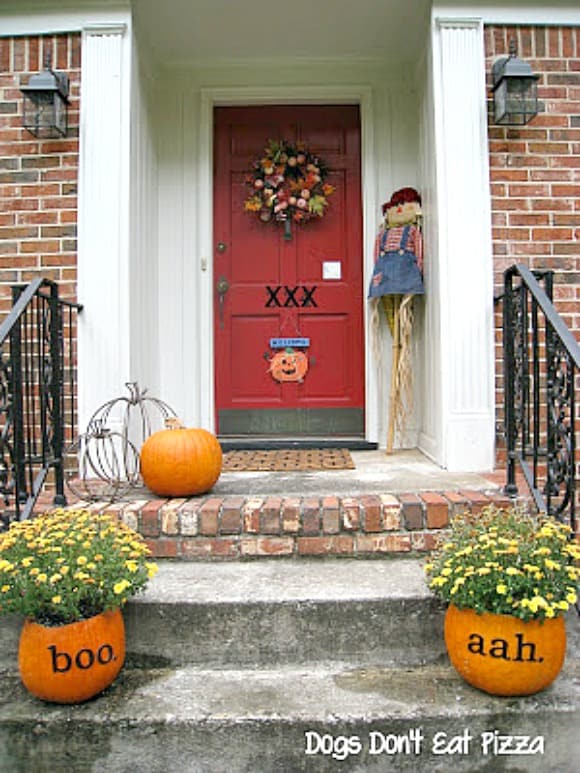 These clever pumpkin planters are super-easy to make. The whole process took me less than an hour. Here's how I made them:
First, use a sharp knife (be careful!) to cut the top off the pumpkin. The size of your mum (or other plant) should determine how wide you want the opening to be, but I wouldn't cut more than 1/3 of the pumpkin off, for stability's sake. Don't worry if the top edge isn't even; it won't really show with the plant in the pumpkin.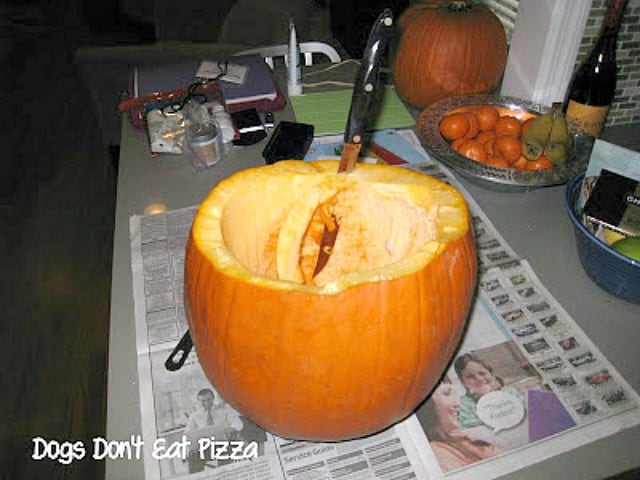 Then, scoop out the pumpkin innards (seeds and pulp). I also cut around the sides of the pumpkin to narrow the sides (see how knife is positioned, above), so that the mum plant could easily fit in it. Be careful not to let your knife go through the sides or bottom of the pumpkin.
Then, I wanted to add some bold letters to the pumpkin. I thought about using paint, but I had these great adhesive letters that were the right size and font, so I used those. Also, I'll explain in a bit why paint might not be the best option here; adhesive, removable letters was what I used.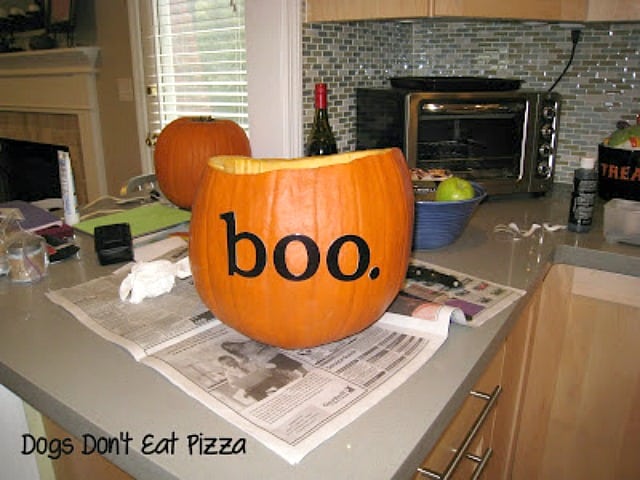 Then I took the pumpkin outside, planted the gorgeous mum in it, and poof! Instant pumpkin planter: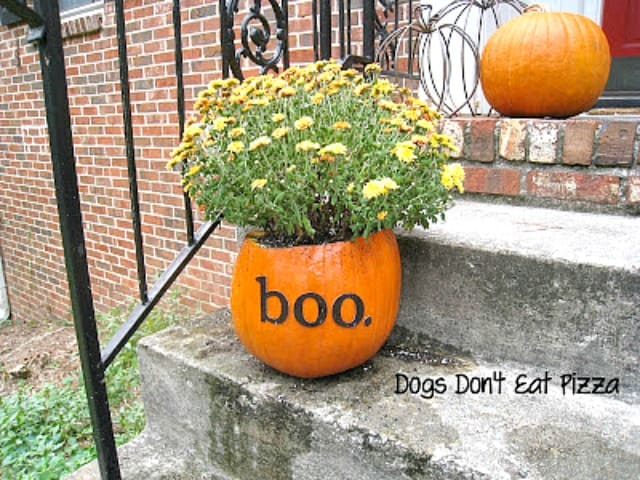 I then did the same thing for the second decorated pumpkin:

Here's what I love about this project:
(1) If you don't already have planters, this is a festive and inexpensive alternative. The pumpkins were a little more than $4.00 each (local pumpkins at Whole Foods, 3 for $13) and I had the letters and extra potting soil already.
(2) Except for the letters, it's all compostable! After the mums have faded and fall is behind us, you don't need to put this in the trash. Take the letters off, cut up the pumpkin, and throw it and the plant in your compost bin. If you don't have a compost bin, you can put it with your yard trash and they will put it in their compost pile – you don't even have to cut it up. That's why removable letters are better here; I can remove them and then compost the entire thing. I wouldn't want to put paint in the compost bin.
(3) It was easy. As I mentioned above, the whole project took less than an hour.
(4) This is the perfect project to do last-minute. The pumpkins will eventually decay, so you can't have these out for more than a few weeks, at most.
So, grab yourself some warm apple cider, get some pumpkins, and get planting!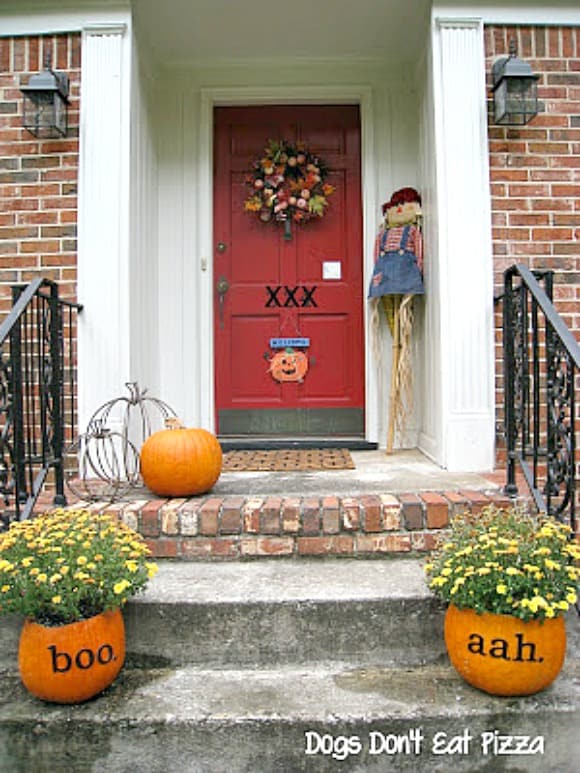 Thanks to Suzy for letting me stop by today!
~~~~~~~~~~~~~~~
Thank you for sharing this great idea with us, Karen.  I'm going to give this one a try!
You'll want to be sure to go visit Karen.  Dogs Don't Eat Pizza is chock full of DIY, upcycling and repurposing projects and all sorts of fun!