Recipe For Grilled Shrimp Tacos
I am sharing a recipe for the best grilled shrimp tacos for the Mexican food lover who appreciates a healthy meal.
Y'all – I have a confession to make.  I love Mexican food.  No, I mean, I LOOOOVE Mexican food!  Pookie and I hit one of our local Mexican food restaurants one or two times every week.  I'd probably go more if I could.
I've learned over time though, that I can make equally appetizing Mexican dishes at home that are much healthier.  As much I love all of the gooey melted cheese that usually tops whatever I order at a restaurant, I know that it isn't good for me.  And, as much as I love Mexican food and seafood, it took me a long time to warm up to the idea of putting the two of them together.  Well…fast forward to me trying these delicious shrimp tacos – now I'm hooked!


Pin
This recipe is adapted from the Mix and Match Mealplanner/Cookbook (Amazon affiliate link provided for your convenience, at no extra cost to you.  See my full disclosure policy HERE.)  They aren't paying me to endorse this cookbook, but my daughter (who has two children of her own), loves this recipe book because it's filled with easy, tasty, family friendly recipes.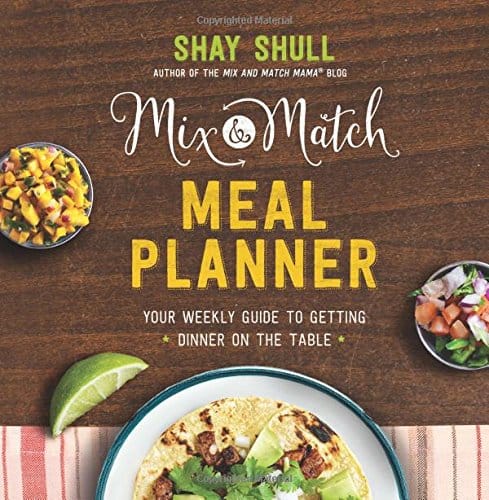 Pin
Pssst!  Before we go any further, I want to give you a heads up.  Make sure that you scroll all the way to the bottom of the post for a special message!
UPDATE: Click HERE to enter to win a $100 Visa giftcard.  Simply comment to enter!
Grilled Shrimp Tacos
Did you make this recipe? Leave a review!
---
Ingredients
MAIN INGREDIENTS
1

lb

peeled and deveined shrimp - try using prepackaged frozen shrimp for convenience

2

tablespoons

chili powder

1

package cabbage/slaw mix - found by the prepackaged salads

1

lime

quartered

Ranch dressing

Tortillas
OPTIONAL TOPPINGS
sliced avocado

diced red onion

cilantro

sliced radishes

salsa

grated cheese

crushed tortilla chips or strips
Instructions
Preheat outdoor grill or indoor grill pan to medium high.

Place shrimp on a skewer or in a grill basket and grill on each side for a minute or two, until nicely charred.

Add tortillas to the grill while the shrimp is cooking. Grill until lightly toasted.

Remove the shrimp and tortillas from the grill and assemble the tacos.

Drizzle a little Ranch dressing and a squirt of lime juice onto each assembled taco.
Notes
Adapted from Mix And Match Meal Planning
---
DISCLAIMER: I am not a Nutritionist. I rely on information from third parties to provide all nutritional information, which can vary depending upon brands of products used.
In addition to the ease of prep and tastiness of this taco recipe, I love the versatility of it.  If you aren't a shrimp lover, try substituting fish such as grilled tilapia in its place.  The recipe calls for adding a slice of avocado to each taco.  I prefer to eat my avocado on the side, so I add a little salsa instead.  Use your imagination and you can create a healthy dish that your family will totally love!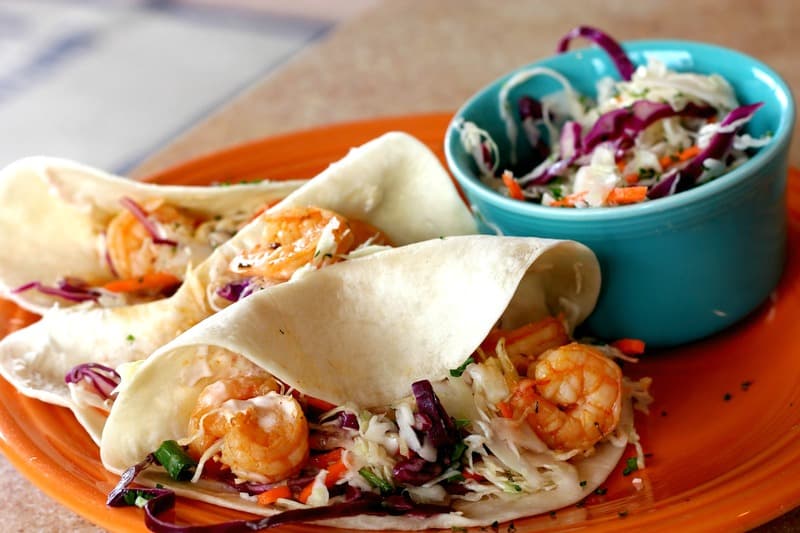 Pin
These tacos would make a great addition to any party too.  Set up a taco bar so that each person can customize their taco to their own taste.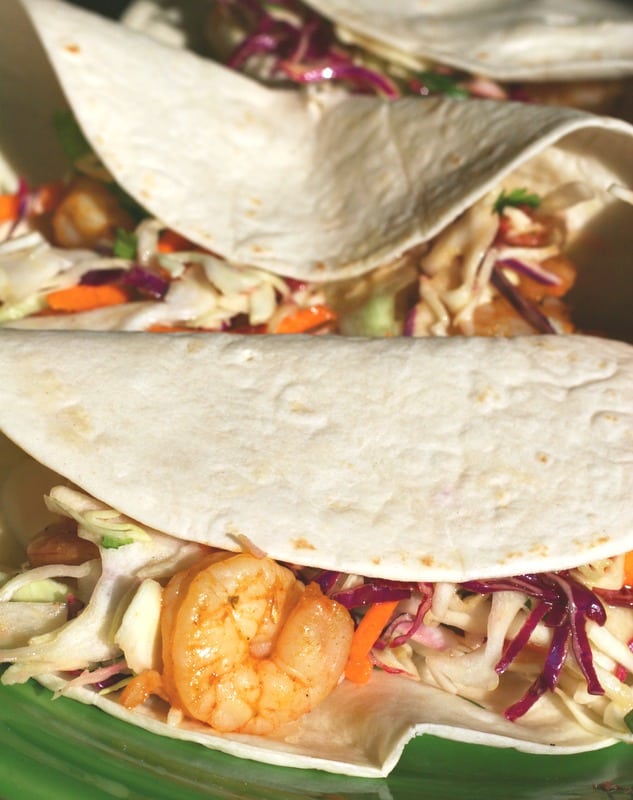 Pin
So, tell me – what's your favorite taco combination?
PIN IT FOR LATER!


Pin
And now for that special message – you'll want to make sure that you come back this Friday for a very special surprise!  If you haven't already signed up for my newsletter, now would be the perfect time to do it.  Sign up directly below.  I would hate for you to miss out!
[et_bloom_inline optin_id="optin_1″]
Sharing at THESE great parties.