Recipe: My Favorite Lasagna
I love lasagna.  It's probably my favorite Italian dish and one of my favorite comfort foods.

When I'm feeling lazy, but have a taste for lasagna, sometimes I'll just throw a frozen lasagna from Lean Cuisine into the microwave. 
But there are times, when doing that just won't cut it.  😀
This is my go to recipe when I want the real deal.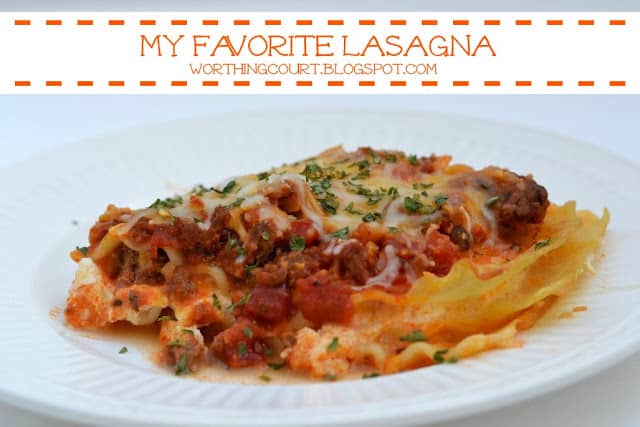 This is a healthier, lighter, and lower fat lasagna recipe, but you can easily sub regular fat items if you prefer.
You can make it even healthier by using whole grain lasagna noodles.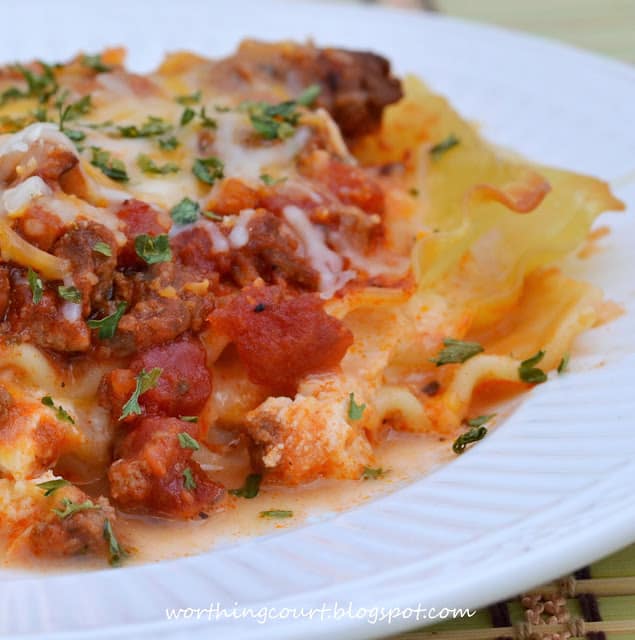 Another tasty variation is to add two layers of sliced pepperoni pieces as you're assembling the lasagna.
================================================

1/2 lb extra lean ground beef               1 medium onion, diced
1 10oz pkg white mushrooms, finely chopped
     1 small green bell pepper, diced
    2 cloves garlic, minced                        1 15 oz can tomato sauce
1 14.5 oz can petite diced tomatoes
1 cup water
1 – 2 tblsp dried, chopped parsley        3/4 tsp dried Italian seasoning
1/4 tsp salt    1/4 tsp onion powder
1/4 tsp garlic powder      1/4 tsp ground black pepper
1/4 tsp sugar      1/4 tsp paprika
1/4 tsp cornstarch    1/4 tsp cayenne pepper    2 bay leaves (optional)
1 1/2 cups low-fat cottage cheese         1 cup fat-free ricotta cheese
1/2 cup grated fresh Parmesan cheese
1 large egg        1 large egg white
1 cup shredded low-fat mozzarella cheese
1 cup shredded swiss cheese
1 cup shredded low-fat sharp cheddar cheese
3 tlbsp low-fat cream cheese, cut into small bits
9 lasagna noodles, prepared according to package directions
Cook the ground beef, breaking it up into small pieces, until it is browned, 3 – 4 minutes,  Add the onion, mushrooms and bell pepper and cook until the vegetables are tender.  Add the minced garlic last and cook until any pan juices are evaporated.
Add the tomato sauce, diced tomatoes, water and dried seasonings to the beef mixture.  Bring to a boil.  Reduce the heat, cover and simmer, stirring occasionally, until the sauce is slightly thickened, 20 – 25 minutes.  Remove from heat and discard bay leaves (if used).
In a separate bowl, combine the cottage cheese, ricotta cheese, Parmesan cheese, mozzarella cheese, cheddar cheese, egg and egg white.  Toss together until well blended.
Lightly spray a 9″ x 13″ casserole dish with cooking spray.
Spread 1/4 of the sauce mixture over the bottom of the casserole dish.
Top with 3 lasagna noodles, lying side-by-side.
Spread 1/2 of the cottage cheese mixture over the lasagna noodles.
Evenly spread 1/3 of the dry cheese mixture over that.
Add 1/2 of the cream cheese bits and another 1/4 of the sauce.
Layering 3 more lasagna noodles, the remaining cottage cheese mixture, the remaining cream cheese bits, 1/3 of the dry cheese mixture and 1/4 more of the sauce.
Top with the remaining 3 lasagna noodles, the remaining sauce and the remaining dry cheese mixture.
Loosely cover with foil and bake for 30 minutes at 350 degrees.
Uncover and continue baking until cheese melts and the lasagna is heated through and bubbling.  About 15 – 30 minutes longer.
Allow to stand for a few minutes before cutting and serving.
==========================================
Enjoy!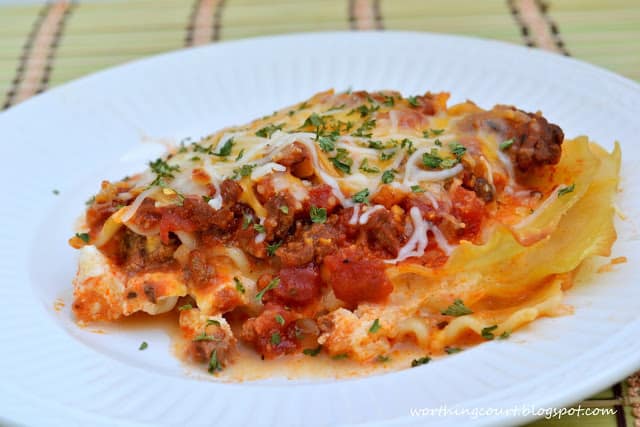 And my Easy Herbed Breadsticks are the perfect accompaniment!