Recipe: Pimento Cheese Bacon Burgers
This amazing burger is filled with pimento cheese, and lots of bacon!
When warm weather rolls around, cooking on the barbeque grill is always one of the things at the top of my priority list.  It never fails to bring back sentimental memories of wiling away an afternoon out on the carport, chatting with family and friends while listening to the sweet sound of the kiddos playing their games in the background.  No one wanted to see those wonderful afternoons come to an end, so they nearly always stretched into the evening – when wonder of wonders, the grill would make it's grand entrance!
But other times, we wanted to have a tasty filled hearty burger.  Yum.
All those kiddos are grown up now and the location is different, but those memories must have stuck with them because now they're the ones who enjoy visiting with us people of a certain age (ahem) while listening to their kiddos at play in the background. This pimento cheese bacon burger recipe is easy to prepare and is perfect for those occasions.  You might think that it is nothing more than a grilled hamburger with pimento cheese on it.  But what it really is, is a grilled burger that is a delight to the taste buds.
The secret lies in the cayenne pepper in the pimento cheese.  I like to add enough to give the cheese a little kick!
Just look at that ooey-gooey cheesy goodness.
The only mistake that I made when making this particular burger was not adding more pimento cheese!  😉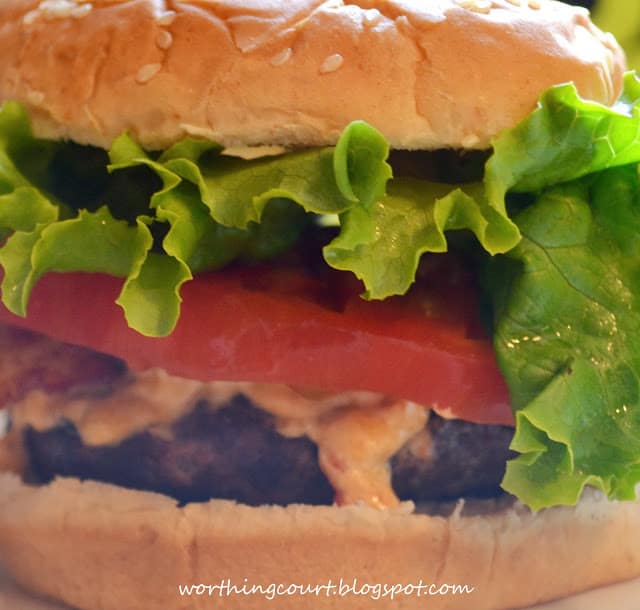 Yield: 8 hamburgers
INGREDIENTS 
For the pimento cheese:
2 oz. cream cheese               1/4 cup mayonnaise
1 cup sharp cheddar cheese, shredded          1-2 oz. jar sliced pimentos, drained
Salt and cayenne pepper to taste
(Increase the cayenne pepper to add some kick!)
For the burgers:
2 lbs. ground chuck
Salt and pepper to taste
16 strips cooked bacon
Green leaf lettuce
Tomato slices
Hamburger buns of your choice
DIRECTIONS
Process or stir the cream cheese, mayonnaise, cheddar and seasonings together until well blended.  Add the pimentos and process/stir to combine.
Divide ground beef into eight equal portions and shape into burgers.  Tip: press your knuckle into the center of the raw burger to decrease shrinkage when cooking.
Season the burgers on both sides with salt and pepper.
Grill the burgers on a medium-high temp for 4 minutes.
Flip the burgers, grill for two minutes and add a generous dollop of the prepared pimento cheese.
Cook for 2 more minutes or until your desired level of doneness is reached. Serve the burgers on buns with bacon slices, lettuce and tomato.
I like to add mustard, catsup and mayonnaise too!