One of my favorite additions is this cool rustic/industrial table.
I'm letting you have a little peekaboo at some of the other changes.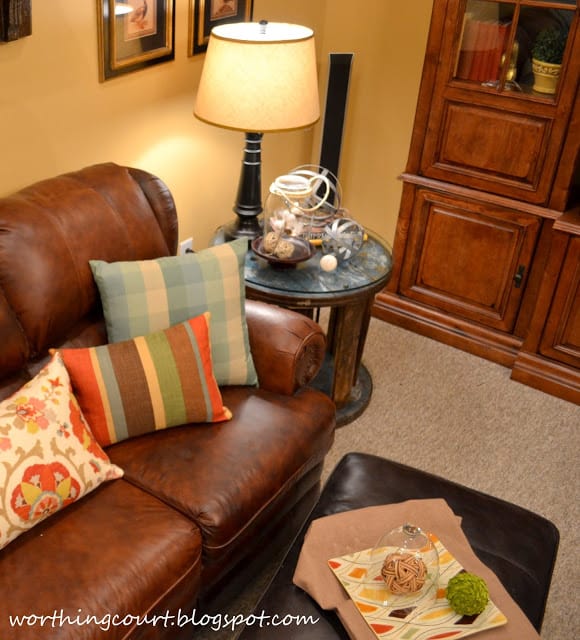 I've been creating a rustic vibe in the media room with a little bit of industrial thrown in so this table fits the bill perfectly!

MY LATEST VIDEOS
I just love these metal orbs that I found at Target. Pookie was amazed at how fast they jumped into my cart.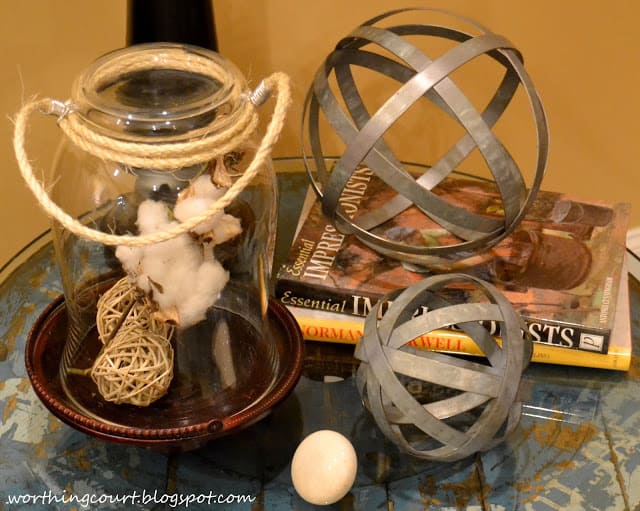 I used a glass container that I already had on hand to create a cloche and gave it a rope handle.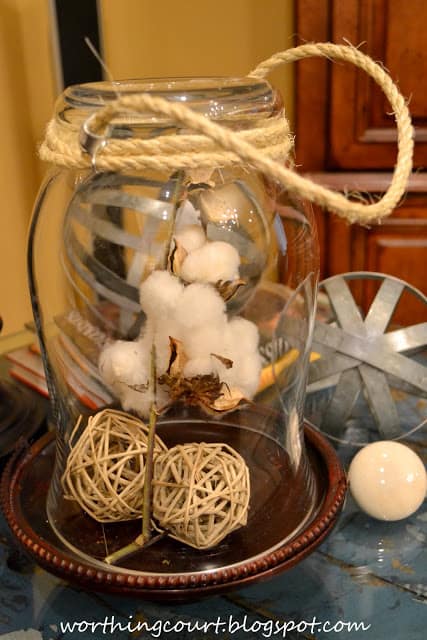 It's easy to see how I did it if you take a closer look.
My "handle" is purely for looks only though.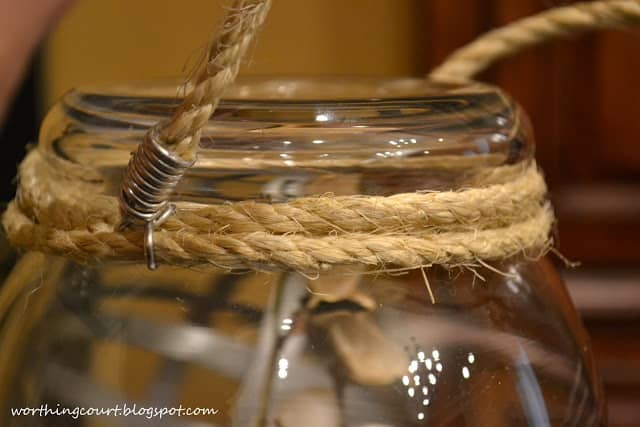 Take a look at the chipped blue paint and old print on the tabletop. Love!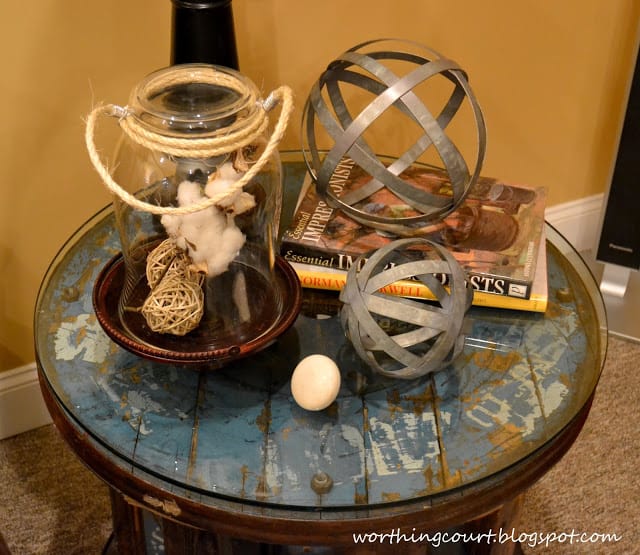 This table is made from a vintage spool that was found in an old mill in the foothills of North Carolina.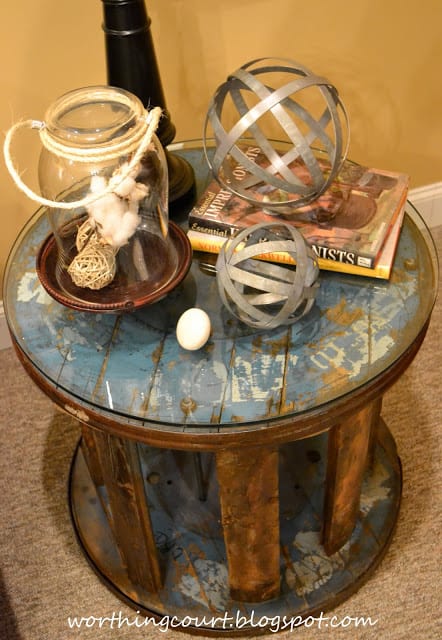 The spools from this plant are dismantled and rebuilt using the original parts, while preserving the original colors and printing that shows dates and locales.
Oops – another peek!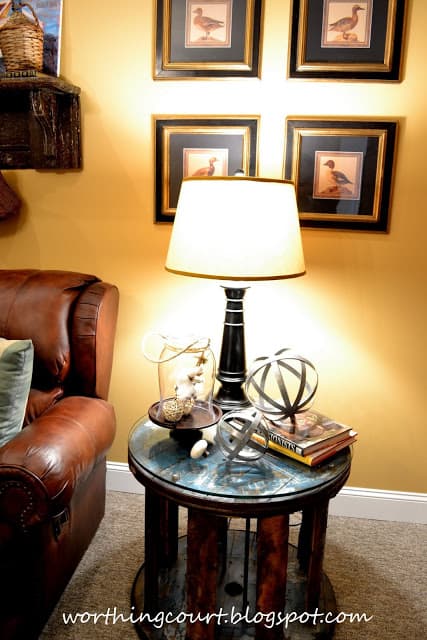 I bought this table from Jeremy and Sharon, who are the owners of Sample Studio/High Point Liquidators. Some of you will remember the two group shopping trips that we went on to his warehouse in High Point, NC where they sell Furniture Market samples.
They have several styles that are available for purchase ranging from $50 – $300 (not including the glass).
Check out some of the ones that they currently have on hand.
Coffee tables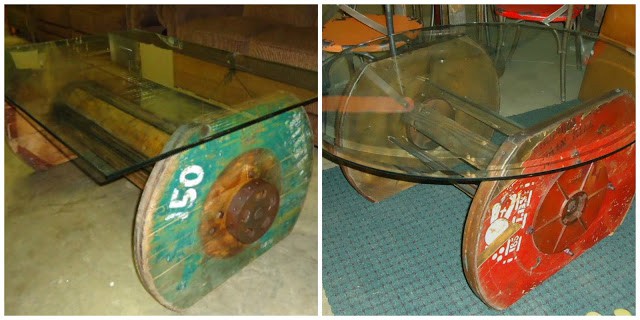 Dining and pub tables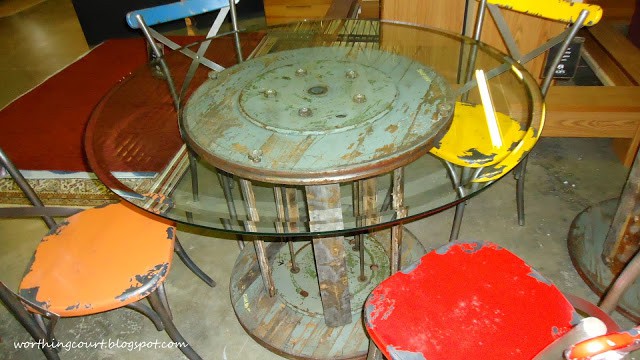 And just ask me what I'd give to have one of these antique carts!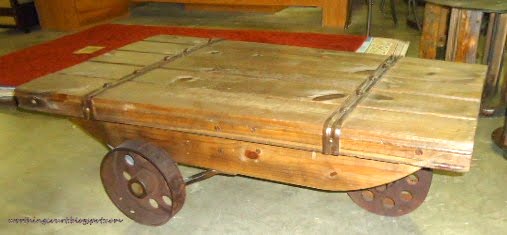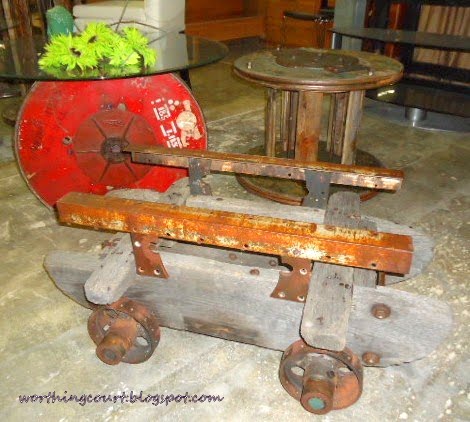 Let me know if you're interested in obtaining one of these and I'll send you Jeremy's contact info.
You can see more of the changes that I've made to the basement by clicking here.
I'll be sharing here:
Metamorphosis Monday at Between Naps on the Porch
Overflowing with Creativity on Sunday at It's Overflowing
I'm so glad you stopped by!
Blessings,
Suzy
Enter your email address to have updates delivered to your inbox:
Delivered by FeedBurner

***This original content was written by Suzy at Worthing Court. If you are reading this post using any method other than email notification or reader subscription, it is not from the author. Copyright (2011-2013) Suzy from Worthing Court @ worthingcourt.blogspot.com***