Hi friends and welcome to another edition of The Scoop!
I'm simply ecstatic that Spring has arrived – now if the weather will just catch up with the calendar, all will be well.
In case you need to catch up, here's what I was up to last week.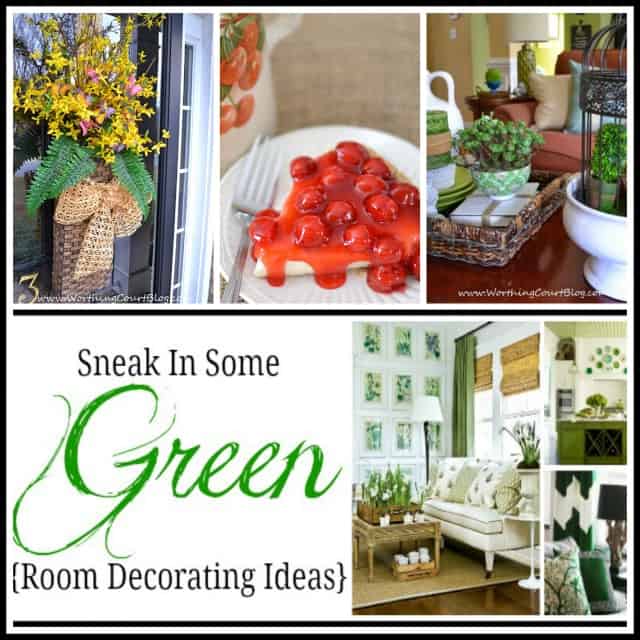 A Spring Door Basket
No-Bake Cherry O'Cream Pie Recipe
A Spring Coffee Table Vignette
Sneak In Some Green Room Decorating Ideas
I'm anxious to see what you've been up to, so let's get started!
~ ~ ~ ~ ~ ~ ~ ~ ~ ~ ~ ~ ~
Welcome back to The Scoop
The weekly linky party featuring the scoop on the best posts from around the web!
More exposure + less time = win win!
We are
Our host this week is…
Debbie at Confessions of a Plate Addict

Happy Spring, everyone…at last!…at least according to the calendar! I'm pinch-hitting this week for our friend Barb at The Everyday Home while she recovers from a wrist injury, so send some positive thoughts her way! As for me, I have been enjoying the fabulous spring weather we have been having here in the South and I have even been inspired to add some spring touches to my porch!
If you know me, you know I am a notorious copy-cat, so I started with this Pottery Barn inspired burlap bunny banner…a nice little change from a traditional wreath for the front door!
And I continued my neutral color scheme with even more burlap, galvanized accents and pops of white for my farmhouse spring porch! I am loving all the texture! 
And now that spring is officially here, I have been looking at the wonderful links on last week's Scoop for some spring inspiration…and I found lots of it! Here is just a peek at some of my favorites…
Faded Charm shared her tips for forcing spring blooms with this beautiful forsythia…one of my spring favorites!
I love these French pots from The Cowboy's Daughter Design Journal!  You will not believe what she used to make them!
Rosemary and Thyme shared this lovely pink tablescape…perfect for a spring brunch in the garden!
Twigg Studios created these elegant and unusual violet and lemon éclairs in her vintage éclair pan. I love the candied violets…so pretty!
I had to smile when I saw these cute paper bunnies from Crafts à la Mode! I am definitely trying this one!

And finally, this beautiful moss wreath with pastel accents from At Home with Jemma just said spring to me!
Now…I can't wait to see what you've got!
Thank you for linking up, friends!