Hi and thank you everyone, for taking time out of your busy schedule to stop by The Scoop today!
We've been slooowly making progress on our house reno and are finally inching toward the end.  Lots of you have been asking what the place looks like, so I plan to take you on a little tour in few days.
Hey – have you ever noticed that when you move to a new abode, you have to figure out how to use your stuff all over again?  That's what I've been going through when it comes to figuring out what Thanksgiving will be like in this unfinished house.  Oy.  I'm still in love with the Woodland Inspired Thanksgiving Tablescape that I put together last year, so I may just repeat a lot of those same elements this go-round.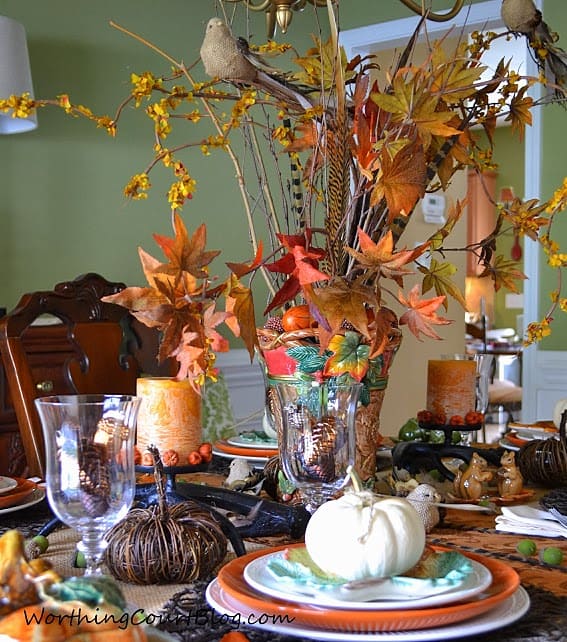 I'm anxious to see what's been keeping you busy lately.  Let's party!
~~~~~~~~~~~~~~~
Welcome back to The Scoop!
The weekly party featuring the scoop on the best from around the web!
We are
Your hostess this week is
  Hello, everyone! Thanks for joining THE SCOOP today!
Are you ready for Thanksgiving and Christmas? I know it's not even Halloween yet but these happy holidays will be here sooner than you think. Now is the time to do a little prep and organizing! This year I've partnered with the fabulous on line site JOSS & MAIN as a HOLIDAY HOSTESS to get you ready for this festive season!!! I'll be sharing all things StoneGable for this great holiday sale! There are many items picked right out of my home!  
  Joss & Main is featuring my living room, dining room and guest bedroom with lots of inspired pieces to choose from!
  The sale begins Tuesday October 28th at 9:00 pm est! Some of the items go fast… so make sure to stop by! Look for more details on StoneGable and on my facebook page.
Now let's get to the party!!! Here are some features from last week.
Lindsay from MY CREATIVE DAYS shared this awesome DIY KITCHEN LIGHT FIXTURE TUTORIAL! These look pretty great, don't they?
And look at LIVING THE GOURMET'S FRENCH APPLE TART… need I say more!
Here's a new way to stuff a pumpkin! Adina from SIMPLE COUNTRY LIFE made these oh, so cute DROP CLOTH PUMPKINS.
LOVE LOVE LOVE Laura from FINDING HOME's YARDSTICK RULER CRAFT IDEAS! So fun!
We all love house tours!!! Here's  Julie's at Little Farmstead FALL HOME TOUR
Now I can't wait to see what you have to share this week!
Thank you for linking up, friends!