Happy Saturday everyone! The temps are finally starting to cool down here in central NC and I'm seeing tinges of fall color in the trees. Yay for that! Is fall your favorite season of the year? Almost everyone I know says that it's their fave. True confession – I love, no I adore, fall with its cooler temps and the gorgeous show that nature provides, BUT I struggle to fully embrace the season. Wanna know why? Because I can't forget that it's followed by old man winter that seems to drag on forever. #notafanofcoldweather
But enough about that. Last month, I left you hanging with our patchwork front door. I know it was a real cliffhanger. Ha! Anyway, I made a decision and pulled the trigger and had our painter come out to give it a couple of coats of gray. Yes, I sort of wimped out of the blues and aquas that I was considering. Two reasons – 1) I was afraid those two colors was interfere with my Christmas decorations (silly, I know!) and 2) our house has a deep front porch and sits a ways back from the street – no matter what color I put on the door, they all looked gray from a distance. Crazy. In case you're curious, the paint that I used is Sherwin Williams Network Gray.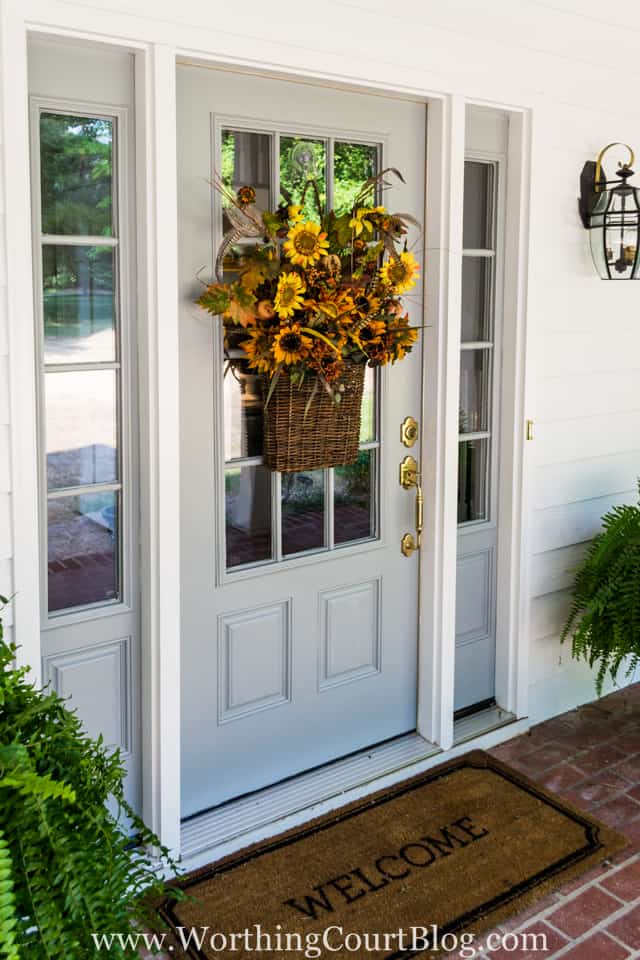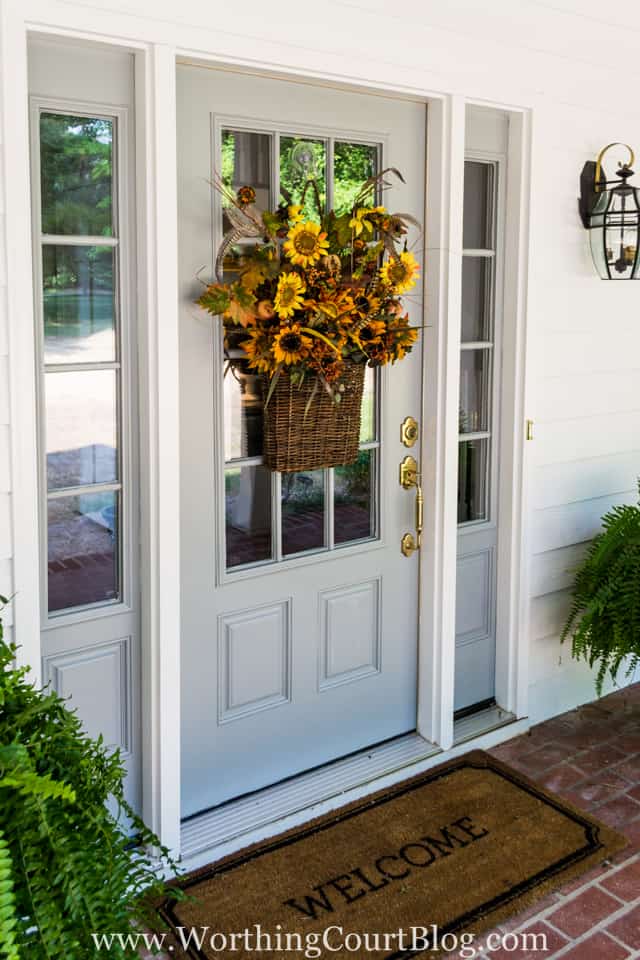 I've finished all of my fall decorating except for a little that I'm going to do on the front porch, which I'll share soon. I didn't do the whole house – just the kitchen sideboard, a kitchen table centerpiece (did you see the sneak peek on Instagram?) and my fireplace. (Maybe you saw how I dressed up the sideboard in my kitchen for fall. Click HERE if you missed it.) Other than that, I've just added touches here and there that aren't worthy of a whole blog post.
I switched out the urn that was on the chest in my foyer and added some fall leaves and twig pumpkins. Simple, fast and easy. I spent most of the time twisting and turning the leaf stems to get them to look just-so.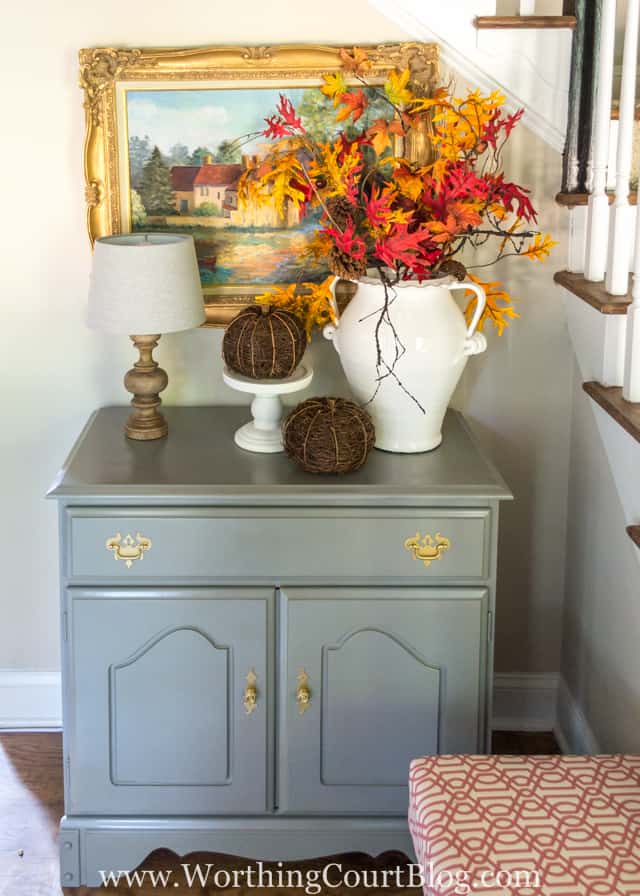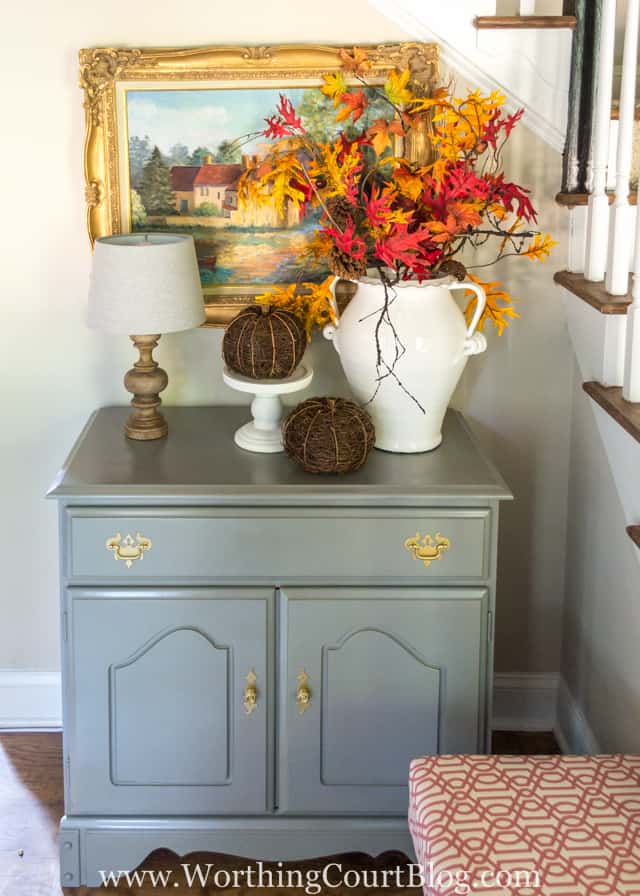 I'll be revealing my fall fireplace the first part of October. For now here's a peak at one corner of the hearth. Can you believe these candlesticks used to be yellow, red and gold? I've come up with a great process for getting anything to look like driftwood that I'll share soon.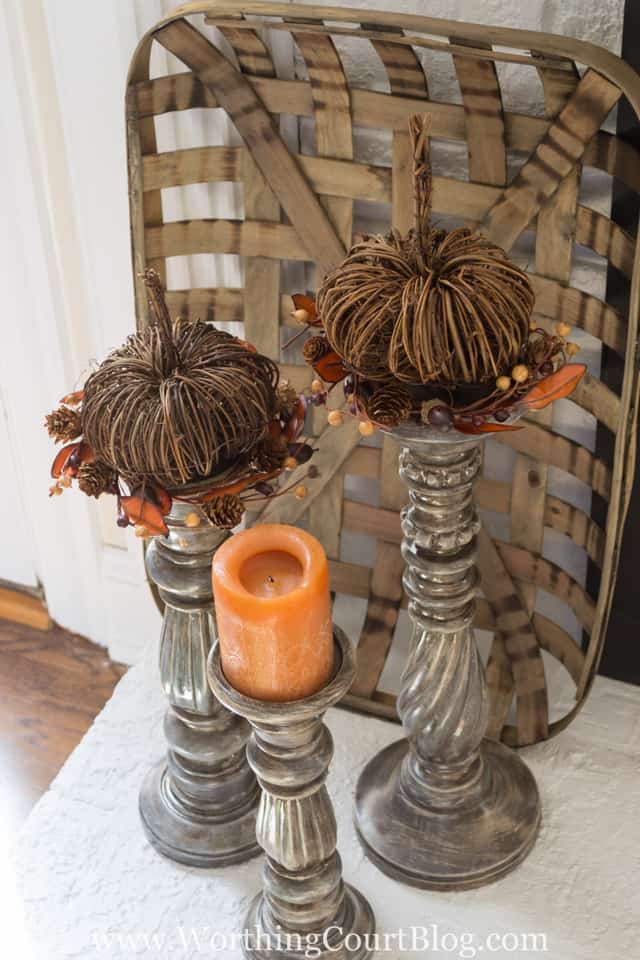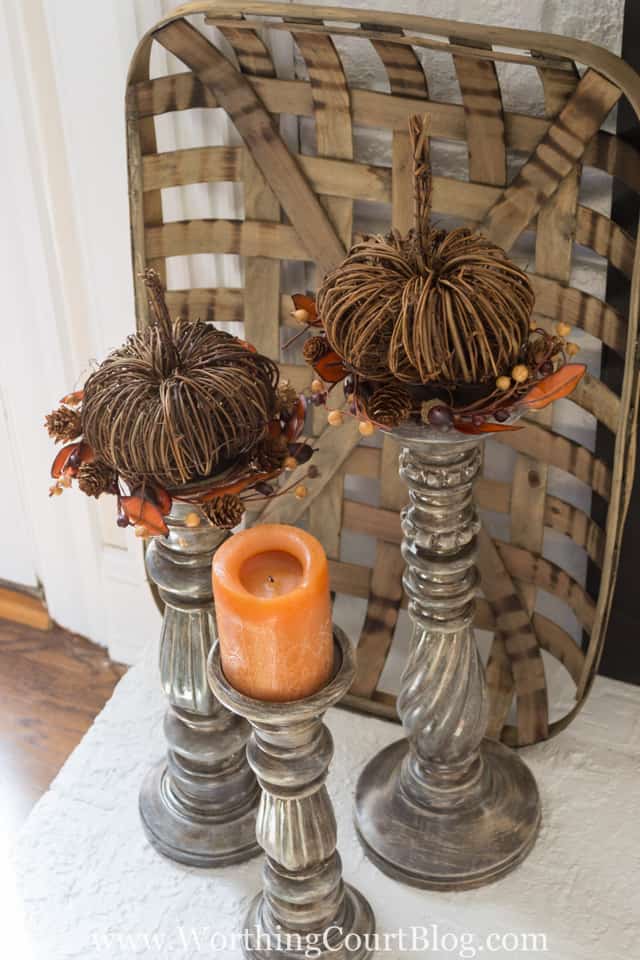 I found a pair of inexpensive curtain panels at TJ Maxx a few months back that I think are going to work well in our family room. I'm using plumbing parts and wood dowels for the drapery hardware. Everything has been painted, but now I need Pookie to hold them up for me so that I can mark the height and get them mounted. Hope to get that done this weekend.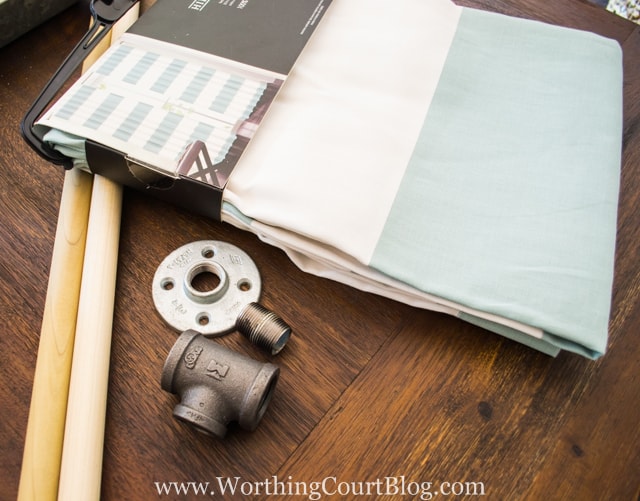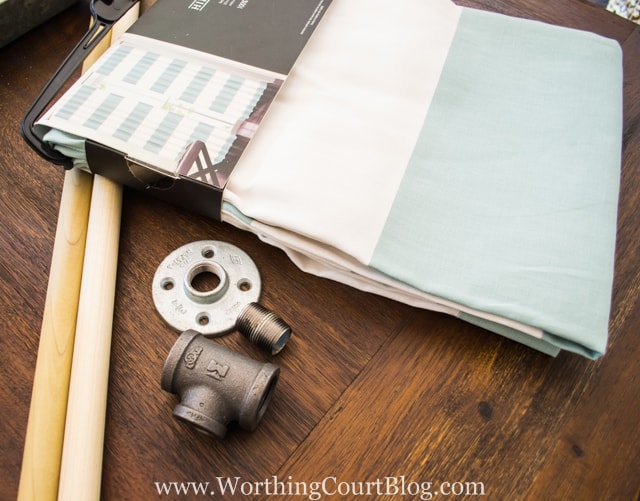 I owe y'all a big apology for not having a Plus Size Fashion After 50 post this month. I haven't forgotten about you! The pictures didn't turn out well at all. I tried, I really did, but they were all too blurry. I'll have something for you next month.
For those of you who are on Instagram, I came across a good article on West Elm's blog the other day that gave some great tips for getting Instagram worthy photos of your home. You can check it out HERE and if you aren't already following me on Instagram, I'd love to connect with you there! You can follow me HERE.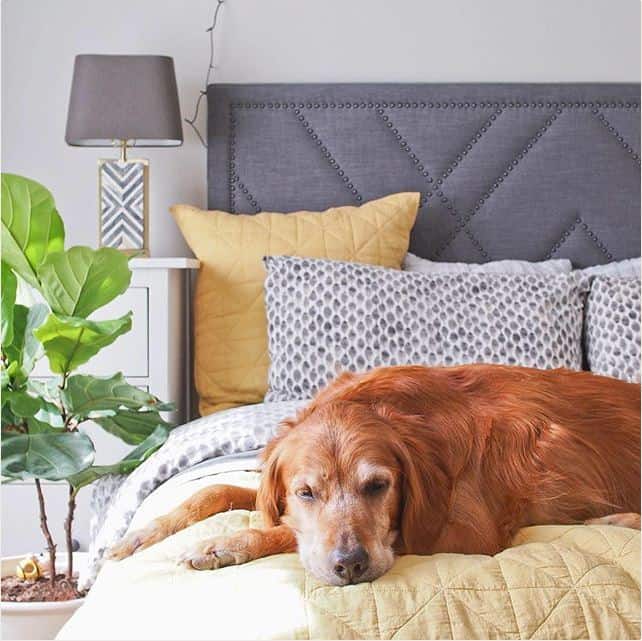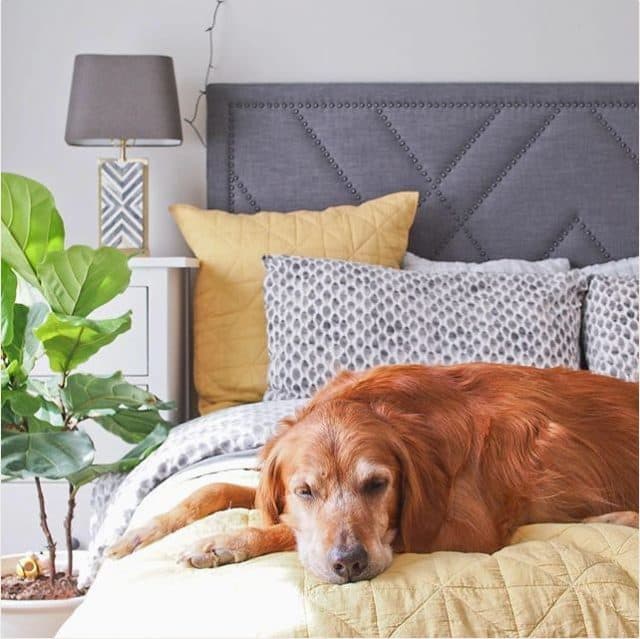 Enjoy the rest of the month! Pookie thought he was so cute and clever by reminding me that it's now less than 100 days until Christmas. Oy.
Until next time…