Enjoy this small bathroom tour from our previous home.  We're currently remodeling a new-to-us home.  Click HERE to see how I'm totally changing my decorating style!
Photographing a small bathroom is no easy feat, but I wanted to share the beach inspired bathroom that is attached to one of my guest bedrooms.
It has a beachy vibe just like the bedroom that it's attached to.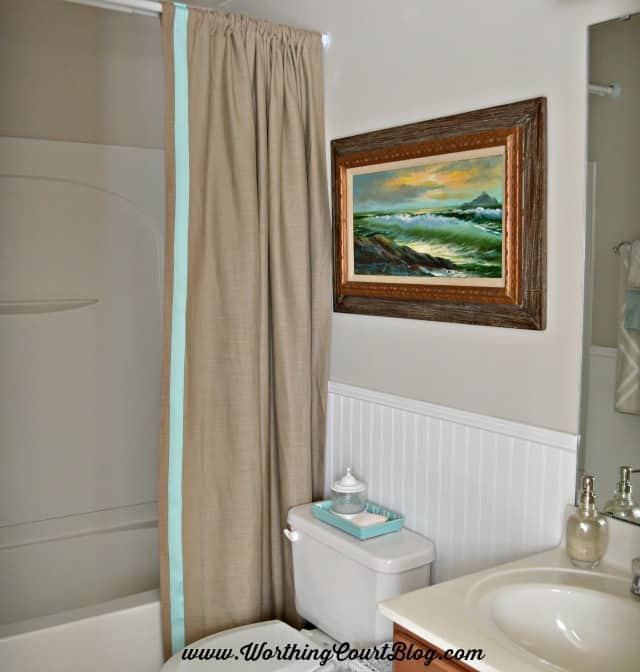 Pin
In fact, this bathroom, along with the attached bedroom, was inspired by the serene painting of the ocean that is hanging in there.
You may not be able to tell from my photo, but the artist's use of soft color makes it one of the more realistic looking ocean scenes that I've ever seen depicted in an oil painting.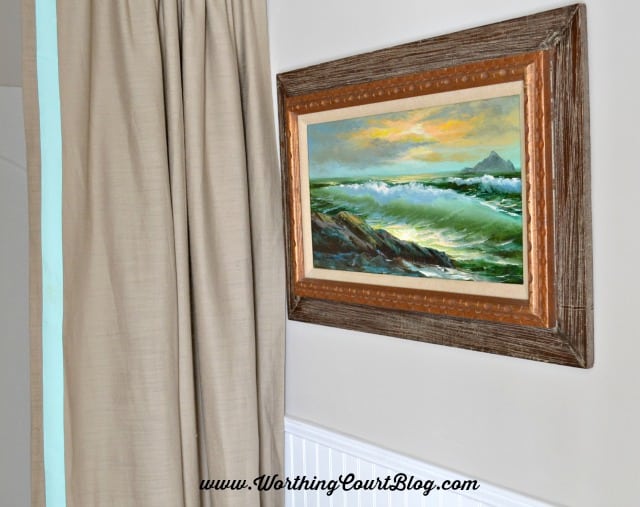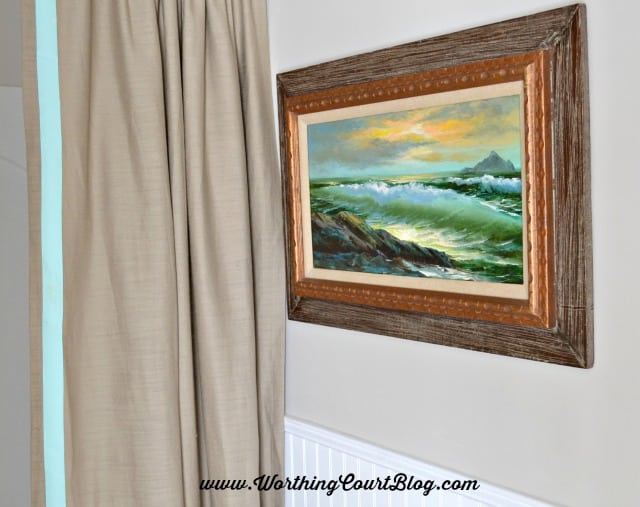 Pin
This bathroom is so small that I wasn't able to capture the entire room in one shot, even using my wide angle lens.
The sink is beside the doorway leading into the guest bedroom.
Plates on the wall aren't just for dining rooms and kitchens.  I used them in here to add a nice pop of bold color.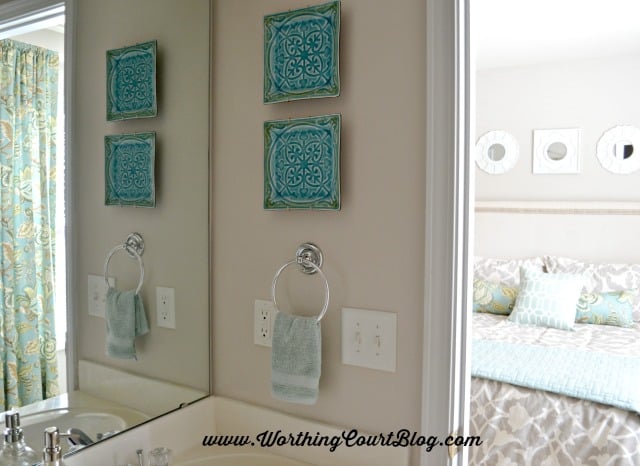 Pin
The towel bar hangs on the other side of the room and is sporting a mixed of layered towels.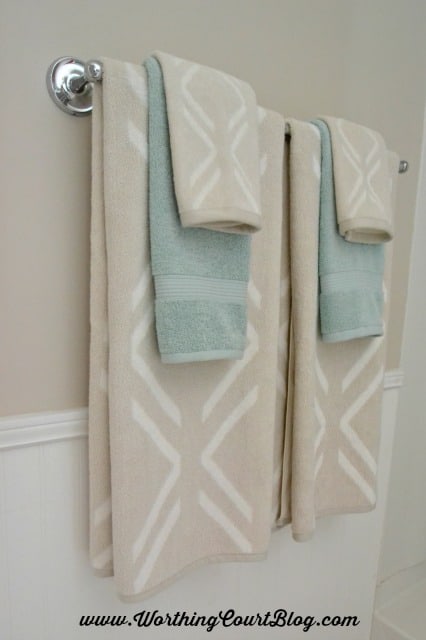 Pin
A favorite trick of mine is to use one or two curtain panels in place of a standard shower curtain.  Buy a long enough curtain so that you can hang it high to make a statement.  If it's a plain curtain like this one, I like to add a ribbon border using iron on tape.
To protect the panel, I add a clear plastic shower curtain to a separate rod that is hung directly behind the one holding the drapery panel.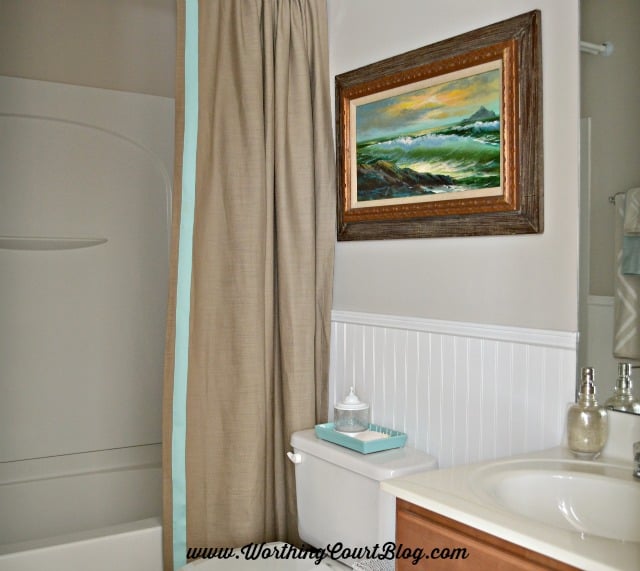 Pin
You can see from all of my photos that we added beadboard paneling to each of the walls.  We had it cut to size for us at the home improvement store, which made it super easy to bring home and install.  A simple piece of trim tops off the raw edge of the paneling.
One last shot of the bathroom includes the patterned area rug that I picked up at Target.  It helps to pull the whole look together.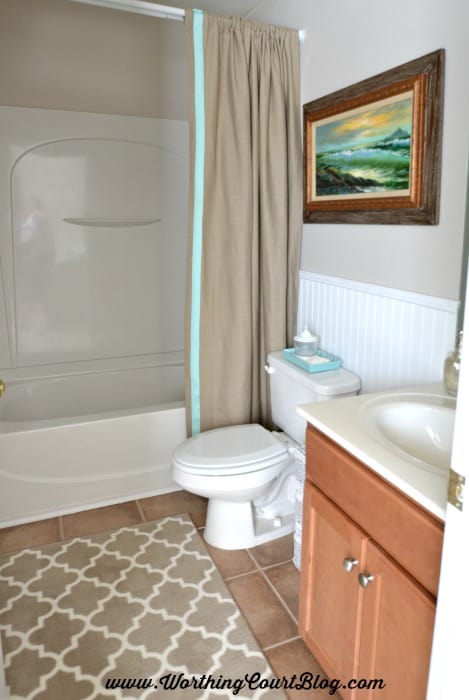 Pin
In case you missed it, you can see the attached bedroom HERE.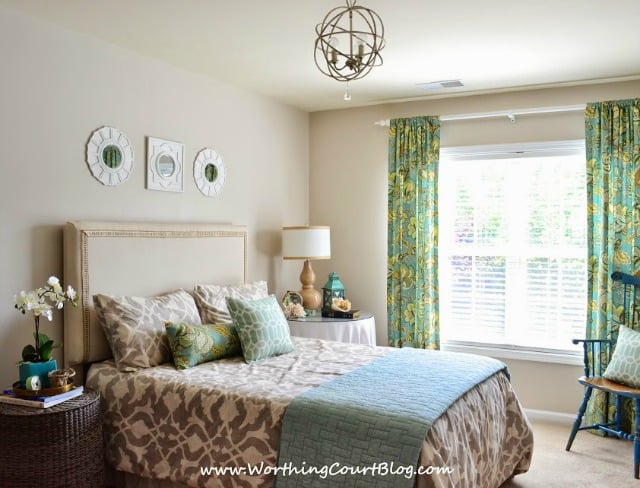 Pin
Thank you for stopping by!