Enjoy this project in the kitchen of our previous home. We're currently remodeling a new-to-us home. Click HERE to see how I'm totally changing my decorating style!
When I started adding farmhouse style to my kitchen, I knew that one of the first items that had to be checked off of the list was to replace my glass top table.
I opted for a 48″ round black pedestal table from Walmart. My kitchen already has several black touches, so this table fits right in.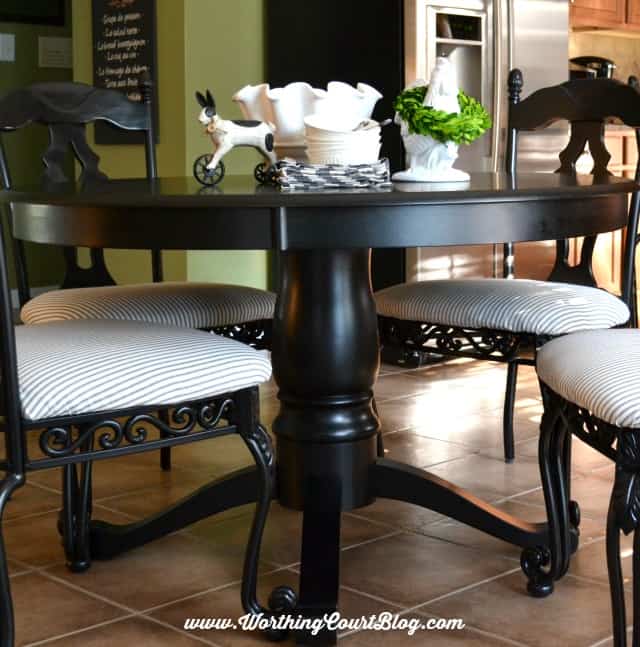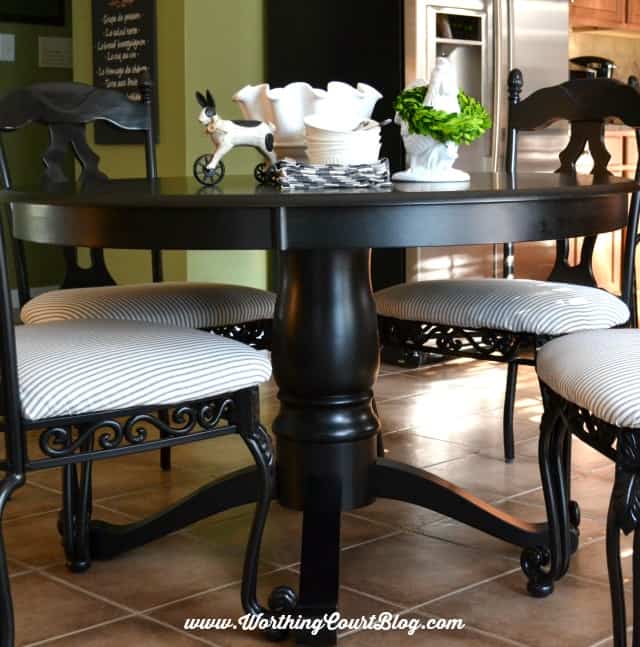 I just love the chunkiness of the pedestal. Plus I was able to purchase this for under $200.
I'll admit that I was a bit nervous about ordering it online though. For such a low price I was concerned about whether or not the finish would be good and if it would be durable.
I'm happy to report that there was no need for concern. The finish is perfect and has stood up to any abuse that we've thrown at it, so far.
Well…just like buying a new pair of shoes requires a new dress…buying a new kitchen table requires new chairs. Right? Not.
I searched high and low for some budget friendly chairs that I thought would be sturdy enough, but just wasn't able to find any.
Several cans of black spray paint and 1 1/2 yards of black and white ticking later and my original kitchen chairs and barstools have an entirely new look!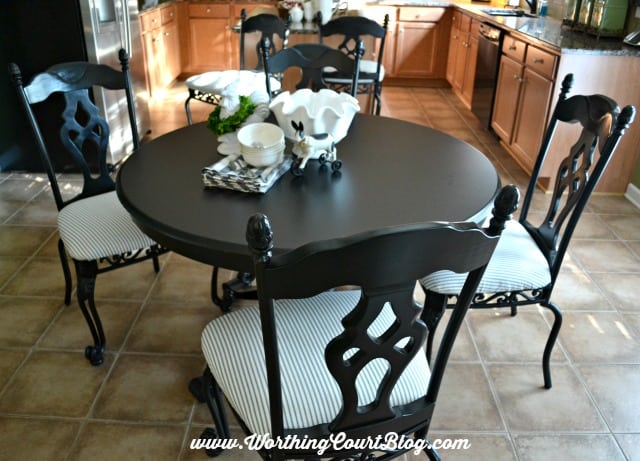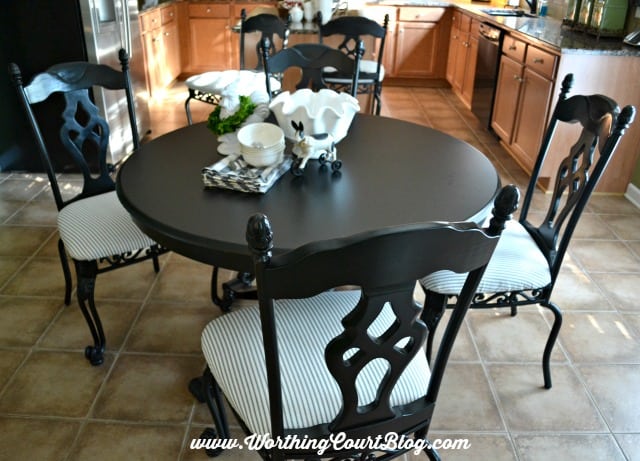 Before, the chairs were a mix of tan'ish metal and brown wood with red, green and gold fabric covering the cushions.
I'm amazed at how spray painting the chairs totally transformed the look of them.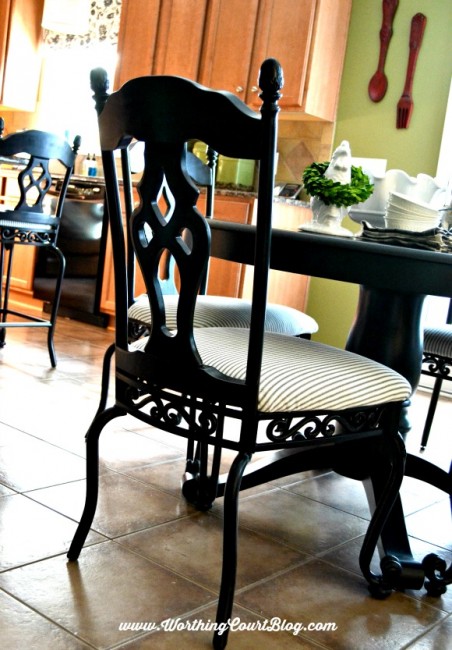 The barstools received the same treatment. The only difference is that I spray painted a clear sealer to help prevent scuffs from shoes where you rest your feet when sitting there. So far, so good.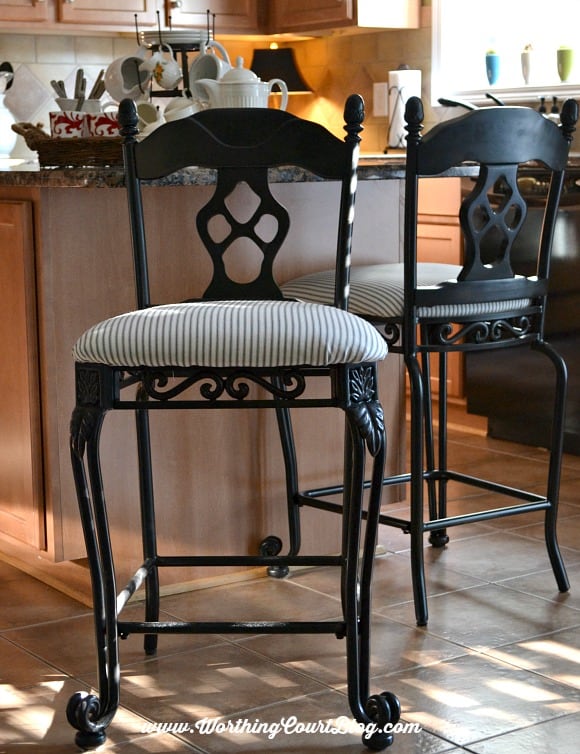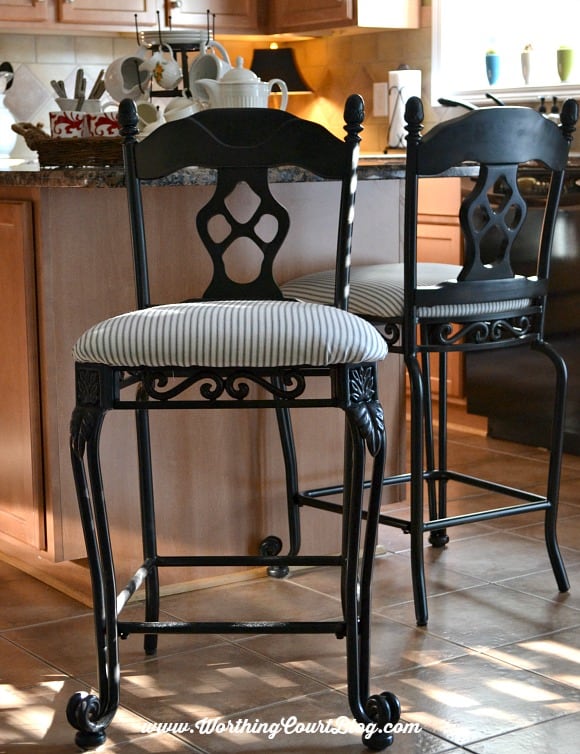 The other change that I made to this area of the kitchen was to add burlap shades to the chandelier above the table. You know burlap chandelier shades can be pricey if you've looked in any catalogs, but I found these at Garden Ridge for $5 each.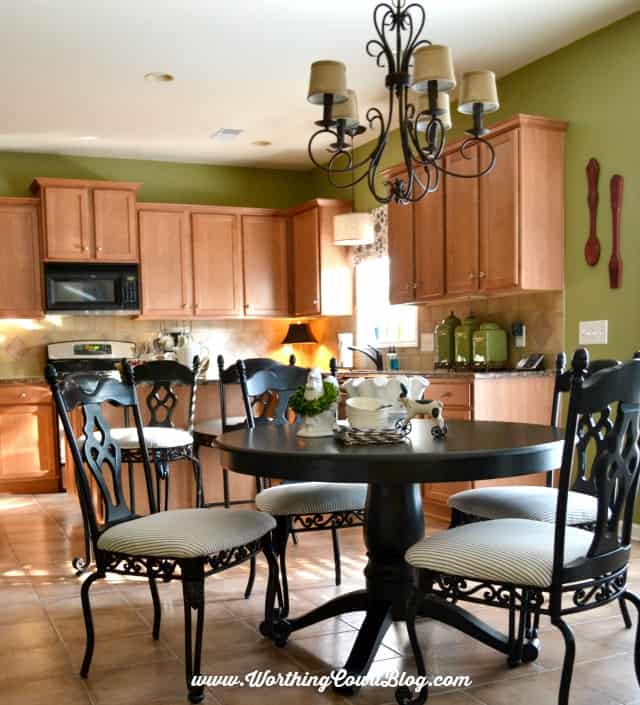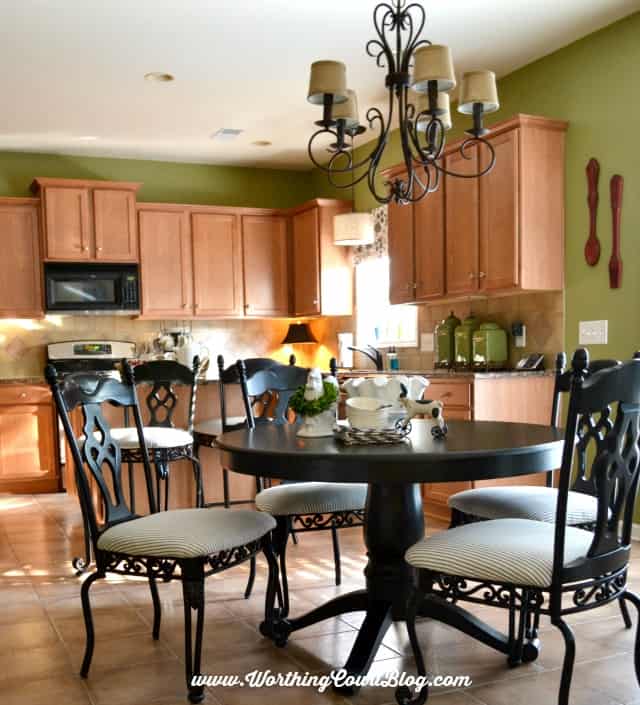 Take a look at how far this space has come.
BEFORE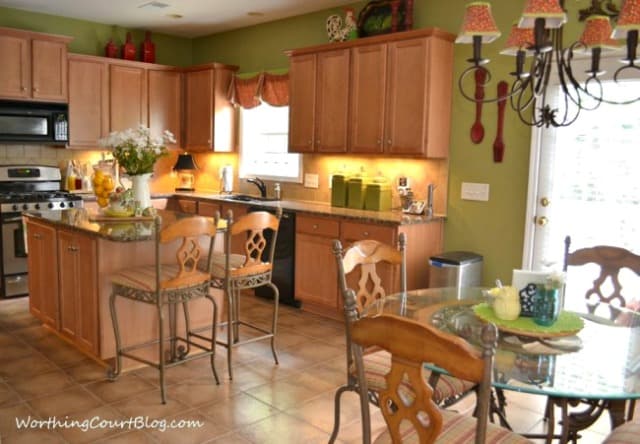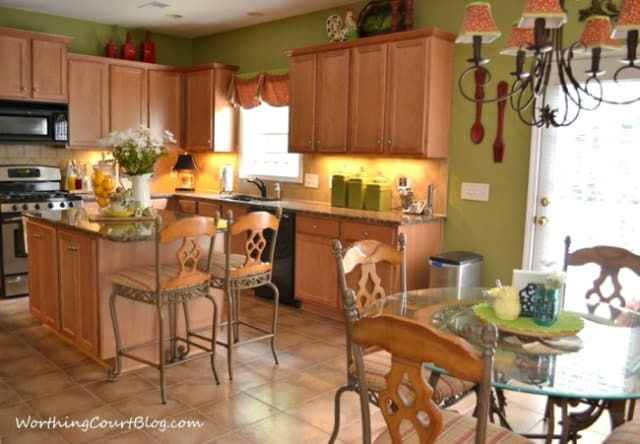 AFTER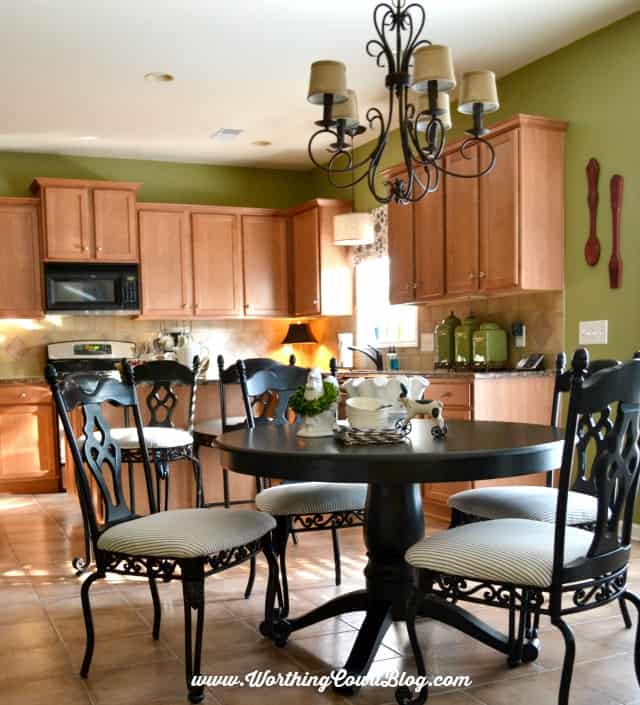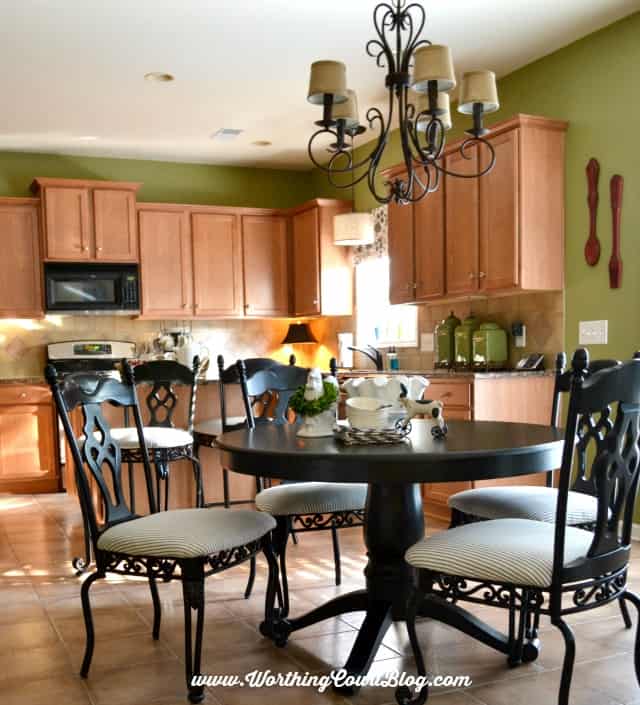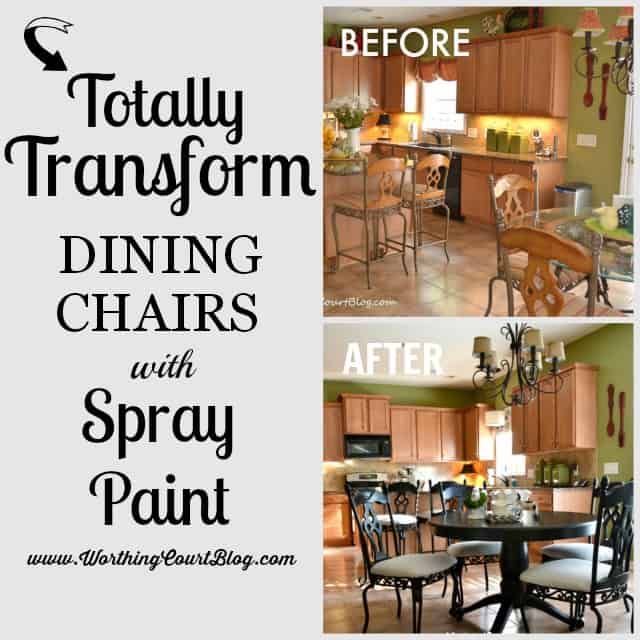 You might not think it's possible to change the look and feel of a kitchen without painting cabinets, painting walls, replacing counters and other costly changes, but I would have to disagree. I think that by making a few inexpensive changes, my kitchen looks totally different than it used to.
No-Sew Faux Roman Shade
Numbered Dollar Tree Plates Attached With Stick-On Velcro Strips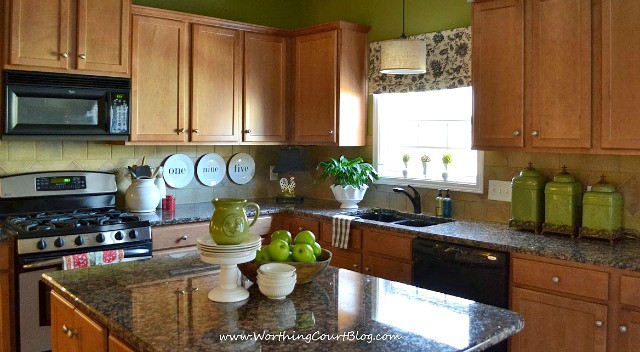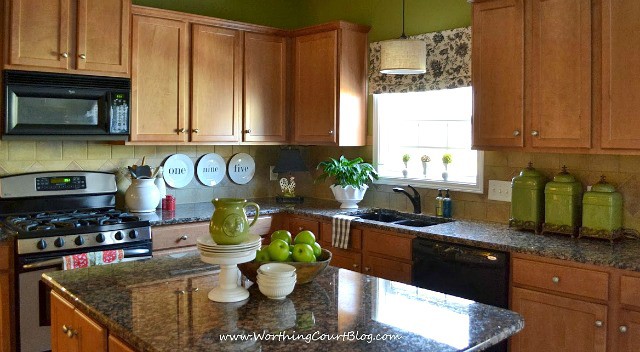 How To Change A Can Light To A Pendant In 5 Minutes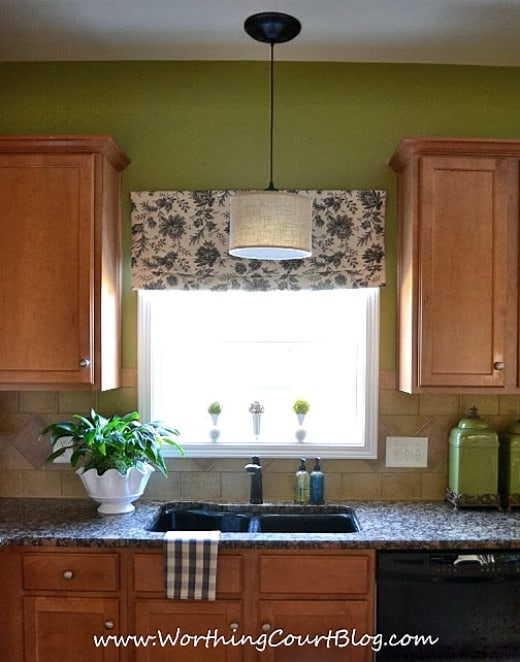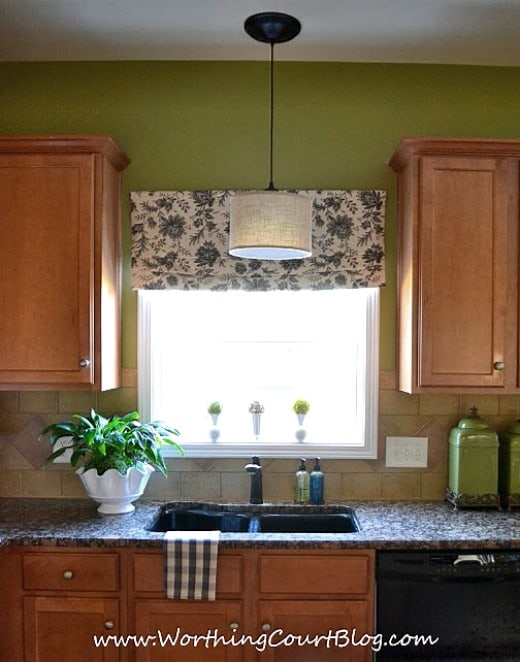 How To Make A Farmhouse Style Bulletin Board To Hide The Ugly Side Of A Refrigerator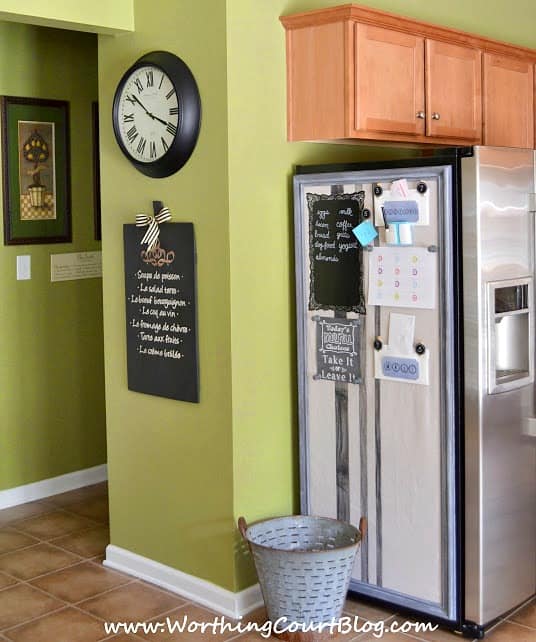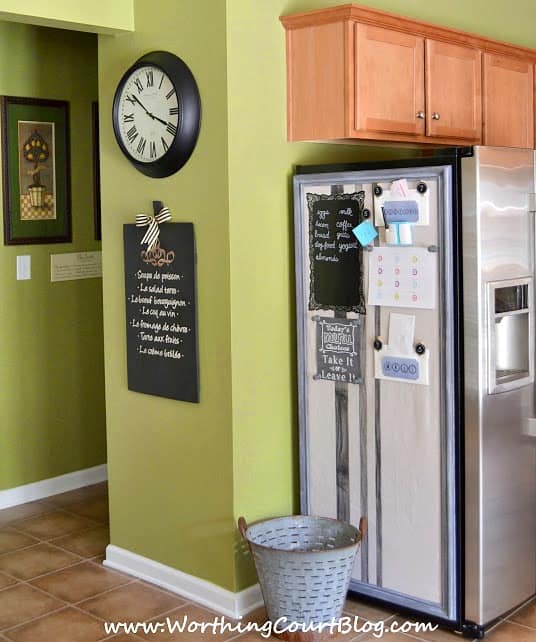 So tell me – have you ever tried to change the look and feel of a room without making major changes? What did you do?