Join Me For A Tour Of My Summer Suburban Farmhouse
Welcome to Worthing Court, my friends!  I'm so excited to have you visiting with me today as a part of Farmhouse Style Summer Home Tours hosted by Gina from The Shabby Creek Cottage!  I'm honored to be joining an amazing group of bloggers who are all sharing their homes decked out in their summer finery.  You'll find links to everyone's tour at the bottom.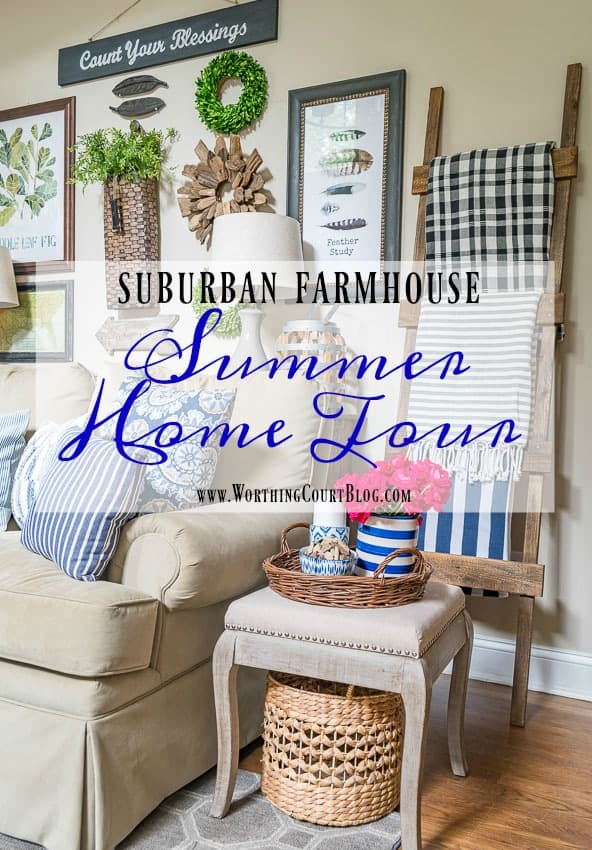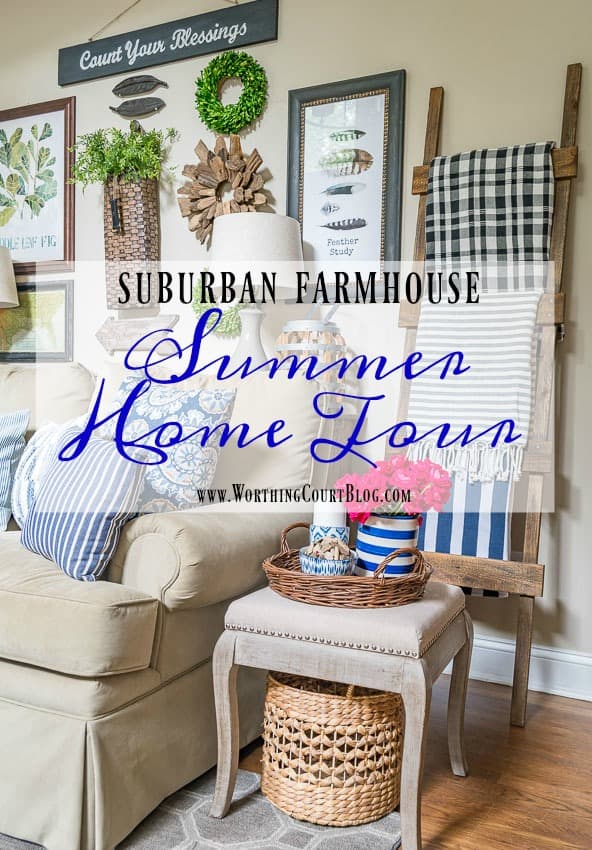 Just in case you're visiting for the first time, my husband and I purchased a mid 90's, very dark and dated, home almost three years ago, that we've renovated from top to bottom.  There isn't a single room in the whole house that hasn't had some kind of updates done to it.  I'm not talking about just cosmetic updates either – some of the rooms were completely gutted.  Now, I'm enjoying the fun part – going back through the whole house, room by room, to put all of the finishing touches in place.  You can take a look at the before and after's of our completed rooms by clicking HERE.
Come on in and let's have some sweet tea and take a look around!  We'll start off in the foyer, where I recently completed the addition of a board and batten wall and a pair of easy diy upholstered farmhouse benches.  You can see that the opening leads into our office, which is one of the rooms that I recently completed, including the total makeover of our old cheapo cherry bookcases, diy sliding door and all.  Love!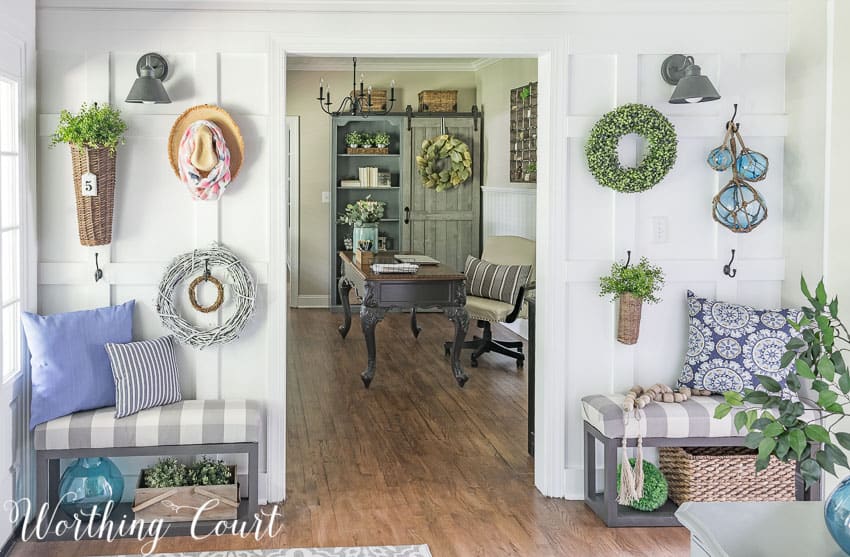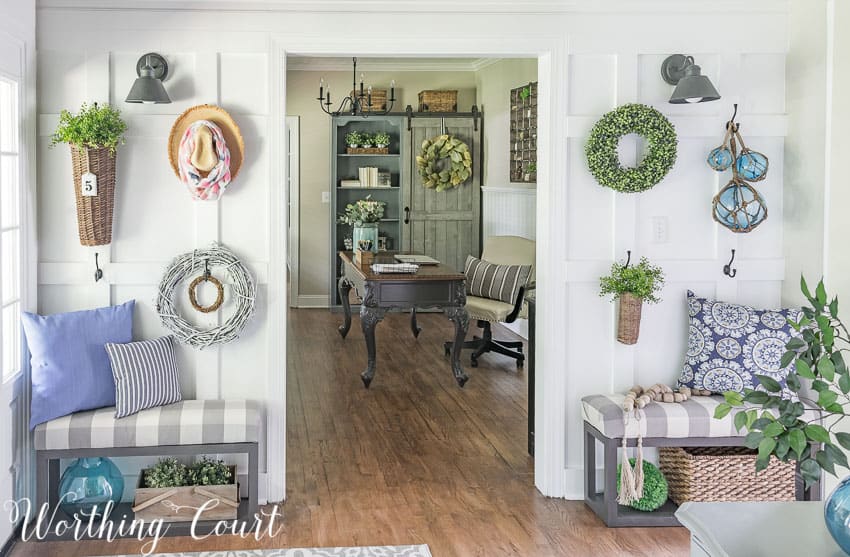 All that the board and batten wall needed to be summer'fied is some greenery, texture, summery pillows a few turquoise glass pieces.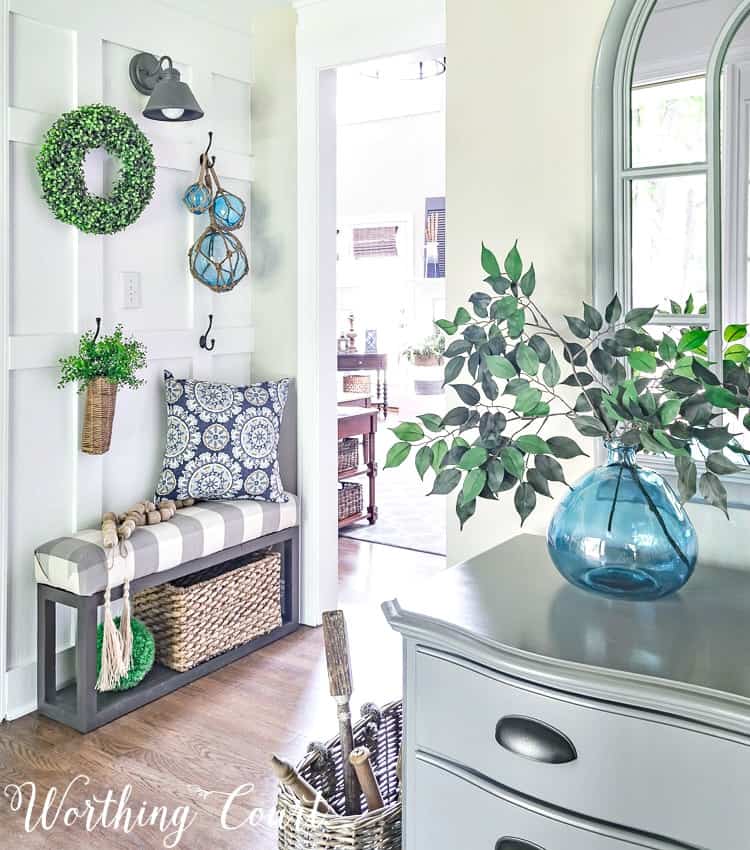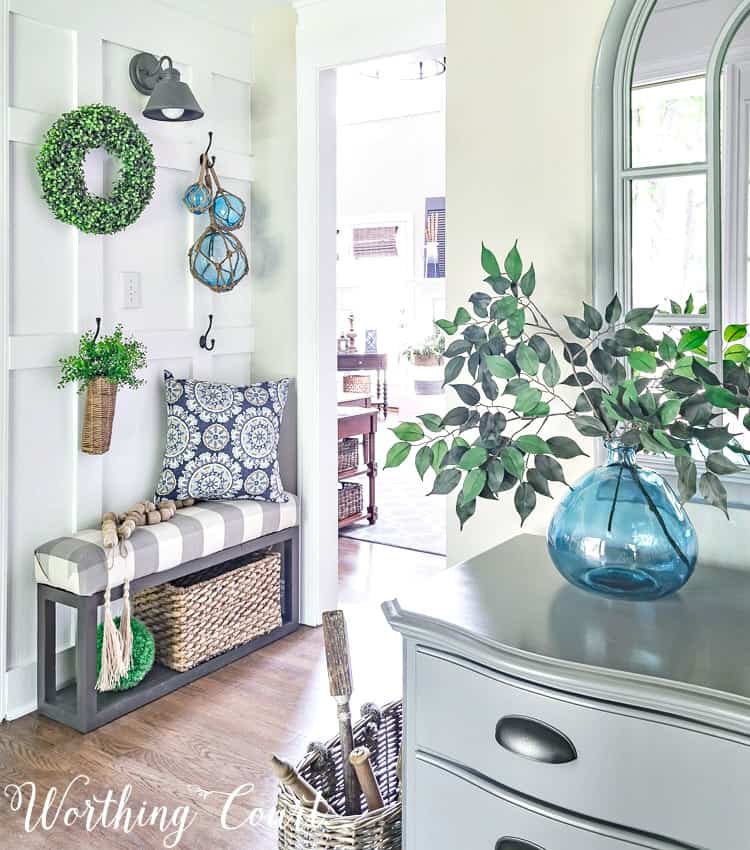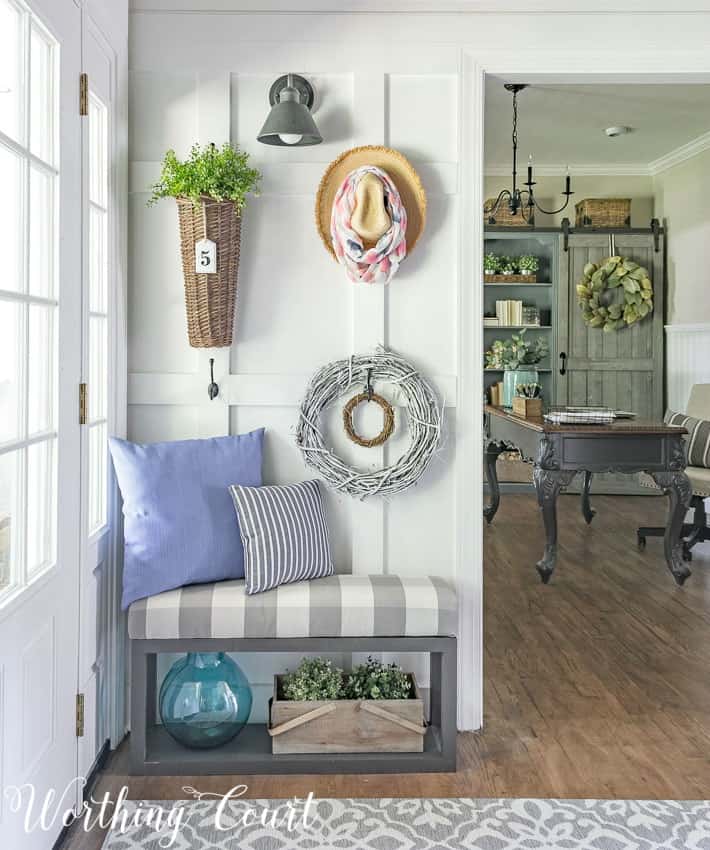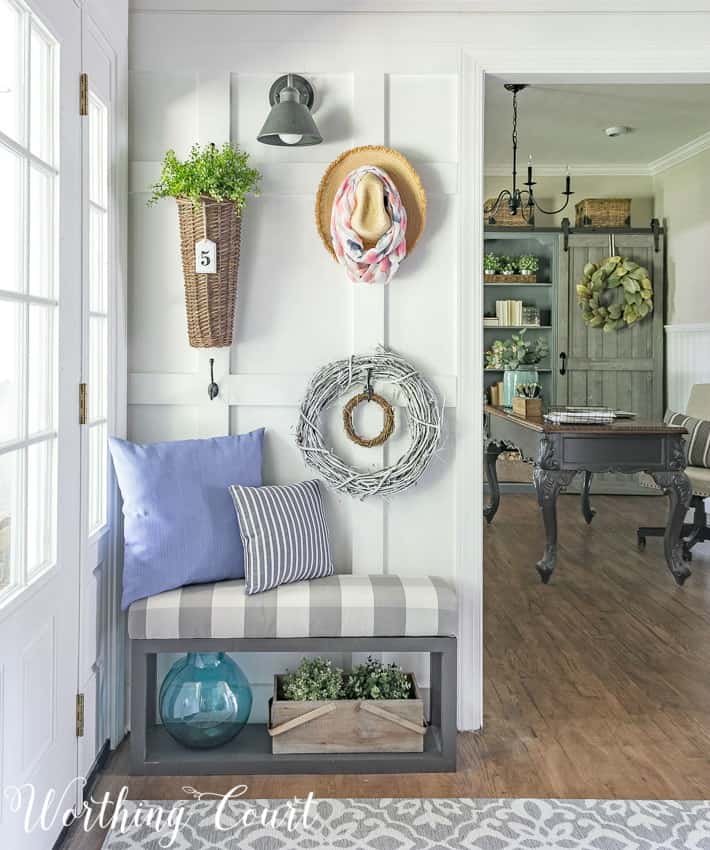 From the foyer, let's go into the family room where I kept things really simple and light on our fireplace for the summer by using natural and organic elements.  Nothing too heavy or fussy for me this time of year!  Would you believe me if I told you this fireplace was originally red brick surrounded by brown oak trim?  Amazing what a bit of paint can do!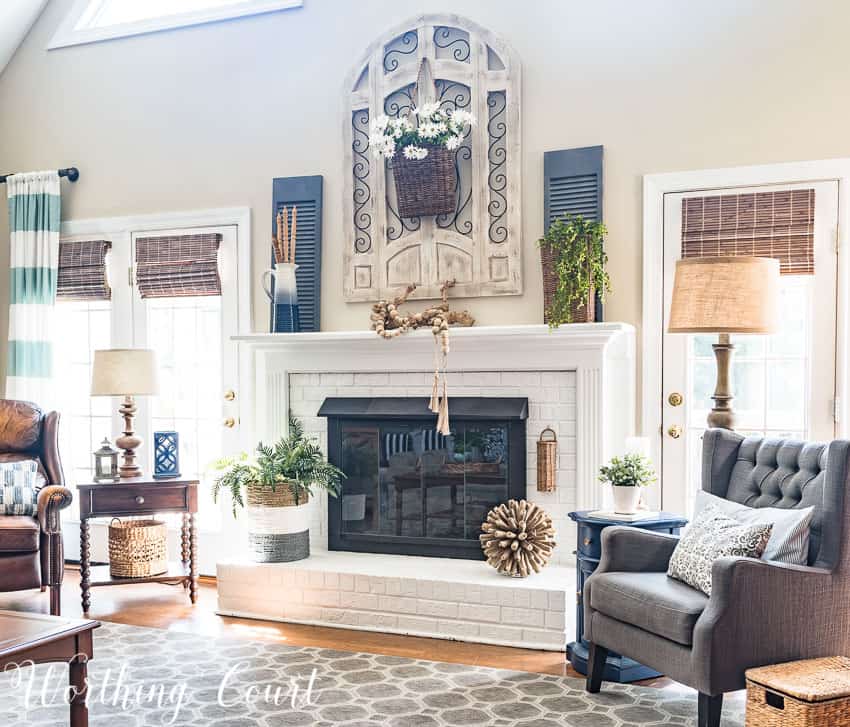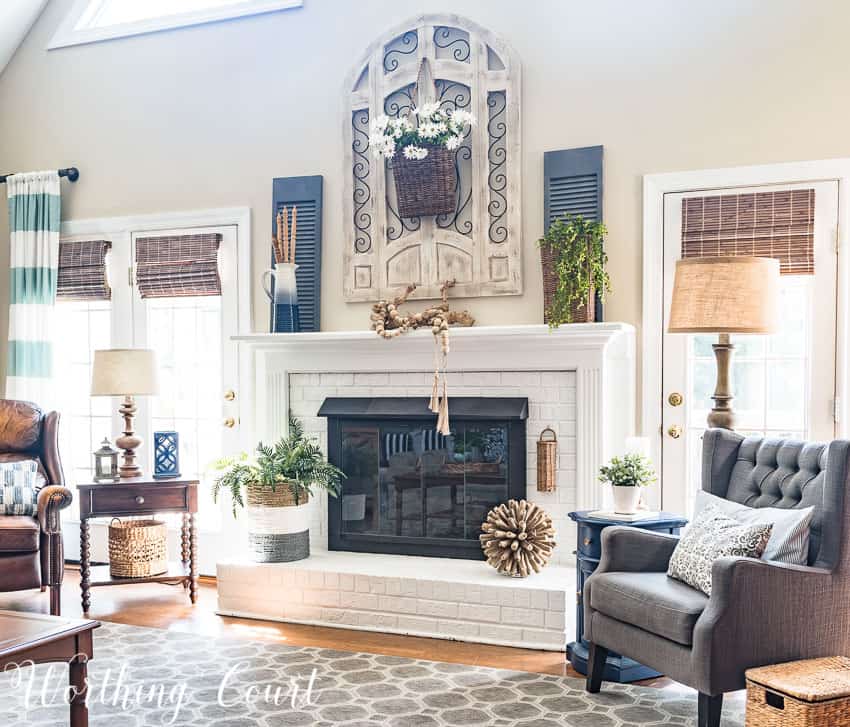 Our sofa sits on the wall opposite from the fireplace and is filled with summer pillows!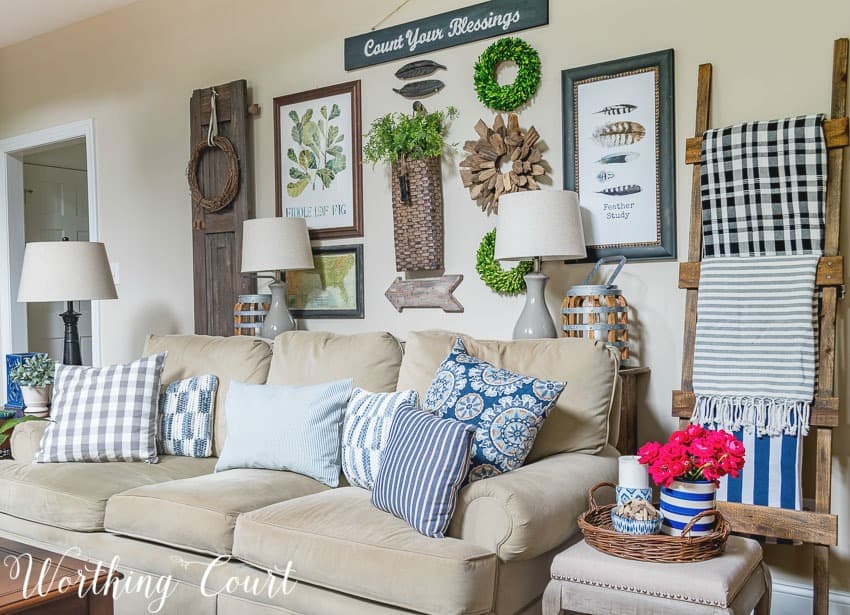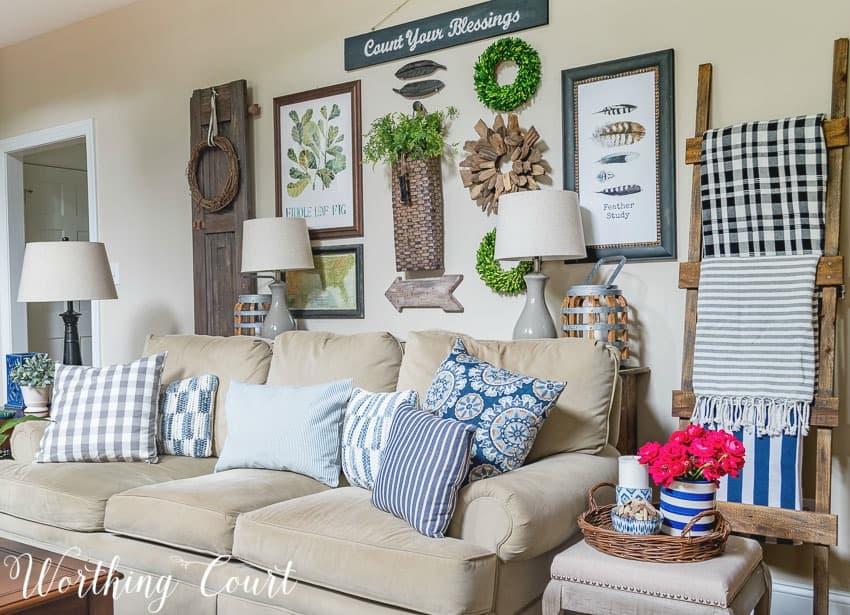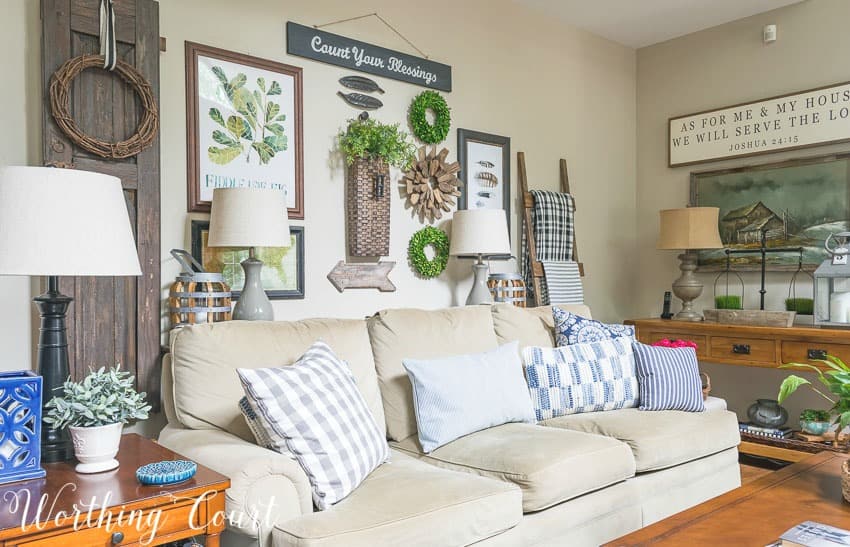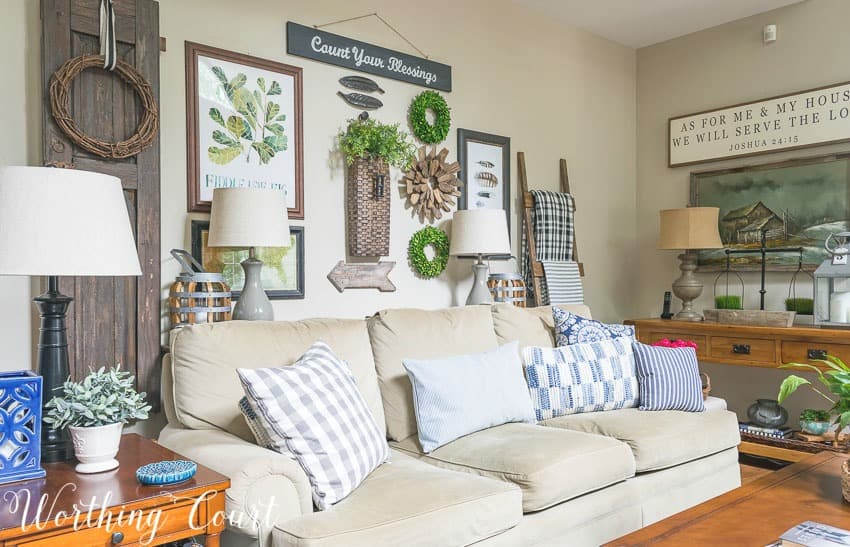 My diy blanket ladder is filled with a variety of lightweight throws for the summer and a bouquet of roses, from our yard, is a bright spot in the room.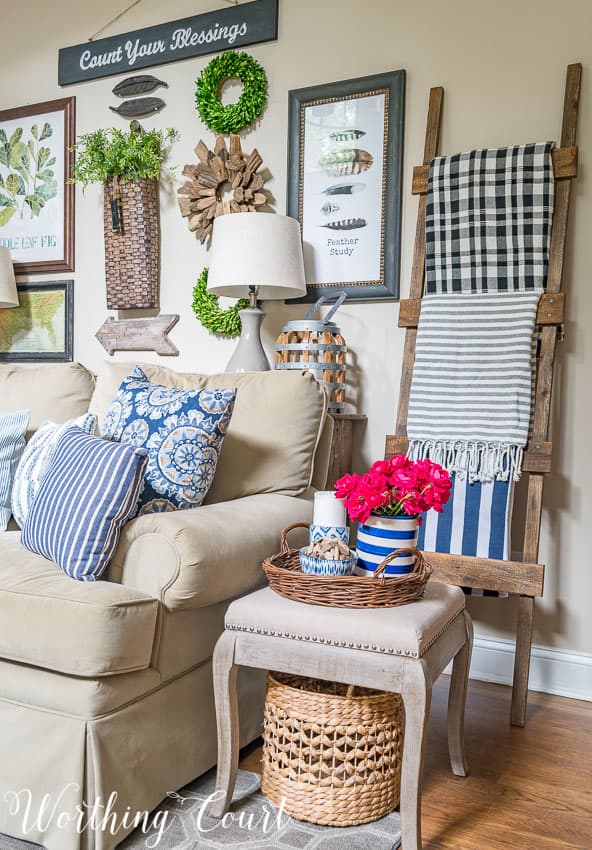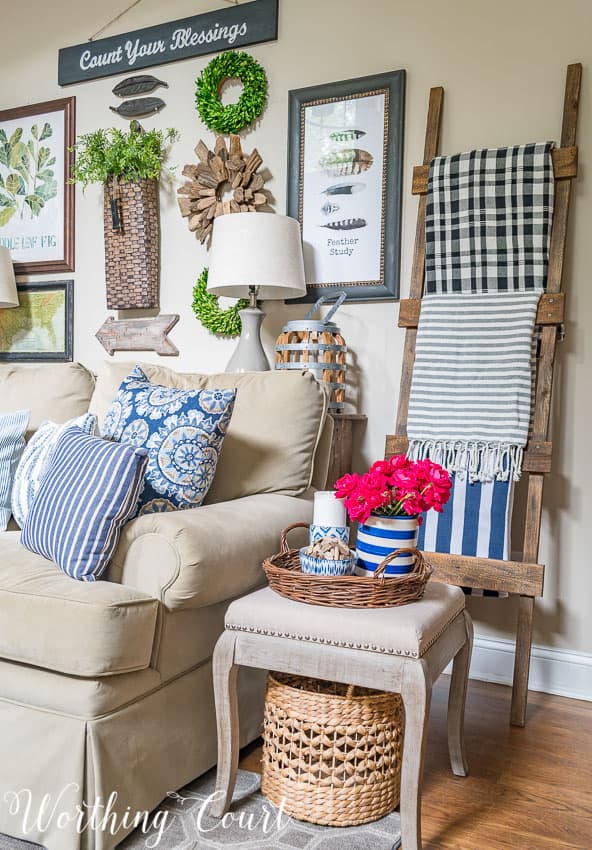 Do you have spots in your home that you struggle with?  I sure do and this spot is one of mine.  I usually have a really hard time with this console table, but for once, I really like how it looks for summer!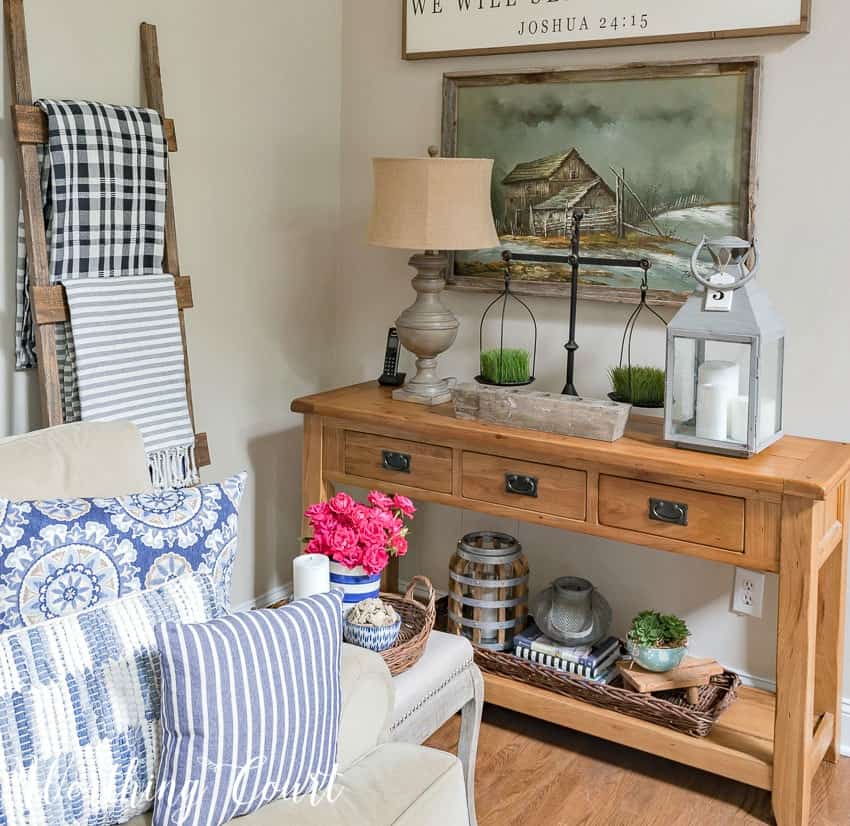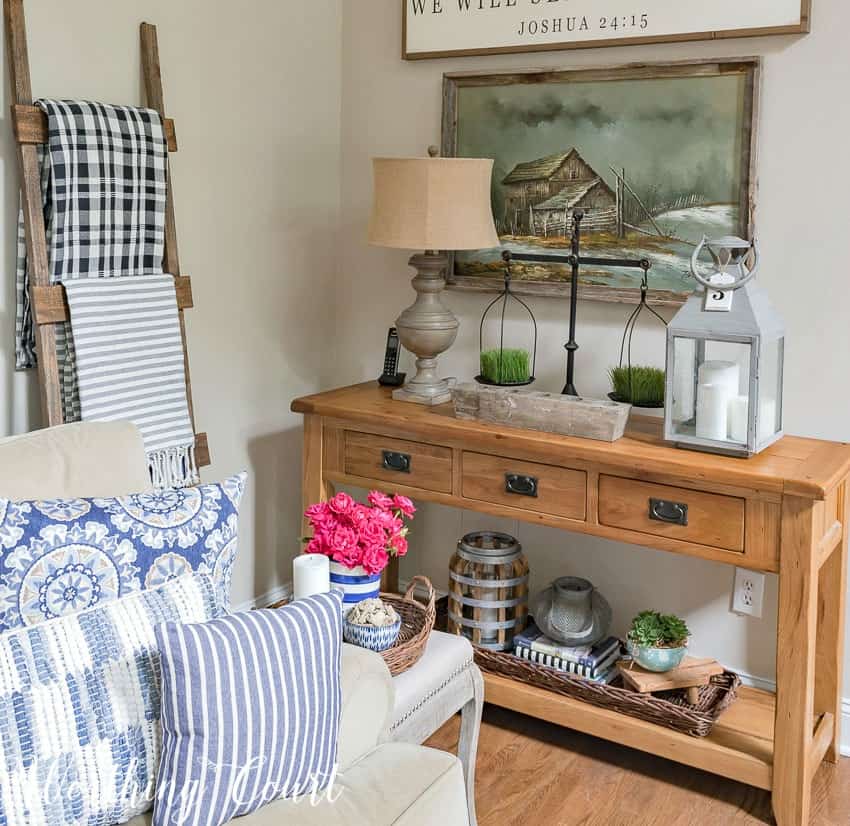 When we remodeled our home, we enlarged the opening from the family room into the kitchen and breakfast area.  It gives me a great view of our diy rustic open shelves from my spot on the sofa.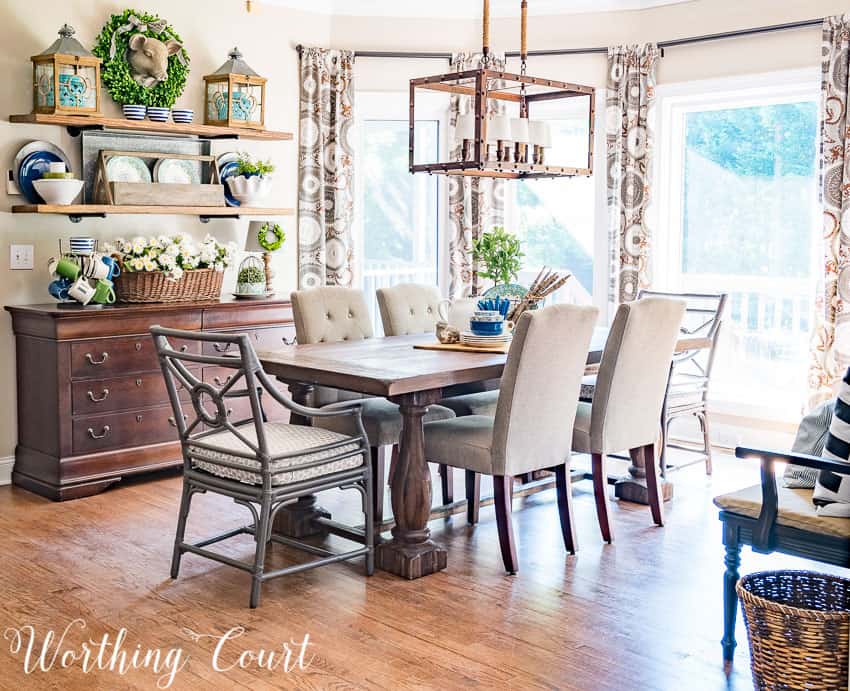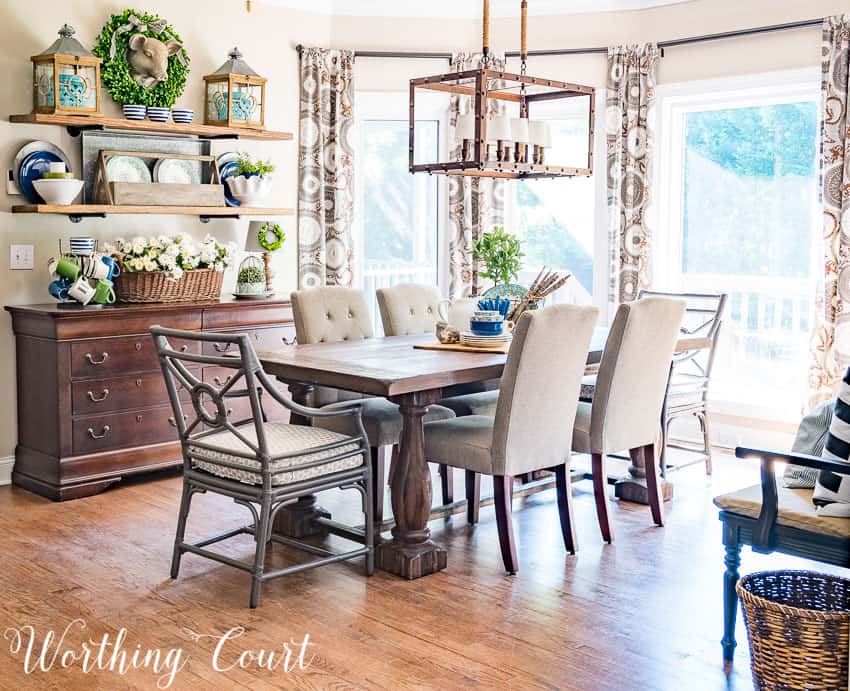 I've become totally enamored with blue and green for the summer and used all different shades of the two colors on the shelves.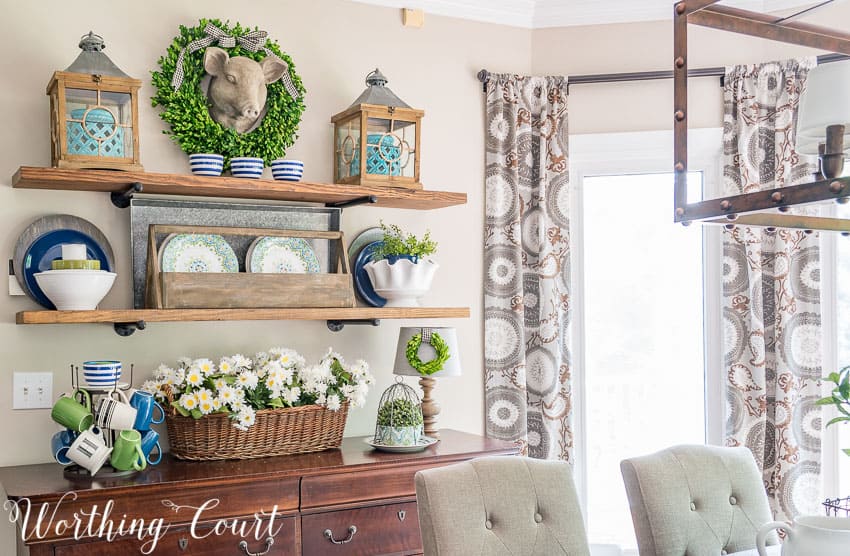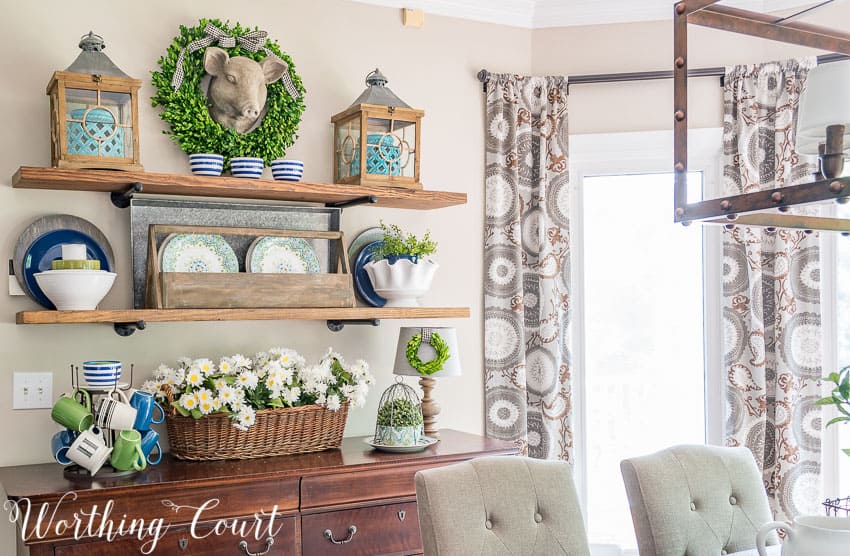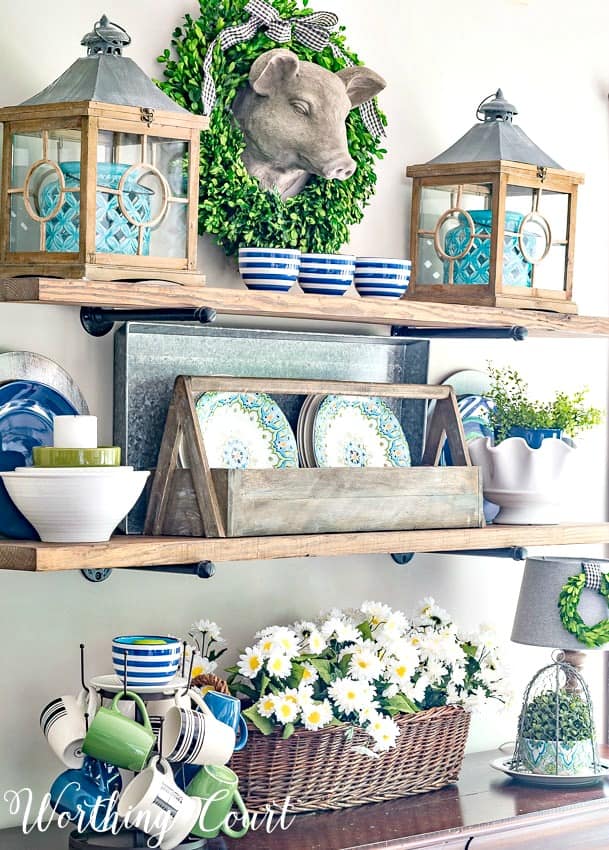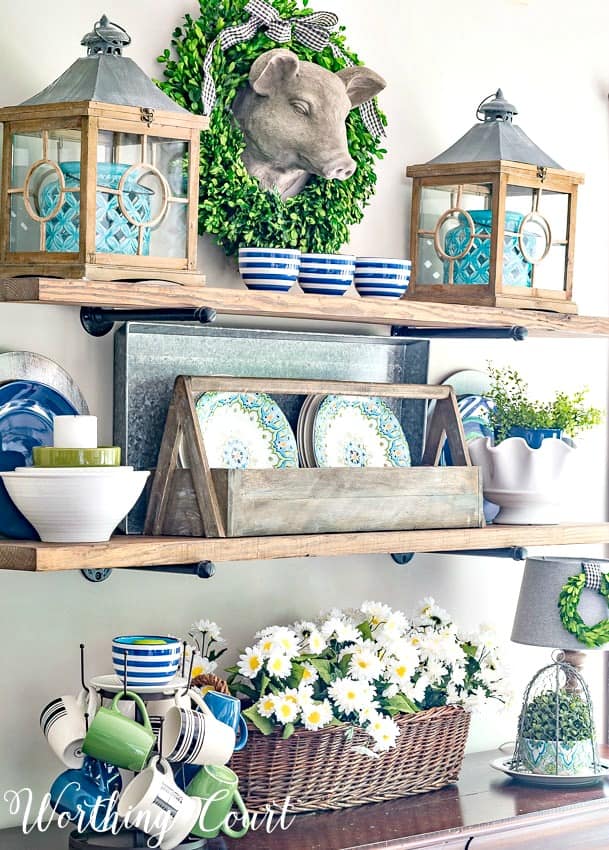 I carried those same colors over onto the centerpiece, but I kept it pretty low-key since there's quite a bit going on over on the shelves.  BTW – I know that centerpieces can be a bit intimidating, so I came up with a step-by-step photo guide for creating one for your own home.  You can check it out HERE.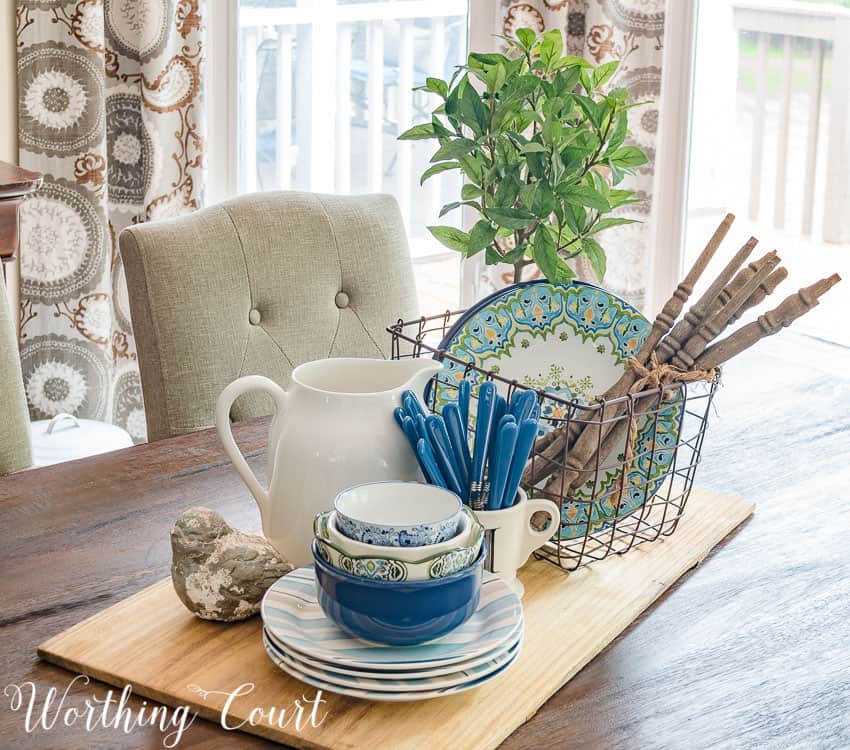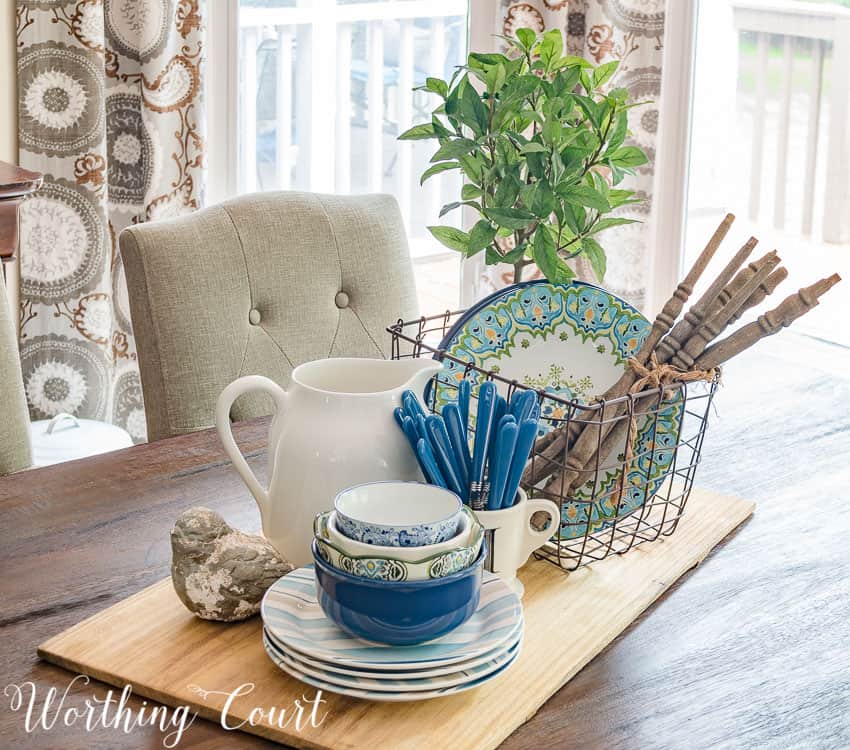 Kudos to you if you've stuck with me this far!  Let's take a look at one more summer room and that's my dining room.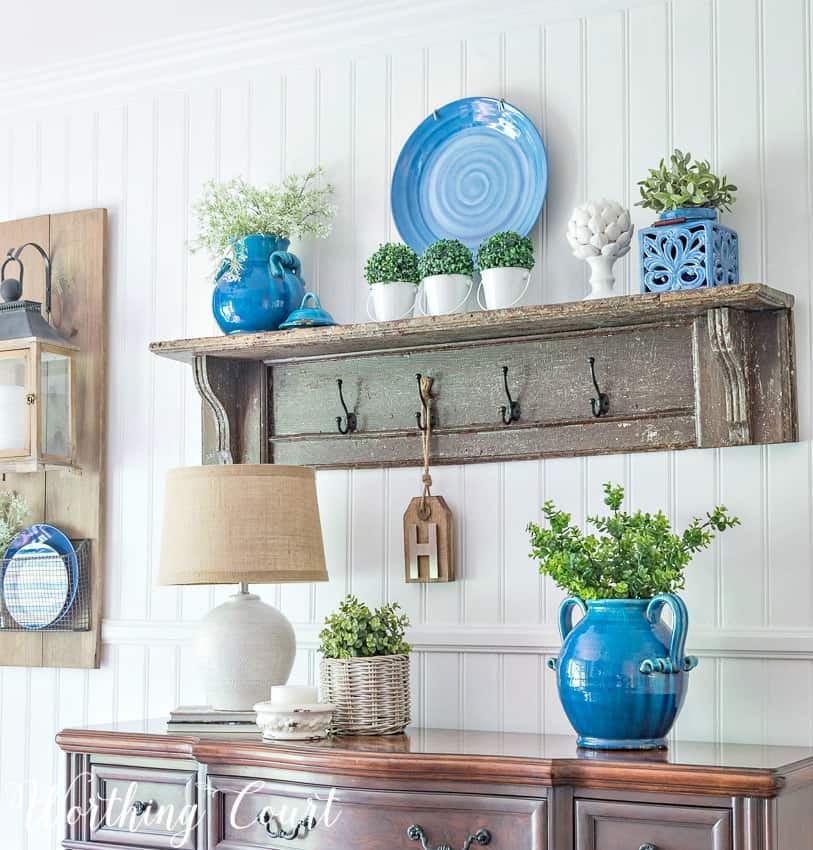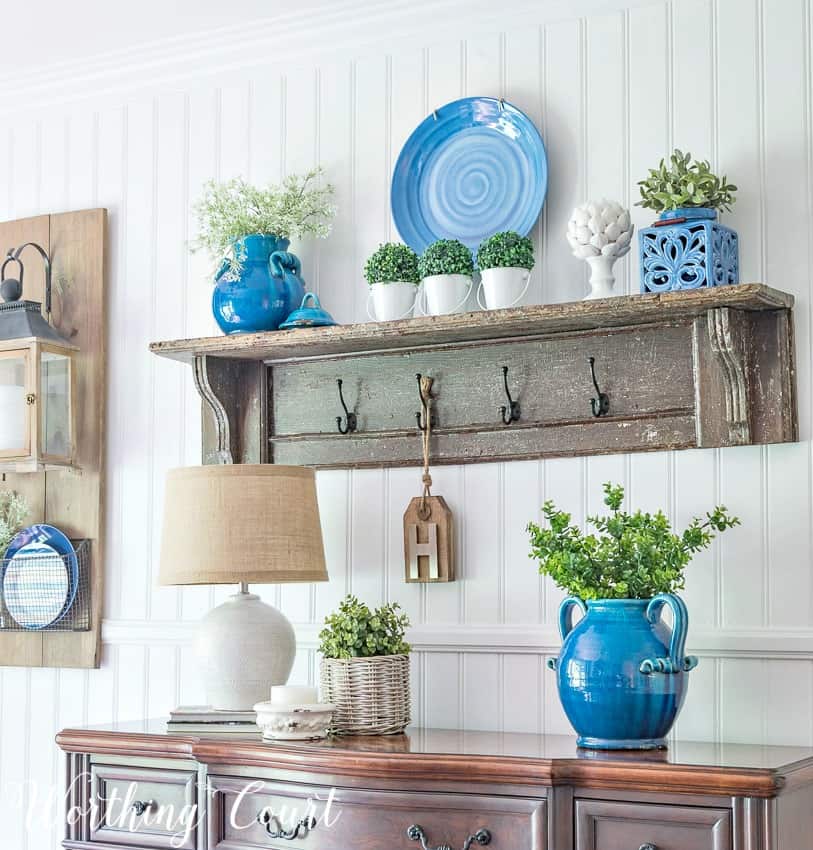 I've been keeping things on the neutral side in here for the last several months, but I'm in love with the bright and cheery pops of blue and green that I added for summer!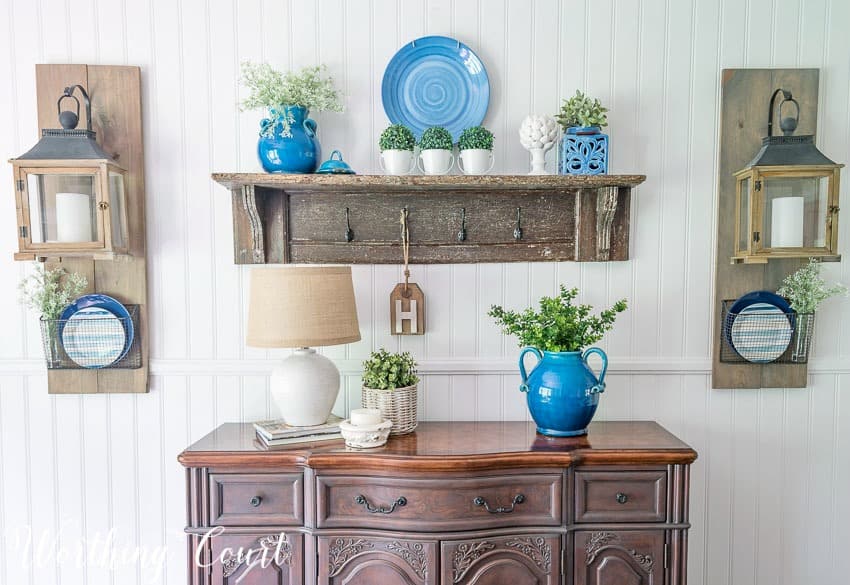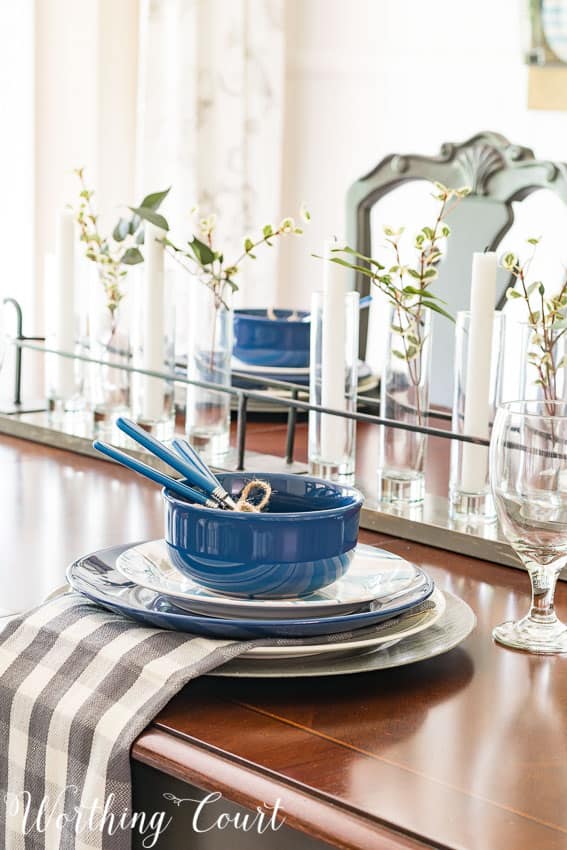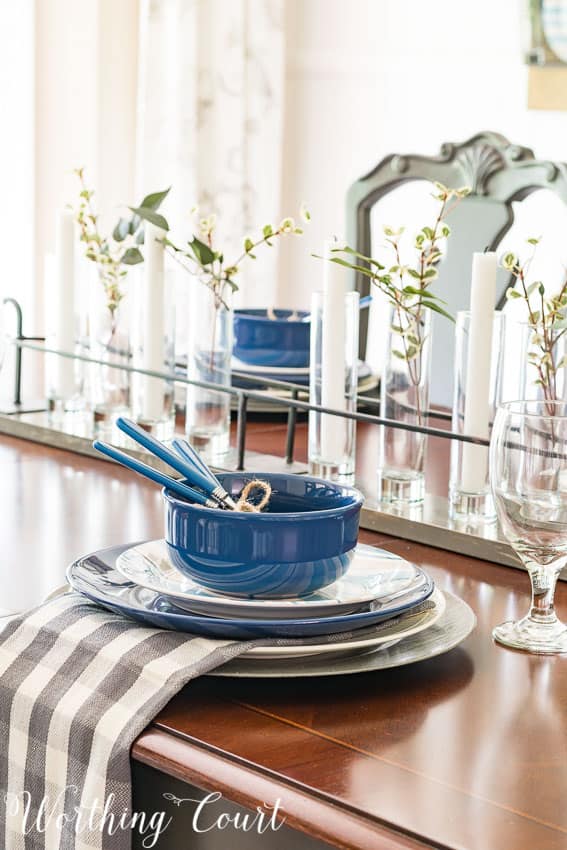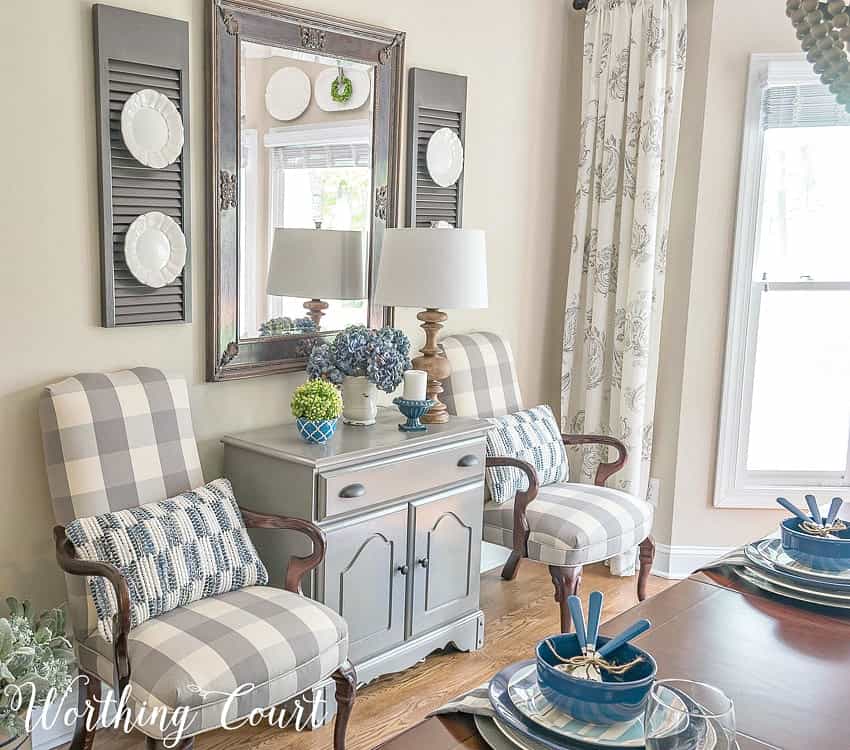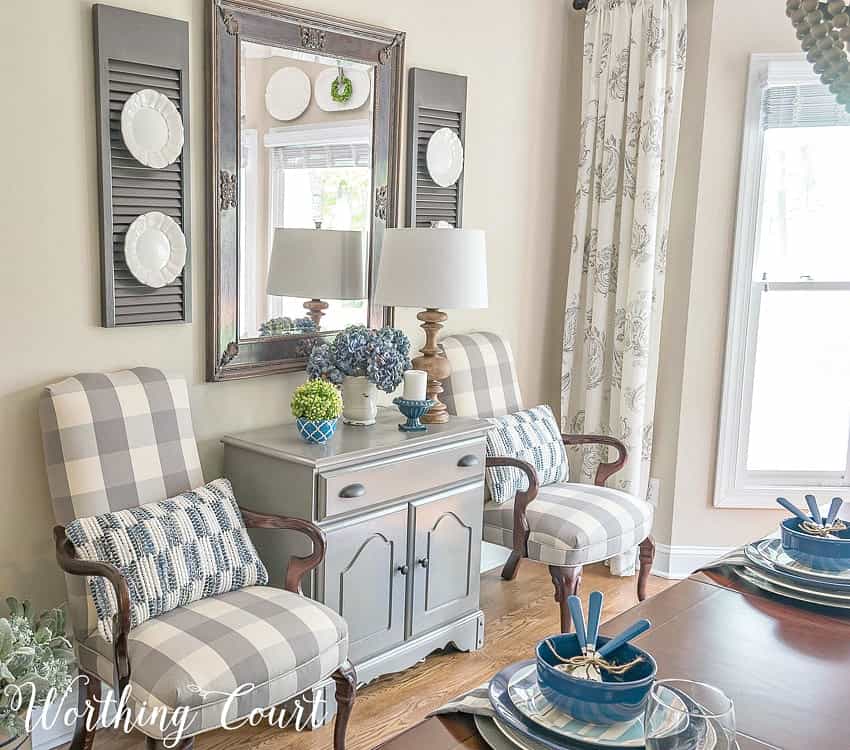 And lastly, let's end the tour with one of my favorite summer images – the reflection of the sideboard in my dining room mirror.  I don't know what it is about it, but I love capturing great shots of what a mirror reflects in a room!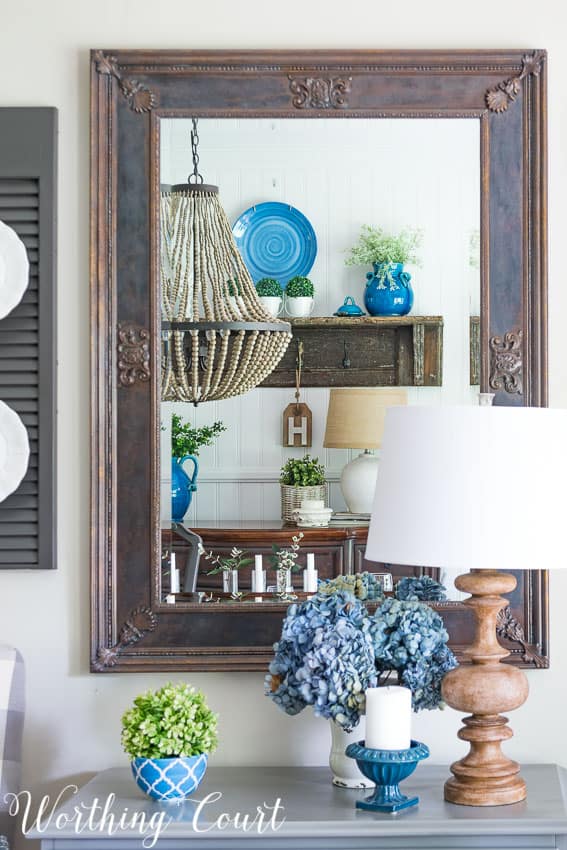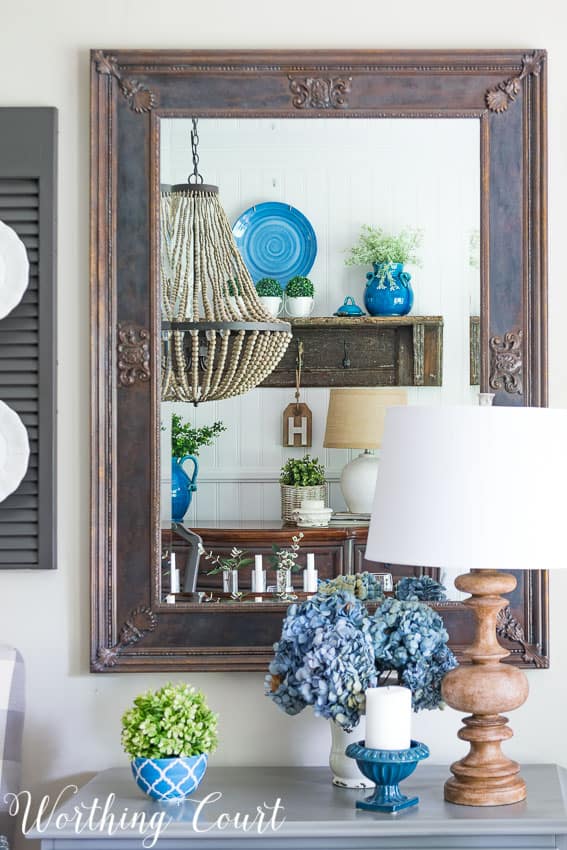 Thank you so much for coming to visit me today!  And thank you, Gina, for including me in this awesome roundup of tours!

While you're here, make sure you take a moment to leave a comment to be automatically entered into my monthly Reader Appreciation Giveaway.  This month, I'm giving away a $100 gift card to Magnolia Market!  Every comment that you leave on ANY Worthing Court blog post equals one entry, so more comments = more chances to win!  You can read more about the giveaway HERE.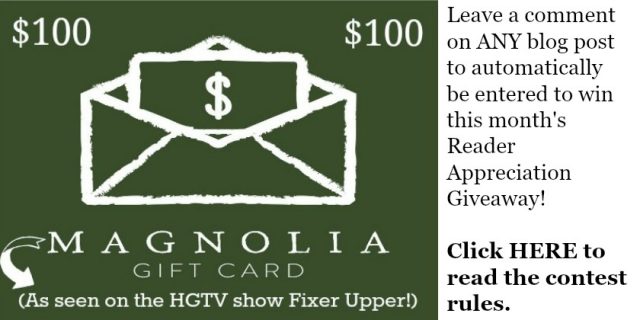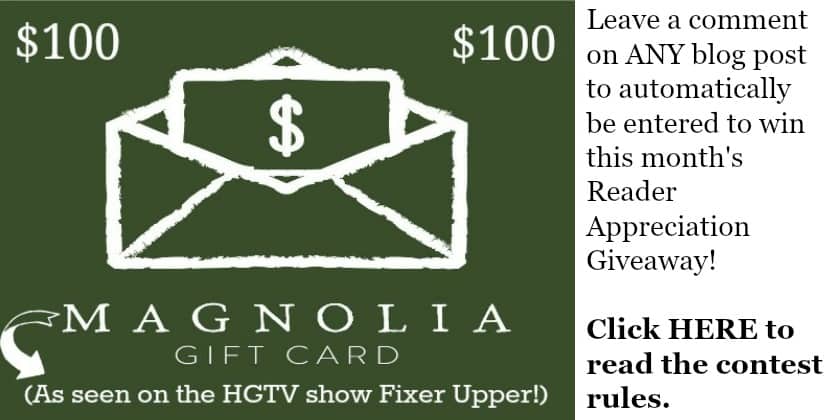 My whole goal at Worthing Court is to inspire, encourage and help you with your own home!  I'd love for you to sign up for the newsletter to follow along, never miss an update and to always find out about the latest monthly Reader Appreciation Giveaway.
Sharing at THESE great parties.