Now Is The Time To – Summer Edition
With the change of each season comes a new checklist of things you should take care of around your home. These are things you need to do to keep your home in tip-top shape this summer.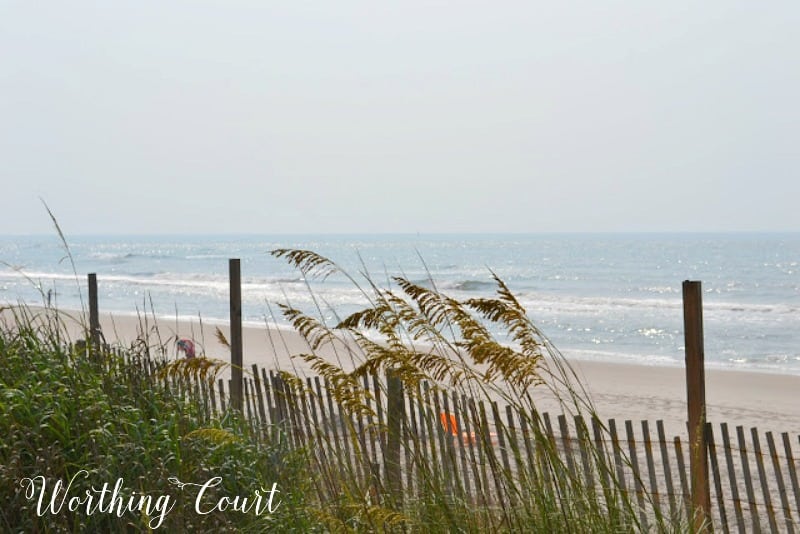 Pin
Now that summer is here, you're going to want to make sure your home is at the top of its game to withstand the onslaught of heat and humidity that the season brings. Add these ideas to your summer home maintenance list and your home and ultimately your wallet will thank you!
I was compensated for this post by FiltersFast. All opinions are 100% my own.
MAKE SURE YOU'RE CONSUMING CLEAN WATER
During the hot, hot days of summer, cool refreshing water is bound to be on all of our minds. We all know how important it is to our bodies to drink a sufficient amount of water each day, but if the water that you're drinking isn't clean, you may be doing yourself more harm than good. Whether you're on a city water system or using well water or if you have a pool or a spa, now is the time to change your water filters and set yourself up on a schedule for continuing to do so every three – six months.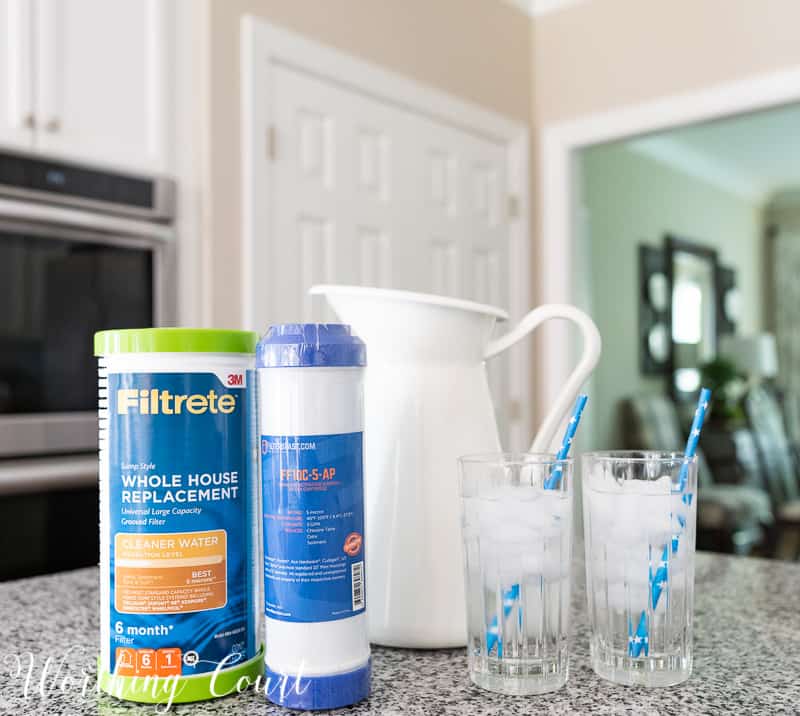 Pin
We're on well water at our home, so we use both a whole house filter and an under the sink filter at our kitchen sink. Just like with air filters, water filters are one of those pesky items that I never seem to have on hand when it's time for a new clean filter. I solved that problem by purchasing my filters online from Filters Fast. That way I can order my filters without having to make a special trip to the big box home improvement store. I joined the Filters Fast Home Filter Club to be able get auto delivery on a schedule of my choosing. And bonus – by joining the Filters Fast Home Filter Club, I save an additional 5% on every order! Click HERE to read more about it.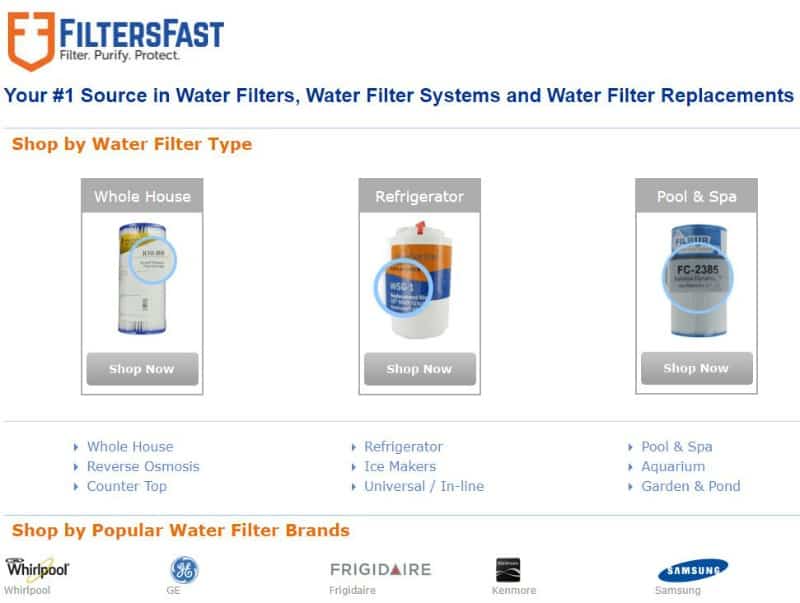 Pin
KNOW HOW AND WHEN TO WATER YOUR OUTDOOR CONTAINER PLANTS
Speaking of water, did you know that there is an optimum time of day that you should be watering your outdoor container plants? And that you might need to water them more than once on a sweltering summer day? Unless your container garden contains succulents or some other type of plant that doesn't require much water, they need to watered at least once per day at the very least. Don't wait until you see a lot of drooping or shriveled leaves – that's a sign that your plant is under stress and could make it more susceptible to pests or even cause it to die and early death.
In general the best time of day to water container plants is early in the morning. Watering plants in the mornings gives them time to drink the water before the heat of the day sets in. If it's extremely hot outside or if you have an especially water loving plant, you may even need to water your container twice each day. In that case, the best time for the second watering is in the early evening.
HOME AND GARDEN DECORATING IDEAS FROM MY TRIP TO MAGNOLIA MARKET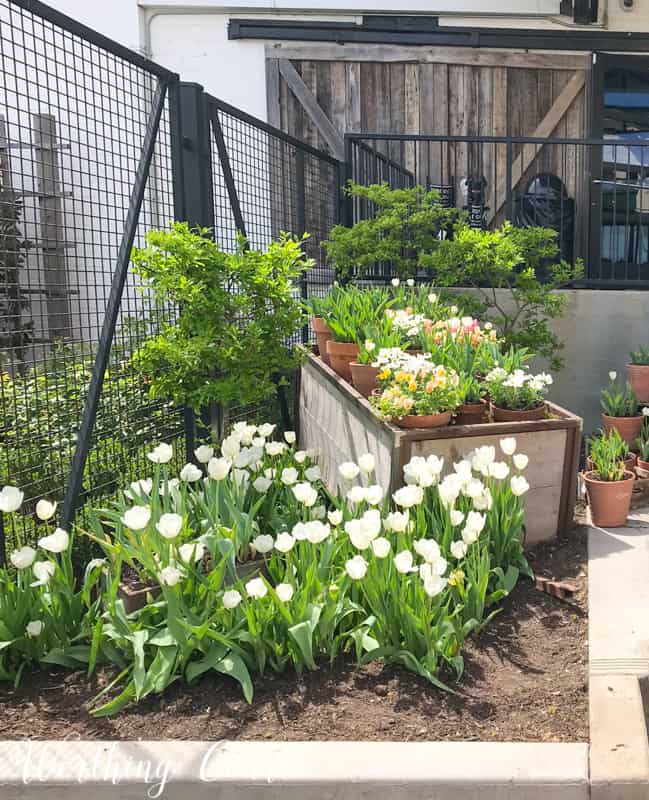 Pin
INSPECT AIR CONDITIONING UNITS
This is a not so glamorous, but necessary maintenance item that will save you $$$ in the long run. This is the hardest working season for your cooling system and you want to make sure that it's in perfect running order. If you've never experienced it, I can tell you that it is not fun to have your air conditioning break down when it's sweltering outside. If you have window air conditioning units, be sure to put in a fresh filter. If you have a central cooling system, I recommend scheduling a checkup with a professional to hopefully avoid any problems.
HOW TO MAKE A WATERCOLOR PORTRAIT OF YOUR HOME WHEN YOU AREN'T A PAINTER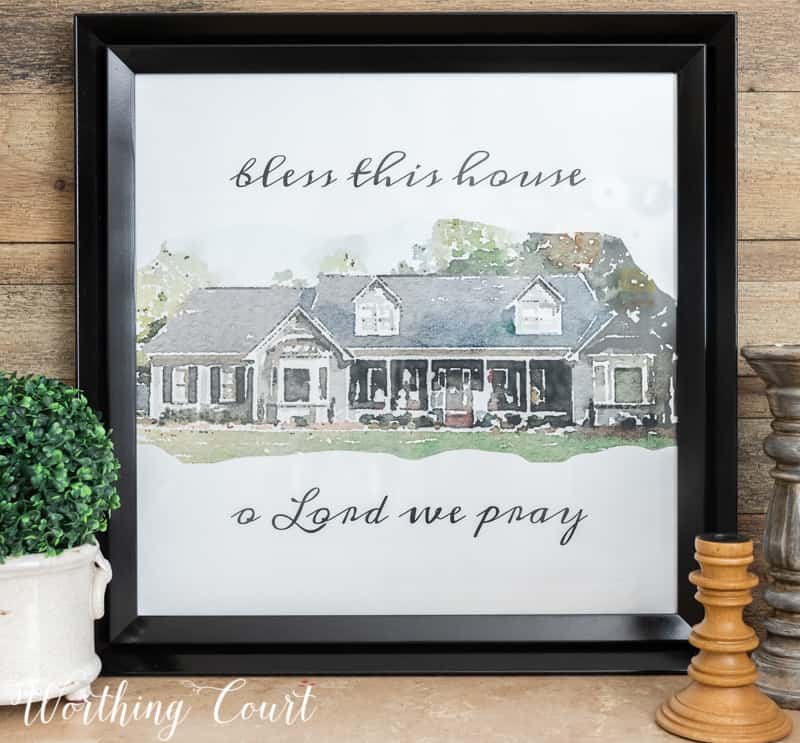 Pin
GET YOUR OUTDOOR COOKER BURGER READY
Don't ever come to my neighborhood around 6:00pm on a weekend evening if you're hungry. It never fails that mouthwatering smells are wafting through the air because one of my neighbors is using their grill. 😀 To keep your grilled food tasting its best you should clean your outdoor cooker on a regular basis. Follow these simple steps:
For a gas grill: Turn the heat to high and allow the grill to "cook" for about thirty minutes with the lid closed. Allow the grill to cool and clean the grill grate with a bristle-free grill brush. Keep the exterior looking new by wiping down the exterior with a damp sponge and a gentle cleaner. Don't forget to clean the grill's drip pan too.
For a charcoal grill: Completely empty the grill of any leftover charcoal and wipe out any ash residue. Clean it inside and out with hot water, a good scrubby and liquid dishwashing detergent. Rinse the grill clean and allow it to completely dry before using it again.
RECIPE FOR PIMENTO CHEESE BACON BURGERS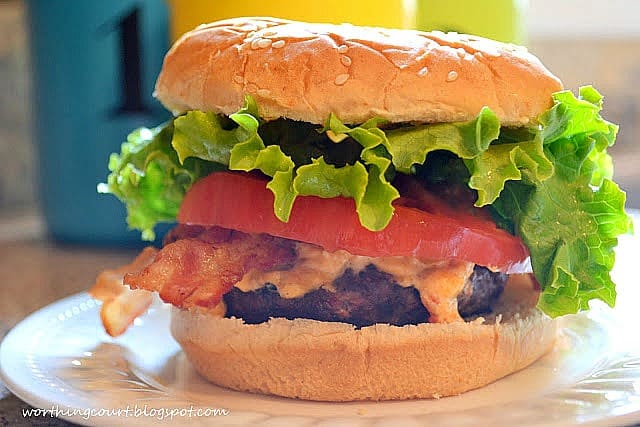 Pin
KEEP YOUR CEILING FANS LOOKING GOOD
You may be a person who says they will never ever have a ceiling fan in their home because you don't like the look of them. I'm here to tell you that ceiling fans have come a looong way in recent years are no longer the ugly clunkers of the past. If you're like me though, you may think that having ceiling fans in your home is a must! We have fans in our bedrooms and in our master bathroom and I never fail to be amazed at how quickly dust gathers on the edges of the blades. Now is the time of year that you may be using your ceiling fan more heavily so remember to keep them dust free. Nobody likes a groddy looking fan.
LIVING ROOM MAKEOVER REVEAL – BEFORE AND AFTER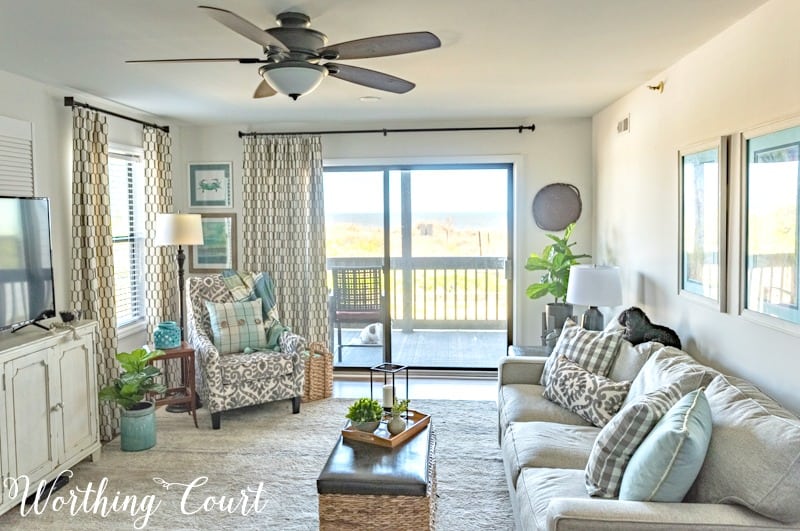 Pin
There are myriad of other items on my summer home maintenance checklist, but these are some of the major ones that I try my best to do at the beginning of every summer. I'm a believer that keeping your home in tip-top shape is just as important as the time, energy and money that you put into decorating it! Don't you agree?