A Clever Idea For Table Linen Storage
Use this clever idea for table linen storage when you don't have a closet and want to keep things organized and right at your fingertips.
I've spent enough time unpacking and organizing and am ready to bring on some pretty in our new house! I'm trying very hard to be intentional when it comes to decorating this house. But being intentional translates to being patient and that is so hard for me!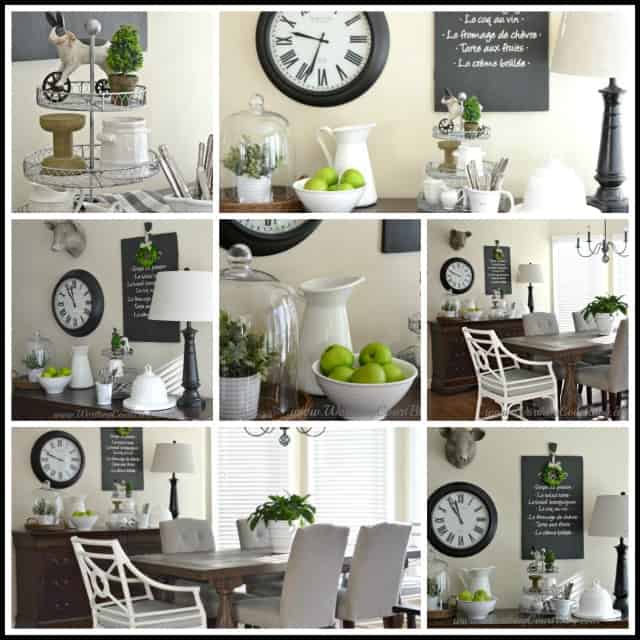 In the kitchen at my old house, I longed for a piece of furniture to use to display favorite things and to store table linens, but there wasn't one single bit of wall space in that whole kitchen where I could put anything. There's plenty of wall space in the kitchen in this house though and that's one of the many reasons why I fell in love with it.
Farmhouse Style
I didn't have any luck prowling Craigslist, but a trip to Salvation Army yielded pure gold! I scored a well made dresser (and mirror that I can use elsewhere) that is perfect for my kitchen for just $57. It's a good thing that I was ready to take it home with me right away because someone tried to buy it out from under me.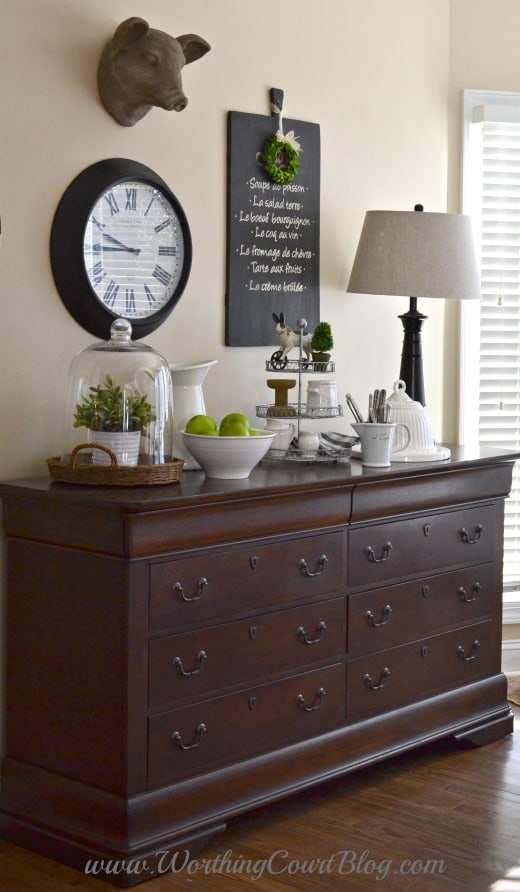 This wooden dresser is perfect for holding all of my kitchen towels, aprons, placemats, table runners, table cloths, napkins and table setting paraphernalia, like napkin rings. Plus, it can double as a buffet if I need it to. Everything is stacked neatly into each drawer.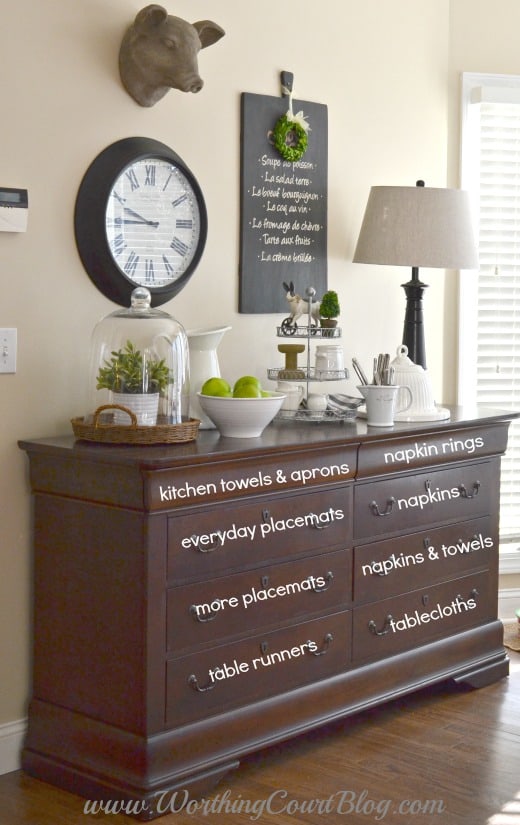 My intention had been to paint the dresser gray, but once I gave it a thorough cleaning and lived with it in the space for a few days, I decided that I really liked the original dark wood finish. The side chairs at my table are covered with a gray/brown/flax heather fabric and the kitchen island cabinets on the other side of the kitchen are gray, so I decided that having a gray dresser, even if it was distressed, would be too much. I think that it looks great with the dark wood of the table and the brown and gray specks in the chair fabric. BTW – I haven't decided what to do with the end chairs yet.
Instead of putting open shelves above the dresser, like I originally planned to do, I opted to put a grouping on the wall and display some of my favorite decor items on the surface of the dresser.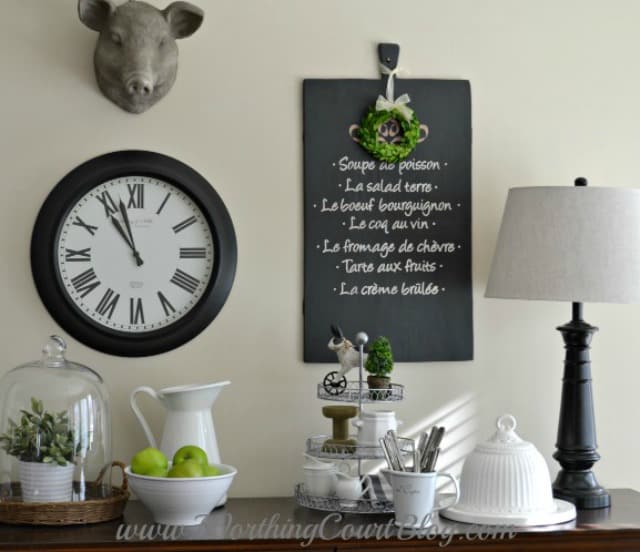 I've been collecting white dishes and crockery for quite a while in anticipation of someday being able to have the kitchen of my dreams. I can't wait to share the rest of the space with you!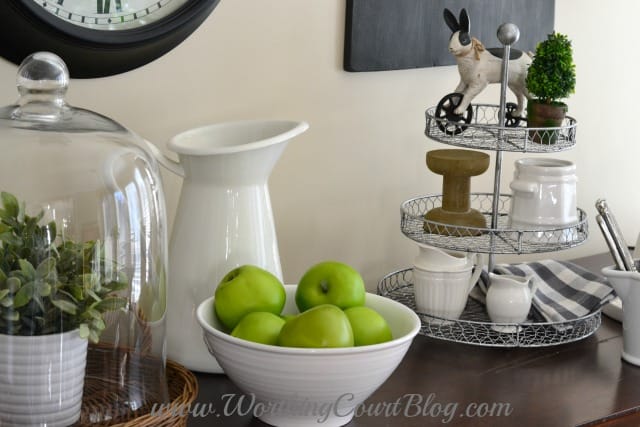 Also I have a thing for bunnies and I just love this little folk art guy on wheels.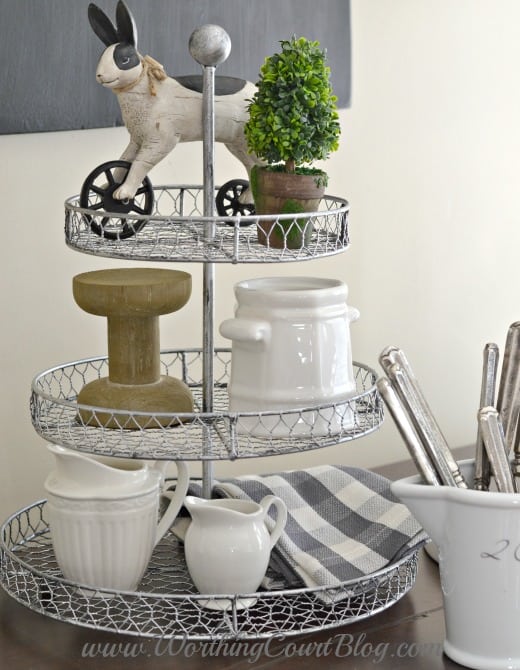 I also used a bowl filled with faux green apples, a cloche covered plant on a wicker tray and a crockery cloche and platter that I found at a local home decor shop.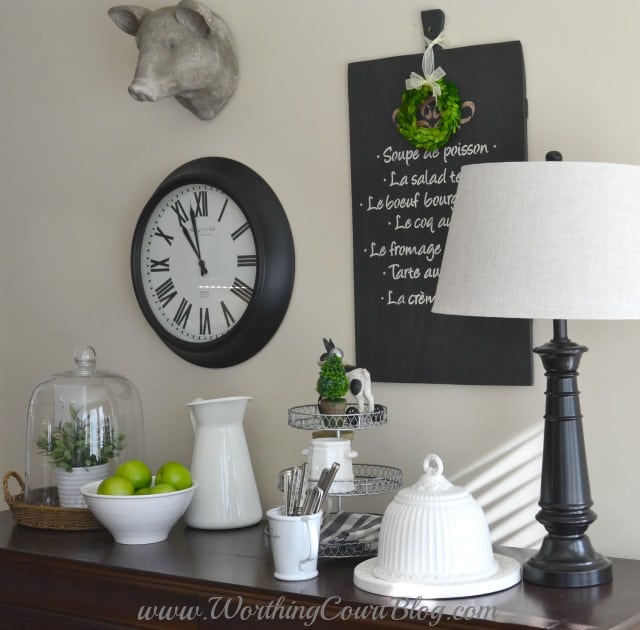 I always turn the lamp on at night and it makes the whole space so cozy.
You might recognize the chalkboard menu from my last kitchen. It always looked out of place in that kitchen, but I love it here. Especially with the addition of a preserved boxwood wreath tied around the handle. You can find the tutorial for the menu board HERE.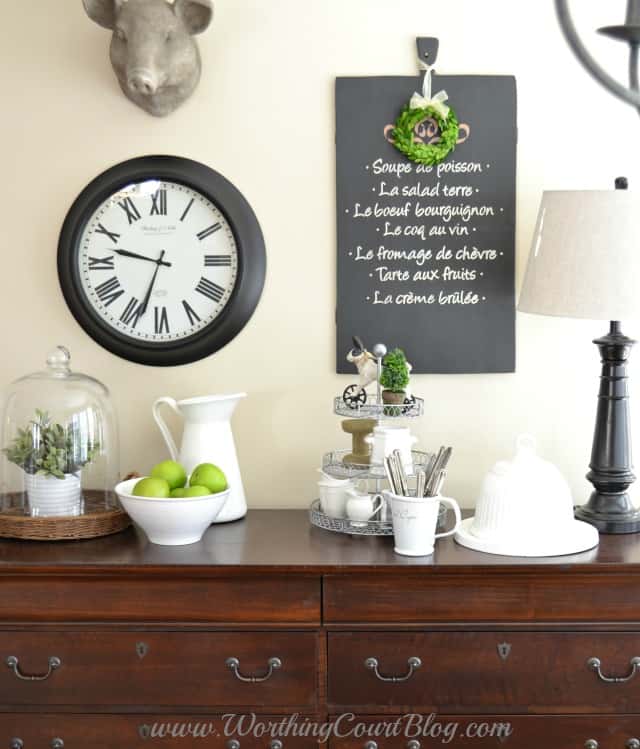 This is my view from my spot on the couch every night. I can't stop looking at it. Maybe I sound silly, but I'm so happy to be rid of the dark kitchen that I had before.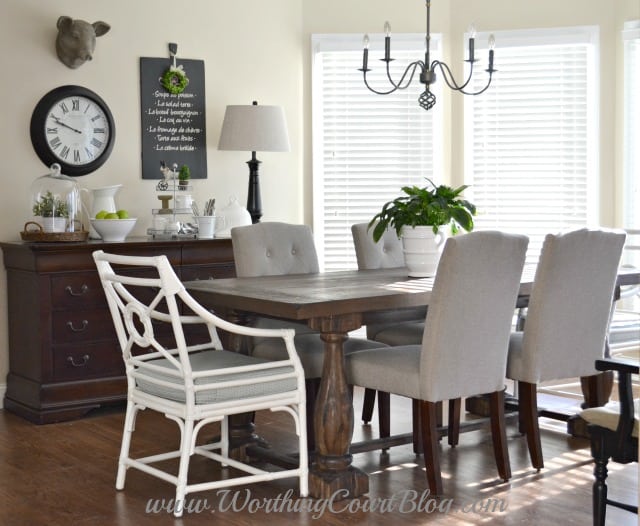 Don't forget to pin it!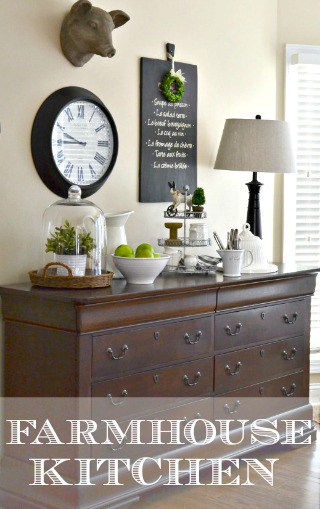 Check out what I did on the other side of the breakfast area HERE.