Hi everyone and welcome to this week's edition of The Scoop!
Boy, blogland has been filled with all things Valentine's Day over the last couple of weeks. This past week was no exception for me.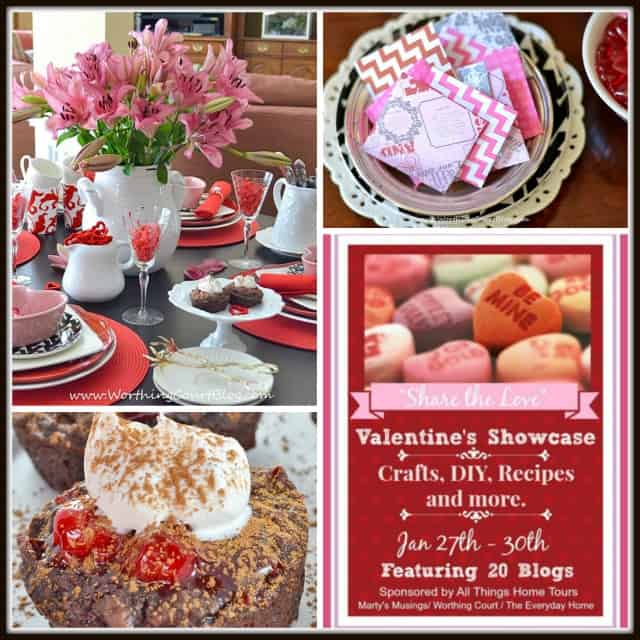 I was in full blown Valentine mode all week long and it doesn't show any signs of letting up over the next few days!
I shared a recipe for some oh-so-yummy Fudge Brownie Cherry Bites.  We are addicted to these moist and chewy bites of goodness!
I shared some Valentine's Day Decor around my house as part of the All Things Home Share The Love Valentine's showcase.  A total of 20 bloggers shared their Valentine's inspiration.  You can find the links to the 19 other posts in my blog post.  Lots of ideas and inspiration!
Want to learn how to make Mini Valentine's?  Check out this blog post for the tutorial and read a story straight from my heart.  It's a story about love and loneliness that was hard for me to write, but one that I felt needed to be told.  I sure did exit my comfort zone with this one!
I know y'all are anxious to get started with the party.  And I cannot wait to see what you have to share this week!
Welcome back to The Scoop
The weekly linky party featuring the scoop on the best posts from around the web!
More exposure + less time = win win!
We are:
Barb from The Everyday Home
Yvonne from
StoneGable
and Suzy from
Worthing Court
Our host this week is…
Hi, everyone! I am so excited to have you join us! But first, a bit of news…we are listening to our readers and we are hearing that the party has become a little long and cumbersome, so we have made a change. We will no longer have a guest host…just the five of us taking turns hosting each week…and this week I am excited to have my turn!
With February beginning, we all have Valentine's Day on our minds and I have some fun things to share!
I've been having fun bringing a bit of a farmhouse twist to Valentine's Day this year…with lots of galvanized goodies and vintage ironstone plus sweaters and burlap to add some texture! Throw in some easy-to-do faux cross-stitch and you have my Farmhouse Valentine's Day! Have a peek at some of my posts to see for yourself:
A Farmhouse Valentine Wreath with Sweater Hearts
Vintage Ironstone Valentine Centerpiece
Farmhouse Valentine Mantel
Pottery Barn Inspired Valentine Tea Towel
And we are excited to host a wonderful blog tour this week for Valentine's Day…featuring twenty-five very talented bloggers to offer you some fabulous Valentine inspiration! The fun just began this morning…so head over to Anita's at Cedar Hill Farmhouse to begin your tour!
And now…on to the features from last week's party!
Did you know that a chalkboard doesn't have to be black? Just look at this colorful heart-shaped chalkboard from The Real Thing with the Coake Family! Isn't it perfect  for Valentine's Day?
And here's another little Valentine treat…these wonderful red velvet cake pots from Place of My Taste! Wouldn't they make fun Valentine gifts…served in a pretty Valentine mug!
And, of course, you know I loved this…beautiful Spode Italian cake plates and dessert forks (plus some yummy dessert to go along with them) shared by Pat at Back Porch Musings!
These unique DIY chevron stairs from Robb Restyle have me wishing I lived in a two-story house! Aren't they fabulous?
Tidbits & Twine shared this amazing guest bedroom makeover, including that fabulous re-do of a Craigslist cabinet and lots of frenchy touches!
And finally, I loved the tips for organizing a small linen closet from Finding Home! It's what my closet wants to be when it grows up!
Once again, we thank you for joining us at our party each week! After all, what's a party without the guests? I can't wait to see what you have to share with us this week sooooo…let's get this party started!