Hi everyone.  It's partaay time again!  We're so glad that you're here to inspire and to be inspired.
In case you haven't made it by for a visit since our last party, here's a little of what has been inspiring me and what I've been up to: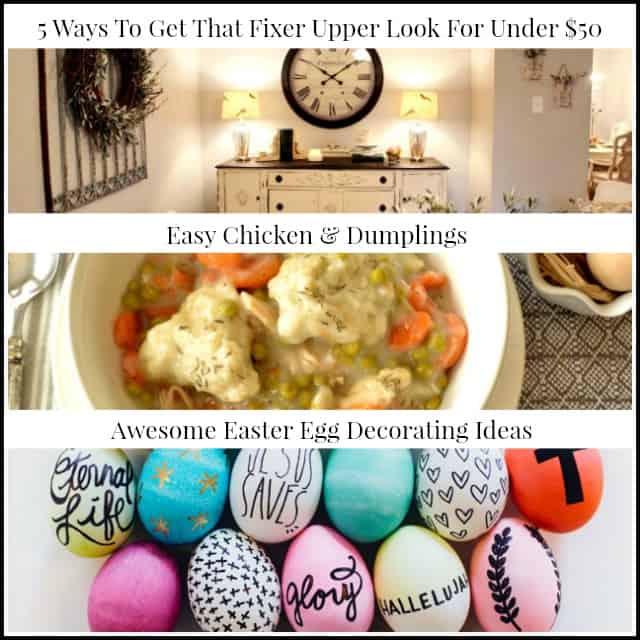 Welcome back to The Scoop!
We are :
Our host this week is…
Debbie from Confessions of a Plate Addict
Hi everyone and thanks so much for joining us today! I am loving seeing all of the wonderful spring projects that you have been sharing. Spring has indeed arrived in the South and I am so happy to see it at last!
So to celebrate its arrival, I have created some fun PAPER MACHE BIRD'S NESTS. They are so easy to make and you will not believe what they are made from…so inexpensive! Brown paper bags!!!  Yep, you read that right! Even the kids could get in on this project!
And I am also excited because it's time for the monthly share from our Country French design group! This time the subject is our choice so I am sharing some tips on DECORATING WITH VINTAGE FRENCH IMAGES. And you can do it without spending a lot of money! I hope you'll head over and check it out!
And now…here are just a few of your wonderful projects that caught my eye last week!
Doreen at Hymns and Verses shared her pretty Spring Cottage Style Buffet...lovely!
Mary at Orphans with Makeup showed us a new-to-me technique that she used to create this beautiful Embossing Plaster Dresser…so unusual!
If you love Beatrix Potter as much as I do, you will love Peter Rabbit's Carrot Zucchini Muffins from Mary at Home Is Where the Boat Is! And you've got to love the cute way they are displayed, too
Wouldn't these Bird's Nest Napkin Rings add the perfect spring touch to your table? They were shared by Bonnie at Uncommon Designs.
Isn't this a cute idea for a spring wreath? Barbara at 21 Rosemary Lane used her daughter's much-loved childhood boots to create her Spring Rain Boot Wreath, making it even more special!