Hi everyone!  Did you have a wonderful Easter?  Ours was very, very quiet, but it was wonderful and relaxing.
I bet all of you have some amazing stuff to share and I can't wait to see!  In case you haven't made it by since last week, here's what a little of what I've been doing.
How To Make A Spring Wreath And The Bow To Go With It In 10 Minutes
Field Trip To A Home Decor Shopping Mega Store: New River Pottery
My Console Table: New House vs Old House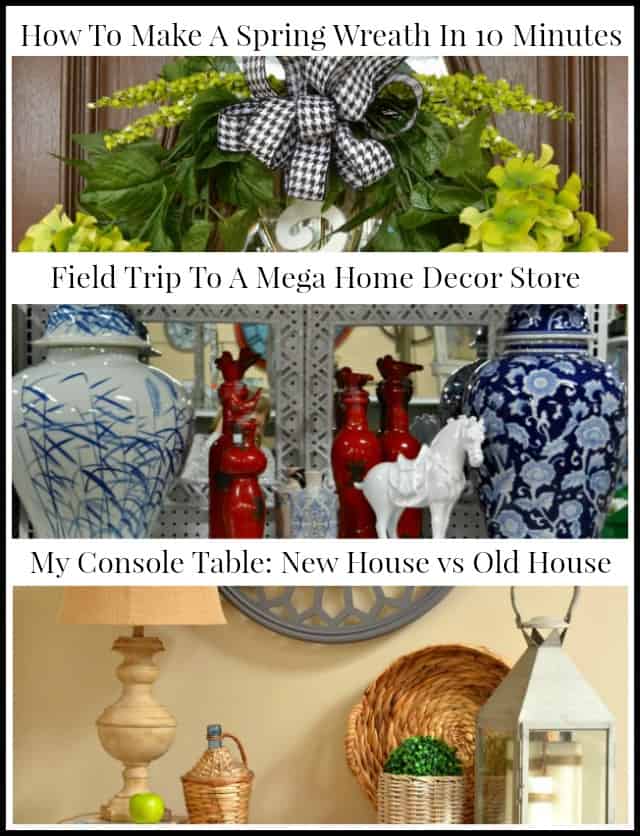 Now let's party!
~~~~~~~~~~~~~~~
Welcome back to THE SCOOP!
We are
Your host this week is Yvonne from StoneGable
Hi Everyone! Thanks for stopping by THE SCOOP! Don't we have the best blog contributors? A huge thank you for sharing the best on your blogs!!!! One of my favorite things to do is peruse all the great posts you feature from week to week! You have been especially talented and BUSY this spring!!!!
Did you see the
SPRING TULIP WREATH DIY
I posted? It's so easy to make and has that WOW decor style we all love on our front doors! It's perfect for spring!
And you might want to check out… WHAT IS FARMHOUSE STYLE AND 10 WAYS TO GET IT.  I have loaded this post with lots of farmhouse inspired ideas and images! Every home can use a little farmhouse!
Now, let's party! Here are a few of the fabulous entries from last week!
Heather from Woods Of Bell Trees showed us how to make an amazing LAVENDER CLAY MASK. This one's on my to-do list. Most of us could pamper ourselves a little more. And this is a great way to start.
I love love love AKA Design and you will too! Shannon is sharing her wonderful home with a HOME TOUR! Don't miss this!
OH YUMMY! Let's make a great breakfast starting with this delicious BAKED FRENCH TOAST WITH BERRIES from The Life Jolie. I'll be making this next weekend!
Don't you love posts that teach you how to do something in your home? I sure do! Like Amy's post on HOW TO DECORATE WITH WHITE DISHES.  I learned a lot!
Here's a DINING ROOM UPDATE that is inspiring! Joan's new look is just amazing!!! There are tons of ideas to inspire… and copy!!!! Head over to Nicer Than New to visit!