Hi my friends and welcome to Scoop Day! Y'all know this is my fave day of the week!
Hey – I've got a question for you. Do you have a small living room or family room that you struggle with making stylish, yet still functional, for your family? I know sooo many people who have this dilemma and don't know what to do or where to start. I came up with a whole slew of tips to help you jump over that hurdle.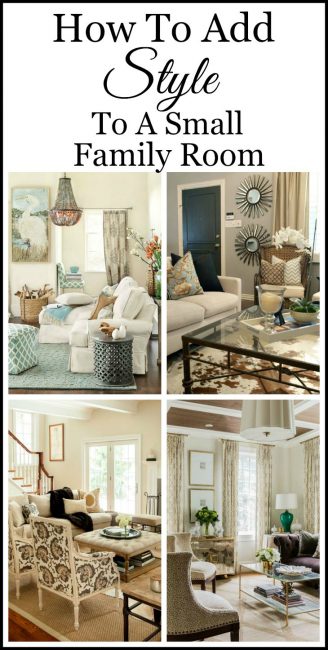 Now, let's see what you have for us this week!

Welcome back to The Scoop!
The weekly party featuring the scoop on the best from around the web!
and Suzy from
Worthing Court
Our host this week is
Debbie at
Confessions of a Plate Addict
Hi everyone! It's been a busy week here with summer starting to wind down for us and the grands back in school! A little sign of fall arrived with the first blooms on my ginger lilies…always a welcome sign that the summer heat can't last too much longer!
And although I realize it may be a little early for those of you in colder climates, it's a favorite season here at CONFESSIONS OF A PLATE ADDICT! Since I know that many of you are DIYers like me and need a little time to get ready, I am sharing 10 WAYS TO GET A HEAD START ON FALL…and you won't need any real pumpkins for these ideas!
I have also shared some tips for creating a VINTAGE FARMHOUSE CENTERPIECE starring vintage ironstone, old silverplate and vintage-look grain sack. I have even included a source for the grain sack, so head on over to check it out!
And now…here are a few of my favorites from last week's Scoop!
Sharon at The Blue Willow House shared her tips for creating a QUICK AND EASY SUCCULENT CENTERPIECE in her wonderful chippy thrifty find! Love this idea!
Ashley at Vintage Refined showed us how she is MAKING IT PERSONAL by using monograms throughout her home. I especially loved the grain sack cover on this Bentwood chair…and the bright pop of green among the blue and white!
Mary at Home Is Where the Boat Is amazed us with her WATERING CAN LOVE …a fabulous collection of watering cans in every size and shape! My favorites are the galvanized ones!
If you know me, you know I loved this one! Melissa at Dancing Dog Cabin gave us a peek into her collection and shared 4 REASONS TO COLLECT VINTAGE SILVERWARE…beautiful!
Who doesn't love peaches…and Pam at Everyday Living has SOME PEACHY WAYS TO USE THEM, including this idea…stacked on her mom's pound cake. Yum!
And now, I want to see what you have to share, so let's get on with the party!