Hi friends and happy Scoop day! Can I just say that you never know how much you should appreciate the simple things, like heat, until you don't have it anymore? Yep, we're having trouble with one of our furnaces and I'm praying that it doesn't have to be replaced yet! Thank goodness for the fireplace.
On a brighter note, Valentine's is this coming weekend! Are you doing anything fun or do you keep it low key around your house? Me? I'm perfectly happy with just a mushy card. My only requirement is that it must have a handwritten message in it. Pookie gets off easy.
If you're looking for something special though, I did come up with list of easy peasy projects and recipes for you.
10 Quick & Easy Valentine's Day Projects & Recipes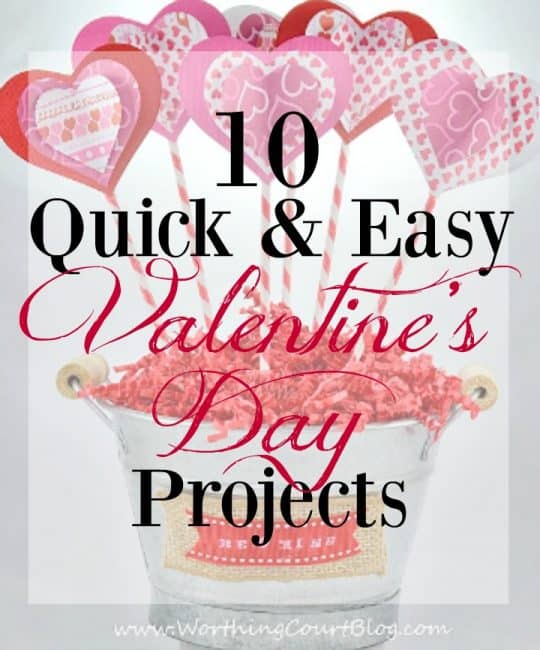 Let's get on with the party, 'cause I can't wait to see what you have to share!
————————-
Hi dear friends! So glad you stopped by THE SCOOP! Here in my area we are expecting snow AGAIN! I am one of those few people that loves snow. However, I'm really itching for spring to come early this year! How about you? Are you ready for tulips and budding trees and nests and pretty spring colors? Me too! I know that Valentine's Day is coming up this week, but it's really not too early to "think spring"! So, even though snow is in the forecast I'm sharing a little bit of spring today!
5 THINGS TO DO NOW TO GET READY FOR SPRING will give you a jump start on all things spring so when spring comes to your area you will be all ready to decorate!
Can you believe Easter is only 6 weeks away? Yes!!!! I have a beautiful and easy spring/Easter diy for you! You will love the results. Let's make TORN TISSUE EGGS. Even if you are not crafty you can do this. Wouldn't a bowl or basket of these gorgeous eggs look amazing in your home?
Okay, let's party!!!!
Welcome back to The Scoop!
The weekly party featuring the scoop on the best from around the web!
We are
Here are just a few of the amazing entries from last week…
Now, we can't wait to see your best this week…