Things to Shop For Right Now to Be Ready for Fall
Here's what you need to stock up on to be ready for your fall decorating.  Now is the time when the selection of fall decor is at its best!
This post contains affiliate links, which allows me to make a small commission from your purchase, but at no additional cost to you.  See my full disclosure HERE.
Summer is still scorching up the Carolinas and I'm loving sitting poolside, but my mind is elsewhere… or in a different season at least.
My granddaughters have started back to school, so that means fall is on the way.  While I'm not sipping a Pumpkin Spice Latte quite yet, I am working on changing up our home for cooler temperatures in all the glorious fall colors. While I have a nice stockpile of autumn items already, I've been eyeing new fall accents for several months now since the stores seem to rush the seasons sooner and sooner every year (like… I think Christmas started showing up on shelves in May this year).

And since the stores are chock full of stuff and now is the time to get the best selection, here are my pointers on what you should look for to ensure your home is ready when the temperatures do start to dip.
FALL FOLIAGE
If you close your eyes and think of fall, what is the first thing that comes to mind? For me it is all of the colors of nature as the leaves start to turn, so it's just natural to stock up on these items to incorporate into your home. Head to the store and fill up a basket full of leaf stems, faux fall flowers, small foliage picks and garlands because I can assure you that you'll most assuredly find plenty of uses for them when you start decorating.
This has to be one of the fastest and easiest door "wreaths" that I've ever made.  It's simply a basket, suspended on rope and filled with three large artificial floral and foliage bushes.  Place them into the basket, fluff them up and done!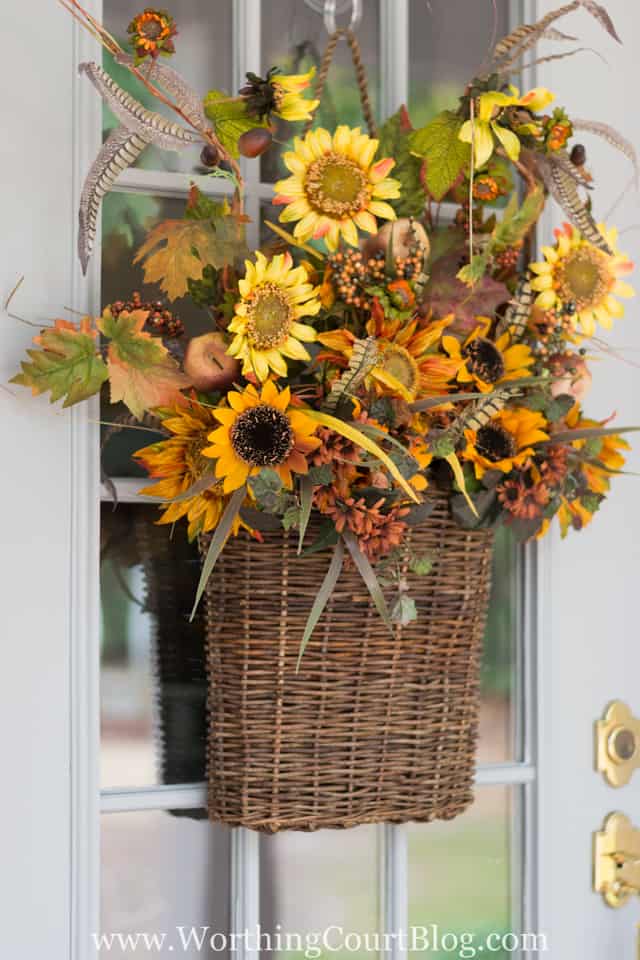 The soft green of artificial eucalyptus looks wonderful mixed with all of the colors of fall – golds, bronzes, browns and oranges.  And the roundness of their leaves softens up any arrangement, such as the spikiness of these wheat stalks.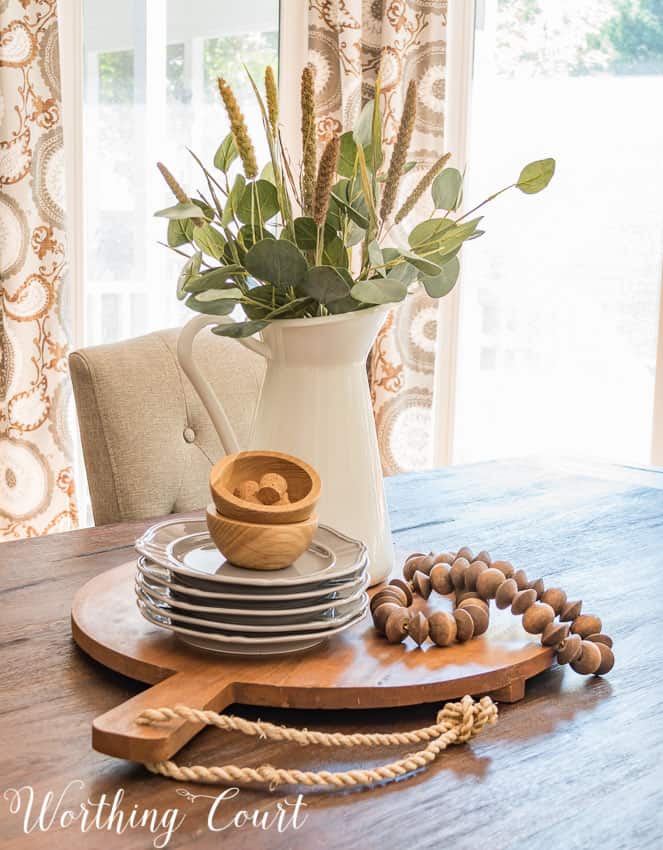 Look for long stems of faux leaves and bittersweet to combine together in a tall container.  Their airiness adds just the right of color without being overwhelming.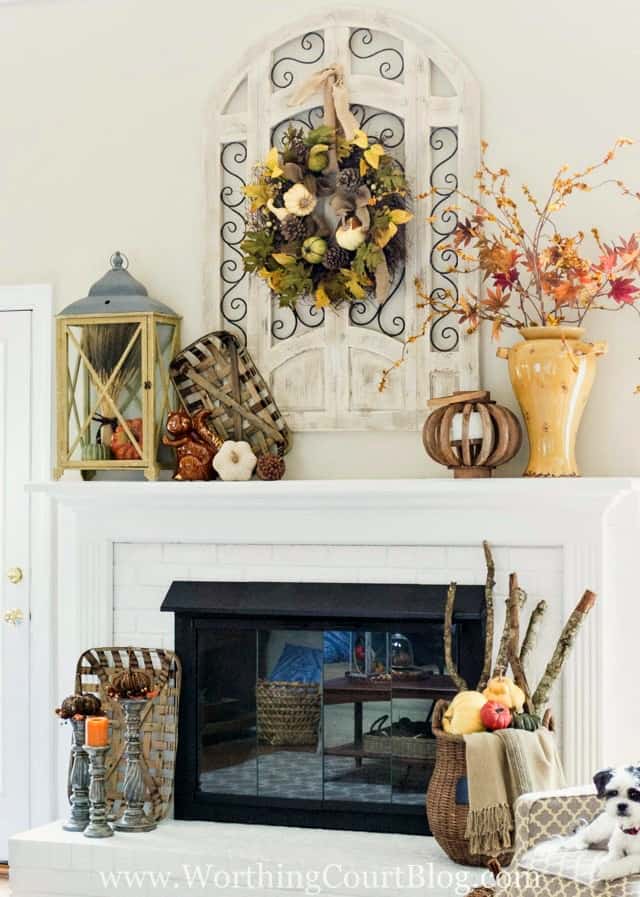 PUMPKINS & GOURDS
In the world of artificial pumpkins, gone are the days of obviously fake, plastic, shiny and perfectly round pumpkins.  Nowadays you can find them in a variety of sizes, shapes, colors and textures and oftentimes you'll need to touch them to make sure they aren't real!
Take a close look at this tiered tray and you can see that I've mixed a variety of pumpkin colors and shapes together.  I won't deny that they can be a bit pricey, especially the nicer ones, but I built my collection up by purchasing only a few each year.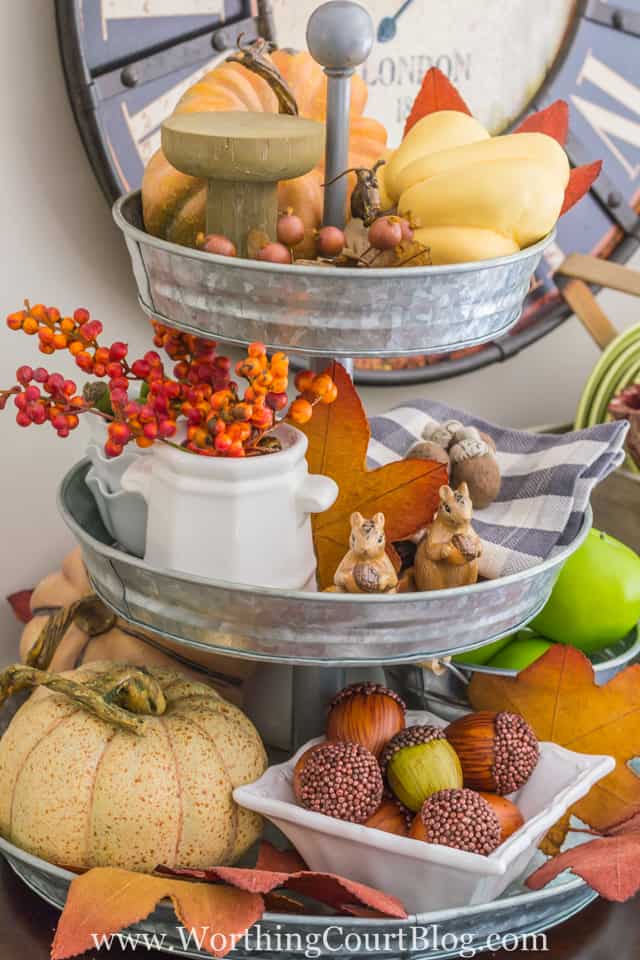 During the fall, I display them everywhere, in all of the rooms in my house!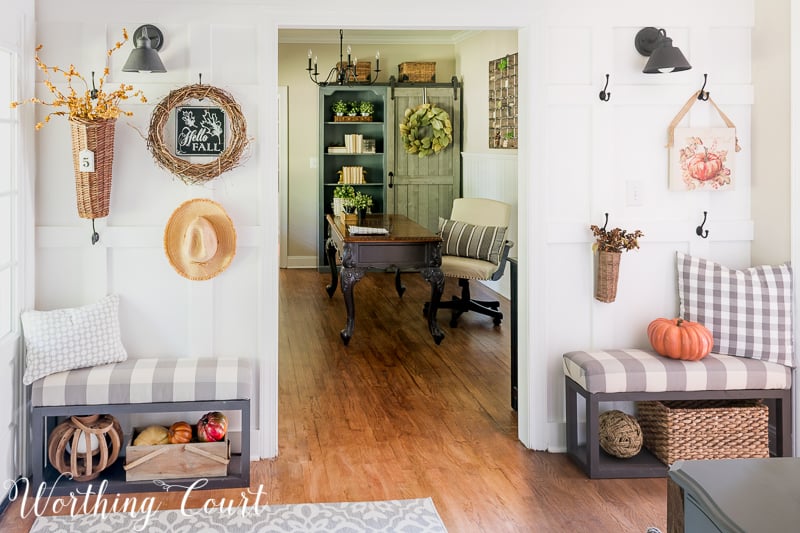 WREATHS OF ALL KINDS
Wreaths are one of those items that I keep on display year round. They aren't just for the front door either – I display them in empty picture frames, on interior doors, on lampshades – anywhere that needs just a little sumpthin' sumpthin'.  😀  I love to both purchase ready made wreaths or make my own.
I made this wreath using an embroidery hoop (get the tutorial HERE).  This is where having all that fall foliage that I mentioned above comes in handy!  The only thing that I bought, other than the hoop, was the cute little welcome plaque (at Hobby Lobby – they have them again this year!).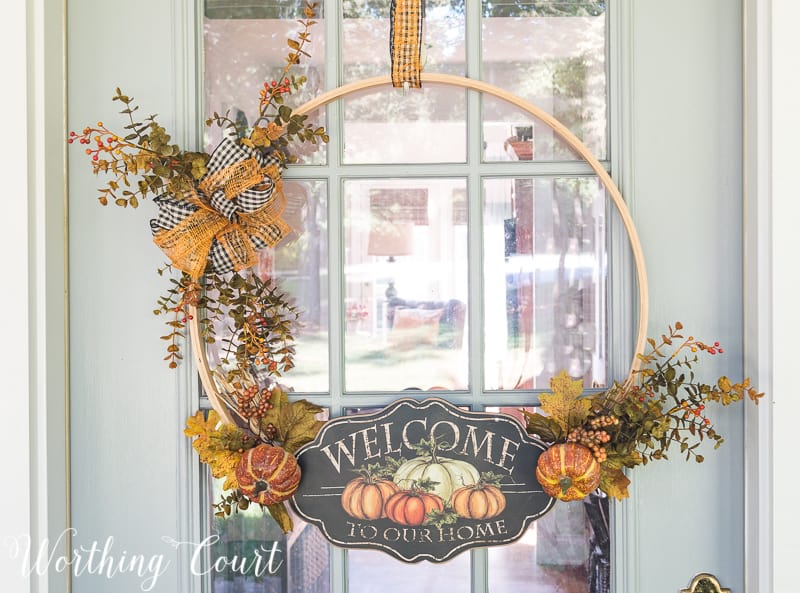 Purchase a plain wreath and spruce it up.  My stash of foliage came to the rescue again when I tucked two fall picks that I already had into a grapevine wreath.  SO easy and fast!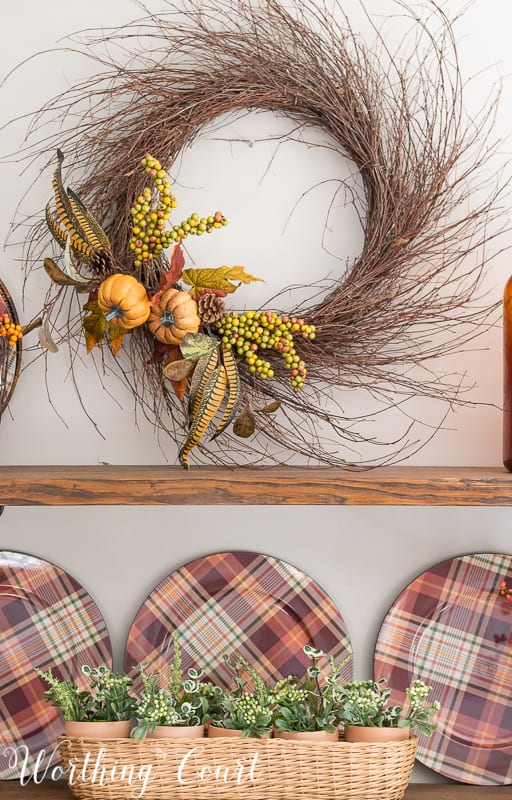 DISHES & CHARGERS
If you've followed me for a while, you know I love to include dishes and chargers in many of the seasonal displays around my home. Dishes are perfect for using as a riser, to add importance to a piece in a display and for adding color.  I have a closet full of various colors and patterns that come to life in my decor as well as on our dinner table.  Did you happen to catch the closet that I hoard, I mean store them in (haha) on my Instagram stories the other day?
Here's an example of where I've not only used dishes to add color (the green ones), but I also used them as a riser.  This cute fabric pumpkin would have been lost if it were not for the stack of dishes that I placed it on.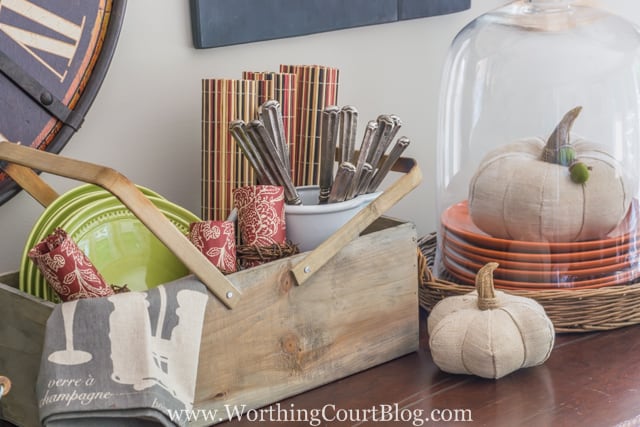 When I say "dishes", I don't just mean plates.  I love to incorporate, bowls, platters, vases and casserole dishes into my displays too!  A white scalloped bowl and vase help this whole display on the shelves in breakfast room to pop when paired with these fabulous plaid chargers and the rest of the fall colors.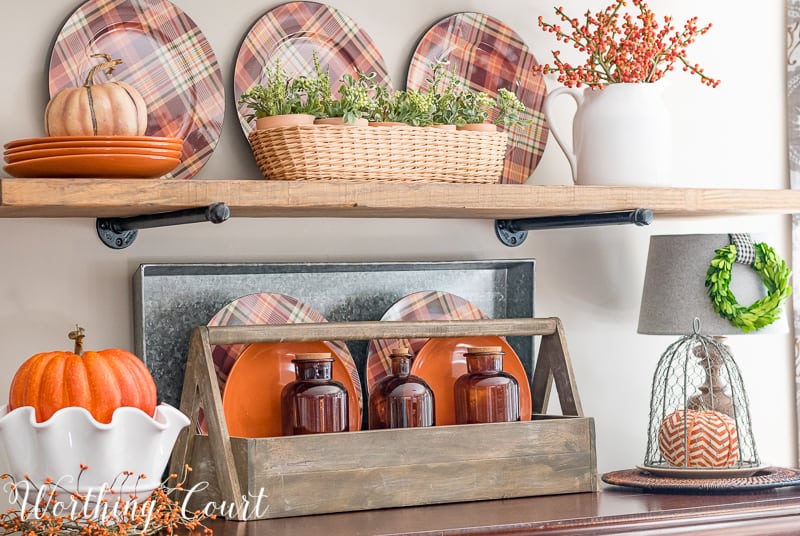 TABLE LINENS
Feasts and pretty tablescapes go hand-in-hand with fall, so it's obvious that along with dishes, you need to stock up on table linens too. While I love hosting meals for our friends and family year-round, our house comes alive in the fall as we celebrate birthdays — both my daughter and the hubs are October babies — holidays and just random get togethers.  Tableclothes, runners, napkins and placemats are things that I pick up whenever I see something that I like at a good price.
Here's a tip for you:  If you have a tablecloth that is shiny on the right side, try turning it over and using the wrong side.  I purchased this particular tablecloth years ago, but the right side of it is shiny, which is not a popular look these days, but the slightly faded, more muted colors on the wrong side pair perfectly with the rest of natural elements of this tablescape.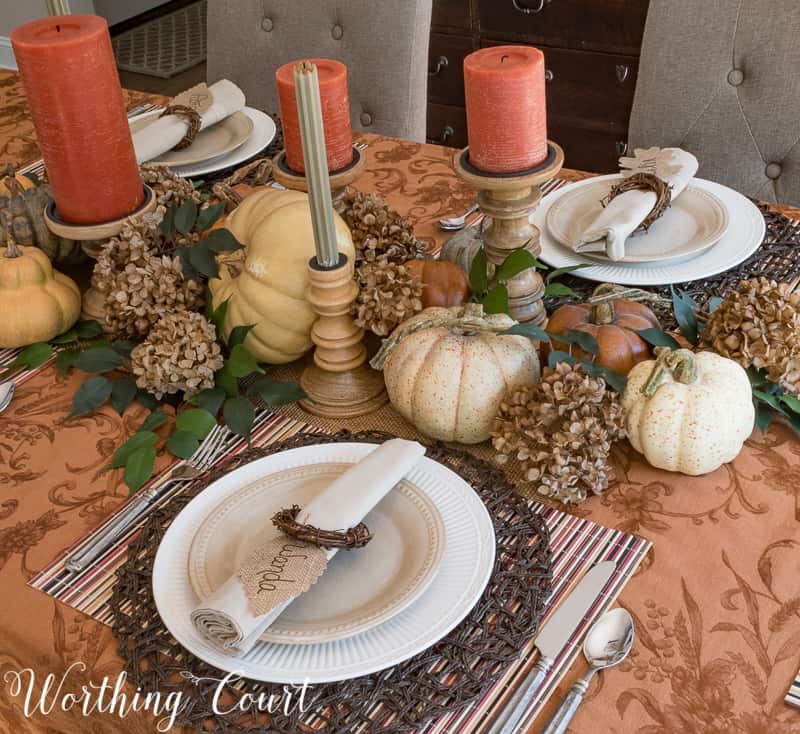 Even something as simple as a piece of burlap becomes a short table runner and provides a base for a centerpiece that would otherwise look lost in the center of a dining table.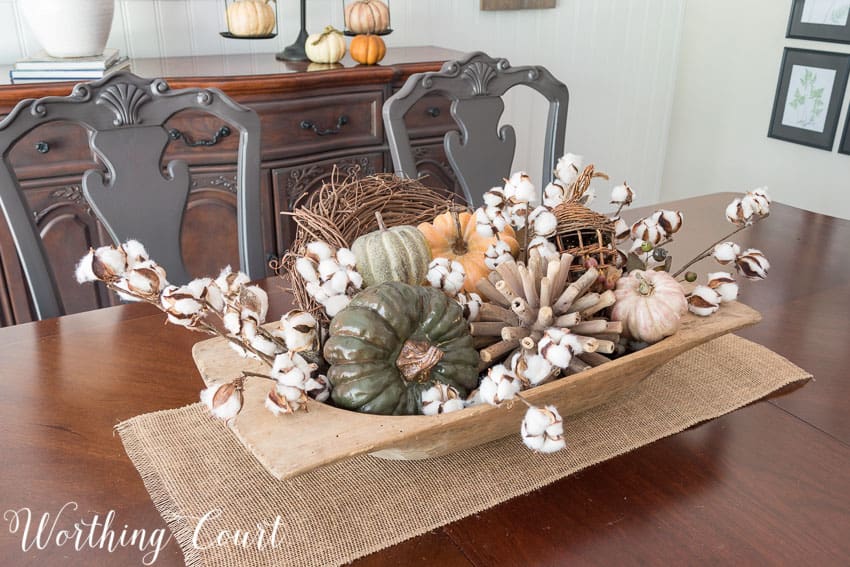 PILLOWS & THROWS
I know this is probably a given, but you can't talk about necessary fall decorating supplies without mentioning pillows and throw blankets.  Whether displayed on furniture or a blanket ladder, they're one of the easiest ways that I know to add instant fall to any of your rooms.
Don't feel like you only have to stick with traditional fall colors either.  Take a cue from the other colors and patterns in your room.  Here, I've added a blue summer throw to the mix because of the beautiful colors in the pillow cover.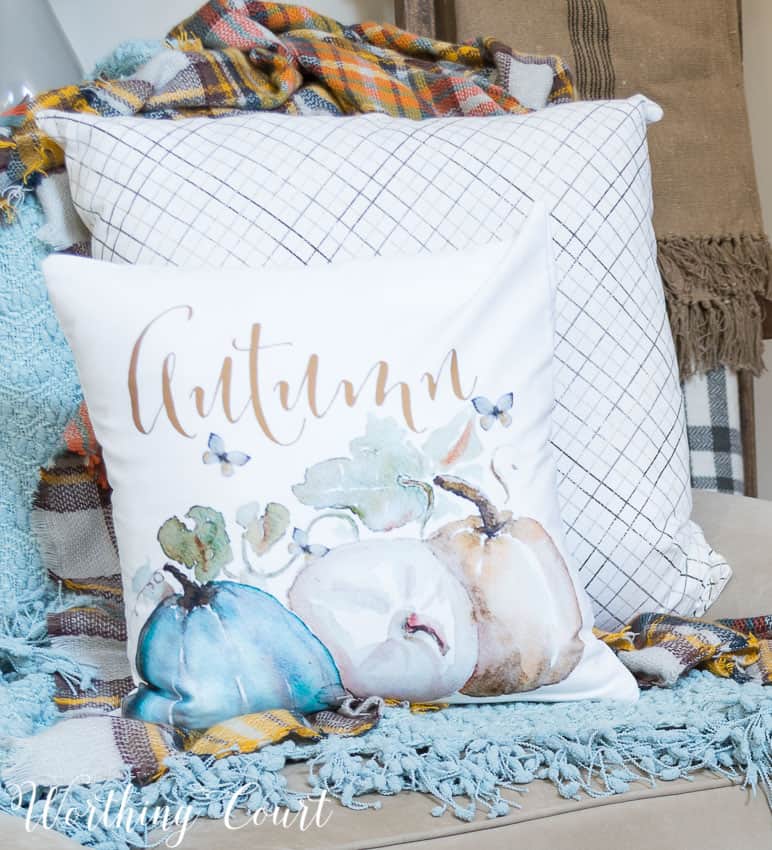 When it comes to using throw blankets for display, what you see isn't always what it appears to be.  Both the mustard colored throw on the chair below and the plaid throw on my sofa above are actually scarves!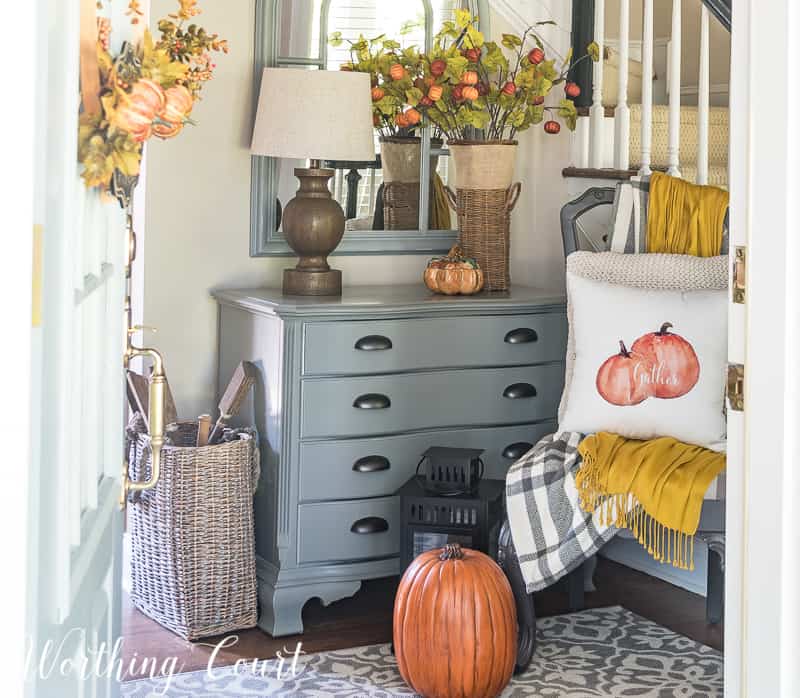 On a previous fall front porch, I've used my plaid blanket scarf as a "throw" once again.  You'll see it make other appearances in my fall decorating this year too!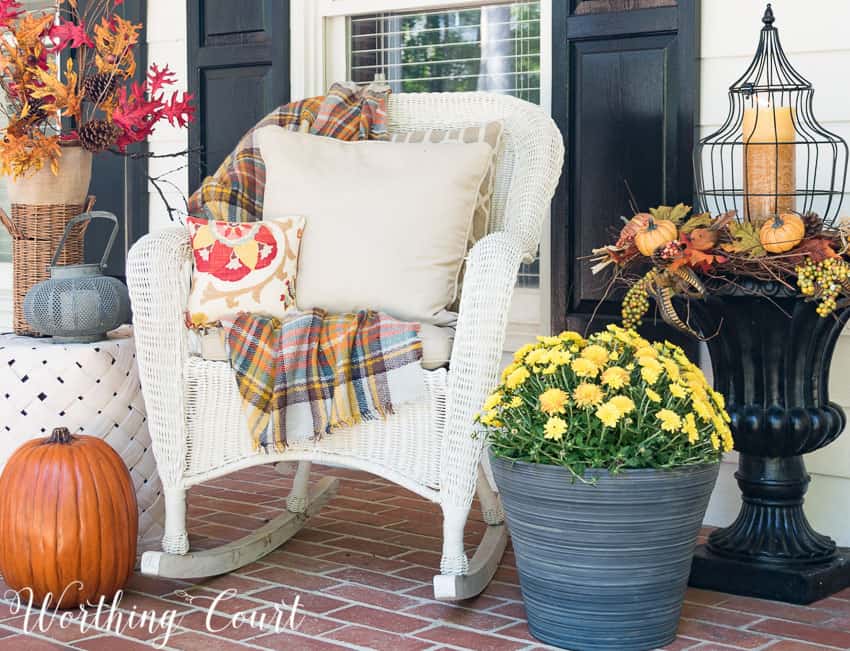 Autumn is traditionally a time to celebrate the bounty of the harvest.  If that's what you want your home to reflect this time of year, you'll want to make sure you have everything you need to ensure your home is as vibrant as the season itself is!