5 Burning Questions From Worthing Court Readers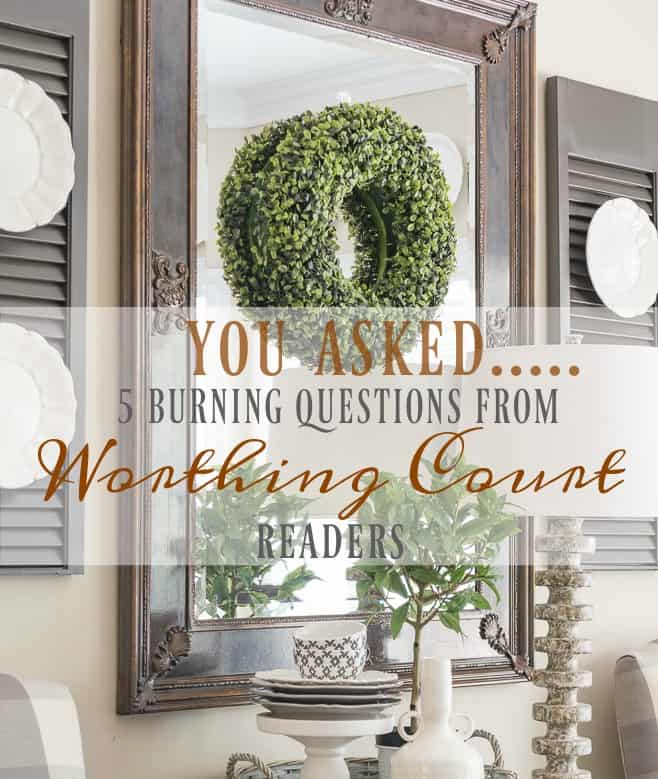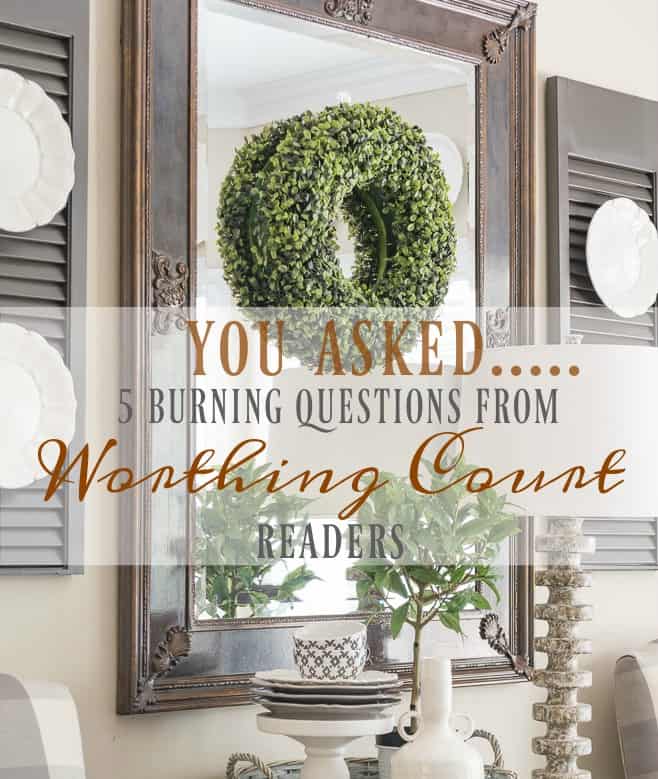 I get oodles and oodles of questions from Worthing Court's readers.  Everything from "where did you get that" to "how do I do this" to "where did Pookie's name come from".  And you know what?  It ALWAYS makes my day!  I love, love, love hearing from each and every one of you!  So, I thought it might be fun to take a few minutes to answer some of those questions today!
1. What color are the walls in your house painted?
The entire interior of our house is painted with Sherwin Williams Accessible Beige interior latex in the flat finish.  When we got to the interior painting part of the house remodel, I wanted gray, but Pookie wanted beige.  So, the compromise was for me to find a beige with undertones of gray.  Our last house had a different color in every room, which limited what I could put into the rooms.  In this house, I was bound and determined to use a neutral color throughout the house that would go with everything!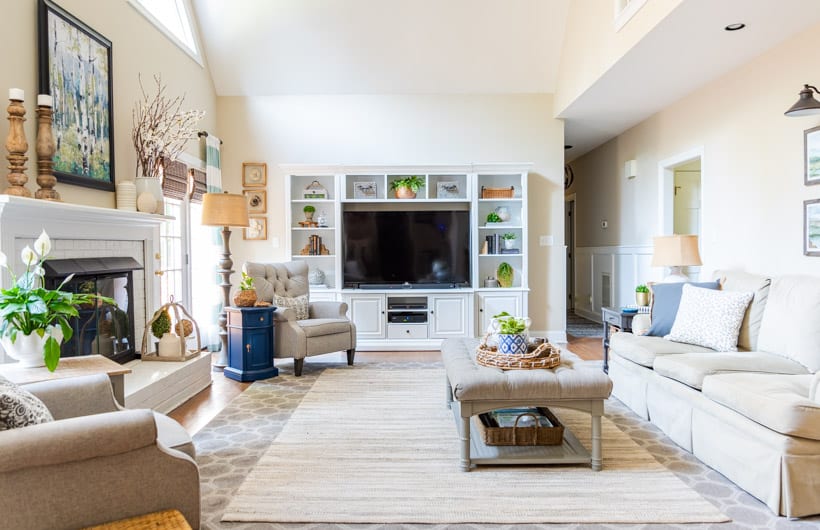 2. I want to paint my brick fireplace.  Do I need to use primer?  How did you paint yours? Do I need to use oil base paint?
This was such a simple project, but made such a HUGE difference!  We did not use primer on our fireplace brick prior to painting it. The brick (and the trim around it) is painted with Sherwin Williams Extra White interior latex in the semi gloss finish.  The only prep work was to give all of the brick a good brushing with a stiff brush and then to vacuum up all of the loose dirt.  It was painted using a combination of a thick roller and a paint brush (to get into all of the nooks and crannies).
FIREPLACE MAKEOVER BEFORE AND AFTER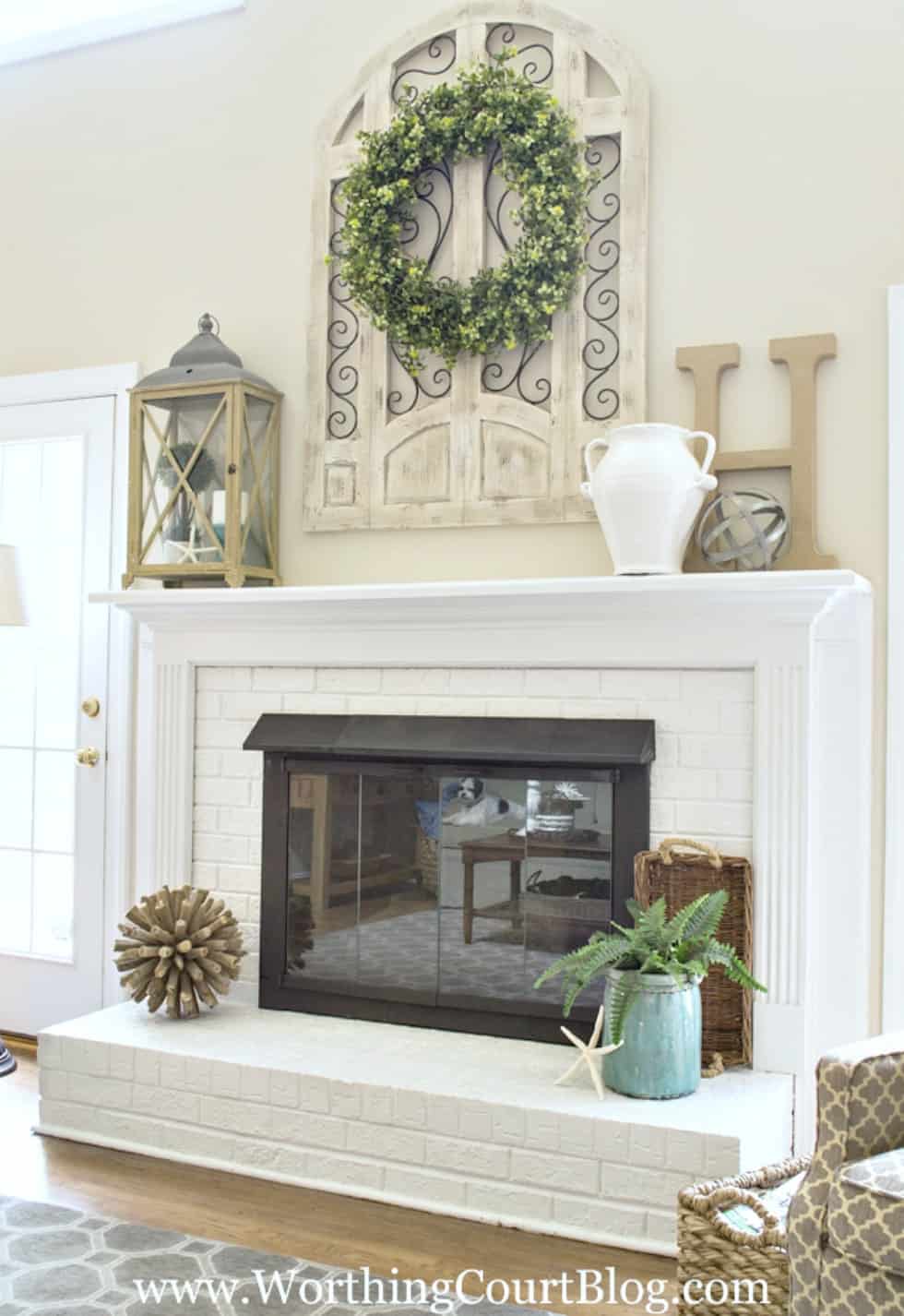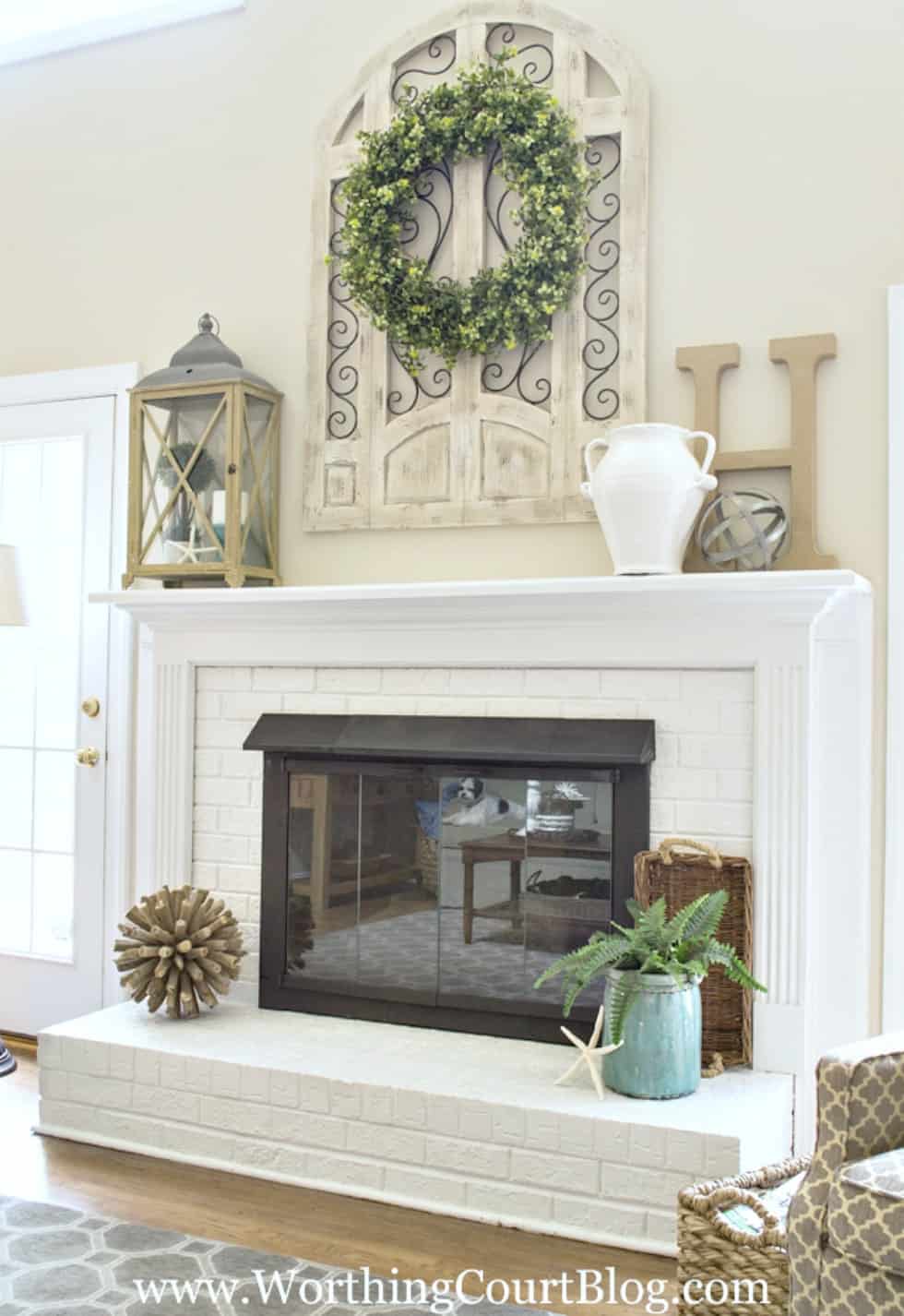 3. Where did you get the light fixture in your breakfast area?
I fell in love with this light fixture as soon as I saw in online!  It's the perfect mix of the rustic, industrial, farmhouse look that I so love.  I was terrified though, when it arrived at my door – the box was humongous and I just knew I had made a horrible mistake!  Once it was released from its box and all of the packaging was removed, the size was just fine though.  Whew!  Unfortunately, it's no longer available, so I can give you a link for it.
RUSTIC FARMHOUSE BREAKFAST AREA – BEFORE AND AFTER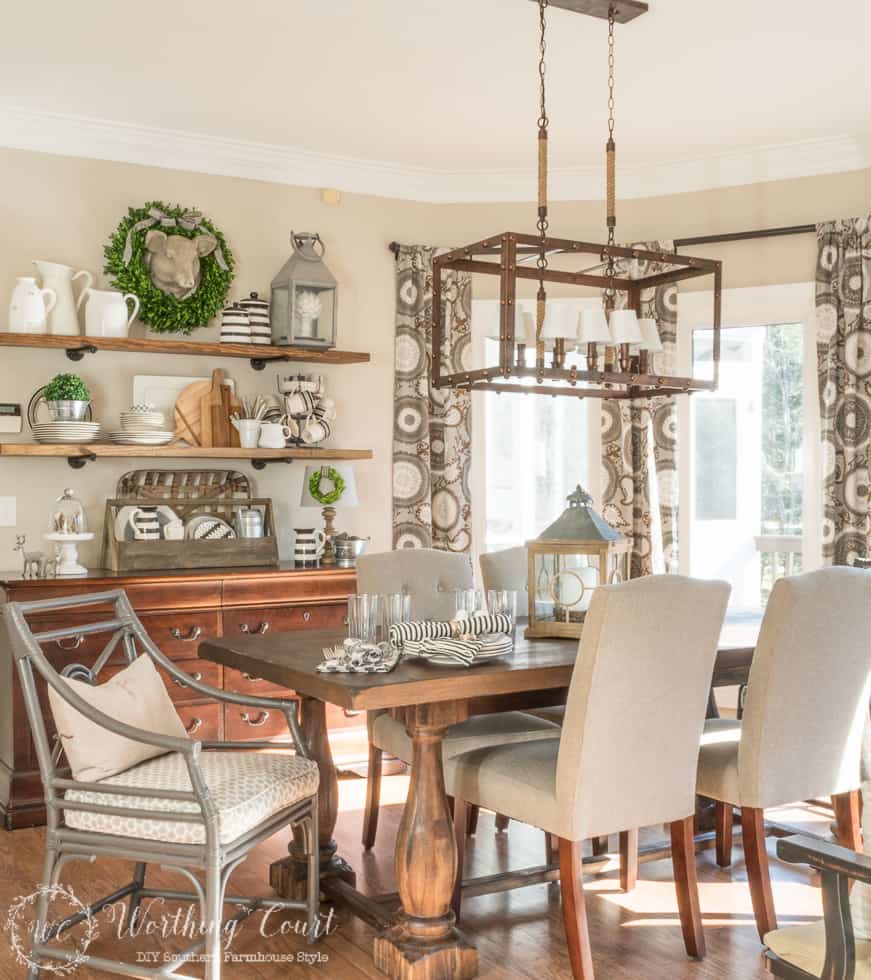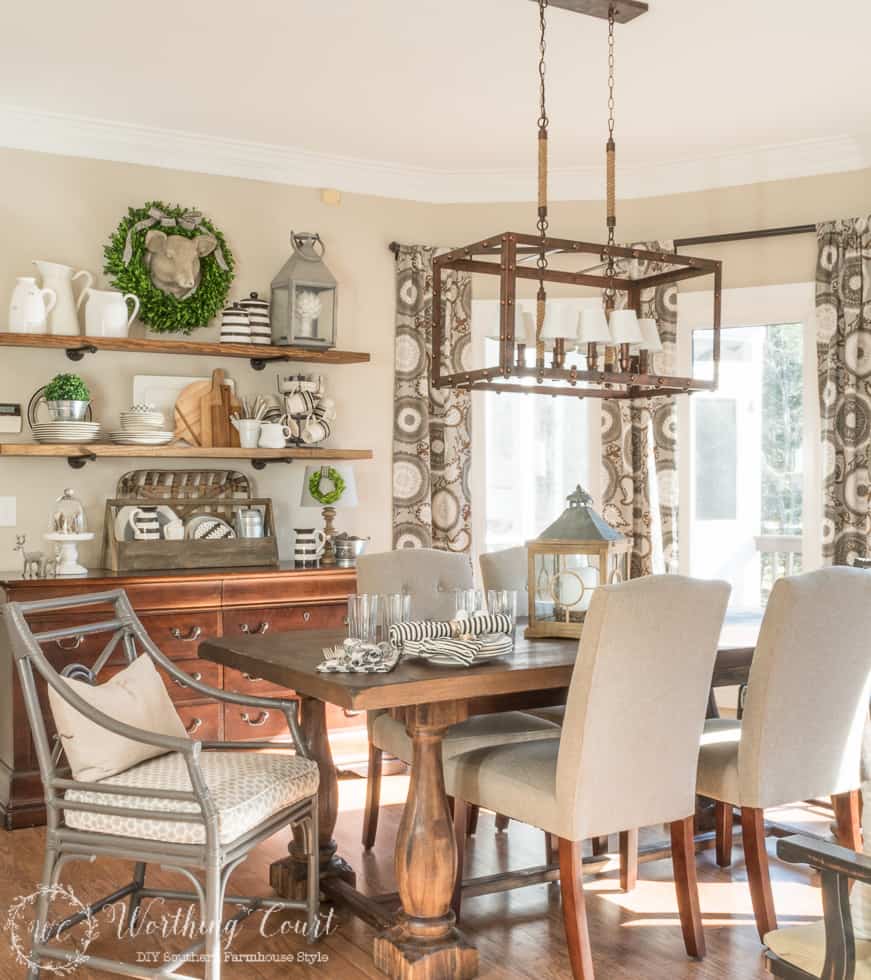 4. Where did you get the shutters flanking the mirror in your dining room?
Actually, those aren't shutters – they're really bi-fold doors that came out of one of the beach condos that we remodeled.  I took them apart and cut each door in half.  They're hanging with two D rings that are attached to the upper corners on the back of each one.
FARMHOUSE DINING ROOM REVEAL – BEFORE AND AFTER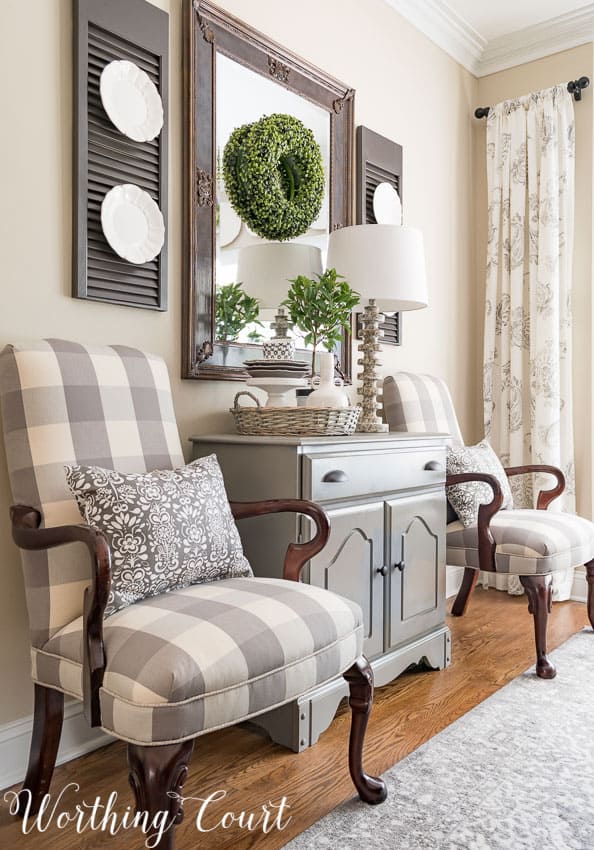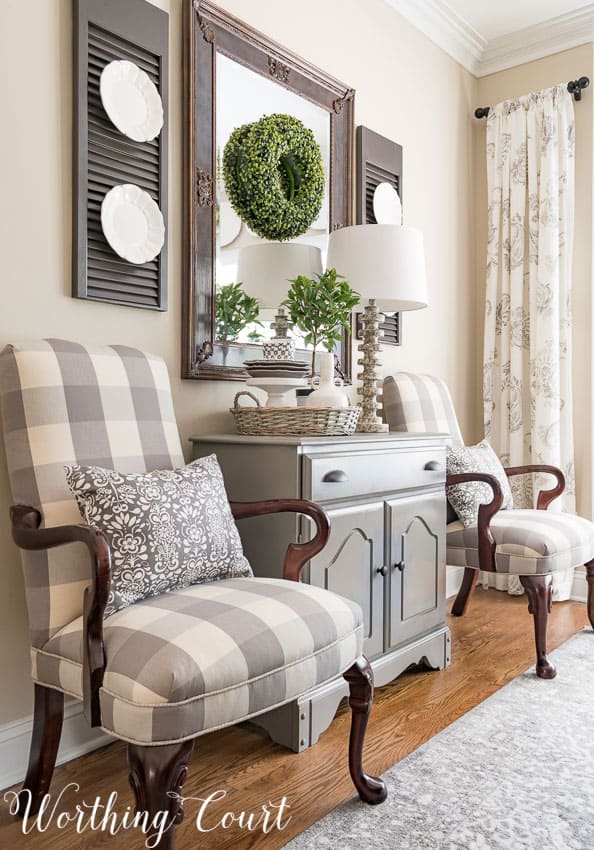 5. Where did you get the light fixtures on your front porch?
I replaced the light fixtures at the same time that we replaced our front door and it was a loooong search.  Kind of like Goldilocks looking for one that was just the right size.  😀  They came from Build Direct and can be purchased HERE (affiliate link, see my full disclosure HERE).
SPRING FRONT PORCH STYLING ON A BUDGET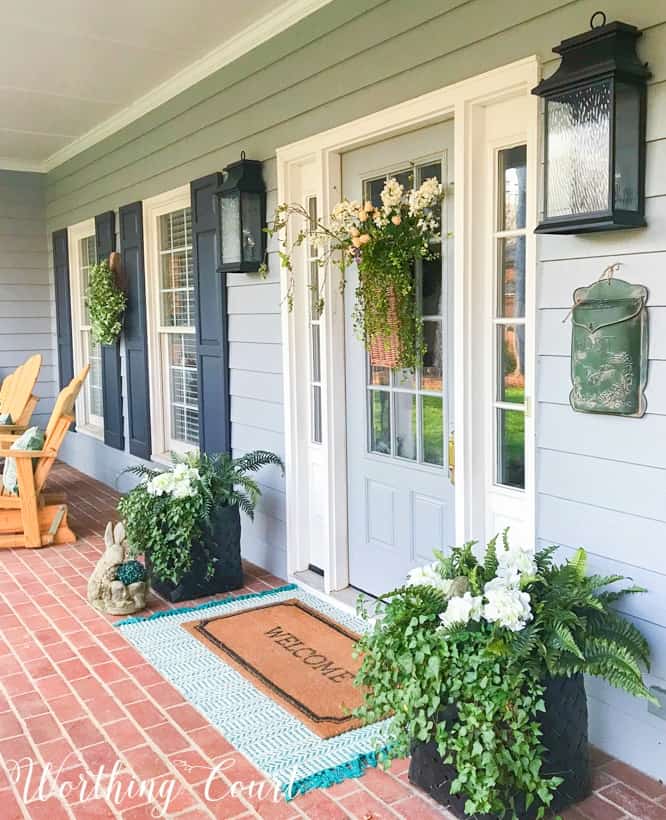 It's been fun chatting with you today!  I'll come back again one day to answer more of your questions here on the blog.  I don't even mind getting a little personal – I'm a pretty open book.  In the meantime, keep those questions coming!