What A Difference Draperies Make In A Room!
Draperies are the jewelry in a room and are just as important as any other element of the decor in your room.  Windows without some sort of treatment tend to look unfinished and blah.  They are a great way to tie a room together and make it more inviting.

I was compensated for this post by The Interior Alternative, but all opinions are 100% my own.  See my disclosure HERE.
We've been working on the makeover of the living room in our beach condo for months and I'm finally starting to put the finishing touches on the room!
This is how the living room was looking shortly after we moved all of our furniture in.  The original draperies and wall-to-wall carpeting were still in place and the whole thing was looking very uninspiring and bland.  We've lived with these non-functioning, falling-off-the-rod, aggravating draperies ever since last August and I've been itching to replace them ASAP!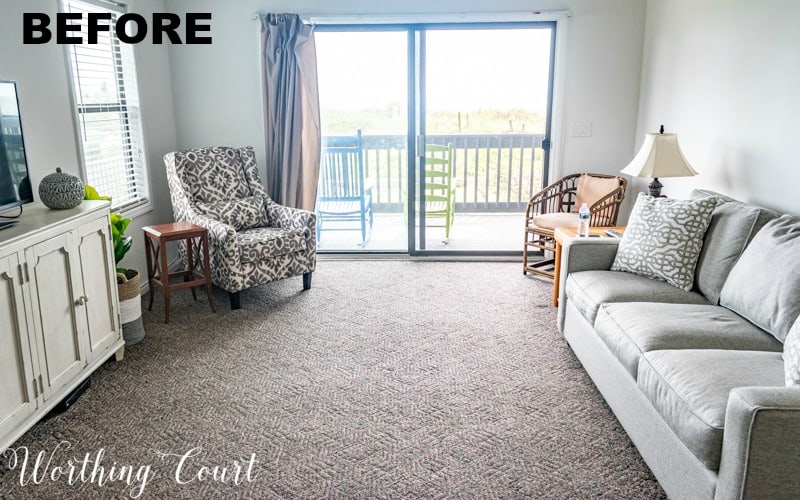 Thus, began my search for the perfect curtain fabric and oh, what an epic search it was!  I wanted something neutral with just a little bit of a pattern to add interest, but not fight with the other patterns that we already had in the room.  As a total aside – yes, there is a lot of pattern in this room!  But I adore mixing patterns and I believe that if done carefully, you can mix several patterns in the same space and wind up with a terrific looking room.
I ordered oodles of fabric samples online and shopped every local store I could think, all to no avail.  So frustrating.  But then, THEN(!), I remembered that we recently had a brand new mega fabric store called The Interior Alternative open here in Greensboro, NC.  I found the PERFECT fabric there!  Don't worry – you can take advantage of this awesome resource even if you don't live near one of their six locations – read more below.
Back to the draperies – after spending a few days busy in my sewing room, this is what the windows in the living room are looking like today!  My two "helpers" just had to be in the pictures even though Buddy looks like he's playing peek-a-boo behind the chair leg on the deck.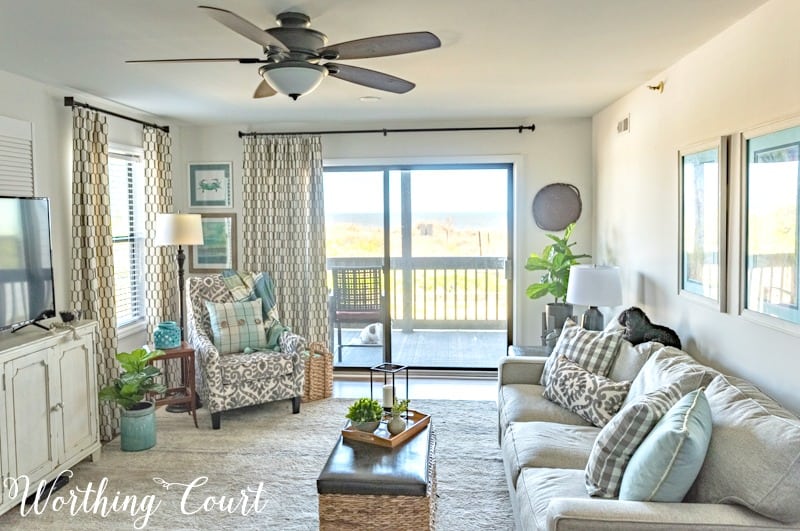 I had to have actual functioning draperies, that I could completely close, but would still look pretty when they're open.  To save on the amount of fabric that I needed, I made simple flat panels that hang from clip-on rings instead of pleated draperies that hang from drapery hooks.  Be sure to come back next week where I'll share step-by-step directions for how to make a flat drapery curtain panel just like the professional workrooms do.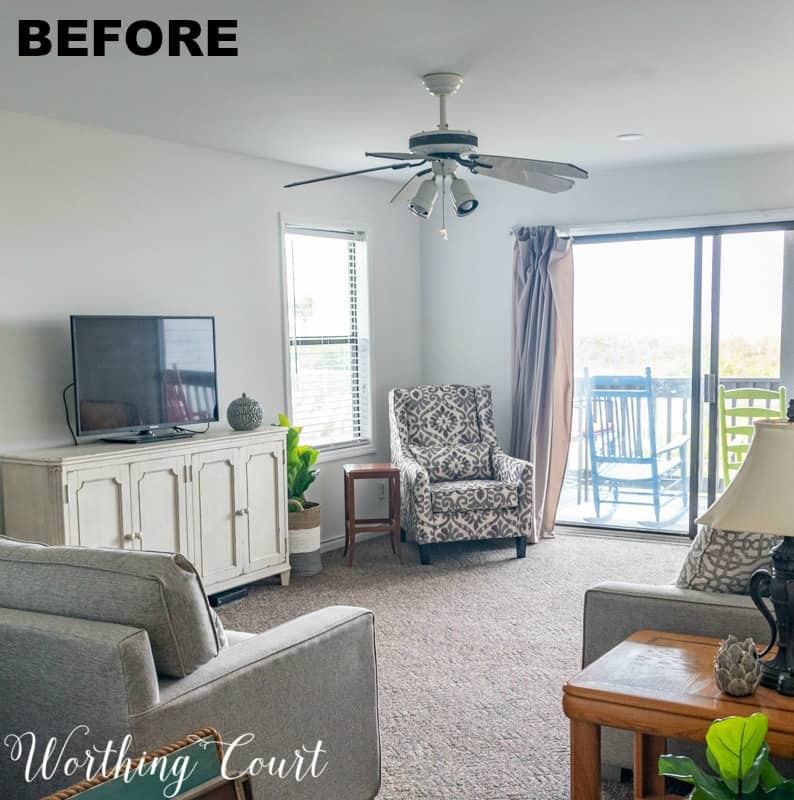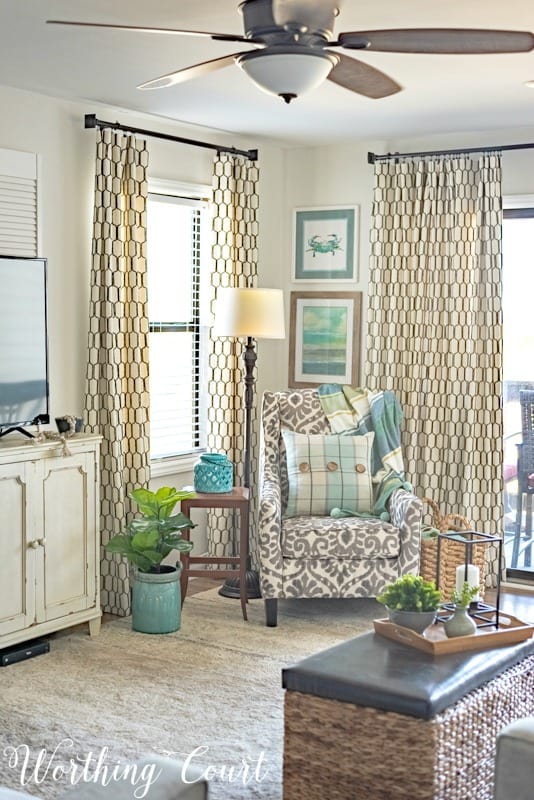 Let me tell you more about The Interior Alternative, because this is a place that you NEED to know about, even if you don't live near one of their locations!
There are 6 locations across the nation – Greensboro, Burlington and Charlotte in NC, Newark, DE, Vernon Hills, IL and Fountain Valley, CA.  Don't fret if you don't live near one of their locations – they are happy to help you search for a fabric you may be looking for.  Simply call or email the stores.  Include a photo of the fabric that you're looking for in the email so they can search and try to locate the specific fabric.  They can ship the fabric from any of their locations at the customer's expense.
Each store offers approximately 400,000 yards of drapery weight and upholstery weight fabrics in roughly 5,000 different patterns.
They offer the most extensive assortment of fabrics at the lowest prices in the industry.
They carry drapery linings and a variety of poly and down pillow forms in multiple sizes, batting, cording and burlap.
They offer pre-made decorative pillows.
Custom labor for upholstery, draperies and bedding is available in the Vernon Hills, IL and Newark, DE locations.
Free samples are available.
Now that the draperies are made and installed, this place is finally starting to feel like home, albeit a home away from home.  😀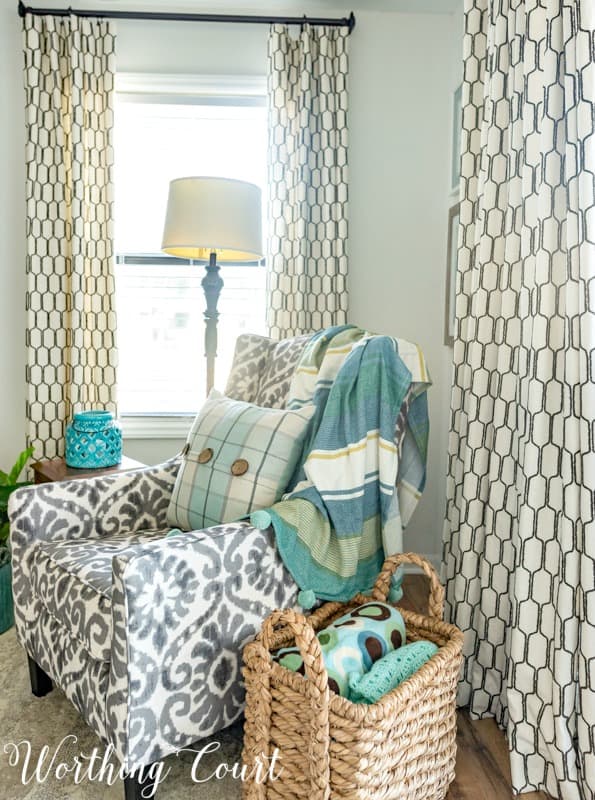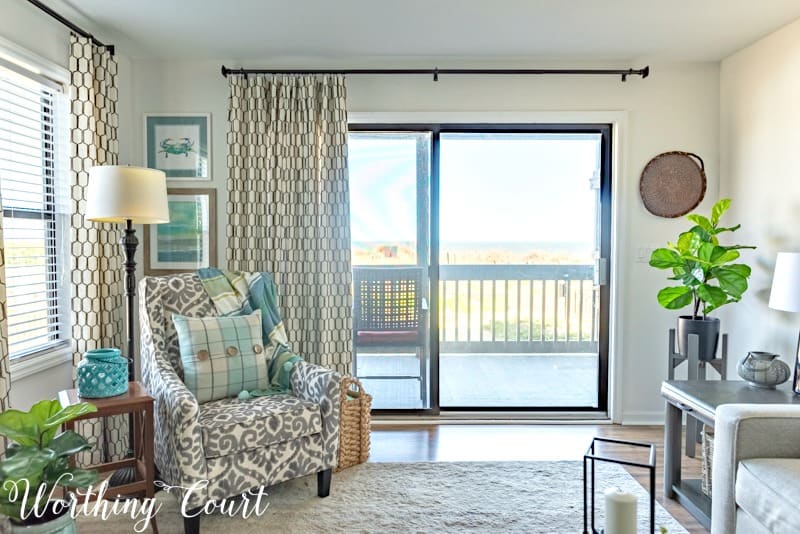 Affiliate links have been used, which means that I make a small commission from your purchase, but at no additional cost to you.  See my disclosure HERE.