Welcome to my freshened up foyer!
Diva Dog says "Hi!" too.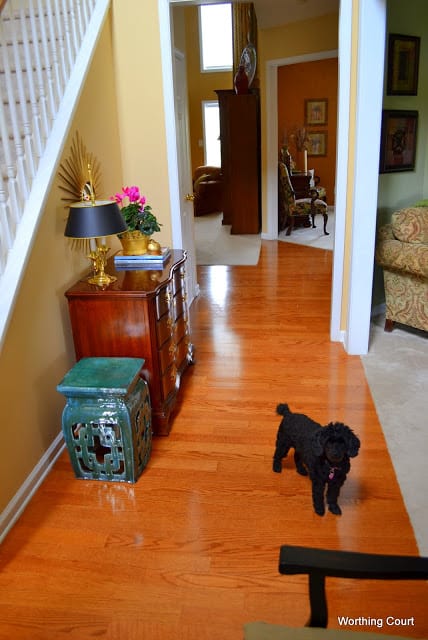 I've really been enjoying my dining room that I updated back in January just by changing out accessories (some new, some vintage) and by painting my brown chandelier.
I decided to use the same method to update my foyer and I love it!

The starburst mirror was a very affordable find at Home Depot.  They are available on their website for only $35.
I added a cyclamen to a pot that I had in my stash and painted a little brown metal bird with gold paint.  Added my Baldwin brass lamp that I've had for years, and called the chest done!



The garden stool is a new addition from an awesome place in High Point purchased at below wholesale.  I'll get around to telling you about that place one of these days.



The biggest change is probably the addition of this bench that my daughter, Ms. JB, gifted to me.  She doesn't have room for it in her new house so I was the lucky recipient.  Thank you Sweet Pea!



I love the colors in the fabric that I used to make the pillows.



I thought this rug that I ordered from Overstock.com would make a nice modern addition to the space.   I cannot tell you though, how much I agonized before I ordered it – I was so afraid!  What will it look like???  What if people don't like it???  Will they think I'm weird???  Sheesh!
Tip – order what you like, not what you think everyone else will like and you will love it!



I can't get a shot of the entire space from floor level, so here's a bird's eye view.


And a view looking toward the front door from the family room.



Now, onto the living room!